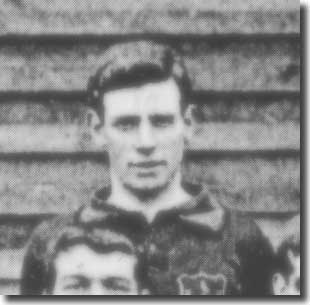 Results and table
Before Leeds City were wound up and expelled from the League in the autumn of 1919, the club had built up a strong and loyal local following, who were committed to the continuance of top class football in the area. The same day as City's players were auctioned off, October 17 1919, a meeting was held in the city to plan a way forward. It was attended by more than 1,000 supporters, who were desperate to recover something from the disaster.
Alf Masser, a local solicitor, was asked to chair the meeting, which unanimously agreed a motion to form both a new professional club and a supporters' club. Masser was one of seven men elected as the new club's management committee, along with Joe Henry junior (son of the Lord Mayor of Leeds, who had worked so hard to save City), Mark Barker, R.E.H. Ramsden, Charles Snape and former players Dick Ray (who was appointed the first manager of the club) and Charlie Morgan.
The newly formed Leeds United Association Football Club was invited to join the Midland League by the secretary, Mr J Nicholson, replacing Leeds City Reserves on 31 October. The new club moved into Elland Road, taking on the ground from Yorkshire Amateurs, who had been using it following the demise of City, and then became Leeds United's first ever opponents, losing 5-2 on 15 November 1919.
The week after that game, Leeds United began their delayed Midland League campaign with a goalless draw against Barnsley Reserves. Sometimes that season the club played friendly games on the same day as League fixtures, with United fielding a weaker side to fulfil their formal obligations while their stronger team gained experience against other sides. They ended that season 12th in the Midland League.
For a time it looked like Huddersfield Town, who were in the process of winning promotion to the First Division, might move to Elland Road to amalgamate with the new club. Two directors at Huddersfield had demanded that the club repay them the £40,000 they owed them. At the same time, Huddersfield's chairman and benefactor, Hilton Crowther, was fast becoming frustrated by the lack of interest being shown in Town by the local public and offered to transplant his side to Elland Road. He wanted to play the club's remaining fixtures at the ground, and with his players' blessing entered into discussions with United's Board. The move would have helped the debt to be repaid.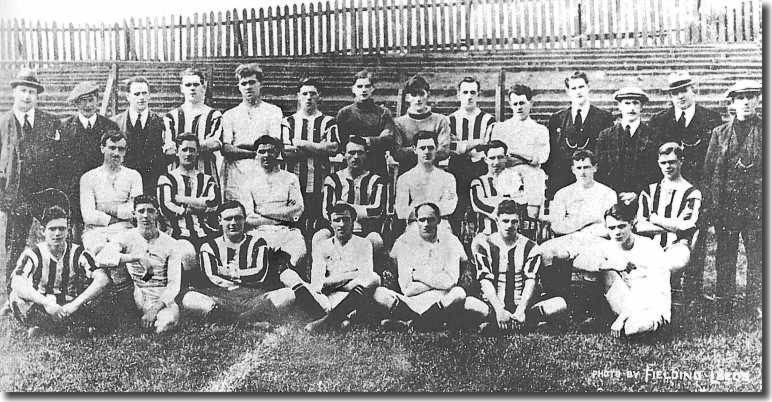 The Football League Management Committee endorsed Crowther's proposals. They decreed that if Huddersfield Town could not raise the money needed to pay off what the club owed by the end of the year, then Crowther's wish would be granted. This ultimatum prompted the Town supporters to rally round the club and eventually the proposals came to nothing. Huddersfield Town went on to appoint former Leeds City boss Herbert Chapman and to enjoy enormous success in the 1920's, winning a hat-trick of League Championships. They ended the season as runners up to Aston Villa in the Cup final.
Crowther had set his heart on building the new Leeds United, however, and he became the new club chairman anyway, making the club a loan of £35,000, repayable when United gained promotion to the First Division. He brought with him the Huddersfield boss Arthur Fairclough, who had won the FA Cup with his Barnsley side in 1912, and was appointed Leeds manager on 26 February 1920. Dick Ray became Fairclough's assistant for a while, but left the club in 1923.
Both Fairclough and Crowther were determined to drum up support for the club's campaign to gain Football League status. They threw themselves into the task, at the same time attempting to shape a team that could successfully compete in second division football. Their powers of persuasion were remarkable. On 31 May 1920, Leeds United were elected to the Second Division. 'The promoters are to be congratulated on the energy and determination they have shown,' commented the Yorkshire Post. 'Financial stability seems already to be assured and the nucleus of a thoroughly capable side has been secured. So good a case did Leeds United make, so effectively had claims been canvassed by Mr Hilton Crowther and Arthur Fairclough, that Leeds headed the poll with 31 votes.'
Fairclough recruited numerous players from local junior football clubs, but also needed experienced professionals from whom they could learn. Two key defensive signings were centre-half Jim Baker, who had served Fairclough well at Huddersfield, a robust, hard tackling defender who became Leeds United's first captain, and full-back Jimmy Frew from Hearts.
In preparation for their entry into the big time, Fairclough and Ray scoured the country for talent and the club advertised for players in local papers. Most of the new players were recruited from non-League clubs in the North, such as winger George Mason from Frickley Colliery, but Fairclough also signed forwards from Football League clubs such as Ernie Goldthorpe (Bradford City), Jack Lyon (Hull City), Jerry Best (Newcastle United), Len Armitage (Sheffield Wednesday) and George Hill (Rotherham). During 1920/21, Fairclough added former Leeds City players Ivan Sharpe and Tommy Lamph, who only played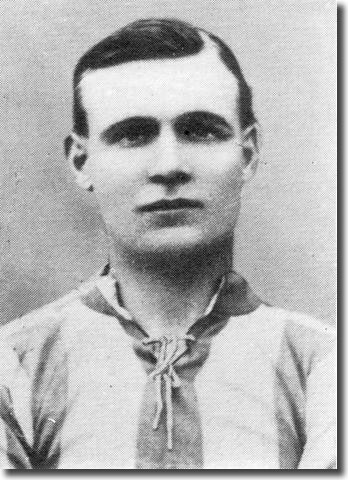 a handful of games, but thereby became the only two individuals to play for both City and United. Towards the end of the season, frustrated by a lack of goals, Fairclough paid out the then exorbitant fee of £1,750 to sign Bristol City's 30-year-old centre forward, Tommy Howarth. He came good with six goals from eleven appearances including four in the final four games.
The new era also ushered in a new image. The old City colours of blue and old gold were replaced by the blue and white striped shirts and white shorts of Huddersfield Town. The team that took the field for United's first league match at Port Vale on 28 August 1920 was astonishingly young and inexperienced. The eleven were made up of Billy Down, 20, goalkeeper (from Ashington); Bert Duffield, 26, right-back (Castleford Town); Arthur Tillotson, 17, left-back (Castleford Town); Robert Musgrove, 27, right-half (Durham City); Baker, 28; Jimmy Walton, 16, left-half (West Stanley); Mason, 19, outside-right; Goldthorpe, 22, inside-right; Bob Thompson, centre-forward (Durham City); Lyon, 26, inside-left and Best, 19, outside-left.
It would have been a glorious revenge for Leeds City's tribulations if United had overcome Port Vale, who had taken City's place after agitating for their expulsion. However, the naive collection of youngsters lost 2-0, although the Yorkshire Post reported that there was 'evidence of potential success in that Leeds overplayed their opponents in the first half. The chief failing was among the forwards ... Ernest Goldthorpe was the one success. The rear division ... was undoubtedly efficient ... Baker is a centre-half of experience, intelligence and enthusiasm.'
Leeds United's first home game against South Shields drew a crowd of 16,958 to Elland Road. They lost, 2-1, as Len Armitage made history as the scorer of United's first goal in League football; yet on the evidence of two slender defeats, it seemed unlikely that Fairclough's team would be overwhelmed in Second Division company.
Their third game, played before 15,000 at Elland Road, was one to savour: a 3-1 win against the hated Port Vale, with two goals from Matt Ellson, a signing from Frickley Colliery, and one from Best. There were few outstanding teams in the division. Throughout the campaign Leeds, robbed of Goldthorpe's services early on by injury, had struggled for goals. The season's most emphatic victory, a 4-0 trouncing of Coventry on 1 December, was, according to the Yorkshire Post, less notable for vibrant attacking play than for Baker's towering performance. The ten away goals the side scored remains the worst in the club's history. Thompson, who had joined from Durham City, but had League experience previously with Preston, was the top scorer with just 11 goals. He was also the first United player to hit a hat trick, in the 3-0 win over Notts County in December.
The defence, however, was formidable with skipper Baker, full-back Bert Duffield and goalkeeper Down all ever-present and outstanding. Baker was an indomitable figure, the man of the season for the club, and played in every league game, as he would do again in 1921/22. Centre-half Ernie Hart, who was later to captain United and play for England, made his first five league appearances for the club after Christmas.
United's maiden FA Cup campaign was a somewhat bizarre experience - because of the expanded number of clubs in the League it was necessary to hold qualifying rounds to get the numbers down to manageable proportions for the first round proper, where 32 ties were held. United were entered at the first qualifying round stage, as their promotion to the second tier was agreed by election, rather than through promotion. They ripped through Yorkshire minnows Boothtown and Leeds Steelworks, running up twelve goals, with both games played on the same day as Second Division commitments, requiring United to play reserve elevens, which included Hart. They scratched from the third qualifying round and Harrogate were given a walkover. Inexplicably, three Third Diivision sides (Merthyr Town, Newport County and Gillingham) were entered at the fourth qualifying round. Five Third Division and four Second Division sides were entered at the sixth qualifying round stage.
Leeds finished their first season 14th with 38 points from 42 matches but, to put this into perspective, only 16 points separated Bristol City, in third place, from Coventry, who were second from bottom. For Leeds, survival was an achievement. Crowds averaged just under 16,000 which, though well below Alf Masser's blithe predictions, was evidence of solid interest.
It was a quiet start to their league history, but the club had successfully left behind the ignominy of the Leeds City disaster and were ready to go on to better things.
Other Football Highlights from 1920/21
1920/21 saw the arrival of the Third Division, as the Southern League's First Division was accepted en bloc. The first champions were Crystal Palace
Burnley became league champions for the first time off the back of a 30-match unbeaten run in the middle of the season following losing all of their first three matches
Tottenham Hotspur, who had won the Second Division title in 1920, beat Second Division Wolves 1-0 on a quagmire of a pitch at Stamford Bridge to win the FA Cup for the second time
The FA raised the international match fee from £4 to £6