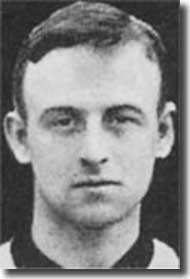 Born: Bishop Auckland, 16 May 1881
Alf Harwood was one of amateur football's big names in the 1900s, but he failed to break through when given a chance by Leeds City.
He began as an amateur with his home town team. He moved to another amateur outfit, Crook Town, in 1900. He won an Amateur Cup winner's medal in 1901 when they beat Kings Lyn 3-0 in a replay at Ipswich after the first game was drawn.
Harwood returned to Bishop Auckland for the 1901/02 season and reached the Amateur Cup final again. This time he was on the losing side as Old Malvernians beat the Bishops 5-1 at Headingley.
Harwood relinquished his amateur status when he signed for Fulham in 1903. His achievements in the amateur game included representing the Northern League, winning Durham Cup medals and a Northern League championship.
He spent three years at Craven Cottage, scoring twice in 28 appearances; the Cottagers won the Southern League in 1906, shortly after which Harwood joined Leeds City. He was the regular centre-forward for the reserves, notching forty goals in the campaign. That haul included both goals when City won the West Riding Challenge Cup by beating Kippax Parish Church 2-0.
He played in a benefit match against Hull City on 19 November following the untimely death of regular centre-forward David Wilson. Harwood scored in a 2-2 draw, putting the ball home after the keeper failed to hold a shot from Fred Parnell. Linesman reported in the Mercury: "On yesterday's play Morgan and Harwood would do credit to the first team, and it is difficult to see why they should be kept out. Morgan is one of the best half-backs at Elland Road, and Harwood is the most successful centre who has been played for some time."
His only senior game came on 2 March 1907 against Burnley, when he deputised for Billy McLeod. He scored in a 2-1 victory, netting in the first few minutes from a Parnell cross. Nimrod in the Mercury: "Harwood made his first appearance with the League team, and by no means disgraced himself. He swung the ball out nicely to his wings, and, had he shown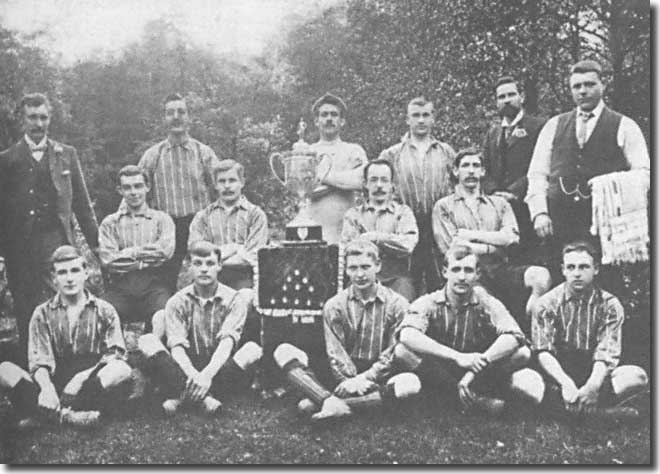 a little more nerve in challenging the Burnley defence, he would have been wholly successful."
However, Harwood was back in the stiffs thereafter and left at the end of the season to join West Ham United.
He made his debut for the Hammers in November 1907 playing at left-back, but couldn't lay claim to a regular place and left for Spennymoor United in 1909. He later returned to Bishop Auckland where his career ended following the outbreak of World War I in 1914.