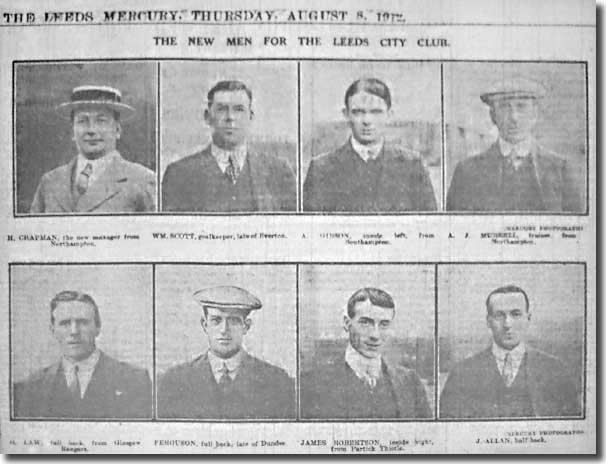 Born: Glasgow, 1 July 1890
Andy Gibson was described as 'the best forward I have seen' when he was signed in 1911 by Southampton manager George Swift, the former Leeds City trainer.
Gibson's first club was local junior side Kelvinhaugh, though he quickly moved on to Strathclyde. After building a decent reputation, he attracted the attention of both Celtic and Rangers, but surprisingly agreed to sign for Southampton in May 1911. The Saints were a powerful Southern League club who had won that title six times between 1897 and 1904 and been FA Cup finalists in 1900 and 1902.
The move didn't work out for Gibson and in March 1912 he was suspended indefinitely, along with team mate Henry Hamilton, for disciplinary issues. Neither player appeared for the club again, and Gibson signed for Leeds City in August after a brief spell back in Glasgow with Celtic.
After seeing him in pre-season trials, Yorkist wrote in the Leeds Mercury in August: 'Robertson, the new inside-right from Partick Thistle, and Gibson, the new inside-right from Southampton, both pleased me immensely ... Gibson is skilful, but on the light side.' A week later Tattler added in the same paper: 'Gibson ... enhanced his reputation, and he is sure to find a place in the first team on many occasions in the course of the season.'
He was given his debut at inside-left on the opening day of the season at Fulham but was dropped following the 4-0 defeat. The Mercury noted: 'Young Gibson did not realise expectations at inside-left and as Enright is not fit an experiment will be resorted to in playing Cubberley at inside-left.'
Gibson was recalled for a couple of games in October, but sustained an injury against Preston and had to bide his time on the sidelines. He returned against Nottingham Forest on November 30, but was criticised thus by Wanderer: 'Gibson is a pretty individualist at times, but he was deficient in that go ahead policy which means so much to a team.'
He retained his position for the following week's draw with Bristol City, but was dropped thereafter and failed to make the side again. He left the club at the end of the season after just five games and never played professionally again.