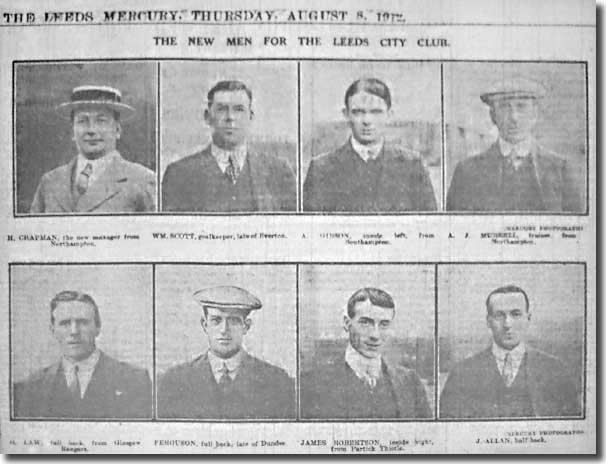 Born: Glasgow, 1880
Jimmy Robertson was a much-travelled, free-scoring Scottish inside-right, who brought significant experience to Elland Road when he signed for Leeds City in 1912.
After beginning his playing days with Glasgow United, Robertson came south to sign for Crewe Alexandra in 1901. In April 1903 he moved for a £25 fee to First Division Small Heath but failed to make the grade, scoring twice in six league games and one Cup appearance for the club that changed its name to Birmingham in 1905.
In August 1905 Robertson was sold in a package deal with Jimmy Windridge and Bob McRoberts to Second Division Chelsea. The move reawakened Robertson's form and he amassed thirteen goals in 16 league games for the Londoners in 1905/06. He had less success the following season, but still managed eight goals in thirteen appearances, as Chelsea gained promotion.
Robertson departed Stamford Bridge in the summer of 1907 and signed for Glossop, for whom he scored 28 goals in 70 league games over the following two seasons. He left Glossop for Leyton in 1909 and over the next three years also played for Partick Thistle, Ayr United and Barrow.
He returned to Second Division football in July 1912 when he was signed by new Leeds City manager Herbert Chapman. Robertson made his debut in the opening game of the 1912/13 campaign, a 4-0 reverse at Fulham on 7 September. He opened his scoring record for City in the following game, his home debut, when the Peacocks beat Barnsley 2-0.
After being a fixture for the first eighteen games, Robertson lost his way somewhat in the second half of the season after the arrival of Arthur Price from Worksop in December. Nevertheless, the Scot still ended the campaign with 7 goals from 27 appearances. It was to be his only season at Elland Road and he left for Gateshead in the summer, remaining two years with the North Eastern club before retiring.