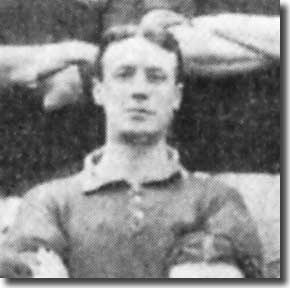 Born: Stockport, 13 February 1879
Jimmy Freeborough was a powerful six footer who proved a robust and solid defender, figuring at centre-half, left-half and both full-back positions during his time at Elland Road.
Freeborough began his professional career in 1902 with local Second Division outfit Stockport County. He appeared 26 times for the club before they failed in their bid for re-election in 1904 and dropped out of the League, at which point Freeborough joined Tottenham Hotspur of the Southern League.
Most of his time at White Hart Lane was spent in the reserves and the defender joined Leeds City in April 1906 in search of first team football. He played in City's two remaining games of the season, at left-half and centre-half.
The Leeds Mercury reported on his debut against Manchester United on April 21 as follows: "Leeds were a long way below their class, and, on Saturday's showing, neither Whitley nor Freeborough, the most recent importations, is a heaven born genius."
He was dropped at the start of the 1906/07 campaign, though he did have a couple of games in September 1906 at centre-half. He was recalled as a right-back in December, and played eighteen games in the role that campaign. It was widely acknowledged that he was better at full-back than he had been in the half-back line, though he was still inclined to be a little erratic.
Freeborough was City's nominated penalty taker for a while, though he missed his only spot kick, at Blackpool on December 5, sending the ball wildly over the bar. It was a crucial miss, for City consequently lost 1-0. In the 1-0 defeat at Gainsborough on 8 December, Freeborough went in goal for a while when Harry Bromage was temporarily indisposed.
In 1907/08, he appeared only twice, partly through injury, and left Elland Road at the end of the season after 24 first team games for the Peacocks. In July 1908, Freeborough signed on for Bradford Park Avenue, managed by former Leeds City secretary-manager Gilbert Gillies.
He made ten League appearances for Park Avenue and later played non-League football with Rochdale and Denton before returning to home town club Stockport during the war years.
Freeborough died in 1961.