Born: Seacombe, Cheshire, 20 April 1880
Jack Whitley, according to Martin Jarred and Malcolm Macdonald "one of City's most popular players even though he did not command a regular place," spent his early playing days in clubs near his birthplace in Cheshire, Seacombe Swifts, Seacombe YMCA and Liscard YMCA, whom he joined in 1897.
In 1899 he was given a break by Darwen of the Second Division and made fourteen appearances in the 1898/99 campaign, when they lost their Football League status; they chose not to apply for re-election at the end of a campaign in which they suffered 27 defeats in 34 League games, including 18 consecutively, and conceded 141 goals. Darwenfc.com claims that Whitley was centre-half and captain when he played for the club, though also appearing as keeper.
On 21 April 1899, the day before Darwen's final League game, Whitley signed for First Division Aston Villa in a £50 deal. Over the next couple of seasons the keeper managed eleven League appearances for Villa before moving on to Everton in time for the 1902/03 campaign. He was second fiddle at Goodison to George Kitchen for most of his two seasons with the club and opted to sign for Stoke in August 1904. He enjoyed more first team opportunities in the Potteries, though that did not prevent him accepting a deal with Leeds City in April 1906, becoming back up to first choice keeper Harry Bromage.
Whitley made his Leeds debut on 13 April, at home to Stockport County, in a 1-1 draw. According to the Leeds Mercury, "Much interest was felt in the debut of Whitley, the new goalkeeper from Stoke, and it was rather hard lines that the first shot he should be called upon to deal with should be from a penalty kick. This was given against Murray for handling within the area, and Waters gave the new Leeds custodian no chance, driving the ball into the corner of the net well out of his reach. Apart from this, no great call was made upon Whitley's services, but in what he had to do he gave the impression of being a cool and resourceful goalkeeper."
During his stay in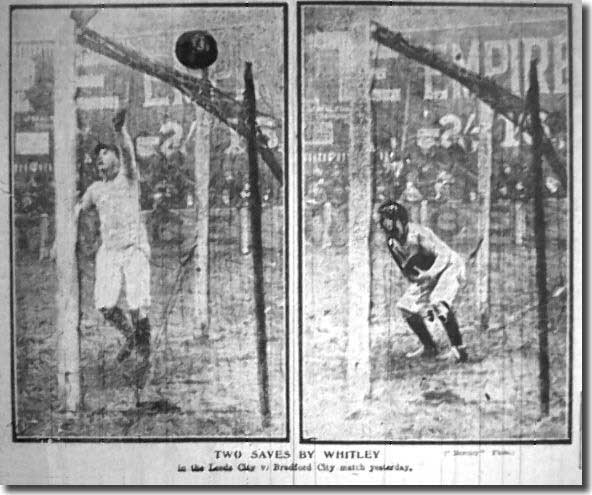 West Yorkshire, Whitley played cricket for Leeds and continued to indulge in his favoured game of billiards.
After seven appearances in the League for Leeds, Whitley signed for Lincoln City in 1907, but never made the first team.
He switched to Chelsea in August 1907 and spent seven years as a player with the Londoners, establishing himself as a regular choice keeper at last. He made 127 League and eleven Cup appearances for the Stamford Bridge outfit, suffering relegation in 1910 but then enjoying promotion back to the top flight two years later.
He announced his retirement as a player at the end of the 1913/14 season and became Chelsea's trainer, a position he held until 1939. He also acted as trainer to the England team in over 50 internationals.
Whitley died in London in 1955.