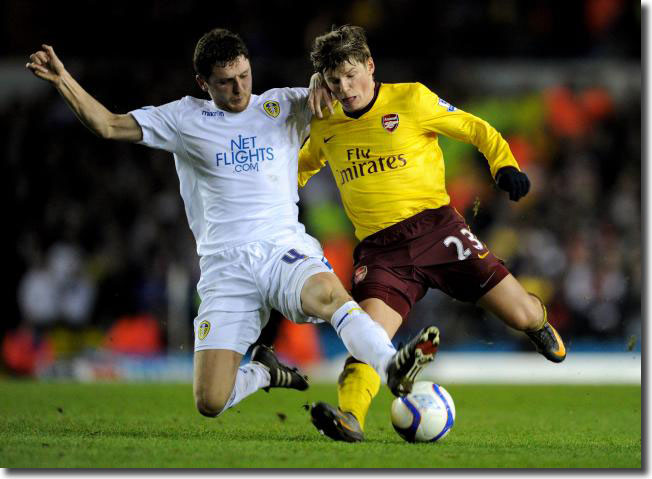 printer friendly version
Leeds United were once again doing the FA Cup business against top class opposition in January 2011, after success in 2010 against Manchester United and Tottenham. They pulled off a stunning draw at the Emirates against Arsenal, with the Londoners requiring a late penalty to snatch a draw, and it promised to be a stern test for the Gunners in the Elland Road replay.
Arsenal could have won the first game at the death, but for Kasper Schmeichel's reflexes in goal, particularly in tipping away Denilson's drive. "I wasn't even sure it was going in at the time," Schmeichel shrugged. "It's what I'm there to do.
"With the players we've got we should be confident against anybody, especially at Elland Road," added the United keeper. "The atmosphere we can create there is very intimidating… Arsenal will be used to playing in that sort of atmosphere but we're confident. Leeds fans are always magnificent. They're unbelievable.
"It was a great performance, but we were always confident we could do that. We got to half time and we said there are opportunities here for us. Luciano had one cleared and we always had a chance of nicking a goal.
"You can't emphasise how huge it is in terms of the amount of possession they have. They always seemed to have a spare man everywhere. It was a fantastic team performance by us, everyone worked so hard, and we felt a bit hard done by not to come away with the win.
"It shows we're a good team with good spirit. We worked hard for each other and that's the basis of a good team. If you can't get up for these games you should not be playing.
"With the players we've got, I think we should be confident against anybody, especially at Elland Road. The atmosphere we can create there is very intimidating. Elland Road is a great place, an amazing place to play. The fans make it special."
United manager Simon Grayson relished the platform the replay gave his team and welcomed the revenue from the extra, televised game. He said, "Hopefully it will help us. If we have a few more pounds and pennies to spend then I can go and get a couple more players. I'm sure the chairman is sat in his apartment now, rubbing his hands."
Unlike 2010, United had no loss of form following their Cup exploits, and followed up their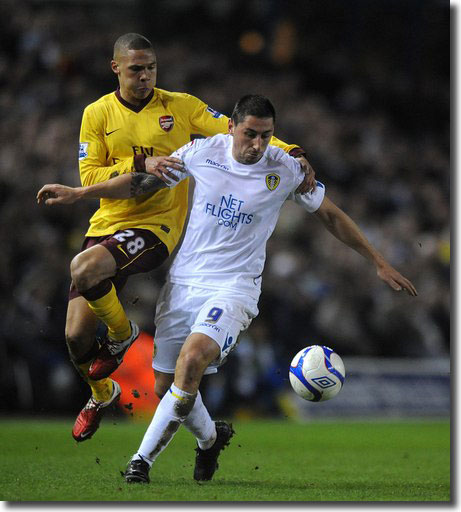 Emirates adventure with a crushing 4-0 defeat of Scunthorpe in the Championship.
Grayson: "I said beforehand that the most important game out of Arsenal and Scunthorpe was Scunthorpe. That's still the case. It's our bread and butter.
"We had our appetite whetted last year when we played Manchester United, Tottenham and Liverpool, Arsenal's been another great experience for us but, as I've said over and over again, more important than that is Scunthorpe. I'd have swapped any result against Arsenal for three points against Scunthorpe and we've achieved part one of what we needed to do this week. I want a result on Saturday as well.
"It's to the players' credit that they haven't taken their eye off the ball since the draw was made. They were warned that if they concentrated on the Arsenal game then they wouldn't play in it, they'd be sat in the stands. But they've got a good attitude and a calmness about them, and that was probably reflected in how we played against Arsenal.
"Some people felt that the Cup was a hindrance to us last season, but there were many other contributing factors in the slight dip we had. I want the players to look at the experience of playing Arsenal as an example of what we can do in the future."
Grayson was forced to make two changes to the team that beat Scunthorpe, with Ben Parker replacing the ineligible George McCartney at left-back and Billy Paynter given his second start at Elland Road as stand in for Luciano Becchio, out injured.
For the Gunners, Bacary Sagna and Samir Nasri returned, and both enjoyed good evenings.
United kicked off and enjoyed the first thrust of the game. Recovering possession following an Arsenal throw on the left, Max Gradel burst through but pulled his shot wide of the Gunners' goal.
The first four minutes were spent in untidy and frenetic midfield jostling, with United chasing down their opponents and Arsenal trying to settle into their smooth passing game. At the end of the fifth minute, the first decent bit of football saw the Gunners carve through Leeds' soft centre to open the scoring.
Centre-back Koscielny intercepted a United thrust and slipped the ball to Gibbs, who fed low down the middle for Chamakh. The striker laid it back to Arshavin who curved a delightful ball through for the advancing Nasri to take in his stride. The Frenchman slid inside Bradley Johnson, slipped a poor challenge from Alex Bruce and calmly clipped a shot past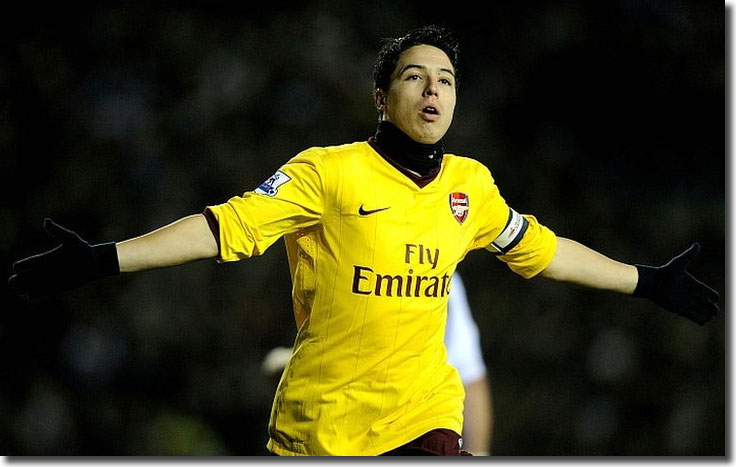 goalkeeper Schmeichel. As the ITV commentary gushed, "That's the difference, Samir Nasri with a touch of class…"
The lead secured, Arsenal dropped into an assured period of possession football that kept United at safe arm's length, struggling to get a look in.
Chamakh made space from Johnson, his marker, to take a free header from a ninth minute corner but could only send his attempt soaring into the Leeds crowd, still struggling to come to terms with being behind to such an early goal.
When Sagna threatened to surge past Ben Parker down the right in the tenth minute, the United full-back pulled him down to concede a free kick in a dangerous position. Chamakh rose to send a fearsome header goalwards from the dead ball but Schmeichel showed outstanding reflexes to get down and swipe the ball away before safely gathering a tame follow up.
Two minutes later, Paul Connolly looked a little fortunate when he dispossessed Arshavin on the edge of the Leeds box, referee Mike Dean waving away Arsenal appeals. Alex Song's delightful through ball had caught Connolly napping as the Russian slipped inside him.
Arshavin did get a favourable decision a minute later when he was fouled by Andy O'Brien as he turned away from the defender. Arsenal threatened to make something of the free kick, but it ended with the ball in Schmeichel's grasp.
After 17 minutes, United had a rare break down to Arsenal's end when Gradel and Watt engineered a move down the left but the opportunity fizzled out when Gradel's cross sailed beyond Paynter in the area.
A thrust forward by Sagna and Chamakh saw a dangerous ball fly across the face of Schmeichel's goal but it seemed to go through Arshavin's legs in the goal area when he looked set to bury it. It was a terrible miss.
The Russian almost made amends in the 22nd minute after turning away from Johnson down the right channel. He sent a low shot swerving goalwards which Schmeichel had to dive to turn around the foot of his left hand upright.
Right-back Sagna had been pushing forward at every opportunity, eager to get into the action and when a long diagonal ball out of the Arsenal half from Koscielny found him beyond the Leeds defence he threw a tempting ball across the six-yard box, but Bendtner was found wanting and the cross sailed on for a United throw on the opposite flank.
A loose header back to his keeper by Arshavin on the half hour almost presented Gradel with a golden opportunity but goalkeeper Szczesny was alert to the danger and beat the winger to the ball.
After 31 minutes, there was another Leeds threat when Jonny Howson took a quick free kick down the right. The ball reached Snodgrass and he turned inside to fire in a swerving drive from the corner of the Arsenal area but it curled straight into the arms of Szczesny.
Howson and Snodgrass had started to come more into the midfield picture, with Gradel and Watt occasionally hinting that they might manufacture an opening, but lone striker Paynter was just not mobile enough to provide a genuine goal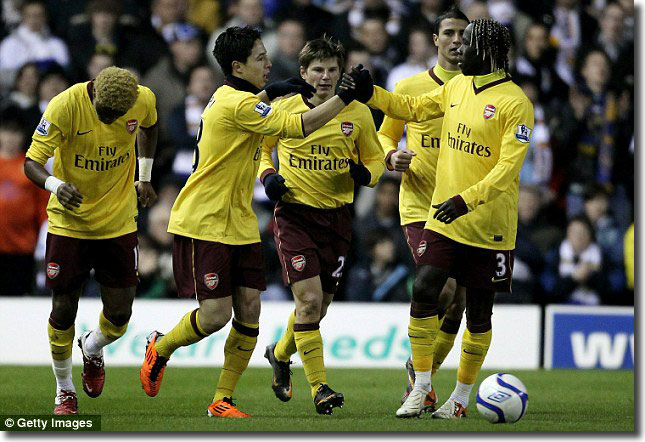 threat. United's game plan required advancing midfielders to come up quickly in support of Paynter, but they were preoccupied with stemming the Arsenal threat.
The Gunners were holding the ball confidently at the back with some smooth passing across their rearguard. In one such move, Song took possession from Djourou and played it up to Chamakh at halfway. He held it up well but played a loose ball out to the left which Connolly took easily and fed back to Schmeichel. The keeper's long ball forward saw Sagna win from Paynter and feed to Bentdner on his right. As the forward came inside with the ball, Sagna overlapped down the flank. Bendtner played the one-two with Nasri as he reached the area, but was loose with his control at the end, allowing O'Brien to intercept the final ball. His hurried clearance ran out to Sagna who had continued to follow up. He was in space on the right, touched it on into the area to set himself and then thundered the ball across Schmeichel and in at the far post. The keeper got his hands to the shot but could only palm it on into the roof of the net.
2-0 with 35 minutes gone. It was a spectacular goal.
That quite possibly should have been that with the Gunners looking in absolute control, but United came back with an even more splendid strike two minutes later.
After withstanding some Arsenal pressure, Connolly fed Snodgrass on the right. He was covered by Gibbs but drew a foul from Song as he made to run through. The Scot's long free kick was headed away by Arsenal from the edge of their area. It fell to Sanchez Watt who evaded a challenge and fed short right to Howson. As Arsenal came out, Howson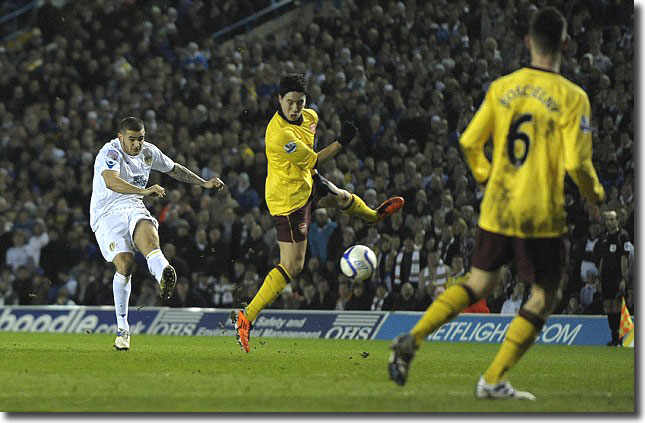 turned and sent the ball out onto the edge of the area for Snodgrass to attempt to go round Arshavin and Gibbs. He failed at the first attempt, but then picked the ball up off Arshavin. There were protests from Arsenal that the Scot had fouled Arshavin, but referee Mike Dean waved play on.
Snodgrass fed inside to Gradel, who tricked his way past his man and crossed to the middle of the area. The ball was partially cleared by Koscielny but fell to Howson thirty yards from goal. He took it well and teed up Johnson, waiting to his left. The ball was perfect for the powerful midfielder to meet first time and hammer unerringly into the top right hand corner of the net, giving the keeper no chance. It was a sensational goal, later voted Leeds' best of the season.
That lifted the flagging spirits of both crowd and players and had them believing once again. Within a minute Gradel had another chance down the middle when Arsenal gave the ball away but his first time strike was wayward and sailed harmlessly into the crowd when he should have done far better with the goal at his mercy.
The goal had given an extra yard to United's stride and for a period they hustled their top flight opponents back onto the defensive as they pushed Gradel up to partner Paynter in attack.
United finished the half with the momentum, though Arsenal were determined not to panic, sticking resolutely to their beautiful football.
Leeds were indebted to the exceptional Schmeichel for keeping them in the game when he stood tall to parry away Alex Song's near post drive 23 seconds into the second half, and then the keeper did well to hold on to a Nasri free kick from 30 yards.
Down at the other end, Johnson, encouraged by his first half wonder strike, tried another drive from distance but this time his hurried effort was sliced well wide.
When Gradel made ground to the left byline, he was confronted by Bendtner, and managed to trick his way past him, but his cross to Paynter at the far post was too heavy and ran out for a throw on the other flank.
In the 54th minute, Robert Snodgrass came racing back into his own area to produce a goal-saving tackle just as Arshavin was about to pull the trigger after a neat piece of Arsenal build up play had brought the Russian an opportunity.
Leeds came back with a spirited passing move inspired by Snodgrass and Arsenal were happy to concede a corner as Watt threatened to break through.
Twice in the space of a couple of minutes, Arshavin fluffed decent opportunities of scoring and was greeted with derisory jeering from the Elland Road crowd.
Simon Grayson's side continued to enjoy half chances as they tried to haul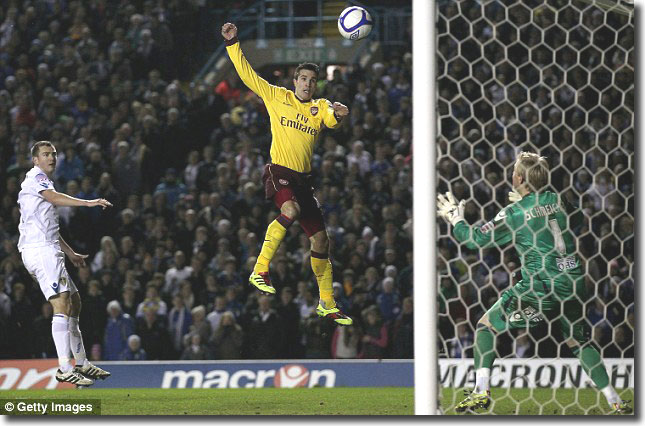 themselves level, Billy Paynter narrowly failing to connect with a Max Gradel cross from the right.
When Andy O'Brien sustained a hamstring injury in the 66th minute, he was replaced by Leigh Bromby, and two minutes later Davide Somma came on for Billy Paynter. Within seconds the South African got on the end of a Snodgrass centre but only with an inadvertent knee and the ball skewed badly wide with the goal at his mercy.
After 70 minutes, Arsenal made their own double change, bringing on Cesc Fabregas and Robin Van Persie for Arshavin and Chamakh in an attempt to end United's resistance. The changes had the desired effect and with 14 minutes remaining, Arsenal finally put the tie out of United's reach when they scored their third goal.
Fabregas had already demonstrated urgency and class, firing a free kick narrowly wide with Schmeichel desperately diving. Now the Arsenal skipper got the ball 35 yards out and fed Bendtner in the clear on the right flank. He slung a looping cross over to the far post where Van Persie was given far too much room by Bromby. The Dutchman rose to meet the centre perfectly and nodded back across Schmeichel and into the inviting net. It was a goal of great simplicity, the antithesis of the Gunners' normal, calculating style.
Lloyd Sam came on for Sanchez Watt in the 79th minute and Gael Clichy replaced Nasri four minutes later as the two managers played their final cards.
If Arsene Wenger hoped that Van Persie's goal might enable the Gunners to cruise to a comfortable win, he was to be disappointed as Leeds refused to go quietly. The final minutes of the game were frenetic with Sam, Gradel, Howson and Snodgrass trying valiantly to find a way through and there was some frustrated snapping from the Leeds midfield as Arsenal attempted to play down the clock with possession football. Snodgrass, Johnson and Howson were given yellow cards in the final five minutes as the irritation showed. Goalkeeper Schmeichel brought back memories of his famous father in the closing seconds as he rose in the Arsenal area, attempting vainly to score from a corner.
It was a step too far in the end, but United had once more proven the potential of a club on an upward ascent, aching to get back to the Premier League, where they could confront Nasri, Van Persie and company on a regular basis.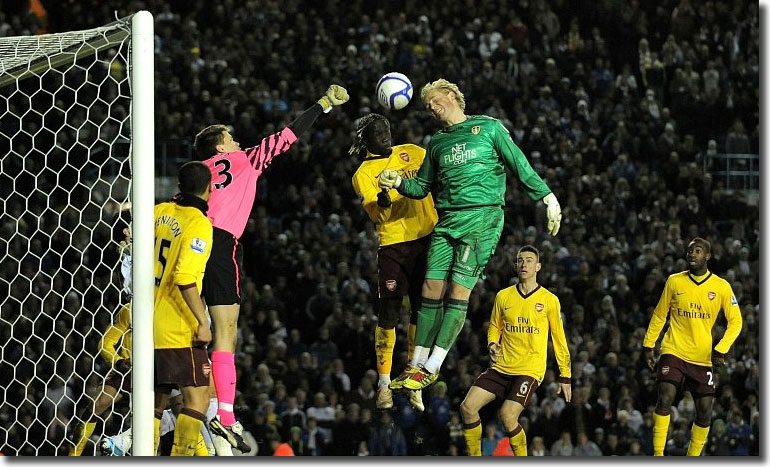 Henry Winter in the Telegraph: "Whatever the disappointment of bowing out of the Cup, particularly after Bradley Johnson's stunning strike had made it 2-1, a performance full of belief should give Leeds hope for the future. They stood toe to toe with a real Premier League heavyweight, absorbed painful combinations and punches, and kept coming back for more.
"They refused to surrender when Samir Nasri, again outstanding, and Bacary Sagna, giving one of his finest displays for Arsenal, drove Arsenal into a seemingly untouchable lead. They revelled in the thunderbolt unleashed before half time by Johnson, a sweet moment for the Hackney-born midfielder having been released by Arsenal as a teenager.
"Arsenal were worth their win because of the quality of their football, particularly in the first half, much of it emanating from Nasri, who was applauded from the field by Leeds fans.
"For the 3,000 Arsenal supporters who made the journey north, there were the encouraging signs of Wojciech Szczesny's promise in goal, of Bendtner putting in an increasingly influential shift on the right and a thrilling reminder of the class of Nasri, who took his season's tally to 14.
"On the debit side for Arsenal was another off colour contribution by Andrey Arshavin, whose shooting was wayward at best. If anyone in the Beeston area of south Leeds discovers a stray ball nestling in the shrubbery of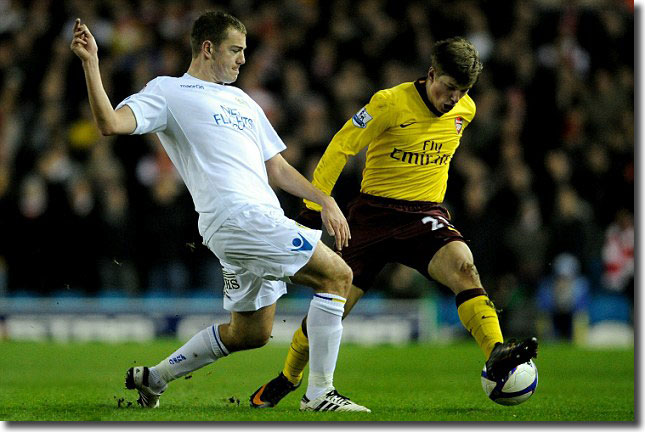 their back-garden, please return to A Arshavin, c/o Arsenal FC, The Emirates, London.
"Watching a Premier League star sending a shot spiralling out of the ground triggered much mirth amongst the locals, and surely some belief. For all the hype of the Premier League, even such luminaries as Arshavin can struggle for form, although Arsenal should be worried about the length of the Russian's poor run.
"Arshavin had started on the left of Wenger's attacking quartet, attempting to join the central Nasri and right-sided Bendtner in supporting Marouane Chamakh. Until Johnson's sensational 30-yarder, Arsenal were in total control, with Nasri running the show.
"Within five minutes, Arsenal were sweeping the ball between receptive feet, building towards their opening goal. Kieran Gibbs, Arshavin and Chamakh were all involved, working the ball to Nasri. The Frenchman glided through before rolling the ball past Schmeichel.
"Arsenal were bewitching, Leeds bewildered. After Sagna was tugged back, Nasri whipped over a free-kick that Chamakh met with a strong, downward header, drawing a magnificent right-handed save from the Leeds keeper. Chamakh v Schmeichel was not Pele v Banks but it wasn't far away.
"The atmosphere was electric. Leeds fans became particularly enervated when Arshavin went to ground far too easily, prompting chants of 'are you Walcott in disguise?' Then they began twirling white scarves above their heads, generating a marvellous sight to accompany the unebbing noise.
"Walcott's place on the right was taken by Bendtner, who failed to turn in an inviting ball from Sagna. 'That's why you're 52,' chorused the Leeds supporters. Arsenal's fans responded, taunting the club of Lorimer, Hunter and Gray with chants of 'You're not famous any more'.
"Arsenal's control was soon confirmed with a second goal. As Chamakh and Bendtner carried the ball into Leeds' box, Sagna moved up on the right. As Andy O'Brien's clearance dropped his way, Sagna pounced. Steaming in at pace, Sagna arrived like a latter day Carlos Alberto, belting the ball past Schmeichel.
"It seemed all over. The presses prepared to roll on the obituaries of Leeds' Cup fortunes for another year. The ball seemed to belong to Nasri. But Grayson's passion-players, marvellously, had other ideas.
"Willed on by their fans, who certainly never accepted Arsenal's superiority, Leeds embarked
on what appeared a rescue mission. First, though, they had to make the acquaintance of the ball.
"Howson, a local lad responding to the adrenaline shots pumped from the terraces, never stopped believing. Nine minutes before the break, Leeds' captain laid the ball off to his accomplice in central midfield, Johnson. His response was majestic, the ball drilled past a startled Szczesny.
"Game on? Elland Road was convinced. Gradel and Snodgrass began making good ground down the flanks, but how Leeds missed Luciano Becchio, who failed a fitness test on his back before kick off.
"As Grayson replaced Billy Paynter with Davide Somma in attack, Wenger was sending on his A-listers. 'Who needs Cesc Fabregas? We've got Rob Snodgrass,' came the instant response from the Leeds lyricists.
"Even with Fabregas now involved and Nasri still influential, Arsenal could never relax. Not with Howson in midfield. Not with Snodgrass looking to make bustling little breaks. But then Fabregas found Bendtner, who hoisted a superb cross to the far post. Van Persie leapt high and headed in a header that Frank Stapleton or Alan Smith would have been proud of. A lot of pride swirled around Elland Road last night, amongst victors and vanquished alike."
Simon Grayson: "We were beaten by the better side. It was a testament to players and club that the side put out was strong. The players can be proud of what they achieved with their work ethic, the way they passed it at times, and an attitude to never give in. That can only stand us in good stead. The players should be proud of themselves and the fans should be proud of themselves.
"They should be the better team with what they have in their squad, they passed it better than they did at the Emirates and at 2-0 we were under the cosh, but we came back with a great goal from Bradley and we had some good opportunities to get back into it.
"It's a shame Brad's goal wasn't a winner, it was that good, but we can take heart from it. At 2-1 we were well and truly in the game.
"Their class told in the end, but nights like this whet everyone's appetite and you can only learn from it. It's something we want to do on a regular basis.
"The atmosphere was unbelievable and the national media who were there understand what we are all about if they didn't know already.
"You could feel the buzz at 5.30pm and I'm very proud of what the supporters have done for the football club."
Bradley Johnson: "In the Premier League Arsenal are one of the biggest and one of the best we could come up against. They prove it week in week out and they proved it last night by beating us 3-1. But we were a little unlucky. We put our all in and could have got the win.
"We maybe gave them too much respect in the first 20 minutes because we stood off them and let them play. When we got the goal it gave the whole team and fans a lift. They were right behind us and I thought we had a good chance.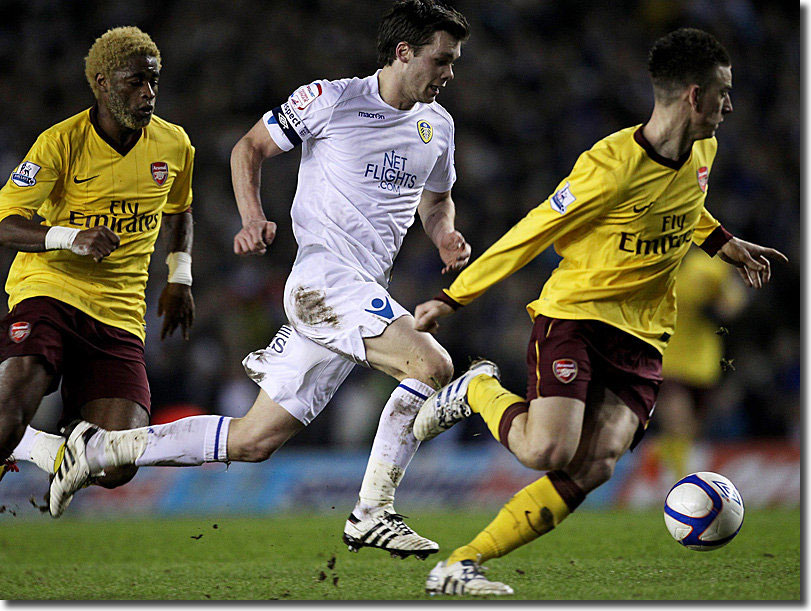 "Then they brought Van Persie and Fabregas on and I think the third goal killed us. We're proud of ourselves and we'll concentrate on the League now.
"It was a goal I'm not going to forget. I had a chance to shoot and some of them come off and some of them don't. We're disappointed we lost, but we shouldn't be because they are the best in the world."