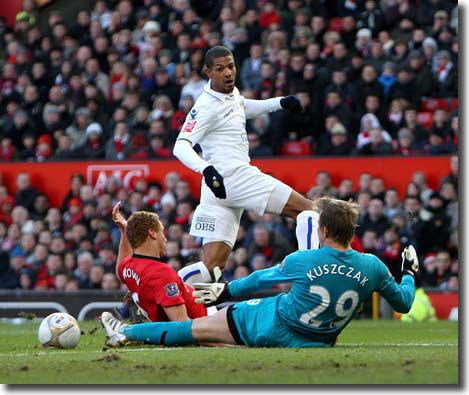 printer friendly version
A year after high profile FA Cup games against Manchester United and Tottenham Hotspur, Leeds United were given another glamour tie against high quality opponents when the third round draw paired them with Arsenal at the Emirates Stadium.
Manager Simon Grayson: "It's a fantastic draw, Arsenal are one of the best teams in the country and are one of the top footballing teams in Europe. I'm sure our supporters will look forward to the game and we will sell the full allocation once again.
"It's amazing when you look at the draws we've had… In an 18-month period, we've played Liverpool, Man U, Tottenham, and now Arsenal in the cups which is fantastic for the club and the fans.
"As I said before the Man U game last season, we have a lot of League games to come before then and that is our focus. The players will all want to be involved for the Arsenal game and the League games are so important to us."
Chairman Ken Bates: "We know we can't lose, no one expects us to win which means they are under no pressure. The players can go out and express themselves and give a good account of themselves. They won't be saying in the dressing room this is a vital match and we must win this, the future of the club's in your hands.
"I would think that Simon will say this is a fantastic opportunity in a magnificent stadium that holds 60,000 people so let's go and show what we can do and with that attitude the pressure is on Arsenal.
"We will be on the world stage again because we are live on television and then hopefully we will have a great game, a great day and great day out and after that everything is a bonus.
"The Premiership will hopefully get an idea of what they are missing at the moment."
The draw revived memories of previous cup encounters, for United the most memorable being when they beat the Gunners in 1972 to win the FA Cup by way of Allan Clarke's memorable diving header. The same score had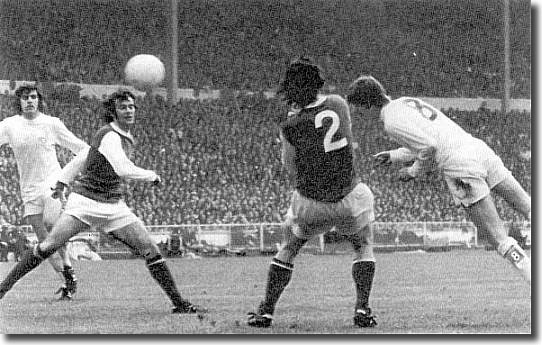 seen Leeds win the League Cup in 1968 in a drab, ill-tempered Wembley final.
In 1983, the two sides had taken part in a marathon FA Cup fourth round encounter. The first match at Highbury finished 1-1, with the Elland Road replay returning the same score. In the second replay the Gunners won 2-1.
Eight years later, the two clubs met again in the fourth round, when it took four matches and 420 minutes to separate them, an outcome which persuaded the FA to introduce penalty shoot outs.
Leeds did not go into the 2011 encounter in particularly good form; since beating Championship leaders QPR 2-0 on 18 December, they had lost their way, playing through three draws and a defeat.
Losing away to out-of-form Cardiff City was particularly disappointing. United had been lucky to go in at half time a single goal in arrears, but having equalised with a splendid strike from Robert Snodgrass, they got on top and looked like taking all three points. In the end, they lost to a sloppy goal that had Simon Grayson bemoaning his lot: "We conceded from a short corner and from a long ball over the top. They were both goals we could have cut out. We switched off and it cost us a point - and maybe all three. We should have had more points over the Christmas period but no team has got what it wanted and we are not going to beat ourselves up about it."
Asked if he would take a defensive approach at the Emirates, Grayson commented, "No, we won't be doing that. We will try and play how we play on a regular basis. I want us to score goals. That is my philosophy. I don't want to sacrifice the attacking side of it with a defensive approach. We have players who I feel can hurt any team that we play against. We will have a go. We have nothing to lose. There have been teams who went there and got results by defending and others who did so by taking the game to Arsenal.
"Before every game, we do a presentation of all the strengths and weaknesses of the opposition. I am not sure how long we will spend on their weaknesses, to be honest. And there will be plenty of strengths. But Arsenal have deficiencies, like every team in the world. They are only human and do make mistakes, which we have to capitalise on.
"We have a talented group of players who can create chances. We showed that last season, as we have again this year against the top teams in the Championship. We know we are going up a level now but I won't tell the players to do anything different to what they do week in, week out. I don't want to sit back and invite pressure. If we are going to lose, we will go down fighting.
"I would back this squad to win a lot of matches in the Premier League if we were in there now. We would also lose a lot, too. We are a long way off the Premier League but this weekend is a test for us to see where we are at. We have nothing to lose. Cup games are a one off and, hopefully, we can cause a shock.
"All I ask of my players is that they finish the game having no regrets. Ninety per cent of them will have never been to the Emirates before, never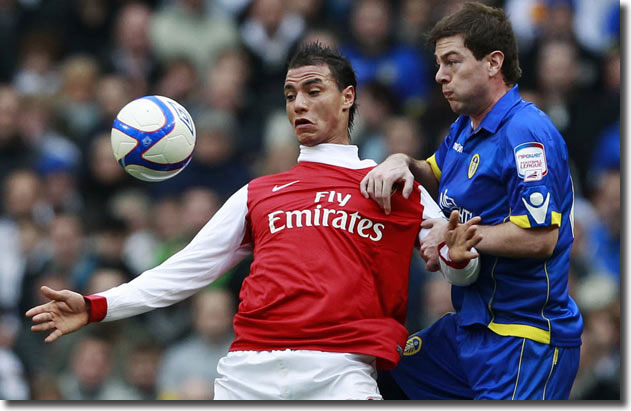 mind played there."
One player who did have previous experience of the stadium was Gunners winger Sanchez Watt, enjoying his second loan spell at Elland Road after contributing in the closing weeks of the promotion campaign. Surprisingly, Arsenal boss Arsene Wenger agreed to Watt playing in the Cup-tie, and Simon Grayson was delighted to be able to recall him to his starting line up for the first time since October, omitting Ross McCormack as a consequence. Elsewhere, Alex Bruce took Neill Collins' place at centre-back, and Luciano Becchio returned at Billy Paynter's expense.
Wenger rang the changes after a goalless draw against Manchester City and fielded a number of reserves, though he did select ten full internationals, including Alex Song, Andrey Arshavin, Marouane Chamakh, Emmanuel Eboue, Tomas Rosicky and Nicklas Bendtner. Ominously, Cesc Fabregas, Theo Walcott, Aaron Ramsey and Gael Clichy were all on the bench.
United kicked off and immediately got onto the front foot, Becchio nodding on to Max Gradel down the left. Arsenal were forced to concede the throw, but the Whites (or Royal Blues on the day) could make nothing of it and were forced to go back into their own half. When they did launch the ball forward it ran harmlessly on to goalkeeper Wojciech Szczesny.
Arsenal were the first to show any real threat, but when a crossfield ball promised to put Bendtner through on the right in the second minute, Ben Parker was quick to make ground and put it out for the throw.
That was the signal for some nice controlled midfield possession by the Gunners, though United were quick to snap at their heels and Gradel showed that his pace down the left would offer a potential ace in the hole.
Watt, too, showed his potential when given possession by Jonny Howson's smart challenge and pass after four minutes. He looked like he would cut Arsenal open with a surging run through the inside-right channel but was dispossessed by Sebastien Squillaci's block tackle as he reached the edge of the Gunners' penalty area.
After Andy O'Brien ended an Arsenal attack by picking up a through ball and passing back to Kasper Schmeichel, Becchio was given possession deep into Arsenal territory when Song's misplaced pass fell to him. The striker had Robert Snodgrass racing down the left into a marvellous position but elected to take on the chance himself and his scuffed execution saw a golden opportunity wasted.
In the fifth minute Alex Bruce launched himself into a fierce challenge on Arshavin as the Russian threatened to cut through the Leeds defence after some neat interplay between Denilson and Rosicky.
Arsenal clearly had a cutting edge, but United were denying them space in which to work when they reached the final third. The Gunners were playing a high back line, which was squeezing into the middle and encouraged Leeds by leaving some yawning gaps. United hinted at danger on the counter, fluffing one opportunity when Howson's driven through ball was just too long for Watt when he broke beyond the back four.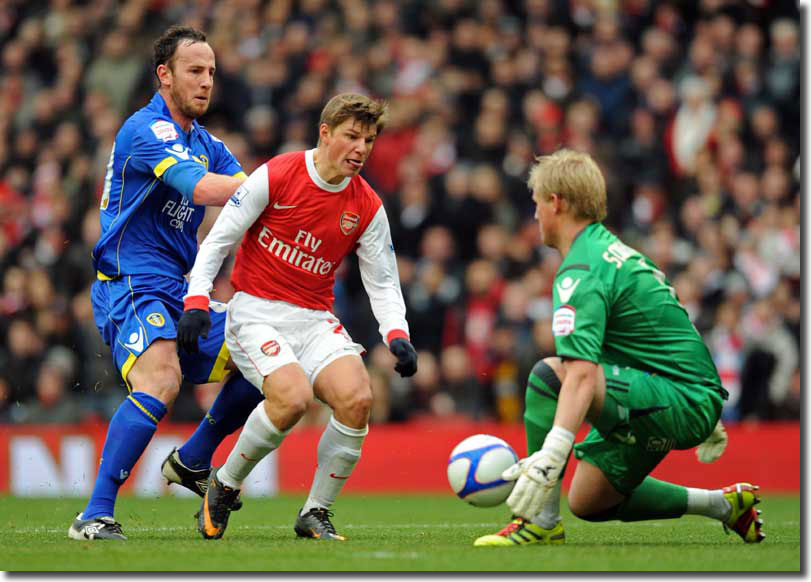 The eleventh minute brought the first clear opening. Arsenal came out of defence with some marvellous one touch football and Rosicky played Arshavin in beyond United's back four with a splendid through ball. The Russian was clean through on goal and had 15 yards of space in which to weight up his options but Schmeichel came out to meet him and calmly stood tall, using his chest to block the shot that came in.
The nature of the scuffed shot betrayed Arshavin's lack of confidence; he should have done far better in the circumstances and it was an afternoon on which little went right for him.
Within a minute, United had a chance of their own after Bendtner's wayward pass found only the space between the onrushing Becchio, Snodgrass and Gradel. But when Becchio fed Gradel, the winger could not get the better of Eboue, who calmly stepped in to take the ball and return it to Bendtner.
Arsenal's football was as crisp and attractive as ever, but United had the bit firmly between their teeth, working hard in midfield, showing composure in their own half and resisting manfully all over the park.
The first corner of the game fell to Arsenal in the 13th minute, but proved a damp squib after Denilson controlled the ball with his arm as it reached him on the edge of the area.
United were quickly off again down to the other end, with Snodgrass dispossessing Rosicky as the Czech dwelt on the ball a little too long. The Scot slipped the ball through for Becchio down the inside-left channel but goalkeeper Szczesny got a blocking hand to the ball as the striker sought to go round him.
On the quarter hour mark, with the chants of "Marching On Together" echoing around the Emirates,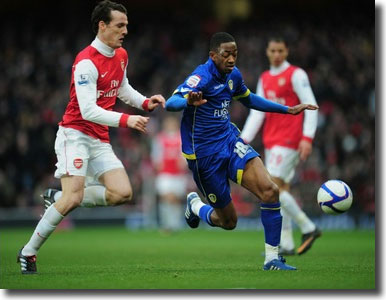 United combined deftly down the right and when the ball ran loose off Snodgrass, Watt took it on to fire left-footed over the Arsenal bar.
After 22 minutes, Bendtner ran at the United defence before releasing Rosicky, but when his cross from the right came over for Bendtner, O'Brien rose to head clear. The ball fell to Watt and he held the ball up well before launching it forward to Gradel on the opposite flank, but Eboue was good enough to snuff out the opportunity.
A couple of minutes later, Chamakh required treatment from his trainer after a shuddering challenge from Bruce caught him on the top of his foot. Almost immediately, Ben Parker was the first man into the book of referee Phil Dowd after clipping Eboue's heels as he looked to break away down the right.
With twenty-seven minutes gone, Chamakh cushioned a long ball back into the path of Arshavin, but Schmeichel went down well to gather his half volleyed effort at the second attempt.
The Gunners were starting to raise the temperature now with some fluid attacking play and when Chamakh went running through onto a bouncing ball, Bruce had to stretch to stay ahead of him before clipping behind for a corner.
From the resultant flag kick, Bendtner had two close range attempts at goal, but on each occasion a United defender blocked the ball away, Howson from right on the goal line. Then Schmeichel parried away Denilson's shot for another corner, and Becchio had to hoof clear from within the goal area.
As United drew breath with a rare break into the Arsenal half, they had the chance to pressurise Szczesny's goal, but were flagged offside when Gradel was played in down the left.
Leeds continued to look for the quick breakaway when the opportunity presented itself; Snodgrass proved adept at making the most of the possession he was starting to find, turning away cleverly from one piece of Song pressure, though his long ball forward was too heavy for Gradel.
In the 33rd minute Arshavin looked to have played Bendtner in on goal with a lovely through ball, but Bruce turned and stretched out a long leg to play the ball away from danger just as it seemed beyond him.
The unmarked Chamakh's powerful header from the resultant corner was straight into the safe hands of Schmeichel.
Down the other end, Eboue took some liberties when coolly controlling the ball deep inside his own area. He surrendered possession under pressure from United forwards, vainly claiming a free kick. Leeds could make nothing of the chance and Howson gave away a free kick for a foul on Denilson as the ball ran away from him.
Five minutes from the break,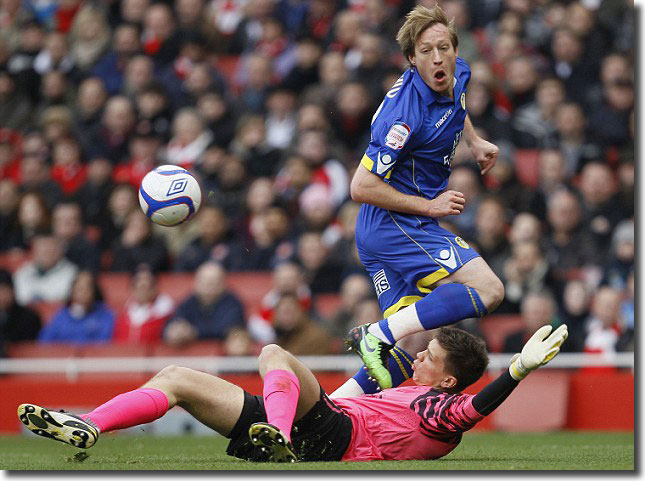 Bendtner threatened when he cut inside from the left but his shot on the run ballooned harmlessly over Schmeichel's bar, more threatening to the spectators than the Leeds goal.
In the 42nd minute, Watt dispossessed the overlapping Gibbs and made to break away down the right touchline. He flicked the ball outside Rosicky, who assumed it would drift out of play. It didn't and the Czech nudged the off balance winger to send him crashing to the turf at the cost of Arsenal's first yellow card.
Then when Arshavin made to cut into the Leeds box, four United men combined to stop his thrust and Alex Bruce was left limping heavily for his part in a courageous block.
In the seconds before the half time whistle, Bendtner came flying in to the box and crashed in a shot but Schmeichel blocked it well and gripped the loose ball to his chest to deny Arsenal the goal their first half display had probably merited.
United had done wonderfully well in this first period, showing boundless energy in denying Arsenal the room to really hurt them. The Gunners had showcased their customary clever passing, but had for the most part been kept at arm's length by some spirited collective defensive work.
Arsenal showed first in the second half and some patient midfield work provided the platform to launch Song for a run at the square United defence. He made it all the way to the byline, but his cross was behind Chamakh and headed clear by a diving O'Brien.
A free kick for a foul on Becchio on the left gave United the chance to exert some pressure of their own. Parker's long ball forward allowed Leeds to fashion an opportunity with some decent passing of their own, but Howson's ball down the right channel was too long for Watt and was gathered by the keeper.
Arsenal came straight back down the left and Arshavin's beautiful crossfield ball to Bendtner promised much. However, the Dane's attempted one-two with Rosicky came to nothing and Leeds were able to clear. The ball fell to Song, thirty yards out but his wayward attempt to find Arshavin on the left sailed away for a throw.
After 48 minutes, Bendtner skinned Parker down the left, but Bruce rose to head the cross safely behind for a corner with Chamakh lurking in wait.
Rosicky and Song combined in a splendid one-two and the Czech floated over a promising cross from the left, but there wasn't an Arsenal man in sight as it dropped far beyond the back post.
It had been all Arsenal thus far in the half with United struggling to get any possession of note, and wasting what they did secure.
But in the 53rd minute, after Snodgrass and Watt had made a promising thrust down the left, United were suddenly ahead. Snodgrass showed some clever control and when he fed Gradel who cut at pace into the box, a flat footed Denilson dangled a leg. The diminutive Ivorian went tumbling over it and Phil Dowd pointed instantly to the penalty spot.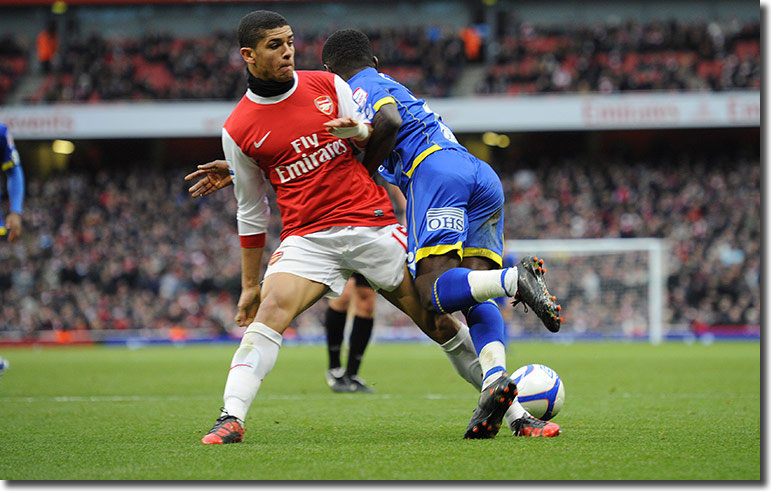 Szczesny kept Snodgrass waiting an age before he could take the spot kick, and got his hands to the low strike, but couldn't prevent it going under him. Snodgrass was hotly pursued by his team mates as he ran to take the acclaim of the ecstatic 8,500 United fans in the corner of the stadium.
There was no immediate panic from Arsenal, but within five minutes, with United given fresh impetus and heart by the goal, Cesc Fabregas had been brought off the bench to replace Song.
It was a real Cup-tie now with Arsenal pouring forward in search of a redeeming equaliser, but United looking sound and composed at the back and threatening whenever Snodgrass, Gradel and Watt had the opportunity to exploit what space there was on the flanks. With an hour gone, there was a hint that United could pull off the shock of the round, as they had done a year earlier by winning at Old Trafford.
When Fabregas freed Eboue on the right just outside the Leeds box, his cross was begging for Chamakh to bury it at the far post but O'Brien got enough of a head on the ball to take it away from the Moroccan. When Gibbs crossed it back in from the left, Bendtner's looping header cleared Schmeichel's bar.
More Arsenal pressure came down the right with Arshavin, Bendtner and Rosicky combining well to manufacture space, but Bruce slid Rosicky's driven cross away for another corner.
When Leeds did manage another thrust, Johnson stood up a cross from the left byline that Szczesny had to touch behind as it threatened to drop under his bar. From the resultant corner, an unmarked Becchio drove a header goalwards only for the goalkeeper to demonstrate speed of reflex in parrying it wide of his goal.
Arsenal were running aground on some packed United defending, but there seemed to be opportunities down the flanks with Connolly and Parker being sucked inside by the waves of pressure. The arrival of Theo Walcott as a 68th-minute substitute promised even greater danger from that source, though frustration was growing amongst the home fans as the customary lack of an end product was dogging Arsenal again.
After a bad back pass by Squillaci to Szczesny caused him some disquiet as Watt followed in at pace, Becchio earned United a free kick from 30 yards when Djourou sent him sprawling as he looked to control a high ball on his chest.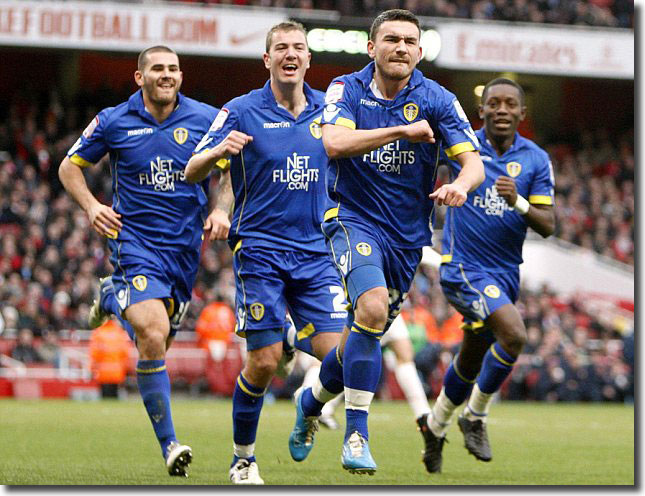 Snodgrass' effort curved fractionally wide of Szczesny's right hand post as the goalkeeper scrambled to reach it.
A long ball down to the other end gave Walcott the opportunity to show his pace but O'Brien got to the cross before Bendtner to concede the corner, with the Dane appealing vainly for a foul.
It was real end to end stuff now and when Connolly and Snodgrass pushed hard down United's right, Arsenal were somewhat lucky to clear the ball from the edge of their penalty area after first Watt and then Johnson failed to get a clean strike.
In an attempt to stem the Arsenal tide, Simon Grayson brought Leigh Bromby on after 76 minutes as replacement for Watt; it brought little respite with Walcott a lurking menace as Arsenal pushed with increasing desperation for an equaliser.
Howson was the next to have his name taken, for bringing Fabregas down from behind as the Arsenal skipper raced away from him on a dangerous run down the middle. It was taking one for the team because the Spaniard threatened to manufacture a breakthrough.
Denilson also received a caution for a cynical block on Johnson as the midfielder tried to surge forward into the Arsenal half. It was becoming all too rare a sight now, as the game ticked towards its eightieth minute. It was one way traffic with United dropping into a containing 5-4-1 formation, daring Arsenal to pierce their armour. There were too many examples of impatience and overhit passes drifting out for goal kicks for Arsene Wenger's peace of mind but his men had the momentum now and he looked to stoke up the pressure with his final substitution, bringing Carlos Vela on for Rosicky.
A Fabregas free kick from the right after 80 minutes brought a great headed chance for Bendtner, but he could not control his effort which sailed harmlessly over the bar.
Arshavin scampered at the middle of United's back four but O'Brien was good enough to block his shot. Seconds later, Schmeichel smothered Gibbs' curling low cross from the left.
Arshavin found Walcott again on the right, though the winger had to show good control to take the steepling pass. He lost no time in firing in a dangerous cross, but Bruce denied Bendtner a clear opening and the ball looped into Schmeichel's arms.
Howson engineered a smart break and fed Gradel down the left. His low centre offered the tiring Becchio an opportunity deep in Arsenal's goal area but Djourou was first to the ball and cleared it for a throw.
In the 85th minute, Davide Somma was summoned from the bench to replace Becchio, the Argentinian almost out on his feet after a thankless afternoon with only the Arsenal back four for company.
Two minutes later Walcott had a wonderful opportunity for the equaliser; after a midfield melee, the winger was played into space beyond the United defence with only Schmeichel to beat, but his first time effort was straight into the Dane's hands.
Seconds later, referee Phil Dowd initially gave a positive response to fervent penalty appeals when Walcott appeared to be fouled by Bruce, but changed his mind after the linesman flagged for offside against Bendtner. It was justice done, for after the game Walcott admitted diving.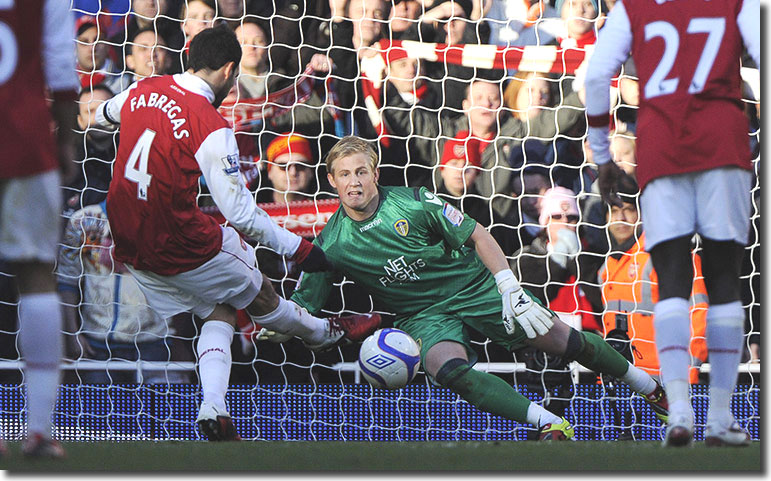 The furious home supporters bayed their displeasure at Dowd, but with 90 seconds of normal time remaining, they got the penalty for which they prayed. Walcott ran past Parker on the outside when a ball from Bendtner came through and the United left-back pulled Walcott's arm, unbalancing him. This time there was to be no reprieve.
Fabregas fired his spot kick straight down the middle. Had Schmeichel not dived to his right he must surely have saved it, but the ball struck the net to save Arsenal and break United hearts.
Simon Grayson brought Andy Hughes on in place of Max Gradel as his final change to defend what United had left as the assistant referee signalled four minutes of injury time.
In that stoppage time, the Gunners had chances to win the game, but Bendtner screwed a shot wide when he should have at least tested Schmeichel, who then made a stunning diving save to palm a Denilson shot around the post. Walcott rapped the side netting from a tight angle with Phil Dowd looking at his watch, but United held firm to earn a well-deserved draw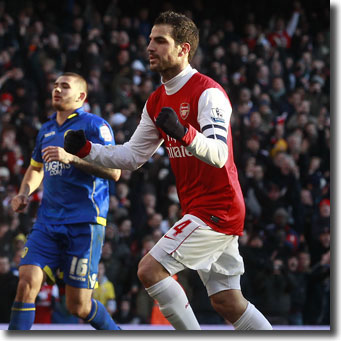 and take the tie to an Elland Road replay.
Walcott said afterwards with disarming honesty, "I want to apologise to the managers because I actually dived. I was trying to win the penalty. I said to one of their players 'would you have done it?' and he said he probably would have.
"I am not the sort of player to do it but I own up to it and apologise. It is something I don't want to see in my game.
"I have heard some players say if there is a slight touch, go down and it can work both ways. It was one of those things. I am not happy with myself for doing that but I am happy that we got the draw.
"I had a little joke with the referee afterwards saying 'that was my first dive, can you tell?'
"I don't have to own up to it and I can't speak for other players but I have just expressed how I feel. I hope people respect that."
Arsene Wenger had been keen to avoid a replay with a two-legged Carling Cup semi-final against Ipswich on the horizon, but in the end the Frenchman was relieved to earn another crack at Elland Road.
"It was not exactly the wish I had before the game but it was the second worst wish," admitted Wenger. "The worst would have been to go out. We go to Ipswich on Wednesday, we play West Ham on Saturday and then the replay of the FA Cup is after that.
"I must say at first that it was a very difficult game because it was a real Cup game and Leeds were up for it, they played well. It was the kind of game where you felt that it was important not to go 1-0 down. When we were 1-0 down I felt that Wojciech kept us in the game with a good save on the header [from Becchio].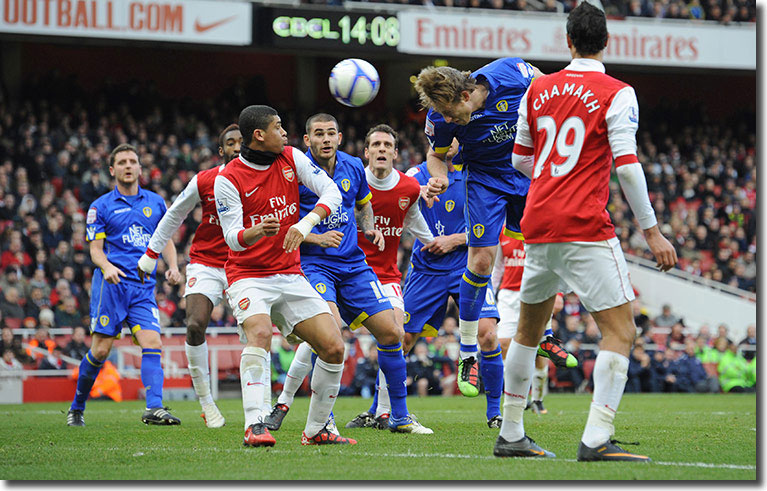 "We looked like we would come back but we were short of time and it was important to keep the momentum and not to go out today because that would have been a shocker.
"Even when we equalised we still had three chances at 1-1 but we couldn't take them. At least we are still in the Cup and hopefully we can do it at Leeds.
"It is a good warning that we got today. But we knew before the game that Leeds went to Old Trafford last year and won, and they had a draw at Tottenham. Overall this team have belief in that competition, from last year certainly. They did very well, very aggressive but in a good way, not a negative way, they closed us down everywhere and we had problems to pass through their lines. They were dangerous as well and it was important for us not to give a goal away, but we did."
Frustration from supporters was aimed at Andrei Arshavin and Nicklas Bendtner and Wenger acknowledged the two strikers' lack of confidence. "It's not through a lack of desire with Arshavin," said Wenger, who attempted to rally the Russian from the touchline. "He wants to do well. Every player during a season has strong and weaker periods and he's had a weaker period, then two or three weeks on the bench and I've no worries that he will come back into the team. But confidence suffers a little bit from that. They could explain better to you. The longer it didn't go for them, the more the confidence kicks in but even when you're a regular it affects you as a striker. The fans were frustrated. That comes from when you don't win. The fans are demanding. We were not consistent technically and so they picked on our inconsistencies."
Simon Grayson was justifiably proud despite being denied a famous FA Cup scalp: "Obviously it is tinged with a bit of disappointment because we were minutes away from pulling off a famous result.
"I said to the players beforehand to just do themselves and the fans proud and they have walked off the pitch having done that. Individuals have done well but any success we have had in the past and will do in the future is about us as a team collectively.
"Arsenal are a fantastic football club and it is testament to our players they have had to bring on Fabregas and Walcott to try to win the game. There are many teams who come here and have been on the end of a hiding. We have done well for ourselves and will approach the replay with the same attitude.
"We were under a lot of pressure at times, Kasper made some good saves and I thought it was going to be our day. Unfortunately the late penalty decision went against us but the players can be extremely proud. They worked hard, especially when Arsenal had plenty of possession, and we caused them a threat or two.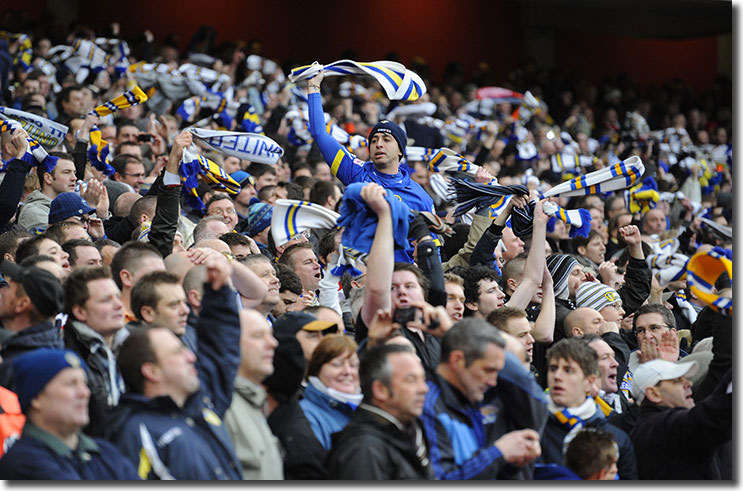 "We so nearly did it again… You're looking at the clock and counting down the minutes and you think it's your day.
"We were under pressure at times, Kasper made some saves, and we were very close, but the players can be very proud of what they did. When we did have the ball we caused them a threat or two.
"We knew that would be the case where they have a lot of the ball. You don't have 50 per cent of the ball against Arsenal. It was testament that they had to bring on Fabregas and Walcott, but we kept on going.
"We had a great opportunity at 1-0 when Luciano forced a great save. Equally we had to ride out luck at times, but we nearly got another result. They are a fantastic side to watch but our players should be extremely proud and we'll go again in the replay.
"It was no fluke. We have a great amount of belief."
Grayson said he had no complaints over the penalty decision which earned Arsenal a draw and he was quick to pay tribute to the 8,500 travelling fans who celebrated another great result for the club.
"Wherever we go they are brilliant. We wanted to give them something again, just like last year at Man U, and I'm delighted we got a result for them."