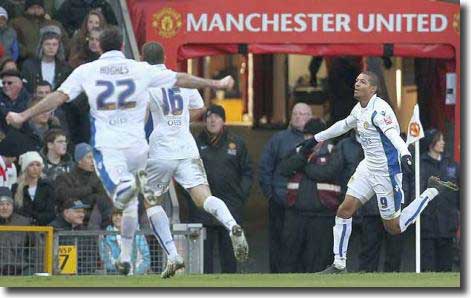 In January 2010 the glory, glory days were back in an emphatic way for Leeds United: no sooner had the League One leaders pulled off an extraordinary FA Cup third round victory against Manchester United at Old Trafford, than they learned that they had been paired with Tottenham Hotspur at White Hart Lane in the competition's next stage.
Tottenham had been one of the main beneficiaries of Leeds United's financial collapse of the previous decade, signing a number of former Elland Roaders during the fire sales that had been necessary to ensure the club's survival: Paul Robinson, Robbie Keane, Aaron Lennon and teenage starlet Danny Rose. Jonathan Woodgate had also arrived in North London after stays in Newcastle, Madrid and Middlesbrough.
The pairing of the two clubs brought memories and inevitable thoughts of 'what might have been' for United fans, and Leeds manager Simon Grayson acknowledged as much in the days leading up to the clash.
'I think, regardless of what's in the opposition squad, there's a sadness of what's happened to the club and the decline ... Not so long ago this club was in Europe and they were in the top six and wanting to improve to get to where they were 30 years ago under the likes of Don Revie, Billy Bremner and Johnny Giles.
'It is sad, but it's happened and you can't do anything about it. We have learnt from the experience as a club. Now we are trying to take it back to the next level and beyond. I would like to think that the club had sunk as low as it could have done two or three years ago when Ken Bates came in and saved it and, now we are trying to get back up, make sure we never go to those depths again.
'We've got everything here that's geared to the Premier League. All these facilities are from the Premier League days and we are averaging gates of 25,000, which is really excellent. If we went to the next level we would get up to 30,000, and beyond that if we got back to the Premier League. But we've got to take things one step at a time. It is a big club in the wrong division but we are in that division for the reasons that we are.
'By the time we come to play Swindon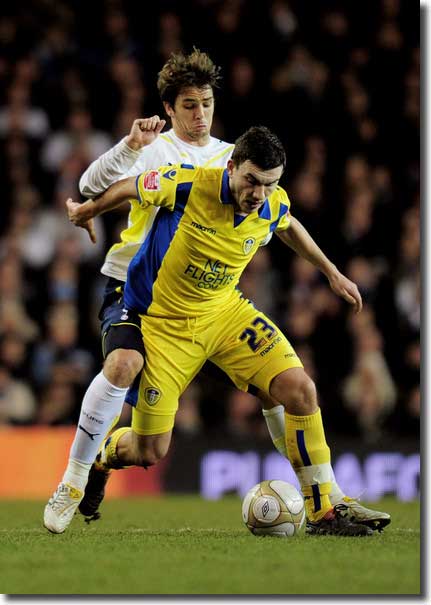 [on Tuesday] we might not even be top but that is part and parcel of the season. We have been up there all season but Norwich and Charlton deserve credit because they have been on impressive runs but we have still got 21 games to go and hopefully we can win the majority of them.
"There are tough teams and tough places to go but hopefully the FA Cup can kick start the rest of our season.
"Whatever happens, we've just got to make sure we try to do the same things we've done before. If we come off the pitch with no regrets and still lose, then so be it. As long as we've given ourselves a great opportunity to do the best we can then you can't ask for more than that.
"There are a lot of people who like Leeds to suffer, but we are trying to do something about that. We are not here to be popular, don't get me wrong, we are here to win matches. If we win every game between now and the end of the season and everybody still hates us then I'm not too bothered, because we'll have achieved our target of getting promotion and being successful. But I'd like to think we're winning over the neutrals. There's a lot of people I've met at games over the past couple of weeks that have said we deserved to win at Manchester United and that the team was a credit to me. That we play the game in the right manner.
"That's encouraging. That's my philosophy as a manager, to try to do the right things and entertain people and get people saying nice things about us.
"Whatever side we put out can do more credit to the club and get a positive result... I think this is different to the Manchester United game in that the rivalry isn't like that with Tottenham. They are a still a massive club, a top six club, and I have a huge amount of respect for them and their manager.
"We know it will be difficult because Tottenham will play a strong team. We've had a slight dip in terms of results, but we have a confident bunch here. We have to keep doing the right things and working hard. We want to do ourselves justice and it's important that the players come off the field without any regrets.
"When I look back at our last couple of games, we could have scored a few goals on Tuesday (against Carlisle) and at Exeter so as much as the results were disappointing, we played well enough to get something from both games.
"If you look at Tottenham and how their season is going they will want to get into the top four. They are one of a group of sides who wants to win things. I don't expect them to make too many changes on Saturday. They'll have a team of internationals and it's a chance for the players to produce for them.
'Harry has won the FA Cup and they will be treating the competition with a huge amount of respect, thinking they can win. They'll give us the respect we deserve and hopefully we will do ourselves justice and maybe get another positive result.'
Grayson's Tottenham counterpart, Harry Redknapp, acknowledged the revival going on at Elland Road: 'They are a big club, with crowds of 30,000. They have a great chance of coming up and Simon Grayson has done a great job there. They could go through a league next year and it could carry them into the Premier League easily. They could be back where they were.'
Redknapp gave former Leeds starlet Rose (19) his first senior start with Keane on the bench. There were two other changes from the side that lost 2-0 at Liverpool during the week with recalls for defenders Alan Hutton and Sebastien Bassong. Vedran Corluka, Ledley King and Wilson Palacios were the players making way.
For United, Patrick Kisnorbo returned in place of captain Richard Naylor, who had damaged his hamstring against Carlisle, while Michael Doyle came in for Mike Grella, with Robert Snodgrass being pushed up into attack in support of Jermaine Beckford.
United did not go to White Hart Lane in the best of form: they had not won one of the three matches played since Old Trafford and earlier in the day Norwich's 1-0 defeat of Brentford had seen the Canaries usurp the League One leadership that United had monopolised since 19 September.
As with Leeds' visit to Old Trafford, the White Hart Lane clash was televised live on ITV, with a 5.15 kick off on Saturday evening.
Tottenham were determined not to go the same way as Manchester United before them and Redknapp had instructed them to pressurise the visitors from the off. His players took him at his word and the first twenty minutes saw them threaten to sweep Leeds aside.
Spurs were instantly onto concerted attack, pushing Leeds back deep into their own half. They were awarded a free kick on the right within thirty seconds of the start when Bradley Johnson fouled Hutton. The Londoners could make nothing of the opportunity, however, which ended when Gareth Bale's cross into the area from the left curled tamely out for a goal kick to Leeds.
Snodgrass caused an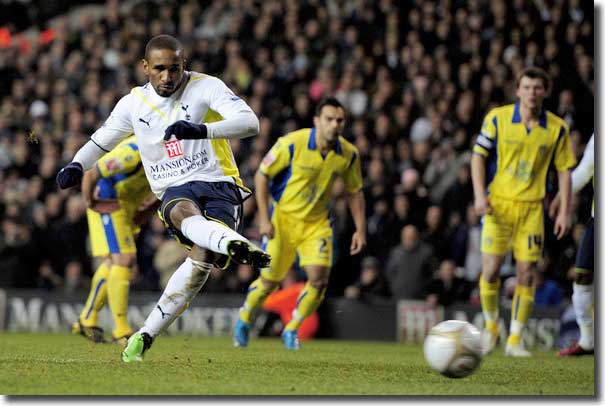 early moment of anxiety for Tottenham with a ball into the area for Beckford to chase. Bassong wanted to leave it to his keeper, but his hesitation almost allowed United's star striker in. Spurs were relieved to see the ball cannon away off Heurelho Gomes for a Leeds throw.
Tottenham quickly regained possession and Defoe worried Leeds with a dangerous run deep into their half before Neil Kilkenny dispossessed him and got United back in motion. The Aussie schemer fed Snodgrass whose hopeful ball into the area for Beckford was overhit and gathered comfortably by Gomes.
It was evident in the opening five minutes that Leeds were intent on making themselves difficult to break down, crowding Tottenham's midfielders and snapping into tackles before the home men could settle on the ball. Referee Alan Wiley had to call Snodgrass and Jermaine Jenas together for some calming words after one spell of intense pressure.
As the sixth minute passed, Tottenham fashioned the first chance of the contest. England striker Jermain Defoe ran onto a long headed clearance from Michael Dawson, nodded it up and away from Leigh Bromby and lobbed goalwards from 25 yards. Casper Ankergren had to back pedal frantically to touch the effort over his bar as it was dropping in. After the resultant corner was partially cleared, Niko Kranjcar manufactured a beautiful 25-yard strike which forced the goalkeeper into a wonderful diving save.
In the eighth minute it looked like Tottenham would secure the early goal they sought. Gareth Bale's long throw into the area from the left was nodded down by the towering Peter Crouch. Danny Rose got to it but Michael Doyle came clattering into him with his foot up as he flicked the ball away from him. It was a clumsy challenge which made the decision a straightforward one for the referee, who had no hesitation in awarding the penalty.
Defoe was entrusted with the spot kick, and sidefooted a low strike goalwards. It was too close to Ankergren, who had guessed correctly and palmed the ball away. The Leeds contingent in the crowd, massed behind Ankergren's goal, erupted into exultant celebrations.
Bassong got a foot to the corner which followed, but Ankergren confidently claimed the flicked effort.
Leeds, intent on holding a rigid defensive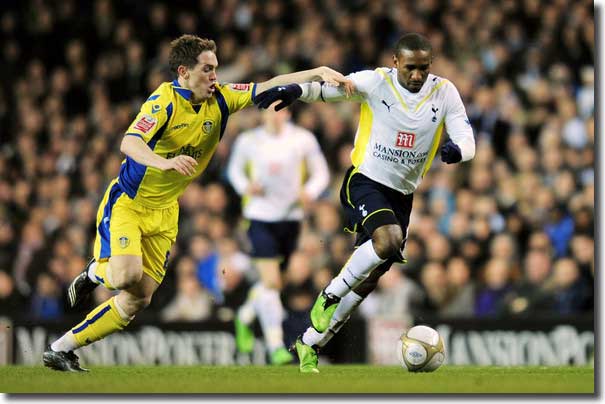 line, dropped deep at the first sign of any danger, but they were starting to sit a bit too deep, giving Tottenham's creative midfielders too much time and space. In this first ten minutes Spurs were comprehensively in the ascendancy.
Defoe had the chance to make amends for his penalty miss as he seized the opportunity to break at pace into the Leeds area, but his effort was diverted well wide by a diving block at the last by Kisnorbo.
The fifteenth minute brought a 25-yard free kick plumb in front of goal after Kisnorbo impeded Crouch. Bale's left footed curler was on its way into the net until Ankergren hurled himself across goal to divert it for a corner.
It was the nineteenth minute before Leeds had any possession worthy of the name, but then they came smartly out from the back with some accurate passing. When the ball was played up to Beckford in the vanguard, he cushioned a pass back carefully to Snodgrass 35 yards out and the Scot sent the overlapping Howson away on the right. He managed to evade Bale's rash tackle on the byline before cutting back inside, but his cross to the far post was headed away by Hutton.
As if offended by United's impertinent thrust, Tottenham quickly returned to the attack. Hutton's raking ball forward to Crouch brought a foul on the edge of the box from Jason Crowe who was climbing all over the Spurs man in his anxiety before tugging him to the turf.
Kranjcar took the free kick and sent in a wickedly curving drive. Ankergren allowed it to bounce in front of him and failed to gather as he went down to save. The loose ball sat up nicely for a Tottenham strike, but Leeds scrambled it away.
After 22 minutes a ball forward by Modric found Defoe. He was in yards of space and looked well offside, but was allowed to play on. He carried the ball deep into United's area and looked about to get in his shot until Crowe intervened with a sliding tackle. Television replays later showed Crowe played the man rather than the ball but Alan Wiley was satisfied it was a clean contact and allowed Leeds to come away.
At last, United were starting to get some meaningful possession and having some joy in the Tottenham half. They held the ball well in a 23rd minute passing move that took them across the pitch. Johnson's cross into the area caused some Tottenham anxiety when it ran across the box but there were no takers.
A minute later, Kisnorbo conceded a free kick in a dangerous area, three yards outside his area,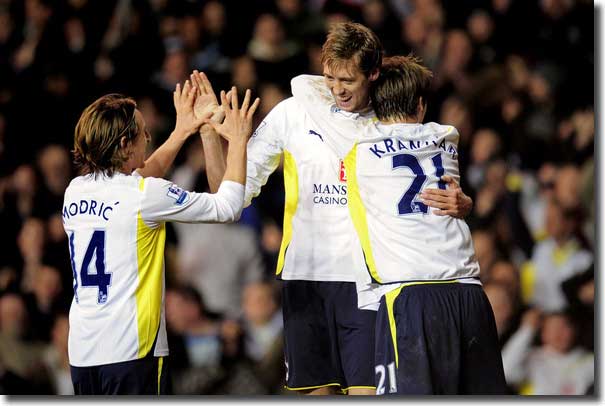 after holding Defoe. Ankergren had to punch Bale's curling strike away as it arrowed towards goal.
There was no relief from the frantic pressure and it seemed that Leeds must concede soon; the white wave of Tottenham attacks was incessant.
United bounced back, however, and created some sustained pressure of their own.
The 27th minute saw them fashion a chance after holding possession outside the Spurs box when Doyle fed Snodgrass. The Scot cut onto his right foot and sent in a curling strike which had to be parried away by Gomes as it arrowed towards the bottom corner.
From the resultant flag kick the ball eventually came to Snodgrass in the box. The winger turned this way and that to make space before firing in a drive that was deflected for another corner by Bale.
After 29 minutes, Beckford had his first decent moment of the contest. From a long ball down the left flank, he turned inside Dawson, and then cut outside Bassong to fire in a left-footed drive, which drifted narrowly past the far post.
In the 32nd minute a back header by Bassong to his goalkeeper invited a challenge from Beckford, but Gomes was quick enough to gather. Seconds later, however, there was a golden chance for the Leeds striker. Snodgrass curled a through ball past Dawson for Beckford to run onto down the centre. His powerful left-footed effort from 25 yards had to be blocked smartly by the diving keeper.
Five minutes later, Johnson fought back to dispossess Kranjcar on the left and exchanged passes with Snodgrass to make space for a shot, but his rushed effort sailed harmlessly into the crowd.
Tottenham were much the better team, dominating possession, but United had given clear evidence that their attack possessed a sharp cutting edge and could not be taken lightly.
Just when it seemed Leeds had stemmed the Tottenham tide and would get to the interval on level terms, the home side broke the deadlock in the 42nd minute.
Modric sent the ball out to Bale on the left flank. He teased Howson before dipping his shoulder and rounding him to cut a cross back to the edge of the area. Kranjcar fired in a shot which the off balance Ankergren could only get his foot to. As the ball came out, Crouch poked it low into the corner of the net with 'little more than an instinctive twitch', according to the television commentary. You could sense the relief all round White Hart Lane.
The goal did not deter the visitors and a minute later, Leeds looked like making an instant reply after Kilkenny broke up another Tottenham attack. Three United men came forward at pace and Beckford could have had a shot in the centre, but teed up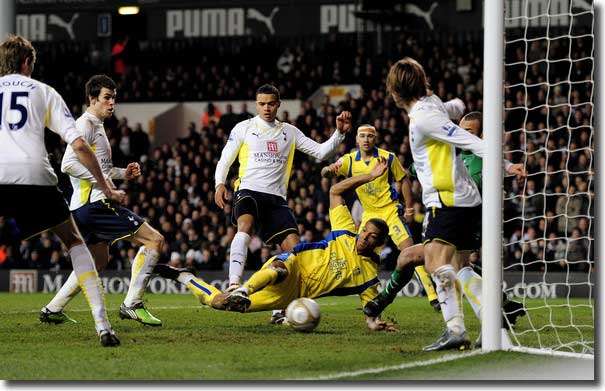 Snodgrass on the left in space. His return pass to Beckford was collected confidently by Gomes, but Spurs had been given due warning.
As the game ticked into first half injury-time, Jenas fluffed a chance to double the Tottenham advantage. He showed neat footwork to get space in the box but ballooned his shot over the bar as he fell.
It had been an exhilarating and open first half, but as the players went off, Spurs seemed to have set themselves up to finish United off after the break.
The Yorkshiremen had struggled to nullify the human beanpole, Peter Crouch; in the days before the match Simon Grayson had considered fielding his own giant, Lubo Michalik, to counter Crouch's aerial threat, but had instead opted for Kisnorbo and Bromby. Both men found Crouch a handful and in the end had abandoned any pretence of challenging him, opting instead to wait and contest the second ball.
But it was Leeds who resumed the more brightly after the interval, quickly pushing into the Spurs half. Snodgrass deftly beat two Tottenham men with a drag back and turn on the left to set up an opening but Leeds could not capitalise. Jenas looked to end the danger by passing back to Gomes but he had failed to see the lurking Beckford. The striker beat the keeper to the loose pass, but his touch failed him and the chance was gone.
Tottenham were soon back to set up camp around the Leeds area and Bale threw himself to the ground to win a free kick on the left off Bromby. Alan Wiley cautioned the United defender, but it looked a harsh decision. The free kick was direct at the Leeds wall so no serious harm was done.
In the 50th minute a long ball forward found Beckford in space on the left and he cushioned the ball inside for the onrushing Johnson, but the midfielder could not steady himself and the ball cannoned off him and ran out for a Spurs goal kick.
Doyle was booked a few seconds later for a minor offence as Tottenham came forward.
Combination work from Crowe and Snodgrass down the right earned Leeds a throw deep in Spurs territory in the 52nd minute and the Scot managed to hold up play thereafter to draw a corner out of his markers.
Snodgrass curled the flag kick in to the near post. Bromby got his foot to it and flicked the ball goalwards, where it bounced free off Jenas. Beckford reacted instantly, diving to scoop the loose ball over the line for a totally unexpected Leeds equaliser.
The goal breathed fresh fire into the visitors and they were quickly back into Tottenham faces; in the 55th minute Kilkenny found bags of space to fire in a power drive from 25 yards, though Gomes managed to hold onto it.
Harry Redknapp had seen enough and a minute later he brought Wilson Palacios off the bench for Rose in an attempt to stiffen the Tottenham midfield. But Leeds now seemed to be the equals of Spurs and were brimming over with confidence. Their passing was assured and accurate across
midfield and Beckford was worrying Tottenham defenders with his pace.
After 58 minutes, Crowe became the third United man to go into the book when he took down the breaking Bale. He had little real choice for the Spurs man had a direct run on goal ahead of him if he had got away.
Johnson gave away a needless corner in the 63rd minute when he could have headed clear and Bassong got in a smart header off the flag kick, though Ankergren held it safely.
United were instantly back onto attack with a flowing move which almost brought a goal. Snodgrass burst away down the right and fed Kilkenny in the area, He backheeled the ball into space for the onrushing Snodgrass, but under pressure he could only drive it wide of goal as he stretched clear of the chasing Palacios.
The ball was quickly down to the other end and Kisnorbo tangled with Defoe. The England striker took the Australian to the floor and he grabbed the ball, clearly expecting the free kick. Alan Wiley booked Kisnorbo for handball, though it looked like the defender had just cause for complaint.
There was little to choose now between the teams with both pushing hungrily for the next goal. Snodgrass and Beckford had their tails up and Howson and Kilkenny were rising to the occasion in midfield as spaces started to open up, with the home crowd growing increasingly restive.
In the 68th minute Defoe got in a snap shot from the left but Ankergren was down safely at his near post to collect.
It was too little too late for an exasperated Tottenham bench and after 70 minutes Harry Redknapp summoned Roman Pavlyunchenko and Robbie Keane to replace Crouch and Kranjcar in an attempt to pierce the United rearguard.
Within five minutes the changes had paid off. Tottenham launched an incisive attack as Palacios played a one-two with Bale on the left and moved forward menacingly. His ball forward was meant for Pavlyuchenko, but he stepped over it, allowing it to run on to Defoe. The Russian international sprinted on behind Kisnorbo to reach the perfect through ball from Defoe before sweeping coolly into the corner of the net. A masterly goal and one which Spurs were convinced would take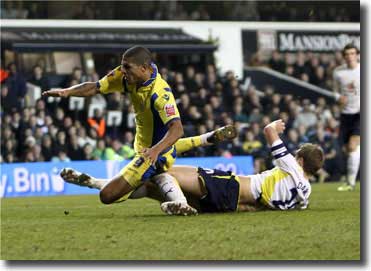 them through to the fifth round.
Tottenham were revived and much improved up front; one feared for United over the remaining fifteen minutes.
But Leeds were still in the Cup-tie and in the 81st minute Simon Grayson made his own substitution, sending on Luciano Becchio for Michael Doyle, in the hope of a second equaliser.
That looked a forlorn aspiration as Tottenham continued to push fiercely at the Leeds defence. After 81 minutes Keane nodded the ball past Ankergren but his effort was disallowed for offside against Pavlyuchenko who had supplied the cross.
A minute later Kilkenny became the fifth Leeds man to be booked after he challenged Palacios as United began to show their frustration. In their eagerness to score, it was understandable that they were giving Spurs more space and Jenas was allowed to run unchallenged thirty yards through the middle before Kisnorbo blocked his shot.
Then Hughes cleared off the Leeds line following a Bale cross.
After 86 minutes Keane was given time to set himself up nicely on the edge of the Leeds box, but his drive was straight down the middle and fielded well by Ankergren.
Bradley Johnson's name was added to Alan Wiley's collection in the 87th minute after he nudged Hutton to the ground as both men waited for a high ball on the edge of the Leeds box.
United were visibly wilting after a hard afternoon and before the dead ball could be taken Simon Grayson brought Aidan White on for Johnson to give them some fresh legs. He was swiftly into the action as he came storming down the left before a crashing Dawson tackle.
As the game ticked into the second of five added minutes, Hutton was booked for impeding Beckford as he broke away. It looked like that was the last of Leeds' opportunities.
In the 94th minute Beckford claimed a penalty as Dawson tackled him as he ran onto a through ball, but Alan Wiley correctly ignored the appeals. There was a different outcome a minute later, however, after Howson's long ball was controlled by Beckford in the corner of the Tottenham box. He faced up to Dawson and swerved outside him, drawing a challenge from the Tottenham defender which sent him crashing to the turf. The referee pointed to the spot, much to Dawson's disgust. There were 26 seconds of injury-time left.
Beckford, who had missed a number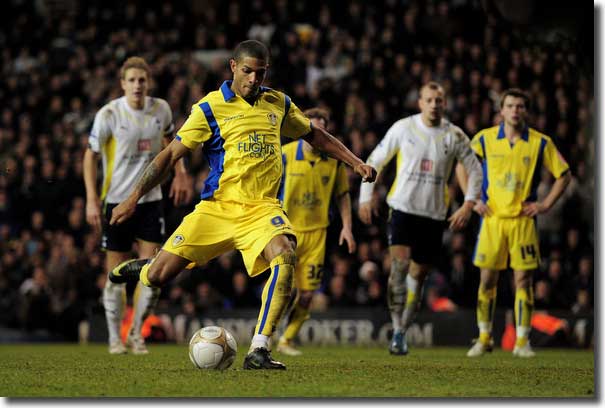 of important penalties for Leeds over the previous couple of years, strode up to the penalty spot himself, in front of the United fans. This time there was no doubt as Beckford hammered the ball powerfully into the roof of the net, utterly beating Gomes' dive and sending the Leeds followers into ecstasy.
There were only seconds remaining before Alan Wiley blew his final whistle to bring the action to an end.
If only for the melodrama of the finale, the game could vie with the glorious victory at Old Trafford as an echo of United's vibrant past. Leeds had denied a team playing some fantastic football and come back from the dead with a show of resilience that had once been the club's hallmark.
Leeds could have been dead and buried in that first twenty minutes, but, inspired by Ankergren's penalty stop and rallying round their defensive stalwarts, they came back from the dead to defy one of the best teams in the country. Tottenham had seventeen goal attempts, all but two of them on target, and could have been five up before United carved out their first chance.
Spurs boss Harry Redknapp was philosophical after the game, saying of the late penalty award, 'It could have been a penalty. It was a tight one. I wouldn't argue with the referee. He's made an honest decision. Sometimes you get them and sometimes you don't. Michael took a chance and tried to win the ball. He did get a foot on the ball.'
Somebody suggested to Redknapp that a replay was probably something he didn't want. It touched a nerve. 'No,' said the manager with heavy sarcasm, 'I look forward to it. I really thought it would be a good idea with a minute to go. I thought, "Give them a goal because I'd like to go to Elland Road on a Tuesday night. I haven't been there for a few years."'
After the game, Simon Grayson praised Beckford's coolness under pressure: 'The penalty was a great finish, he showed great composure, and I felt we got what we deserved based on the last 70 minutes of the game.
'He must have nerves of steel. It took an eternity for the referee to give the decision and there was a pause before it got sorted. He showed good mental strength to finish it because he has missed a few over the past 12 months or so. It shows he has confidence in his ability and over the course of the game it was something we deserved.'
There were still rumours that Beckford would be on his way out of Elland Road before the end of the month, but Grayson insisted he would only be willing to cash in if the club received a 'crazy' bid: 'It would have to be a lot of money because we have turned down decent money already for him. Jermaine wants to stay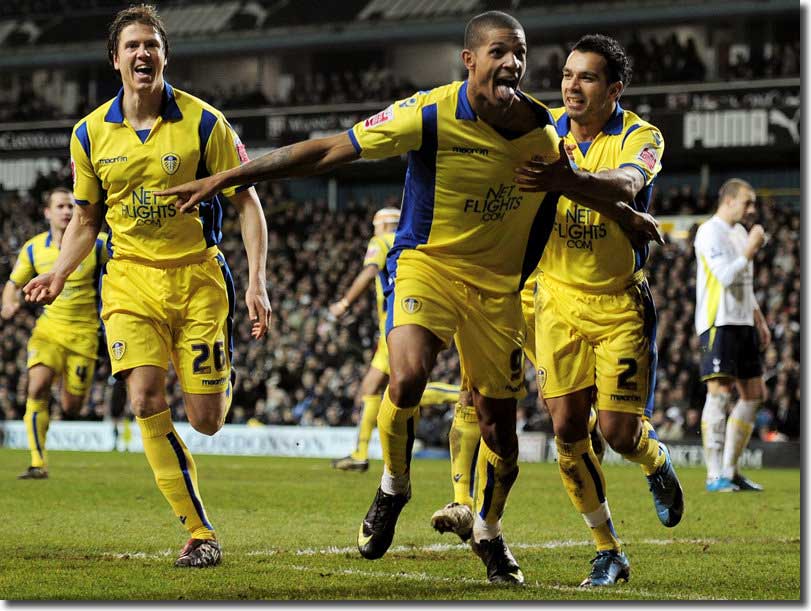 and finish the job off.
'If someone comes in with ridiculous money - and I'm talking a lot more than £2m - then we'd look at it again. But I've got no intention of selling him in the window because it's too late to get a replacement and he's too valuable to lose. I have said all along I would rather Jermaine leave on a free and I wish him well because hopefully in that meantime he's got us promoted. Jermaine can only win because if he scores 15 to 20 goals until the end of the season he will be linked with bigger clubs than he's being linked with now.
'There's still an opportunity he might stay beyond the summer. There have been a lot of twists and turns already. He put a request in after the Manchester United game and has come off the list now. He can leave in the summer if that's his choice.'
The United manager continued, 'It was a big result for us and one we thoroughly deserved.
'It was a cracking atmosphere, they had a stronger team than Man U in the last round and it was a big result. It was well deserved. They started well, we expected that, we were on the back foot and Casper kept us in it with some good saves, but even then we were in the game and we had a couple of opportunities.
'At half-time I thought we were unfortunate to be a goal down, but I told them to keep believing. We had the bonus of an early goal in the second half and we were the best team. We created opportunities and passed the ball well.
'We said all along we have players who can create chances and finish, and it proved. We stuck at it, because I would rather have lost 4-1 than not having chased the game.
'We have a group who have quality and desire.'
David Walsh in the Sunday Times: 'Much about this Cup-tie evoked the game of our childhoods, the tumultuous atmosphere, fiercely competitive tackling, the sense that only the Cup can produce the ultimate one off match. The football, too, was terrific and the suspense sustained to the death when Leeds' outstanding player, Jermaine Beckford, won a penalty, picked himself off the ground and swept the kick high into the Spurs net.
'It was Beckford's second goal of the match and after his winner against Manchester United three weeks ago, his third against Premier League opposition in two games. There are Premier League strikers who take half a season to do that but Beckford is ready to play at a higher level. He will stay at Leeds until the summer and then the question is whether he plays in the Championship with them or accepts an offer to play in the Premier League.
'What is certain is that Leeds are too good a side for League One. They had looked good in winning at Old Trafford three weeks ago but they were better yesterday and fully deserve to be still in the Cup. Spurs did not play badly and through a blistering opening 20 minutes they threatened to steamroller Leeds.
'Somebody asked Harry Redknapp if that wasn't the moment to win the game but he saw it as being simpler than that. "We should have settled it with a minute to go," he said. "We're 2-1 up, if we keep the ball it is game over." Teams do what they have always done. Spurs attack, they always have, and after Roman Pavlyuchenko put them 2-1 up in the 75th minute, the last thing on their mind was pulling up the drawbridge.
'Instead they were flying into Leeds' half chasing a third, full-backs overlapping, midfielders sprinting forward and it was so Spurs. And Leeds, too, tend to be what they've always been. Before the game, an army of fans marched along the Seven Sisters Road chanting "Yorkshire, Yorkshire" and it was remarkable one word defined them. "We've got the desire to make sure we don't lose games, that's
in the locker of this team," said Simon Grayson.'
Henry Winter in The Telegraph: 'This was another memorable moment for a club refinding their feet. Little details showed Leeds United have something special. It was the cheeky wink that Beckford gave Gomes after a first half save. It was Patrick Kisnorbo telling the players as the clock ran down to "keep going and we'll get one." They did. Fouled by Michael Dawson, Beckford slammed home a penalty in the sixth minute of Fergie time, forcing the replay. "Becks is just a clinical finisher and he's rapid," said Casper Ankergren, whose early saves from Defoe and Bale had kept Leeds in the tie. "Sometimes people say he doesn't work too hard but what do you want? Do you want the goals or do you want a striker who works hard? For example, Luciano [Becchio], when he plays with him, Luciano puts in a great effort and works really, really hard. I prefer the goals."
'Kisnorbo spoke of Beckford's "great movement", adding that the striker "proved against Spurs he can play in the Premier League". Everton and Aston Villa are currently being linked with Beckford. "There is just over a week to go before the window shuts and we are not looking to let him go," Grayson said. "If someone offers me £10m then maybe we would want to do something. Beckford's goals are more important to us than money; and if he scores the goals we will end up getting the money by getting into the Championship."
'If Beckford's stock is hurtling skywards, so is Grayson's. The Leeds manager's decision to insert Robert Snodgrass in the hole behind Beckford bemused Spurs. "Spurs did not know what to do with him at times," said Grayson.
'As well as this tactical nous, Grayson's demeanour has impressed his players. "He's very calm," said Ankergren. "He's very respected because of that. I don't like managers who hammer the players at training. He doesn't need to raise his voice." The only thing Grayson raises is expectation.
'As Leeds fans danced off into the London night, Grayson himself was keeping his players' feet on the ground. "Swindon on Tuesday night," he reminded them, ordering an immediate shift of focus.'