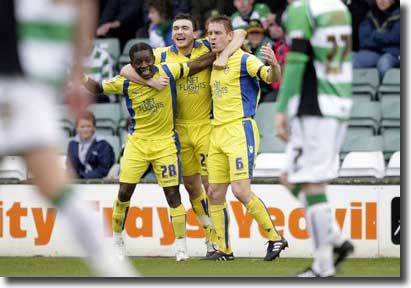 printer friendly version
During the halcyon autumn months of 2009, when Leeds United were carrying all before them in League One, there were few who seriously doubted the club's seemingly divine right to promotion; their 4-2 victory at Stockport on 28 December left them eleven points clear of third-placed Norwich City, having sustained a single defeat in 23 games which saw them concede a mere 13 goals.
They seemed likely to confirm promotion some weeks before the end of the campaign. However, a run of poor League One results after Christmas derailed United's imperious progress. The excitement of playing in televised FA Cup-ties against Manchester United and Spurs had taken the eye off the ball and probably bred some unconscious complacency among the players, despite the words of caution from the manager. Victory at Old Trafford gave way to a home draw with Wycombe; a draw at White Hart Lane was followed by a 3-0 defeat at Swindon.
Team morale and togetherness were understandably sapped by headlines about Jermaine Beckford's supposed preoccupation with a big money move to a club at a higher level. His transfer request and apparent lack of team spirit resulted in some disaffection from the fans. A truly dismal series of results saw United slump to fourth place by the beginning of April, suffering four successive defeats against promotion rivals without troubling the scorers. Promotion hopes were hanging by the most tenuous of threads.
A revival began with a 2-1 victory at Yeovil on Easter Monday, 5 April, courtesy of two rare goals from club captain Richard Naylor. The result steadied the Elland Road ship, restoring some much-needed confidence; jitters on the part of other clubs left Leeds in pole position to secure the second automatic promotion position.
A 4-1 defeat of Milton Keynes Dons on 24 April gave United a single-point advantage over Millwall and clear breathing space ahead of Swindon, Charlton and Huddersfield. Norwich were almost certain champions having confirmed promotion with victory at Charlton on 17 April.
The following weekend had the Addicks hosting Leeds at The Valley, Millwall away to Tranmere, Swindon entertaining Brentford and Huddersfield at home to Colchester.
Phil Hay in the Yorkshire Evening Post: "Believe, urged the message at the front of The Valley's away end and Leeds United did. But the heavy clouds that crowded out the sunshine as the banner unfurled warned that their day would fall
short of perfection. Perfect it nearly was, contrary to the realism that abounded in Leeds before their game at Charlton Athletic.
"Promotion in London was never widely expected, or not by the majority who went there with that prospect in mind. For almost an hour, the club were a single goal shy of achieving it, in a season when they have already scored 100. Still the most elusive of prizes strayed beyond reach, relief delayed for another week.
"The rub on Saturday was a League One table which required Millwall to lose to Tranmere Rovers in order for Leeds to free themselves finally of what Ken Bates, United's chairman, once called 'this accursed division.' Tranmere rose to the occasion spectacularly, scoring two unanswered goals which generated as much euphoria at The Valley as they did on the Wirral. But there were two sides to the bargain, the other demanding that Leeds put Charlton to the sword. The full might of United's cavalry was beaten back and eventually breached two minutes from time.
"Akpo Sodje opened the only wound in London, forcing a goal that was later credited to Leeds captain, Richard Naylor, but it need not prove fatal. 'Our destiny's still in our own hands,' said Grayson, a familiar remark in post-match discussions. And so it is, dependent entirely on a game against Bristol Rovers which is immune to hyperbole.
"There was, in the body language of United's manager, the hint of disappointment and an opportunity forsaken in London. He promised before Saturday that he would take no heed of developments at Prenton Park but Millwall's game against Tranmere was an elephant in the room, too large and obdurate to ignore. Both he and Phil Parkinson, Charlton's manager, were patently aware of Millwall's trials long before full time.
"Leeds' supporters made plain the scoreline, communicating Tranmere's first goal at the end of the first half and spreading news of their second later in the match. By then, Grayson had been infected by the optimism which was rife inside The Valley, unable to resist an effort to achieve the improbable. Leeds reached the final whistle with five strikers on the field, cut loose by a manager who dispensed with caution.
"If his tactics came at the cost of a point - Grayson implied that they had, saying he would 'take responsibility for losing the game' - then it was only fair to admire his sense of adventure. The situation on Saturday seemed to justify it, a time for more than half measures.
"For as long as the match at Charlton remained goalless, United's imminent game against Bristol Rovers remained relevant. So laboured has been his squad's crawl to the line that Grayson was unlikely to contain himself
when the opportunity to take a decisive step forward finally arose. Better that, many would say, than to die wondering.
"Charlton's goal arrived at the very end of a rousing fixture, dominated by Leeds before the interval and dictated by Charlton afterwards. Sodje's header was a messy coup de grace but Grayson's biggest regret was his side's failure to score when their performance was at its height, late in the first half. Charlton wriggled off the hook and made the most of their escape.
"As early as the second minute, Parkinson was quietly thanking Max Gradel for driving a shot against the body of Darren Randolph after Sam Sodje - Akpo's brother and a one time loanee at Elland Road - sold his goalkeeper the shortest of back passes. Gradel advanced towards Randolph but lacked the precision to place the ball to either side of him. By such fine margins was the game won and lost, never more so than in the 34th minute when a crucial deflection off Deon Burton prevented Neill Collins from squeezing the ball under Charlton's crossbar.
"In between those chances, Bradley Johnson's volley gave Randolph a fright and another shot from Gradel trundled wide while Johnson and Luciano Becchio stretched Parkinson's defence. Yet Charlton threatened, as a team in their prominent League position were liable to do. Burton's volley on the turn was met by the palms of Shane Higgs who dived to his right to meet their most dangerous effort of the half.
"Organised and purposeful though Leeds were, Grayson did not set out with reckless abandon. His astute selection of Michael Doyle, pushing Johnson to the left wing and Sanchez Watt to the bench, was an unashamed call for muscle in his midfield, sacrificing the pace and flair offered by Watt. Only when the picture at Prenton Park became clear did Grayson decide that ambition was the better part of valour.
"It was obvious as he walked to the tunnel at half time that events in Birkenhead were becoming interesting. The stand behind Higgs' goal bounced in response to information - accurate, as it turned out - that Ian Thomas-Moore, a former player of theirs, had converted a penalty and given Tranmere a valuable lead. 'Just one goal and Leeds are up,' came the chant from their end of the field, a small wish at the tail end of an extremely long season.
"Ironically, Parkinson claimed that the news spread by United's crowd was as much of a help for his players as it was for Grayson's. Charlton had nowhere to hide on Saturday, certain that their fragile claim to automatic promotion was utterly dependent on beating Leeds. They might still fall short, despite League One concertinaing behind United, but they attacked the second half with an attitude which suggested Parkinson had ordered them to go for broke.
"Grayson was ready to do the same, and Jermaine Beckford entered the fray as a substitute in the 64th minute. Watt soon followed him and Mike Grella was added to a top heavy team seven minutes from time, shortly before United conceded the game's only goal.
"The teams went toe-to-toe, ceaselessly. At one end of the field, Higgs parried a Therry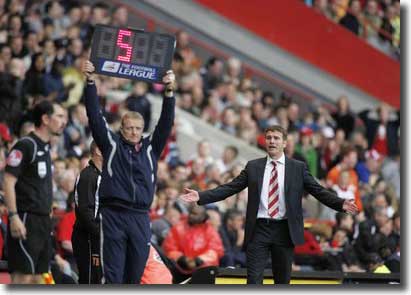 Racon shot with one arm and watched Sam Sodje nod a ridiculous header over an open goal from a position where he could hardly miss. At the other end, Robert Snodgrass dragged a tired attempt into Randolph's hands and Beckford sidefooted the ball wide after Gradel picked him out with a low cross to the near post. All the while, the implications of a goal in United's favour hung in the air.
"Grayson's defence grew increasingly ragged as the second half progressed, and more so once right-back Andrew Hughes made way for Grella. It was amid random, disorganised marking that Akpo Sodje's header forced Naylor to throw himself at the ball and send it flying into the roof of Higgs' net. At that late stage, Charlton might just have earned their victory.
"As the game slipped into injury time, Kyel Reid clipped a free kick against a post and Beckford's header on the end of Gradel's cross brought a save from Randolph which defied description of its brilliance. Regardless of it, Grayson had already accepted that a win over Bristol Rovers was the only answer to the question of how to escape this damned League. For a club used to living life the hard way, it seems a straightforward scenario."
The equation left as the outcome of the day's results was clear: a win at Elland Road against Bristol Rovers on 8 May and United would be promoted. Anything less and Millwall, Swindon (who would face each other at the New Den that afternoon), Charlton or even Huddersfield could yet deny them.
Simon Grayson: "I'd have loved to have had it done with and finished, but we just couldn't get that goal. I thought we played well and we controlled the game for large parts. I'll take responsibility for the last few minutes because we had five strikers on trying to get the goal to get us promoted. Their keeper made a couple of great saves and for large parts we were the better side. We had a good shape about us, we limited them, and it was only late on that they tested us.
"In the end the result didn't make a difference to us because we still need to win next weekend. The players are disappointed that they came so close, but there's no heads down.
"This weekend could change the club's destiny, our fortunes and our future. People will be building the game up, but we'll try to prepare properly and focus as much as we can do to get ourselves ready to go. It'll be a normal week and a normal routine.
"As it pans out, we've got one game to win. Basically, it's a one-game season. There's great determination here to see it through."
Grayson decided on a number of changes for the big game. Skipper and central defender Richard Naylor was unavailable through injury and a weary Robert Snodgrass was consigned to the subs' bench. Leigh Bromby was recalled to play in the centre of defence and Jermaine Beckford was named in the starting line up for the first time in a month, with the manager also naming him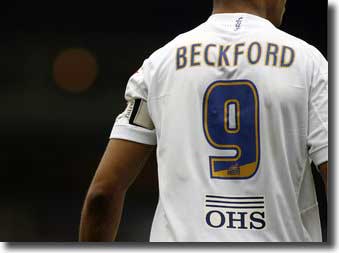 captain for a game that was rumoured to be his farewell appearance before a close season free transfer to Everton.
It was a truly extraordinary day, full of the highest drama; it even had the obligatory pantomime villain for the supporters to boo to their hearts' content.
There was a season's best 38,000 crowd packed into an Elland Road stadium that buzzed with tangible electricity, albeit with an all-pervading anxiety about it. With a nod to their glorious heritage, United took the field in the new, all-white kit that they would sport during the 2010/11 season.
United began the game pressing forward strongly and put the Rovers goal in danger several times. They were awarded a free kick when Daniel Jones challenged Max Gradel on the right flank. Neil Kilkenny sent the dead ball in but the chance came to nothing.
After three minutes, the news came in of the first score of import: Daniel Ward slammed home a low volley for fourth-placed Swindon Town at Millwall after a free kick from former Leeds midfielder Jonathan Douglas was only partially cleared. It took the Wiltshire side (85 points) above Leeds (84). With Huddersfield Town (83) having gone ahead seconds earlier at Exeter, Millwall (82) were down to fifth.
At 3.15, there was more drama involving Douglas at Millwall, when he brought down Shaun Batt in the area. Steve Morison made no mistake with the penalty for the South Londoners, beating former Leeds keeper David Lucas to make it 1-1; United were back up to second with the Lions restored to third.
Nine minutes later, Nicky Bailey put Charlton 1-0 up at Oldham to draw the Addicks level on 84 points with Leeds, but behind them on goal difference. At the same time, Huddersfield conceded at Exeter, dropping them back to sixth.
Meanwhile in the feverish atmosphere of Elland Road, the Whites continued to push on.
Beckford was showing some real commitment on his recall and some sterling work by him out near the left hand corner flag set Johnson free. The midfielder's dangerous cross was palmed away by keeper Mikkel Andersen. Then Max Gradel got the better of Daniel Jones on the left, capitalising on his slip to reach the byline and progress at pace along it. Just when it looked he would try and beat everybody all on his own, he hammered a low cross to the back post where a Rovers defender beat Luciano Becchio to the ball. Gradel would have been better advised to lay the ball back gently to the edge of the area for Beckford, who would have had a straightforward opportunity to score.
Possession was recovered by Leeds and when Shane Lowry's header came looping back in it seemed to be dropping nicely for Beckford in space on the six-yard line. It looked a clear opening but he chose to take the dropping ball first time and was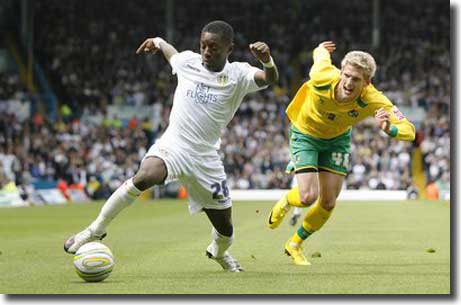 inches from connecting with his shot and the opportunity was lost.
Minutes later Kilkenny played Gradel in on the right but he sliced his shot well wide when both Kilkenny and Beckford were waiting for the pass that would have left them with a clear sight on goal. Gradel's shot was so wayward that the ball bobbled out for a throw deep on the far side.
The jumpiness of the Leeds players was starting to mirror the mood of the crowd. After a confident opening with Gradel a constant menace from the right flank and Beckford threatening on the shoulder of the defenders, anxiety started to set in. As half chance after half chance came and went without being converted, nerves took hold. In the stands, unease was starting to give way to real unrest.
At the same time, Bristol, devoid of any pressure, could play their own game and Joe Kuffour posed a constant threat with his powerful, direct forward play. He took every opportunity to run at the Leeds rearguard and on one occasion as he cut inside, Kilkenny was forced to hammer the ball out for a corner to prevent him getting in a shot.
When Beckford did manage to put the ball into Rovers' net, coolly beating goalkeeper Andersen from Neil Kilkenny's through ball in the 32nd minute, he saw his effort ruled out for offside by referee Graham Salisbury. And then the game boiled over with an ugly confrontation that might have destroyed United's season.
In the move that led up to the disallowed goal there had been a coming together between Gradel and Jones, which left the winger writhing on the floor. The diminutive Ivorian winger was determined to right the wrong he felt he had suffered at the feet of the defender. Following the offside decision, Gradel, his judgement suspended by a rush of blood, took the law into his own hands and stamped on Jones. The Rovers player threw himself to the turf, theatrically clutching his face as the diminutive Gradel towered righteously over him.
There was a mass confrontation between the teams and angry pushing and shoving.
After consulting with his assistant, referee Salisbury sent Gradel from the field. The Leeds player was a man possessed, however, angrily pointing at the mark of studs on his socks. He reacted furiously to his dismissal, impulsively seeking to confront both the referee and Jones.
Matters looked likely to get out of hand and it required the determined intervention of Jermaine Beckford and Michael Doyle to persuade Gradel to leave the playing arena. Indeed, Doyle had little alternative other than to physically hoist Gradel off the field when he would not respond to the pushing and shoving of Beckford, who knew instinctively what would happen unless he got his hot tempered team mate off the pitch. Gradel wasn't finished yet, though, and returned for another go. Two hefty stewards led him down the tunnel as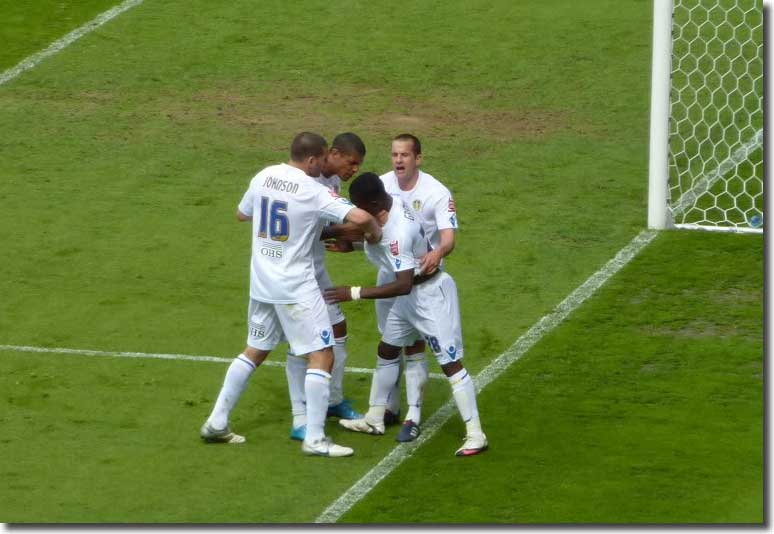 Simon Grayson sought to reorganise the ten men who remained on the field.
Grayson: "I still don't know why he was sent off, but I was very disappointed with his reaction. He must have thought he'd let everyone down. He'll learn from it and he won't do it again."
Jones was cautioned for his part in proceedings and was roundly booed throughout the rest of the game.
Leigh Bromby brought the ball forward and played it through for Bradley Johnson to get in a shot from thirty yards, but the midfielder could only curl the ball harmlessly into the clutches of goalkeeper Anderson.
Rovers capitalised on their sudden numerical advantage, pressing forward. Darryl Duffy was booked for one challenge on Shane Higgs as the goalkeeper caught a lofted cross from the right. Michael Doyle followed the striker into the book during stoppage time.
After more than five minutes of added time the game reached the interval without a goal. The officials and players left the field surrounded by security staff to a loud chorus of boos. United goalkeeping coach Andy Beasley appeared to clash with Rovers boss Paul Trollope as the crowd jeered with bitter anger.
Referee Salisbury was heckled for the rest of the afternoon with taunts of "This game's too
big for you" and "You're not fit to referee", as the siege mentality at Elland Road boiled over.
United's afternoon grew even more wretched two minutes after the restart as Bristol took a surprise lead. Villain of the peace Jones got possession on the left flank and dropped his shoulder to make space outside Andy Hughes before looping a centre beyond the far post. Leeds had enough defenders in attendance to feel comfortable but they assumed the cross was sailing safely out for a goal kick. Joe Kuffour would not give up the cause, though, and was there to hook it back across the face of goal. Duffy was given sufficient time and space by Bromby to get the ball under control before firing past Higgs from close range. It was one of only two Rovers efforts on target all afternoon.
Almost simultaneously, Charlton took a 2-0 lead at Oldham by way of a free kick from Miguel Angel Llera. The way the results stood at that moment, Charlton (84 points) were in second, followed by Leeds, Millwall and Swindon (all on 83).
Silence and despair prevailed all round Elland Road, but the injustice of the goal seemed to galvanise the ten men of United.
Becchio was booked after 48 minutes for a meaningless challenge on the goalkeeper as he went to catch a high ball, but there was soon a more incisive threat on the Bristol goal.
In the 54th minute, Simon Grayson threw caution to the wind and brought Jonny Howson on for Shane Lowry, with Johnson moving to an attacking wing back role on the left. Within five minutes of stepping onto the turf, the Leeds-born midfielder had sent the crowd into raptures with an equaliser struck as sweetly as could be imagined.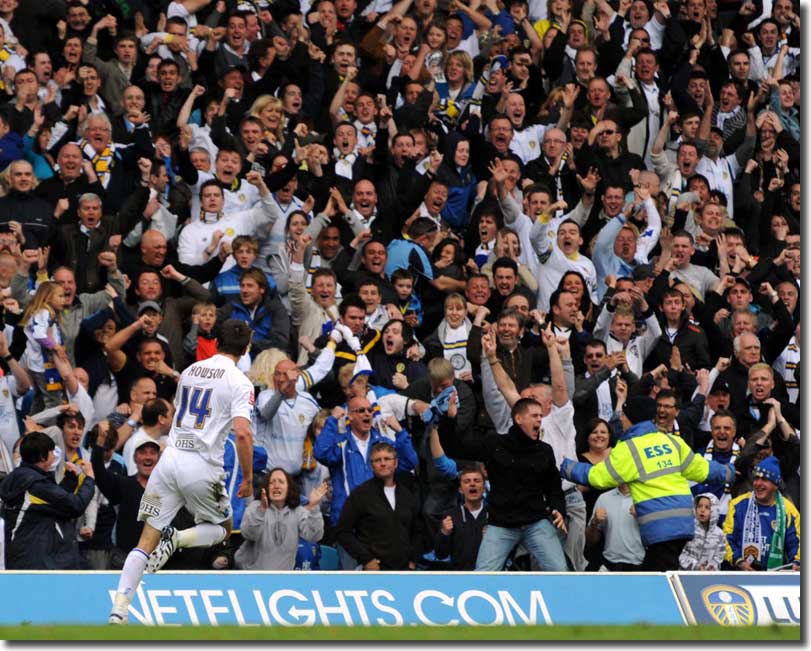 Howson had already had three sighters on goal when Johnson's miscued long ball from the left found Becchio on the edge of the area. He laid it back for Howson who curled it home beautifully from just outside the D. The home fans exploded with relief as the young schemer raced to them to demand even louder vocal support.
Howson was a man inspired and burst through again on the right, but when the ball ran loose to Johnson at the far post he flashed his drive impulsively into the crowd.
Three minutes later, the news came through that Millwall (85 points) had leapfrogged Leeds and Charlton (both 84) by taking a 2-1 lead against Swindon (82) as Town captain Gordon Greer put through his own net.
But the momentum was with Leeds and the fervent crowd went wild when their heroes took the lead for the first time in the 63rd minute.
Leigh Bromby's long throw into the Rovers penalty area was gathered safely by goalkeeper Anderson after a skirmish, but he recklessly attempted to throw it quickly to the right flank. His distribution was wild, however, and the ball skimmed off the head of the nearby Beckford and fell to Johnson on the left. The midfielder chested it down and made his way at pace deep into the area. He hammered the ball at goal but Chris Lines blocked it. The ball sat up nicely and goalscorer supreme Beckford was on it in an instant to scuff a shot under the keeper and over the line for his 31st goal of the season.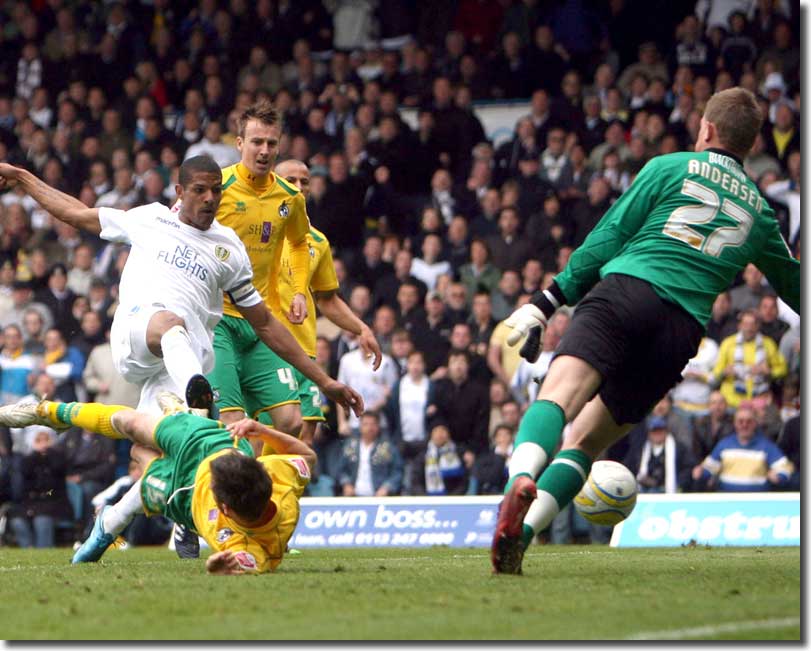 Cue Bedlam at Elland Road as United regained second place in the table...
But with just the one goal between the teams and tension gnawing hungrily away at everyone in the ground, this was to be no cakewalk.
United tried desperately for the third goal that would make the game safe, but had reason to be thankful to Shane Higgs after 72 minutes when the keeper dived bravely to gather at the feet of the onrushing Kuffour as the striker attempted to go round him. It was every bit as vital a contribution as the goals of Howson and Beckford.
Seconds later Andy Williams, just on as sub for Charlie Reece, made space for himself in the area but ballooned his shot into the crowd when he seemed to have done all the hard work by leaving Neill Collins on the seat of his pants.
In the 75th minute, Leeds won a free kick on the right when Lines climbed all over Becchio to an aerial ball. Kilkenny's free kick to the far post was met powerfully by Leigh Bromby's head, but the ball found only the foot of the upright and was cleared.
Over in South London, Millwall kept the pressure on, with Steve Morison putting them 3-1 ahead with a spectacular strike from distance. Billy Paynter glanced home a header from Alan Sheehan's free kick to bring Swindon back to 3-2, but as long as Leeds retained their lead they would be up.
In the 88th minute at Elland Road Simon Grayson brought Sanchez Watt on for Becchio to run down the clock.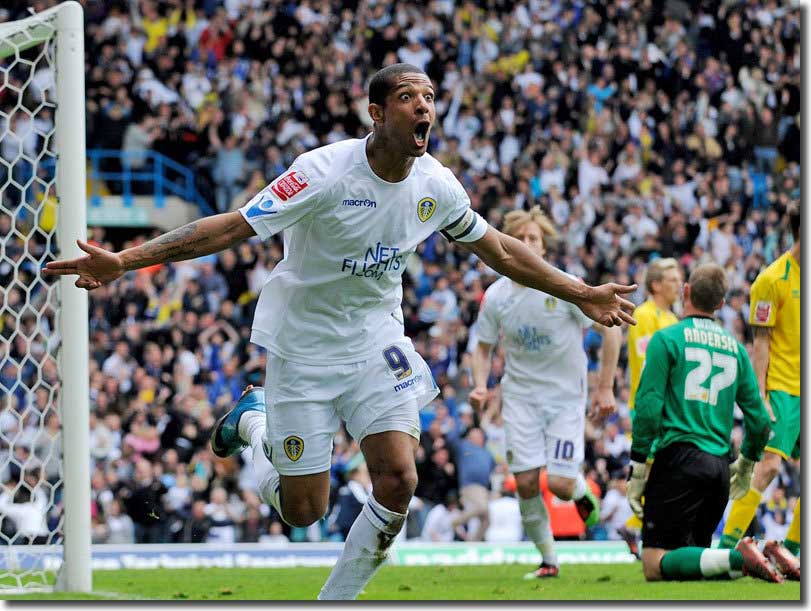 As the game neared full time, Jeff Hughes arrowed a testing Rovers free kick from the left flank in at the near post. The ball was clutched gratefully at the second attempt by Higgs, athletically diving low down to his left to protect his station.
With the game edging into five minutes of injury time, the manager sent Robert Snodgrass on for Beckford, who went off to a hero's farewell, pausing to symbolically hand the captain's armband to Howson.
With the tension almost too much to bear, referee Salisbury blew his whistle to signify the end of the game. This extraordinary contest was finally over and Leeds had held out for a memorable victory.
All the official requests to stay off the pitch proved completely irrelevant. The massive crowd were not going to let a moment like this pass quietly after so many years of frustration. Thousands poured onto the playing surface in never to be forgotten scenes of exultant celebration, the like of which had not been seen at Elland Road for many a year. It took a plea from Simon Grayson to restore some order so the players could come out for a well-deserved lap of honour and join in the fun.
One of the players who most enjoyed the post-match celebrations was the unsung Andy Hughes, who later recalled events at a function in April when it seemed United would miss out on promotion.
"I was chatting to one supporter when another came up to him and said 'Don't speak to the players, they're all a disgrace'. I tried to stop him and talk it over but he wasn't interested. All he'd say was 'You're peeing promotion up the wall'. That hurt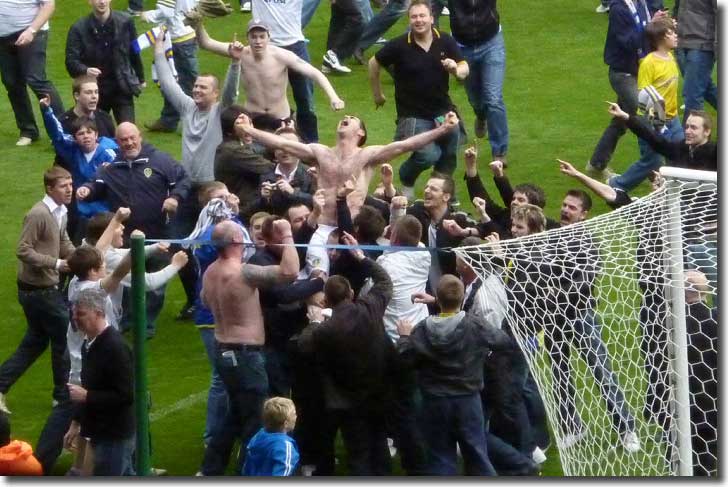 and I take offence at anyone telling me I don't care. Football's my job and it goes home with me. It always has.
"I made a point of remembering his face and I hope I'll bump into him one day. Nothing aggressive and nothing clever - I'd just like him to admit that I was right and he was wrong. We're not bottlers and we do care.
"I'm 32 and I don't think I'll see another moment like this... That's why I made no effort to get to the tunnel when the supporters invaded the pitch on Saturday. I thought 'I've waited a long time for this moment and I want to soak up every second.' If that means getting crushed by the celebrations of 5,000 fans then that's fine by me. I know what they've been through in League One because I've seen it all.
"When you're young, football is all about skill and technique. That's what gets drummed into you. But the older you get, the more you see another side of the game - the need to turn teams, to get in their faces and to run them into the ground. In this League, you need horrible footballers. I'd put players like myself and Michael Doyle in that bracket, and that's not disrespectful to him, not in the slightest.
"You can't overestimate the value of a Michael Doyle - someone who bites away at the opposition until they're totally demoralised. I've seen many teams get to the point where they can't handle any more of his tackling and scrapping. You'd get nowhere without it.
"From my first day here, I knew and accepted that there were better footballers here than me. I wouldn't compare myself to someone like Jonny Howson. But I always said that Leeds would get every drop of energy and blood from me if they wanted it and I've given as much as I can for three years. It's been ups and downs every week. It's never quiet here, ever.
"There's pressure on you constantly but isn't that what football's about? Going to a mid table club and messing around with nothing to play for isn't for me. That's why I came here and why I want to stay.
"Of course I was worried. When (Bristol Rovers) scored, I look round and the first face I saw was Bradley Johnson's. He looked devastated. It was a pretty emotional moment because you knew it was all or nothing. I'll never forget the last half hour. We made it happen against the odds and that's what I kept trying to say to the fans who doubted us - judge us when the season finishes."
Jonny Howson, scorer of the equaliser, was rewarded with an extension to his three-contract after the game
and was just as delighted as Hughes.
"I've grown up supporting this club, I've loved my time here, and extending it by another season is fantastic. I think when you know you're wanted as a player you tend to play better yourself. I just enjoy playing football and doing something I love every day.
"I was stuck for words, the adrenaline and the buzz took over. I was just so glad we did it. It's hard to put it into words what it felt like. Coming down to the last game and the way it panned out... That doubt starts to kick in. I was sat on the bench thinking we might not do it, but you never know what's around the corner.
"As the song goes we've had our ups and downs. In my three years we've had a relegation and two Play Off defeats, and it's nice to end the season on a high."
Howson figured in 45 of the 46 League games, but had found himself on the subs' bench for the final games of the campaign. "Watching is the worst thing as a player because you can't affect it. For me personally, there was just a slight doubt starting to kick in. It's not over until the final whistle but one goal down and a man down is a problem against any team. But we kept believing - everybody on the pitch kept believing - and we've pulled it off.
"When you come off the bench, you just want to make an impact and put yourself about. I can't remember too much about the goal and it was a bit of pot luck but I knew when I hit it that it had a chance of going in. It's definitely the most important goal I've scored.
"A few of us have been at this club through all of it - the 15-point deduction, relegation from the Championship, losing in the Play Offs and everything else. It's great to achieve what we set out to achieve and, as I said to people close to me before the game, it's nice to finish the season with a smile on my face.
"It's my fourth season and the other three have always left me disappointed. I'm just pleased that we've done this and it'll be nice now to get a full season in the Championship."
Simon Grayson described the win as a "fantastic achievement. We didn't do it the easy way after going down to 10 men and a goal behind early in the second half. Credit to the players. It was a fantastic effort from everybody... It's never easy when you've got ten men to play with, but we've got belief and determination that we could do it. They kept going right until the end. Full credit to them. They are a fantastic bunch of players to work with."
The manager also spoke about Jermaine Beckford, who had played a marvellous game, fully justifying Grayson's decision to name him captain. "Jermaine has become a hero. Whether he leaves is a question for another time. He is out of contract but responded in the right manner to what I asked of him. Jermaine got the goal but I thought the whole team were heroes.
"The lads have gagged him and tied him up before putting a contract in front of him. I don't know if he will have a change of heart, but if there is a chance within our financial constraints then we will try to keep him because he is a fantastic player. We turned down good money in January because we wanted to win promotion. His goals have proved that was the right decision."
Grayson explained the thinking behind handing Beckford the captaincy. He said: "My objective was to give him added responsibility and I thought he responded. I looked around and thought 'why not Jermaine?' He is one of the senior pros and I knew he would be back in the team. I thought that extra responsibility might give him an extra spring in his step. I thought it worked. I noticed as he led out the team that he was very vocal. That is not his usual manner."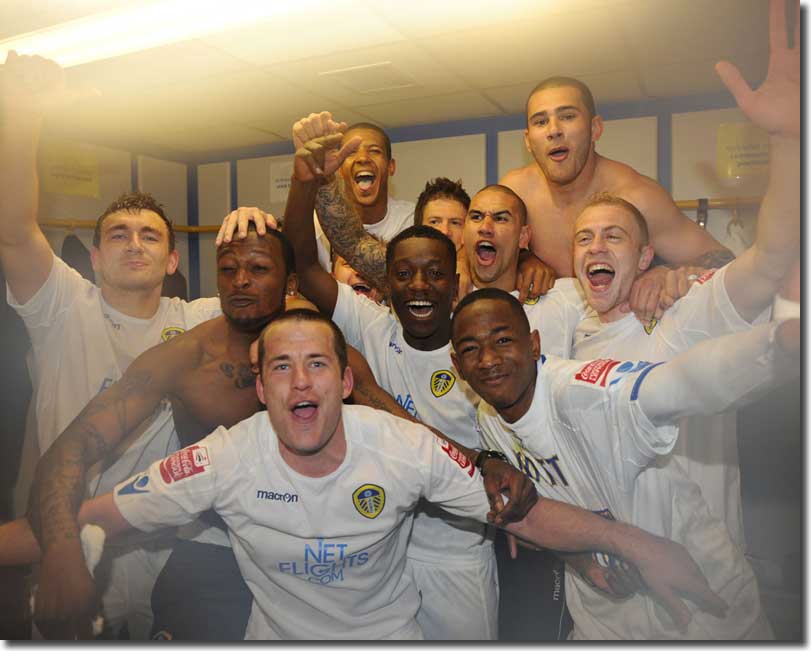 Grayson added: "I think getting out of League One for Leeds United will prove to have been harder than getting out of the Championship. We are a big scalp in this division. I know the Championship is a difficult division and there are some really big teams in there but it doesn't frighten me. I won't say 'we will be promoted next year' but I am an ambitious manager and want to get this club in the Premier League.
"We will have a good go. It is a challenge we will embrace. We will have a good couple of days and the chairman has organised a trip for the players and staff. Now it is in the press, we can hold him to that promise. We are not sure where we are going - Filey or Bridlington, probably!
"It has been a long season for everyone connected with the club. The players will disappear for seven or eight weeks and I will get a holiday at some stage, but come Monday and Tuesday, I will be planning for next year."