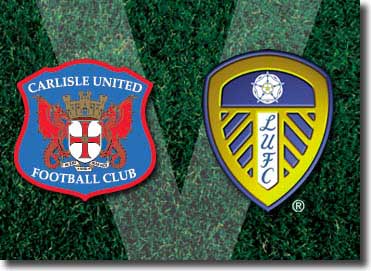 Almost from that momentous day in May 2007 when Leeds United were relegated from the Championship after going into administration, it seemed the club's fate was inextricably entwined with that of Carlisle United.
In November 2007, the Cumbrians pulled off a commendable 3-1 victory over the Whites, in the process becoming the first side to inflict defeat on Leeds in League One after 13 other teams had failed in the attempt; in May 2008 the end of season Play-Offs saw Leeds get the better of the Brunton Park outfit over two pulsating legs in the semi-final; Carlisle's 2-0 victory at Elland Road in January 2009 came courtesy of goals from former Leeds strikers Danny Graham and Michael Bridges and was the last defeat suffered by the Whites on home soil for 25 league games; the first 15 of those fixtures brought victory and inevitably it was Carlisle who ended the 100% record at the end of September 2009 with a 1-1 draw.
Familiarity risked breeding something more dangerous than contempt when the two clubs emerged as the contestants of the Northern Area final of the Johnstones Paint Trophy in early 2010.
In the first leg at Elland Road on 19 January the Cumbrians once again abused the hospitality of their hosts with a merited victory.
Phil Hay in the Yorkshire Evening Post: 'There is something about Carlisle United, though Simon Grayson cannot put his finger on it. Suffice to say that Elland Road's aura is a mystery to them, as Carlisle are to Leeds United. The stadium's reputation as a graveyard for visiting teams is so ingrained that Leeds can host the great and the good without fear of the consequences. Strange, then, that a club as modest in their ambition as Carlisle should take the guise of United's Nemesis and play the part convincingly. For a year and a half, and specifically during Grayson's tenure as manager of Leeds, that trend has grown ... Grayson could hide behind that inexplicable record, but he is too honest for that and too aware of his own standards to dismiss United's 2-1 defeat as inevitable. Between wasteful finishing, rotten luck and a performance containing traces of those which disappointed against Wycombe Wanderers and Exeter City, they were beaten by natural causes.
'Grayson was no more likely to concede the Northern Area final, but he found himself in the unusual position of explaining a second successive defeat, something he has not been asked to do this season. The irony of the result, he admitted, was that Leeds had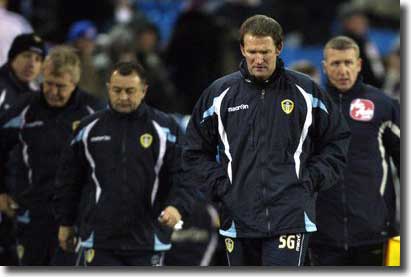 chances enough to settle the tie last night, regardless of what happened in the second leg on 9 February 9 ... Yet in amongst tangible improvement on Saturday's defeat at Exeter were shades of similarly weak defending and a midfield that is starting to find equals in League One. By whatever degree, Leeds have descended from their often incomparable heights.'
After the disappointing Elland Road reverse, United restored a modicum of their reputation in the Brunton Park return on 9 February.
Young midfielder Adam Clayton, on loan from Manchester City, put Carlisle 3-1 ahead on aggregate after 33 minutes, but Robert Snodgrass got Leeds off the mark with a header 45 seconds into the second half.
Simon Grayson withdrew Michael Doyle and Jonny Howson and replaced them with Neil Kilkenny and Bradley Johnson in an attempt to freshen up United's midfield with 24 minutes of the contest remaining. The changes almost brought instant reward: Johnson rose at the far post to nod a Snodgrass centre back across the face of goal and Jason Crowe headed the ball home, but the effort was disallowed for offside.
In the 72nd minute it looked like the miss would be terminal. Kevan Hurst restored Carlisle's two-goal advantage, pouncing on a slip by Lubo Michalik to curl home a shot from just inside the box.
The home supporters were convinced that the game was theirs, but Grayson's men were far from finished.
The manager played his final card in the 79th minute, sacrificing his captain, Richard Naylor, to add substitute Mike Grella to the mix. There was an immediate impact and when Crowe finished off a Leeds attack with a clinical finish, the goal tied up the score on the night, two goals apiece.
With four minutes of the normal ninety remaining, American striker Grella levelled the aggregate scores, deftly heading home after some good build up work by Gary McSheffrey.
The goal sent the contest into a penalty decider, staged in front of a stand heaving with passionate home fans who had spent most of the second half baiting Leeds goalkeeper Casper Ankergren.
Former Whites left-back Ian Harte converted the first of Carlisle's spot kicks and when goalkeeper Adam Collin saved Bradley Johnson's effort it seemed it might be decisive. Kevan Hurst and Gary Madine scored for Carlisle but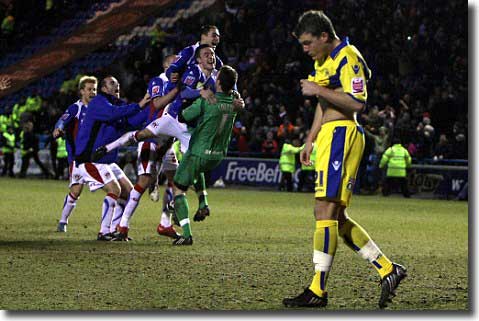 Snodgrass and McSheffrey responded emphatically for Leeds; then, when Richard Keogh missed the Cumbrians' fourth kick, Mike Grella levelled matters for United.
Adam Clayton and Max Gradel kept things level pegging as the penalty competition entered its sudden death phase.
Evan Horwood and Neil Kilkenny coolly converted to maintain the deadlock, but after Matty Robson notched Carlisle's sixth success, left-back Shane Lowry fluffed his effort, allowing Carlisle clear passage into the national final.
The exuberant home crowd exploded with relief and excitement, pouring onto the playing surface. Lowry, Snodgrass and a third Leeds player were jostled and punched by rowdy supporters during some chaotic scenes.
United were furious about the pitch invasion, Simon Grayson complaining, 'I can put up with the exuberance but players want a little bit of safety. I have a problem with the people in charge not doing anything about it. I'm disappointed with how the stewarding and policing reacted. Three of my players have been caught by punches. That is a serious issue. I'll make my feelings well and truly known to people that matter.'
Leeds skipper Richard Naylor added, 'I'm not happy with the way it was handled. The stewards should have done far more to get our lads off the field and to keep Carlisle's supporters away from us. I don't think anyone could say that they were caught off guard. The stewards should have known there was going to be an invasion because that's what fans do when they celebrate a result like this. But there are ways of celebrating and they crossed the line.
'Something like this creates a volatile situation and if any of us react then it'll be blown out of proportion. You'd be talking charges, bad headlines and all sorts, and it's asking quite a lot of players to get treated like we did and look the other way. The lads did well to control themselves. Shane got bumped into a few times and was obviously raging but I managed to get to him and get him off the field. The stewards and the police didn't seem to want to get involved. They stood by the tunnel doing nothing. What good's that?'
After such passionate recent history between the two clubs, it was perhaps inevitable that, when United's desperate search for League One promotion came down to its vital final phase, Carlisle would be one of the stops on their journey.
The two clubs were in opposition again at Brunton Park on the evening of Tuesday, 13 April, United's 42nd match of the league campaign.
The match was crucial for Leeds' chances of promotion. Their 2-0 defeat of Southend the previous Saturday had left them third in the table, nine points behind Norwich City and one behind Millwall, with Swindon and Charlton dogging their heels.
Simon Grayson: 'It's always difficult up at Carlisle but we go there in good spirits ... It was pretty gung ho stuff in the JPT game. We had to win the game and we did. Tonight we will try to be solid and make sure we don't give too much away because we have got players within the team who can score the goals and create chances.
'Football has a strange way of turning things around. There was a lot of gloom and doom around our club after we lost at home to Swindon (on 3 April) but after winning our last two games, hopefully there is now a lot of belief that we can go and get promotion. If we get good results against Carlisle and then at Gillingham, when we come back to Elland Road for the game against MK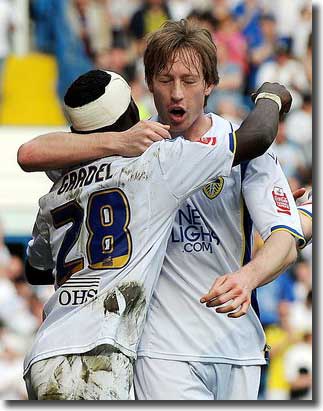 Dons the place will be rocking.'
There was intense speculation as to whom Grayson would rely on for goals; despite Jermaine Beckford still being top scorer by a country mile, he was in the middle of an unproductive trough, with only three goals from the thirteen games he had played since the end of January. It was a disappointing run for a proven taker of opportunities who had recently scored in the FA Cup against Manchester United and Tottenham.
John Wray in the Bradford Telegraph and Argus: 'The abiding memory of Saturday's victory over crisis club Southend was Jermaine Beckford's fall out with a section of Leeds fans. Whether Beckford's relationship with his own supporters can be repaired remains to be seen. The strong suspicion is that it will only happen if the club's leading scorer can recapture the finishing ability that has brought him 27 goals this season. For that to happen he needs to be picked - and after Saturday's abysmal performance the time cannot be far away when manager Grayson loses patience with a player low on confidence who seems to have his mind on a summer move from Elland Road.
'The flashpoint happened seven minutes before half time when Beckford annoyed Leeds fans in the South Stand by failing to offer a meaningful challenge to Southend keeper Steve Mildenhall for a cross. The supporters had their say and Beckford responded with a gesture interpreted to mean "shut up." That prompted the fans to shout for sub Luciano Becchio followed by chants of "You're not fit to wear the shirt."
'Some fans in the Revie Stand backed Beckford by singing his name but the damage had been done and when the hapless Beckford was replaced by Becchio in the 58th minute the cheering told its own story. To his credit, Beckford adopted a sporting attitude by giving Becchio a high five and hugging manager Simon Grayson - in sharp contrast to his reaction when substituted against Southampton in December when he shrugged aside Grayson's offered handshake on being subbed.
'Grayson's decision to replace Beckford and Andrew Hughes with Becchio and Bradley Johnson brought an instant improvement and just two minutes later Max Gradel's deflected shot gave Leeds a deserved advantage. The script was complete when Gradel's neat chip was headed powerfully past Mildenhall by Becchio with seven minutes remaining.'
When asked about the crowd's reaction to Beckford, the Leeds manager said: 'The fans pay their money so they can chant things but they can only help players by getting behind them ... Strikers thrive on confidence and after going a few games without scoring maybe Jermaine's confidence is dwindling. I heard a few fans having a go at him and then some backed him. Luciano wasn't 100 per cent fit to play but we had to change the system and the personnel and it worked. I said the other day that I am not afraid to take off my captain, my leading scorer or a young kid if those decisions benefit the team.
'We just felt we needed to change things a little. Jermaine had not scored in his last few matches and he accepted the decision to come off. We had players waiting to come on and we felt it was right to change personnel, change the shape of the team and try to cause Southend a few problems.
'You know what you are going to get from Luciano, he works his socks off, holds up the ball well and gets on the end of crosses. I felt he and Max would be a handful. Max got his just rewards with his goal. He works so hard, chasing and harrying. Football fans in general want to see people running and making tackles and showing an immense amount of enthusiasm - which he certainly does. Max has quality as well but he is still learning the game. He knows he still has lots to do but he is certainly a brave little lad at times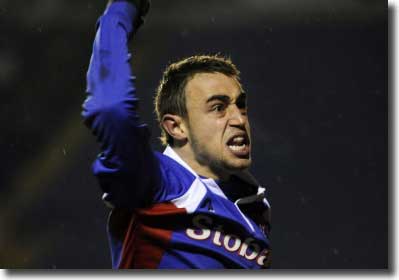 and affects the game. He has been waiting for his opportunity and in the last two games he has taken it.'
It was understandable, if a little unexpected, that Grayson should opt for the Becchio-Gradel combination to start at Brunton Park. Otherwise, the team was unchanged from the one that started against Southend.
In the Carlisle ranks, in addition to Ian Harte, who played more than 200 games for Leeds between 1996 and 2004, there was another former Elland Roader in midfielder Tom Taiwo. Taiwo and youth team mate Michael Woods had been controversially poached by Chelsea in 2006 when only 16. Ken Bates made a formal complaint to the Football League and eventually accepted £5m in compensation from the Stamford Bridge club. Taiwo never made the Chelsea first team and moved permanently to Brunton Park in January 2010 after a successful period on loan.
In the absence of several injured players, Cumbrians boss Greg Abbott deployed Gary Madine as a lone striker in a system designed to restrict United's fluency in midfield. The tactic was flawed: all it did was invite the visitors forward and give them free rein to attack deep-lying opponents. They gleefully seized the initiative that was thrown their way.
Any fears Grayson might have had for his gamble on omitting Beckford were dispelled in the opening exchanges as Leeds dominated proceedings, constantly threatening to put Carlisle to the sword.
The Whites enjoyed the brighter start to the game, and the first opportunity fell to them in the second minute after Harte fouled Becchio on the right. Neil Kilkenny sent over the free kick, but Evan Horwood cleared his lines. After four minutes, Jonny Howson had the first shot of the night, firing wide of goal from the edge of the area.
The visitors continued to dominate: a long clearance downfield from Neill Collins was allowed to bounce by Carlisle defenders as it reached their area and the indecisiveness was almost fatal. Max Gradel capitalised on the error and went on to get in a shot, but Taiwo blocked his effort at the expense of a corner.
Richard Naylor headed Kilkenny's flag kick into an empty net, but the goal was disallowed by referee Mark Halsey, fulfilling his third appointment after a welcome recovery from throat cancer. Becchio was adjudged to have impeded keeper Adam Collin as the ball came over. In the next couple of minutes Robert Snodgrass had two strikes on goal, the second requiring a save by the keeper.
Howson's wayward volley preceded two errors from Ian Harte which allowed Gradel to drift in behind Carlisle's back four. Neither mistake was meaningful but provided clear evidence of the uncertainty in the home side's rearguard.
In the 13th minute Howson was brought down by Paul Thirlwell five yards outside the area and Leeds were awarded the free kick. Robert Snodgrass curled the dead ball goalwards but it was easily collected by keeper Collin. Inexplicably, he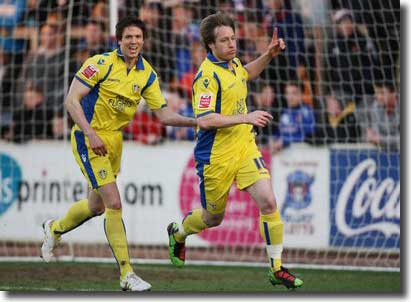 spilled possession as he hit the ground, allowing Becchio to stab home the loose ball from inside the six-yard area.
Leeds continued to play with assurance and verve. Ninety seconds more and Becchio went close to doubling the advantage, after some great build up combination work by United as they homed in on the Carlisle area. The Argentinian was left with what seemed to be an easy opportunity but his shot grazed the far post with Collin helpless. Then Naylor missed a promising chance and when the ball came back in Becchio shot wide when it seemed far more straightforward to score.
Keeper Collin continued to show nerves and he could only palm another Snodgrass free kick round the post as six attackers converged on him. When the corner came in, Neill Collins headed wide.
Shortly after the half hour the home team were grateful for some desperate defending from Evan Horwood after Gradel stabbed the ball across the face of goal to the waiting Howson. Seconds later, when Harte's misplaced header fell straight to Gradel, Collin had to block another promising effort with his legs.
It was 35 minutes before the home side were able to exert any meaningful pressure on Shane Higgs' goal. In the 43rd minute, however, United were made to pay the ultimate price for their earlier profligacy.
Adam Clayton had just been cautioned when Richard Naylor followed him into Mark Halsey's notebook for recklessly fouling Gary Madine out on the right wing. Ian Harte curled a free kick from 35 yards into the heart of the Leeds area and Richard Keogh stooped into a powerful header that beat Higgs all ends up. It was a sickening moment for the visiting United party after all that had gone before.
There was still sufficient time before the interval for Snodgrass to squander another golden chance. Howson's cross from the right gave the Scot a yawning goal to aim at but he ballooned his shot over the bar.
The game reached the break with the scores still equal, but, if Carlisle sensed that Leeds were vulnerable, Simon Grayson's men were smarting at the injustice of not being several goals ahead. They came out for the second half in resolute mood.
United put right their first half wastefulness a couple of minutes after the restart. After a spell of pressure in the Carlisle box, Leigh Bromby was found in space on the right hand corner of the area and chipped the ball invitingly into the six-yard box. Max Gradel rose ahead of both colleagues and helpless defenders to nod Leeds into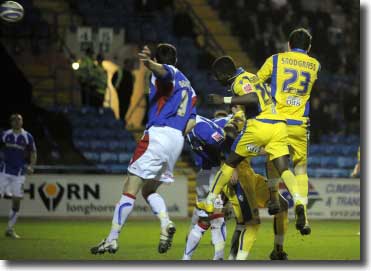 a 2-1 lead.
The result was left in little doubt after an incisive move in the 50th minute. Neil Kilkenny won a tackle deep in his own half to send a smart through ball forward. Gradel touched it on for Becchio and the South American sprinted clear of his markers to race on and slip a left-footed shot neatly under the keeper. It was a cool and emphatic finish.
Six minutes later Becchio had a glorious opportunity to complete his hat trick. He got in a good header from a cross by Andy Hughes, but the effort was taken well by Collin.
Just before the hour mark, Shane Higgs had to save from Adam Clayton and then Michael Doyle was on hand to make a timely clearance after Higgs flapped at a corner.
Despite three second half substitutions, Carlisle struggled to create anything resembling a revival. Leeds had much the better of the play, though Marc Bridge-Wilkinson, one of their replacements, squandered a decent opportunity when he screwed his shot wide and then Shane Higgs had to deny Gary Madine.
In an attempt to run down the clock, Simon Grayson brought on Jermaine Beckford and Mike Grella as the game moved into the 88th minute, withdrawing his two strikers.
Leeds had enjoyed fourteen attempts on goal to Carlisle's six, dominating the play from start to finish. They had few anxieties as they saw out the ninety minutes in assured fashion to complete a one-sided 3-1 victory.
Simon Grayson was delighted with both the win and the manner of its achievement, saying afterwards, 'We knew Carlisle would be a difficult place to go, and we used the motivation of last time and the feeling of not getting to Wembley. The players had a steely determination about themselves and they have a belief in what they are doing.
'It was a good professional performance with some quality and a fantastic attitude. We thoroughly deserved the victory. The game could have been over at half time. We dominated right from the start. There was a really good tempo to our play and our work ethic was very good. We did the right things and we won the battles.
'We got done by a sucker punch with a ball into the box which gave them the equaliser, but all credit to our players. They didn't let that disappointment weigh them down. They had the belief they could go back out and finish the game off and they certainly did that in the first ten minutes or so of the second half. We had told the players at half time to keep doing the same things and keep believing they would get goals and the way we restarted epitomised everything we did in the first half (except that) we got the goals.'
Promotion rivals Swindon Town had been held at home the previous evening by Exeter and with leaders Norwich losing at Leyton Orient and Millwall only drawing at Yeovil, it was a perfect outcome for United. They climbed into second place in the table, cutting the Canaries' lead to six points and edging away from the chasing pack. A place in the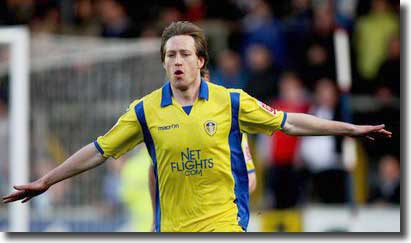 Play Offs was now almost guaranteed with a twelve-point margin over seventh-placed Colchester bolstered by a significantly superior goal difference.
Phil Hay: 'For the best part of three years, the tradition at Leeds United has been for strikers to work and play in the shadow of Jermaine Beckford. The club have no finer goalscorer than League One's player of the year but Elland Road is experiencing a changing of the guard. Dropped last night for what might have been the first time in his career with Leeds, Beckford was scarcely missed. Max Gradel and Luciano Becchio compensated for Beckford's worsening performances and general lack of influence by scalping Southend United on Saturday, and their potency at Brunton Park was more than Carlisle United could cope with.
'No longer will Simon Grayson lose sleep about alternative sources of goals in his squad. Five in four days from Becchio and Gradel have dealt conclusively with that concern, removing what doubt existed about Leeds' designs on second place in League One and their ability to claim it.
'The club climbed back into the division's last automatic promotion position last night, driven forward by a third successive win and a sense that their sprint to the line is being perfectly timed. Their performance at Brunton Park was impeccable, a soft concession aside.
'Little more than a week has elapsed since a 3-0 defeat to Swindon left United's season on the point of collapse but Grayson found himself looking at a different team in Cumbria. So comfortable were his players that he did not feel the need to involve Beckford until the 88th minute, long after the game was won.'
This impressive victory in Cumbria was a massive step for United towards finally confirming their long-coveted promotion.