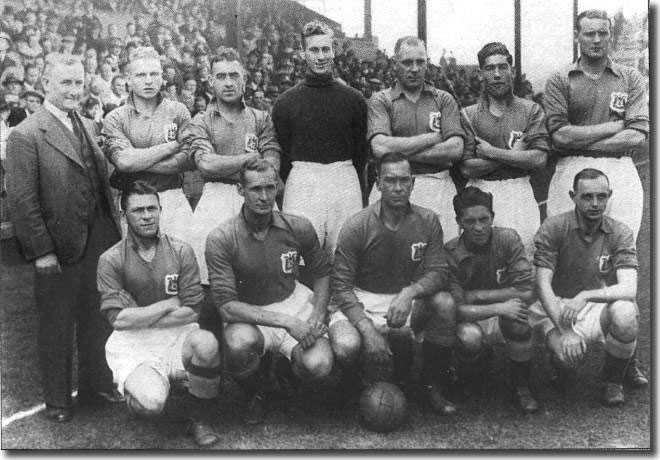 Leeds were lucky to escape from relegation at the end of 1936/37 and it was only by winning the last two games that they were able to ensure safety. The arrival of South African centre-forward Gordon Hodgson in March had made all the difference and manager Billy Hampson hoped that the last-minute improvement in form could be maintained in the new season.
He didn't bring in any new players during but the summer saw three notable departures from Elland Road: veteran keeper Albert McInroy went back to his native North East and non-league football with Gateshead after losing his place to Reg Savage at the tail end of the previous season; full-back George Milburn had been similarly ousted, by young England full-back Bert Sproston, and was off to Chesterfield after 157 appearances in an Elland Road career that had lasted almost ten years; and the masterly schemer Billy Furness departed after nine years, 243 matches and 62 goals on a £2,700 transfer to Second Division Norwich.
All three had been popular players at Leeds, but the emergence of youngsters like Sproston (23), Eric Stephenson (22), Savage (25), James Makinson (24), Tom Holley (23), Bobby Browne (25), George Ainsley (22), Arthur Buckley (24), John Thomson (21), Jack Hargreaves (23), David Cochrane (16), Dominic Kelly (20) and Cliff Francis (21) brought an exciting feel to Elland Road and the time was right to move on. Before Christmas, Hampson added others like left-half Bill Parry (20), inside-forward Gerry Henry (17), winger Billy Heaton (19) and Irish keeper Jim Twomey (23). Leeds' young reserves had won the Central League for the first time in 1937 and many of that squad made their first-team breakthrough in 1937-38.
Of the side that kicked off the new season with a 1-1 draw at Charlton, only Jack Milburn, Sammy Armes (both 29) and Hodgson (33) were over 25. The side was unchanged for the first eight matches as they opened in strong form, suffering just one defeat, by 4-1 away to Chelsea. They were riding high and even the enforced absence for four matches of Hodgson was only a minor setback. Leeds won only one of those four matches, but Hodgson announced his return on 30 October at Leicester by slotting home his sixth and seventh goals of the season in a 4-2 victory.
The defence looked much more solid, with Sproston and Jack Milburn regular partners at full-back and Holley, bought from Barnsley in July 1936, restoring some authority at centre-half. Makinson and Browne were sturdy, if unspectacular, wing-halves. Replacing the injury-prone Arthur Hydes, South African Hodgson scored 25 goals in 36 games and was ably partnered at inside-left by the stylish Eric Stephenson, a rising star who by the end of the season was called up to play for England, making his debut in a defeat against Scotland, with Sproston's presence making him feel at home.
Stephenson was proving an outstanding discovery and had fully justified Hampson's faith in releasing Furness - he had made the No 10 jersey his own. His hat trick in the 4-3 home win over Sunderland on 4 December was right in the middle of a spell of seven goals in seven games as Leeds' excellent form continued in the run up to Christmas.
Leeds beat Chester 3-1 in the third round of the Cup on 8 January, but by the time they got to the fourth round at Charlton on 22 January, their form had deserted them. Charlton's 2-1 win represented the third defeat in four games and, in fact, Leeds only won twice between a 5-3 Christmas Day victory over Middlesbrough and a narrow 1-0 win at
Stoke on 18 April, when an own goal ended a spell of four games without scoring. During this 16-game run, Leeds managed just 11 points and 18 goals, but there was a remarkable 4-4 home draw with Everton in which Hodgson scored all four.
Any dreams they harboured of seriously challenging for the title were dashed during that period, but they followed up the victory at Stoke with two victories and the 4-0 demolition of well-placed Brentford on 23 April saw Hodgson hit another hat trick. His goal in the next match, a 6-2 defeat at Manchester City, was his 25th in the league, making him far and away the top scorer. The win couldn't help City avoid relegation just a year after being league champions, but when Leeds completed their programme with a 4-0 final day defeat at Portsmouth, Pompey were able to secure First Division survival for another year.
Despite the poor run during February and March, Leeds managed to finish the season in the top half of the table. If they had managed to win those two games against the threatened teams, United would have risen to the dizzy heights of fourth, behind Arsenal (securing yet another title in this, their golden decade), Wolves and Preston.
Such relative success after the ineptitude displayed in 1936/37 saw the average gates at Elland Road rise to nearly 22,000, the highest they had been since 1929. The Christmas Day defeat of Middlesbrough drew more than 37,000 fans. Leeds had now had six straight seasons in the top flight and had only been out of Division One for two seasons since they won the Second Division title back in 1924. It was starting to feel like Leeds were almost permanent fixtures at football's top table.
Other Football Highlights from 1937/38
In an unusually close First Division campaign, only 16 points separated champions Arsenal (52) from the relegated pair Manchester City and WBA. Wolves, top by a point as the season went into its last day, lost 1-0 at Sunderland, while Arsenal beat Bolton 5-0 to take their fifth title in eight years. But the biggest drama was unfolding at the other end of the table. On Cup final day, a week before the end of the season, any of the bottom 11 teams could have been relegated, including Cup finalists Huddersfield. The last day saw six teams joint bottom with 36 points. Birmingham got out of trouble with a 4-1 win at Leicester, while Grimsby, Portsmouth and Stoke all had home wins. The crucial match was Huddersfield v Manchester City. Huddersfield won 1-0 to stay up and doom City, First Division top scorers (80 goals) and champions a year earlier
After 119 minutes of dull, featureless football, the Cup final between Huddersfield and Preston was decided by the first penalty ever to be awarded in a Wembley final. It was also the first time that extra-time had been required at the stadium. Preston's Scottish international inside-right, George Mutch, won the match when he slammed the ball in off the cross bar with the last kick of the match
The Nazis had only just annexed Austria when England arrived in Berlin to play Germany at the start of their end of season tour of Europe. The England team obeyed orders in giving a Nazi salute to Hitler's henchmen despite misgivings from many of the players. On a sweltering afternoon in May, England showed their mastery with a 6-3 win. Leeds' Bert Sproston was in the team
The 1938 World Cup finals were held in France and holders Italy retained their title by beating Hungary 4-2 in the final in Paris on 19 June. The British nations still refused to play despite desperate pleas from FIFA and Brazil were the only South American team to compete, finishing third. The only other non-European entrants were Cuba and the Dutch East Indies