1935/36 had been a promising
first full season for Billy Hampson, the new manager at Leeds United. The club looked to have consolidated their status in Division One after several years of yo-yoing between the top two divisions. The new season would be their fifth successive year in the top flight and an 11th place finish the previous time around had been solid enough.
The only departures in the 1936 close season were players who were not regular first-teamers, although one of them was England international Ernie Hart. He had set the club's appearance record, having played in game number 447 on 11 April 1936. He had long since smashed the previous record, set at 203 matches by full-back Bert Duffield in the mid-20's. 34-year-old Hart had been at Elland Road since 1920 when the club had won league status, but he was now on his way to Mansfield Town of the Third Division. Hampson paid out £3,750 for Barnsley centre-half Tom Holley as a replacement, but it was first Jock McDougall and then Bertie Kane who held down the role in 1936/37.
Leeds kicked off the new season with a 3-2 defeat against Chelsea at Elland Road. The side that played that day was made up of the same 11 players who had seen United through the majority of the second half of the previous year, but there were soon to be major changes up front. Harry Duggan and George Brown were both 33 with their best days behind them. They left for Newport County and Darlington in October, with left winger Tom Cochrane also off, to Middlesbrough.
Leeds immediately paid out the massive sum of £12,500 to Oldham for 23 year old winger Arthur Buckley. He came straight into the side to replace Jack Hargreaves who had temporarily covered the gap left by Cochrane. It was clearly a time of great change and the whole side had a very unsettled look about it with 29 different players turning out during that season. Jack Milburn and Willis Edwards were almost constant throughout, but everything else was in a state of massive flux.
The defeat at Chelsea was followed by two more defeats, at Manchester City and Stoke. The poor form went on and when Leeds lost 4-1 at Arsenal on 7 November, they had just three wins and 8 points to their credit from 14 games. They had lost all eight of their matches away from Elland Road and their away goals record read: scored 5, conceded 24. It was looking like a very long hard winter.
November picked up with three straight wins (including one away, at Sheffield Wednesday), but they were all against teams who were equally troubled. December saw a further four defeats, although they sandwiched an impressive 5-0 victory against Middlesbrough. The United ranks now included 21-year-old centre forward George Ainsley who had joined the club from Bolton, one of their relegation rivals. Ainsley had a scoring debut on December 19 at Sunderland and followed up with two of the five goals against Middlesbrough in his second appearance. Ainsley's early promise was not sustained, but he did hit the winner in the 2-1 victory over Stoke on 2 January.
The FA Cup was a fleeting distraction with a 4-0 hiding at Chelsea's Stamford Bridge and United's form continued to be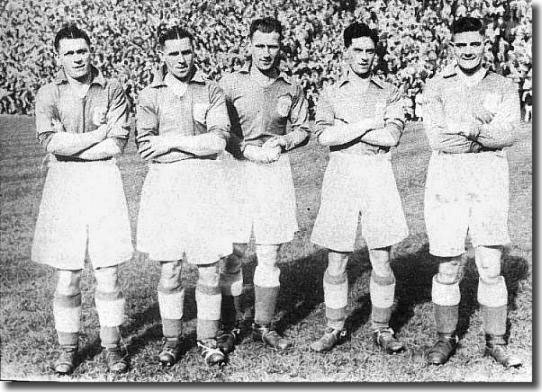 abysmal, showing no signs of recovery. The distinct smell of relegation was in the air.
Desperate times call for desperate measures and Billy Hampson badly needed to do something to halt the slide. He spent £1,500 in March on Second Division Aston Villa's burly South African centre-forward Gordon Hodgson. He was just a month short of his 34th birthday but was to lead the Leeds line with zest and vigour.
Hodgson had first arrived in England back in 1925 with the South African team and netted 15 goals on their tour. Liverpool signed him in November 1925 and he scored a remarkable tally of 233 goals in 258 League games for the Merseysiders, leading to three full England caps. He joined Aston Villa in January 1936 for £5,000.
He scored on his Leeds debut in a disastrous 7-1 thrashing at Everton on 3 March and netted another in a 4-3 home defeat at the hands of mighty Arsenal, but Leeds managed to take only one point from the first seven matches Hodgson played. Avoiding the drop now looked to be beyond a very dispirited outfit.
Then, on 30 March, two Hodgson goals and another from Eric Stephenson secured a 3-1 victory over West Bromwich Albion who were also struggling. Leeds followed up with a hard fought point (their third and last away point of the season) from a goalless draw at Manchester United, another club in the grip of the relegation zone. Stephenson and Hodgson scored again in the next game as Leeds somehow fashioned a 2-0 Elland Road victory over high-flying Derby County. Was safety actually a possibility?
Leeds next had to face two matches in the space of four days against another top five side, Wolves. Predictably, they lost both games, but they had two home games left, against Sunderland and Portsmouth, teams who had nothing left to play for. Things went like a dream against the Wearsiders and Leeds won 3-0, with goals from Furness and Hodgson and a penalty from Jack Milburn.
As Leeds prepared for the last day of the season, and a home match with Portsmouth, Manchester United had finished their programme and had 32 points. Bolton were already safe on 33 points, Sheffield Wednesday were bottom with 30 points, but had by far the best goal average of the bottom four sides, while Leeds were level on points with Manchester, but had a marginal advantage on goal average.
Wednesday had to travel to Huddersfield, now just a shadow of the famous all conquering side of the Twenties, needing to win and praying for a Leeds defeat. If Leeds lost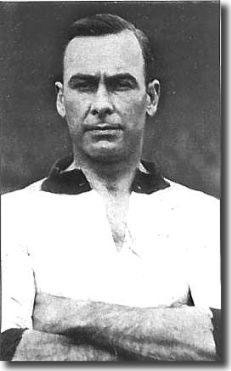 they could conceivably finish bottom, although a point would be enough to save them.
As it turned out, Wednesday lost by the only goal of the game, while Leeds overwhelmed Pompey by three goals to one with another goal from Billy Furness, a second from Jack Kelly (his only goal of the season) and another penalty from Milburn. Bolton drew 0-0 at third-placed Arsenal.
An astonishing escape had been achieved by the skin of their teeth. Leeds were 19th on 34 points, ahead of Bolton on goal average, Manchester United on 32 points and bottom placed Sheffield Wednesday on 30 points. If the last two games had been lost, Leeds would have been bottom and even two draws would have seen them below United and relegated. There was a huge collective sigh of relief after a very near thing. Home form had been reasonable and they only lost four times at Elland Road but a pitiful return of just three points on their travels had almost done for them.
Things looked brighter for the future, however, and United's youthful reserve side won the Central League for the first time. 22-year-old Bert Sproston had graduated into the first-team and made his England debut against Wales in October 1936.
Other Football Highlights from 1936/37
The amazing feats of Third Division North's Millwall won Dave Mangnall, their player-manager and former Leeds forward, the title of David the Giant Killer. Mangnall got four goals as the Londoners won 6-1 at Aldershot. They went on to defeat Gateshead 7-0, Second Division Fulham 2-0, First Division Chelsea 3-0, First Division runners up Derby County 2-1 and champions elect Manchester City 2-0 in the quarter-finals. That made Millwall the first Third Division team to reach the semi-finals, where they lost 2-1 to mighty Sunderland, who went on to win the Cup by beating Preston 3-1
Despite their Cup shock against Millwall, Manchester City recovered some face by winning their first league title and scoring 107 goals. Runners-up Charlton were three points behind, but scored a staggering 49 goals fewer than City
A world record 149,547 was the official attendance as Scotland beat England 3-1 at Hampden Park to secure second place behind Wales in the Home International Championship, although another 10,000 broke in and saw the game without paying
Everton's Dixie Dean passed Steve Bloomer's record of 352 league goals, and finished the season with 37