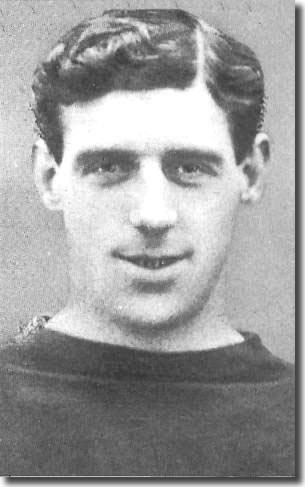 Many of the players who took Leeds United to an 8th place finish in the Second Division in 1922, were still around the following year. The defence was meaner than ever with captain Jim Baker and young Ernie Hart formidable twin pillars. Hart, one of United's earliest finds, had signed as an 18 year old from junior football in Doncaster and evolved into a skilful, tenacious defender, serving for 16 years and winning eight England caps.
The combination of Baker and Hart, alongside Fred Whalley in goal, full-backs Duffield and Frew and right-half Harry Sherwin, was a sound basis for a promotion team. Centre-forward Jack Swan remained up front from the previous season, but Tommy Howarth was on his way to Bristol Rovers in November 1922.
Glaswegian winger Joe Harris (Bristol City), Alan Noble (Brentford) and Percy Whipp (a £750 buy from Sunderland at the start of November) were brought in to pep up the forward line. The team was very settled and Whalley (42), Duffield (41), Frew (33), Hart (41), Baker (42) and Harris (39) all played more than 30 league games. In addition, Whipp and right winger Noble missed just three matches between them after they both came into the side at the beginning of November.
The defensive stability was still there and the club created another defensive record, conceding only 36 in the league and keeping 19 clean sheets. The attack was still struggling, however, and the team managed just 43 goals all season. Jack Swan, who had previously been so productive up front, scored in both of the first two games, but struggled to a miserly total of 8 in the league. If he had maintained his previous strike rate, Leeds may well have seriously been in the promotion hunt. Manager Arthur Fairclough tried all season to find the best combination up front, but apart from Whipp, none of them stood out.
The team started none too brightly and had won only five of the first 12 games by the time Whipp was signed on 3rd November. The Scottish inside-forward admitted that he had never been to Leeds before , but he was an instant success, hitting a hat-trick in his debut against West Ham the day after he joined Leeds. He went on to be top scorer for the season with 15 goals in his 29 matches, a very healthy return. His arrival sparked off a very good spell for the club, and they won 8 of the 12 games following his arrival, with Whipp hitting 10 of their 15 goals, while they conceded just 6.
The team could not keep up the improvement, however, and won just five of their remaining 18 matches, trailing in a disappointing 7th place, although they finished just four points off promotion. They ended strongly, with three straight wins, including a 3-0 victory at Elland Road over champions Notts County and took a point out of their visit to County in the preceding match.
Clearly things were heading in the right direction and Fairclough was building a powerful outfit, although Dick Ray had decided his future lay elsewhere and he quit in June 1923 to manage Doncaster Rovers. Fairclough's solution was to renew the partnership he had enjoyed at Barnsley in their halcyon days, by bringing in Blackpool manager Dick Norman as Ray's replacement.
Other Football Highlights from 1922/23
The FA Cup Final moved to its new home at Wembley Stadium. It was nearly a disaster when more than a quarter of a million people converged on a ground whose capacity was 127,000. The crowd overspilled and the pitch became a sea of people. The occasion will be forever known as the 'White Horse final' as PC George Scorey and his 13 year old horse Billy became the focal point of attempts to calm matters. The match, between Bolton and Second Division West Ham, kicked off 45 minutes late with the crowd standing on the touchlines. A single goal from Bolton inside forward David Jack after two minutes secured the trophy
Liverpool retained the league championship for a second season, finishing six points clear of Sunderland with Huddersfield Town in third spot
Players threatened a strike but ultimately took no action when the League cut the maximum wage from £9 to £8 before the start of the season
The increasing use of substitutes by amateur teams persuaded the International Board to redraft the laws of the game. League and Cup matches were restricted to 11 players, but subs were permitted in friendlies if both teams agreed beforehand