After the long and dark days of the First World War, the new Football League season was eagerly awaited and commenced on 30 August 1919. Leeds City kicked off along with all the others, but were in the midst of some fairly sensational problems as what became infamously known as The Leeds City Scandal began to unfold.
The bulk of the pre-war squad was still around, including goalkeeper Willis Walker, full backs George Affleck and Jack Hampson, half backs Tommy Lamph and Mick Foley and forwards Arthur Price, Billy McLeod, Simpson Bainbridge, Ivan Sharpe, John Edmondson and Ernest Goodwin, as was the esteemed manager Herbert Chapman. The club had also brought in new players, forwards Billy Kirton, William Short and Herbert Lounds, centre half William Hopkins and full back Harry Millership, so there were high hopes among the supporters.
After a first day 4-2 defeat at Blackpool, Leeds City then won three straight games without conceding a goal, and things looked promising.
Because of a rail strike the team went to Molineux by charabanc for their eighth game against Wolves. They won 4-2, with ace marksman Billy McLeod netting a hat-trick, taking him up to 9 goals. On the way home, the City coach gave several stranded people a lift back to the North and among them was none other than Charlie Copeland, who had previously played for the club. He had made the accusations about illegal wartime payments to players which led to the expulsion of City from the League. The game against Wolves was City's last match and their place was taken over by Port Vale amid a great deal of shock and disbelief.
City had gained 10 points from those first 8 games and at the time it looked like Leeds City's fond ambitions of promotion might finally be coming to fruition, but it was not to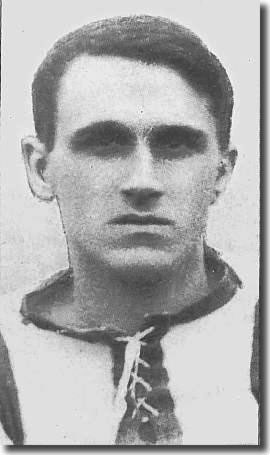 be as the club were disbanded and the playing staff auctioned off to the highest bidders on 17 October at the Metropole Hotel in Leeds city centre.
"A melancholy spectacle" was the Yorkshire Post description, reporting the prices as if it were some livestock auction: Billy McLeod (to Notts County) raised £1,250; Harry Millership (Rotherham) and Jack Hampson (Aston Villa) each for £1,000; Willis Walker (South Shields), Tommy Lamph (Manchester City) and John Edmondson (Sheffield Wednesday) went for £800; William Hopkins (South Shields) for £600; George Affleck (Grimsby), Ernest Goodwin (Manchester City), Billy Kirton (Aston Villa), William Ashurst (Lincoln City) for £500; Fred Linfoot (Lincoln City) and Herbert Lounds (Rotherham) for £250; Arthur Wainwright (Grimsby) and William Short (Hartlepool United) for £200; Francis Chipperfield (Lincoln City) £100.
Leeds City were expelled from the Football League and the club disbanded. Moreover, directors Connor, Whiteman, Glover, Sykes and Herbert Chapman and George Cripps (late officials of the club) were to be suspended and not allowed to attend any further football matches. Herbert Chapman had his punishment revoked when he successfully argued that he had not been present at the club at the time of the alleged illegalities. Chapman went on to manage the most successful sides of the next twenty years, Huddersfield Town and Arsenal, each of whom won a hat trick of championships.
But just as the day seemed lost for football in Leeds, supporters were working to create a new force in the city.
Other Football Highlights from 1919-20
With 42 matches instead of 38, it was not surprising that the points records for both divisions of the Football League were broken, West Bromwich Albion winning the League title with 60 points and Spurs the Second Division with a massive 70. Both scored over 100 goals and West Brom's 104 is a record for the top division
Aston Villa won the FA Cup for a record sixth time. At its new venue, Stamford Bridge, the match went to extra time before Villa beat Huddersfield 1-0 with a goal scored by inside right Billy Kirton, a converted full back whom Villa had picked up for £250 in the auction of Leeds City players in October
England came back from 4-2 down at half time to beat Scotland 5-4 at Hillsborough, but in so doing they handed the Home International Championship to Wales