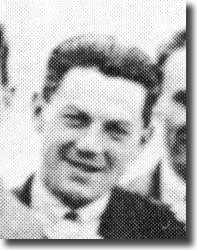 Born: Whitley Bay, 12 March 1901
Linfoot, a lively winger, began his career with Smith's Dock in the North East and then moved on to play for Newcastle Swifts during the First World War.
He was given the opportunity to appear as a guest for Leeds City in the 1918/19 season, making his debut in a goalless draw at home to Hull City on 14 December. He played the following week in the return, a 2-1 defeat, but was then out of the reckoning until March, when he was asked to play centre-half against Huddersfield Town. It was a problem position for Leeds and he did well enough in a 3-0 defeat, playing three further games in the half-back line.
Linfoot was taken on full time by City for the 1919/20 season but had not yet played an official game for them when he was part of the infamous auction of players in October 1919 following the disbandonment of the club. He was bought by Lincoln City for £250, going on to score three goals in 29 League games for them.
On 24 July 1920 Linfoot was sold to First Division Chelsea, where he remained until he was transferred to Fulham on 14 March 1924. He had played 34 League and 7 FA Cup games for the Stamford Bridge side. He scored only once while at Chelsea, but managed four goals in 41 League games for Fulham over the next couple of years and then moved back to the North East with Blyth Spartans. The rest of his career was played out in non-League football with Shiremoor Albion, Columbia (London), Dorman Long (Westminster) and Ashington.
Linfoot died in 1979.