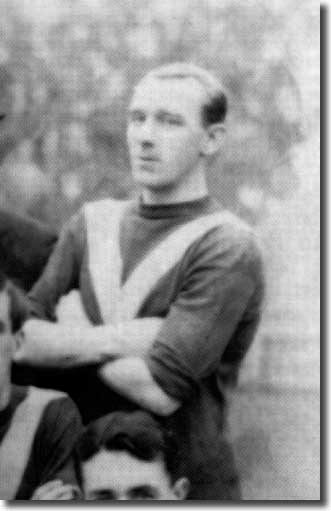 Born: Westoe, South Shields, 4 February 1888
Renowned and capable defender Jack McQuillan spent a season with Leeds City after being signed by manager Herbert Chapman in July 1914; his Elland Road career was brought to an end by the advent of World War I that autumn.
Born in the North East, McQuillan joined Jarrow Town but spent less than a week there before being picked up by First Division giants Everton in 1905.
After struggling to make any sort of impact on Merseyside he signed for Hull City of Division Two in October 1906, where he made his name, becoming one of the club's finest players of the pre-war era.
McQuillan made his Tigers debut on 17 November in a 1-0 victory at Lincoln City and made 26 appearances that season as City finished ninth.
According to the Hull City Mad website, McQuillan 'was a model of consistency and reliability. Making his debut whilst still a teenager, the left-back position became virtually his second home and his nimble footed displays earned the respect of both his team mates and opponents.'
He was a stalwart of the City team for eight years as they manfully, but fruitlessly, pursued their ambition of promotion to the First Division, only once failing to finish in the top half of the table.
Hull came within a whisker of achieving their goal in 1910; a sequence of five wins and one draw saw them head the Division Two table in the autumn. A defeat at home to eventual champions Manchester City preceded a dip in form, but they maintained their promotion chase, building on a defence that was rated one of the best in the division, with McQuillan a mainstay.
City went into the final game of the season in second place, needing a win at Oldham to guarantee promotion. The Latics were two points behind Hull, but with a better goal average, while Derby sat between the two clubs.
The Tigers went into the match on the back of a 12-game unbeaten run, but the influential McQuillan was missing just his second match of the campaign, and Oldham gave City a battering. The home side took the lead after eighteen minutes and added a second goal seven minutes later; the scorer was former Hull man Alf Toward, who had been allowed to leave Anlaby Road earlier in the campaign because of the embarrassment of forward riches at City's disposal. Oldham made it 3-0 with ten minutes of the game remaining to wrap up the points and secure promotion by dint of a superior goal average.
The Tigers finished third, a status they failed to match for the 98 desperate years that were to follow.
McQuillan lost his regular first team place during the 1913/14 campaign, making just 16 appearances. Charismatic Leeds City manager Herbert Chapman persuaded the full-back to throw his lot in with the West Riding club in July after 239 League games and 18 FA Cup-ties in eight years with the Tigers. The deal cost Leeds £100 as Chapman sought to bolster a promotion push. Those high ambitions were thwarted by the onset of war in Europe and a consequent dip in motivation at Elland Road.
McQuillan made his debut for the Peacocks on the opening day, partnering Fred Blackman at full-back against Fulham on 2 September. City went down 1-0 and in fact lost their first four games. In that fourth game, they went down 3-2 at home to McQuillan's former club, Hull, with the defender at fault when Sammy Stevens gave the Tigers a 2-1 lead.
The Yorkshire Post reported, 'McQuillan may be judged too harshly upon his share in the defeat. He is, in general, a sound back, and showed himself as such on Saturday, though lacking somewhat in speed, but he must learn that it is risky to signal his goalkeeper to come far out of his goal, and particularly that the goalkeeper must be left unhampered in such circumstances.' McQuillan, under pressure from Stevens, had called for goalkeeper Tony Hogg to come and collect the ball, but then impeded his colleague as he ran out, allowing Stevens the luxury of being able to slip the ball into an open net. The Post acknowledged, however, that 'the left-back played well against his old colleagues'.
McQuillan soon settled down to his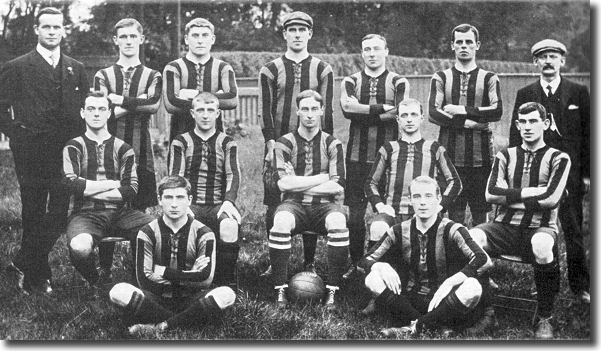 normal form, the Mercury describing him as 'excellent' in the game at Clapton on 26 September and claiming he 'gave a splendid display at left-back' at Huddersfield on 7 November.
City beat Hull 1-0 to win the West Riding Cup on 11 November, with the Yorkshire Post commending McQuillan for 'giving a fine display against his old colleagues. He nearly scored in the second half with a long shot from his own half of the field, the ball bouncing awkwardly to Hendry, who could do no more than divert it over the bar'.
The left-back sustained an injury a few days later while playing against Bristol City and was forced to endure a lengthy spell on the sidelines. He consequently missed City's astonishing 6-2 victory at Hull City on 16 January when Billy McLeod bagged five goals.
It was 6 February before he returned to first team action and McQuillan then missed a further five games before coming back into the side at right-back following an injury to Fred Blackman.
He made 20 appearances for City that season but when League competition was suspended in 1915 McQuillan return to Hull to take up a job in a local foundry. He turned out for his old club for the next two seasons, also appearing on a number of occasions for Fulham.
McQuillan was injured whilst playing for Hull against Leeds City at Elland Road in February 1917 and shortly aftewards hs playing days were brought to a premature end when a grinding machine in the factory where he was working exploded. He was left with head injuries and a broken collar bone and consequently decided to hang up his boots for good.
He continued to serve Hull City in a scouting capacity until the 1930s.