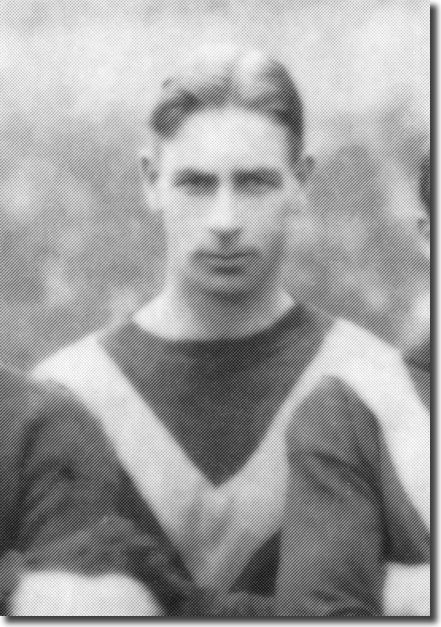 Born: Kennington, Lambeth, 8 February 1884
When Huddersfield Town captain Fred Blackman joined Leeds City on 17 February 1914 for a fee reported to be in excess of £1,000, the Yorkshire Post described him as 'possibly the most stylish and polished back in the Second Division' with 'few equals as a tackler'; the Leeds Mercury claimed he was 'regarded as one of the best full-backs in the Second Division … a cool and resourceful defender, who kicks to a very useful length. He is a man of fine physique standings 5ft 11 ¾ in and weighing 11st 1lb.'
Born in London, and a carpenter and cabinet maker by trade, Blackman was signed in his early twenties by Woolwich Arsenal but struggled to make an impact. He joined Hastings & St Leonards in May 1907, going on to captain the team in his second season on the South Coast.
He moved to Brighton and Hove Albion in May 1909 and was ever present as they won the Southern League in his first year at the club. Blackman turned in some consistently fine displays, prompting the Athletic News to label him as 'wonderfully quick on his feet, sure kicker with either foot, fearless tackler'.
In September 1910, he was a member of the Albion team that beat Aston Villa 1-0 at Stamford Bridge to win the Charity Shield with a goal from Charlie Webb.
Blackman was at his peak at the time, playing twice for the Southern League in representative games against the Football League. In January 1911 he was given an England trial at Tottenham. That same month he was in the Albion side that defeated Leeds City 3-1 in the FA Cup.
Huddersfield Town manager Dick Pudan was sufficiently impressed to sign Blackman for £300 in May 1911. He made 32 league appearances in his first season when he formed a fine full-back partnership with Fred Bullock, though the Terriers faced a battle to avoid having to apply for re-election. Arthur Fairclough replaced Pudan at the end of the campaign and appointed Blackman captain; he missed just two games and led them to a fifth place finish.
They slumped back into the bottom half of the table in 1913/14 but Blackman remained a stalwart of the side before departing Leeds Road in a big money move in February 1914.
Leeds City had long been seeking to strengthen their defence, approaching various clubs in search of reinforcements and, according to the Yorkshire Post, 'in one case at least something like a record transfer fee was offered for a very well-known player, but without result.'
City's hunt for a strong defender was ended when Huddersfield agreed a deal. Town officials refused to disclose the actual size of the fee, although they admitted it was 'upwards of £1,000'. According to the Leeds Mercury, the transfer 'caused quite a sensation in Huddersfield soccer circles yesterday, and the action of the Huddersfield Town directorate in parting with their most reliable defensive player was somewhat adversely criticised'.
Blackman made his debut for City a week later in a 1-0 defeat to Hull City, reportedly giving 'an excellent account of himself'. The Mercury: 'There is not the least doubt that Blackman is a fine player. He looks slim but he is a great deal more strong than he looks. He showed us on Saturday that he never gets flurried no matter how tight the corner he gets into. There is no force about him, and no hurry. He is one of the coolest backs in the country at the present time, and high honours undoubtedly await him. It may have been Blackman's influence, and it is a fact that Affleck played a fine game on Saturday, and there is not the least doubt that Leeds City are now strong in defence.'
Blackman played in all fourteen of the remaining games, though only six ended in victory. City still finished fourth, only a couple of points shy of promotion.
Blackman was a regular choice again in 1914/15, though he sustained a thigh injury at Bury on 21 November when he fell on the hard surface as he sought to make a clearance; he had to see out the game on the right wing, missing the following match against Preston as a consequence.
Injury also kept him out of the FA Cup clash with Arsenal and most of the final two months of the campaign, though he took his total of league appearances for City on to 44 with a further two in the Cup.
Blackman returned to London at the end of the season, though City retained his registration, and he guested during the war years with Fulham.
In July 1919, City released Blackman and he joined Queens Park Rangers. A year later, the West London outfit were elected to the newly formed Division Three. Blackman made 42 appearances in his three years at Rangers, where he finished his playing career.