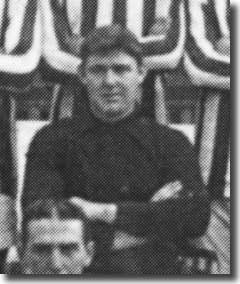 Born: Tunstall, Stoke-on-Trent, 10 September 1887
Chris Kelly was never a regular with Leeds City but was a valuable member of the first team pool for a couple of seasons.
He began his playing career with local club Goldenhill Wanderers in 1907, later switching to Stoke, for whom he made 19 appearances over the next couple of years, before joining Denaby United.
In 1910, he moved on to Leeds City and was given his debut as replacement for Tom Morris in the first month of the season, featuring at centre-half when City lost 3-2 at local rivals Huddersfield Town on 24 September.
The Yorkshire Post reported, "Kelly and White, who had displaced Morris and Affleck, were sadly lacking in their defence, and to them more than any others must be accounted Leeds City's defeat." Wanderer in the Mercury: "Kelly was a trier from start to finish, but he struck one as being rather out of his class. He was too wild, and in the matter of placing the ball left much to be desired."
Despite the criticism, Kelly remained in the side for the next couple of games, moving to right-half in place of John Harkins to accommodate the return of Morris.
Harkins was recalled, however, and retained his place for most of the season, with Kelly remaining in the reserves. Indeed, he managed only one more senior appearance for City, on Christmas Day 1911 in a goalless draw at home to Gainsborough.
The half-back was suspended for fourteen days in April 1912 for "misconduct".
Kelly was released after the arrival of Herbert Chapman in 1912 and returned to Denaby United.
He died in York in 1960.