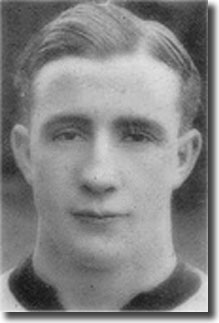 Born: Stockton-on-Tees, 1892
There is some doubt about exactly which James it was who played for Leeds City in November 1916, but it is widely thought that it was Middlesbrough winger Billy.
Billy James began his playing days in his native North East with the noted junior club Eston United. He joined First Division Middlesbrough as an 18-year-old in 1910, playing intermittently for Boro and scoring a handful of goals before the outbreak of the First World War.
James transferred his allegiances to Portsmouth during the conflict, after Middlesbrough closed down operations for the duration.
With left winger Tommy Mayson injured, Leeds City asked James to play for them at home to Nottingham Forest on 11 November 1916. With the game 1-1 at the interval, James came into his own in the second period, as reported by the Yorkshire Post: 'The City showed huge improvement in the second half, and one particularly fine rally of their forwards ended in James just missing with a shot from the wing. James continued to be much in evidence, and Lawrenson needed to show exceptional ability in clearing two of his centres. The City attacked persistently, though with a noticeable lack of finish and with a degree of over eagerness which caused Price in particular to miss two chances. Many corners were blocked and well cleared, but finally it was a corner taken by J Stephenson which gave the home side the lead. The player put in a beautiful flag kick which placed the ball for Sherwin to head it direct into the corner of the net. This happened ten minutes from the finish, and in the last minute C Stephenson added another goal from a centre by James, making the result Leeds City 3 Nottingham Forest 1.'
In contrast, the Leeds Mercury's JRB claimed that James 'was hardly at home', and he never appeared again for the Peacocks.
After the resumption of peacetime football, James came to prominence with Portsmouth in the Third Division, scoring three times in 22 league appearances before signing for West Ham in 1920. He spent two years in Second Division football before fading out of the top class game.
James died in 1960.