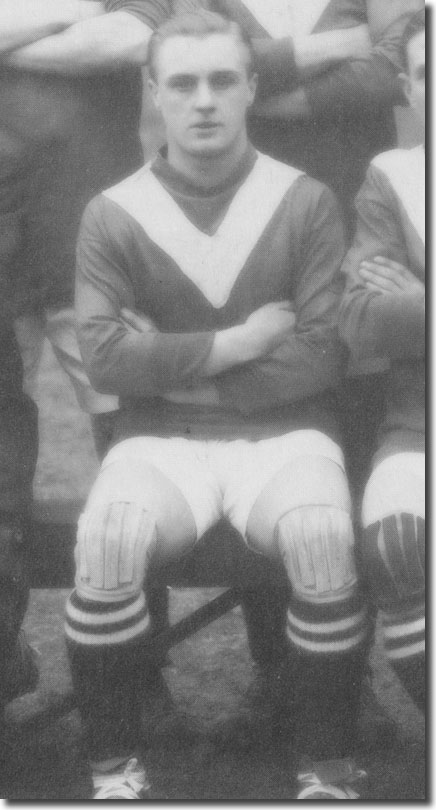 Born: New Delaval, County Durham, 10 February 1895
Jimmy Stephenson was the younger brother of the gifted inside-forward, Clem, who also guested for Leeds City during the First World War. The pair's younger brother George signed for Leeds City after the war and was one of the players sold off in the infamous auction of October 1919, when he joined Aston Villa for £250, reuniting him with his older siblings.
Like Clem, Jimmy also began his playing days with New Delaval Villa, and was reunited with him when he signed for First Division giants Aston Villa in 1914. He made a decent fist of his first season, featuring in eleven games, but a promising career was blunted by the onset of war.
The togetherness with Clem continued and after the older Stephenson had made his way into the Leeds City ranks in February 1916, Jimmy quickly followed suit, making his debut for the Peacocks at home to Leicester Fosse on 2 September. After a 2-2 draw, JRB wrote in the Leeds Mercury, 'Jimmy Stephenson, on the left wing, should make an admirable partner for Price.'
Jimmy played outside-left that day, but quickly settled down on the opposite flank, playing outside Clem and taking the place of the legendary Fanny Walden. A pacy winger who delivered telling centres, Jimmy was usually overshadowed by his older sibling, but after a New Years friendly game with Liverpool, the Mercury claimed he 'played a brilliant game, especially in the second half, his fine centring and shooting easily constituting the best forward work seen'.
That first season, City won the championship of the Midland Section, with Jimmy scoring twice in 27 games, and he played in all six Subsidiary games.
After joining the RFA as a Gunner in May 1917, Jimmy made just one appearance in 1917/18, scoring in a 4-0 victory at Lincoln City on 20 October, and played in two further games in April 1919. His availability was severely retricted by his service in the Army of Occupation on the Rhine, but he returned to Aston Villa in 1919.
He was a bit part player at Villa Park, scoring once in twenty First Division appearances before moving to Sunderland in a £3,000 deal in May 1921. He never really settled at Roker Park and moved to Watford at the end of the 1921/22 season. He stayed five years in the Third Division South with Watford, making 195 league appearances before switching to QPR in 1927. He saw out his days in non-league football with Boston Town, New Delaval Villa, Ashington and New Delaval Villa (for a third spell).
Stephenson died in February 1958 in Newcastle.