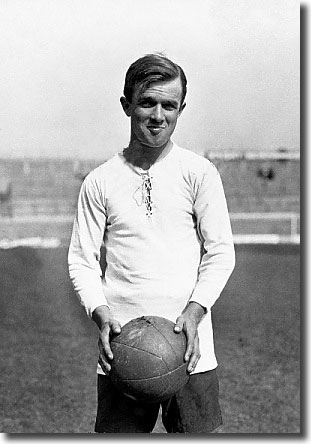 Born: Wellingborough, 1 March 1888
Frederick Ingram 'Fanny' Walden at 5ft 2 ½ in and 8 stone 9 lb is the smallest footballer ever to represent England at a senior level. 'Fanny' is generally thought to be a contemporary term for anyone of dainty physique, though it is also claimed he was nicknamed after the owner of a local sweet shop.
The legendary Herbert Chapman, who had charge of Walden in his early days at Northampton, had the insight to transform him from an inside-forward into a winger, teaching him how to apply his natural talent and send in telling crosses. Walden developed into a tricky and dangerous winger, known for his 'darting, jinking runs down the right flank', a low centre of gravity making him difficult to knock off the ball.
Walden was described by his contemporary, Ivan Sharpe, as 'the Tom Thumb of first class football … Herbert Chapman found him under a divot at the Wellingborough ground… He was so small that he was difficult to charge, and an opponent who did so at all unceremoniously was usually admonished by the crowd. But Walden did not reach the heights merely because he was a freak footballer. Chapman certainly had a ready eye for a player who was a crowd magnet, but Walden was also a first class outside-right. He was a neat rather than tricky player, and relied for success on elusiveness, judgement and ball control.'
Charlie Buchan: 'He was so bewilderingly clever that I pay him the compliment of comparing him with the great Stanley Matthews. Walden could beat his man in many ways and rarely wasted a ball. His twinkling feet took him past the biggest opponent like a flash.'
Born in Northamptonshire, Walden began locally with junior clubs White Cross, All Saints, Rodwell and Wellingborough while working as a moulder in a foundry. He was given an opportunity to break into senior football when Northampton Town manager Chapman offered him terms with the Southern League club.
Stephen Studd in Herbert Chapman: Football Emperor: 'As Chapman set about maintaining the momentum of his Northampton team after their 1909 championship, and went in search of new players, transfer fees were not a problem. He made an exciting discovery at Wellingborough. Outside-right, Fred "Fanny" Walden, 21, was just over 5 feet tall, weighed less than nine stone and looked easy meat for burly defenders. But what he lacked in build he made up for in speed and skill, nipping in and out of solid defences with astounding ease. He came into the Northampton side at home to Luton on 30 October and scored a hat trick in a 6-1 win, following this with another against Southend in December. And he cost Chapman nothing.
'Walden was so small that on one occasion, entering the players' quarters behind his team mates on arrival at an away game, he was told, "Go away, sonny," by an official. His size, combined with considerable talent, made him a popular figure at Northampton and Chapman called him a "star artist" who could draw the crowds and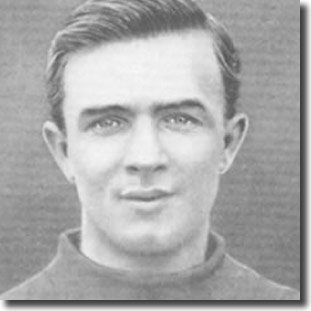 was "largely the making of the Northampton team".'
Despite some heavy home victories during the 1909/10 campaign, the Cobblers' hopes of retaining their title ended with a number of defeats in March and April; they came fourth, finishing in similar positions over the next two seasons before Herbert Chapman accepted the job of secretary-manager at Second Division Leeds City in 1912. Chapman was quick to try and take one of his outstanding talents with him to Elland Road.
Stephen Studd: 'Disappointed supporters demanded to know why Chapman had not signed any new players since the summer. It was not, he answered, through want of trying: clubs were either unwilling to sell so early in the season, or were asking too high a fee. Even junior clubs were holding on to their players. It would not, he admitted, be hard to find players who were "fairly good", but they would not strengthen the team; nothing but the best would do. Then in November came a golden opportunity.
'Northampton Town, languishing since Chapman's departure and losing money at the rate of £30 a week, were open to offers for Fanny Walden. Chapman jumped at the chance, but the Cobblers' supporters were determined that Walden should stay, and a "shilling fund" was set up to thwart the designs of their former manager. It worked, and by the end of the month the deal was off.'
Chapman confessed, 'In no instance have I personally suffered so great a disappointment.' He remained hopeful of securing Walden in the future, for he 'would be the making of the Leeds City team if only I could get him to Elland Road'.
Northampton continued to struggle to make ends meet and in April 1913, Tottenham Hotspur were successful with a record £1,700 bid for his signature. He made his debut in a 1-1 draw with Woolwich Arsenal on 19 April; it was reported that 'during the game, his cleverness brought forth more enthusiasm than the performance of the other 21 players. There is no doubt about it, Walden will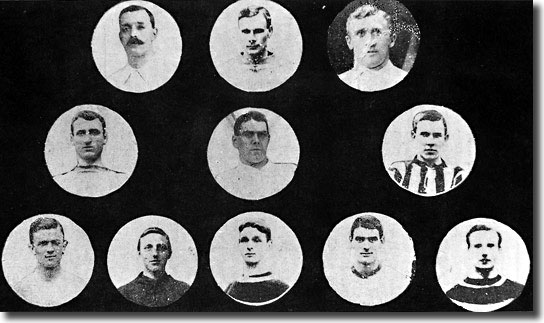 do for Spurs.'
Walden had represented the Southern League on three occasions while with Northampton and his reputation was only enhanced during his time with Tottenham. He won his first England cap on 4 April 1914 in a 3-1 defeat by Scotland at Hampden Park in front of a crowd of 105,000. Before official competition was brought to an end in 1915, he scored six goals in 69 League appearances, though he could not prevent Spurs finishing bottom in that final season.
Walden was reunited with Herbert Chapman at the start of the 1915/16 season.
Stephen Studd: 'Fanny Walden offered his services to Leeds City while working with a nearby firm of motor engineers. Tottenham were furious and protested to the League, only to be told that under wartime regulations it was perfectly in order. Not to be put off, Spurs urged the FA to hold an inquiry - but to no avail.'
A sub-committee of the League, consisting of John McKenna, J J Bentley and C E Sutcliffe, met at Preston on 13 September and confirmed Walden was available for selection by Leeds as he was employed in the city.
The Yorkshire Evening Post announced Walden's arrival with glee: 'The London crowds went wild with delight over the skill of Walden, who has been variously, if extravagantly, described as "the little marvel", "the wonder wizard" and "the twinkling star". Although he stands only 5ft 4in, Walden in the season before last provided the sensation of English League football and it was a popular choice when he was given the outside-right position in the English team against Scotland that season.'
The diminutive forward was one of the finest players to sport Leeds colours during the war years and he gave some outstanding displays during the 1915/16 season. His City debut came on the opening day, away to Derby on 4 September, a game City won 3-1.
An ever present, he was generally acknowledged as the club's best player, scoring twice in 36 appearances.
In April 1916, Walden joined the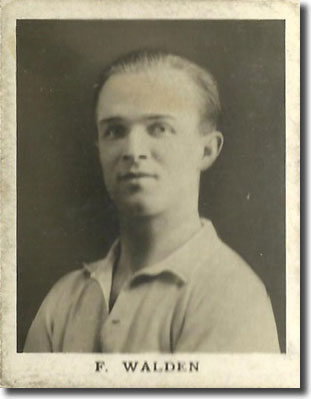 air section of the Royal Naval Reserve, which made it difficult to continue assisting the Peacocks. At the start of the following season, Walden, by now a lieutenant, was required for training in the South of England, but he managed to get away for a couple of appearances before having to permanently sever his relationship with City.
He played some wartime football for Spurs over the next three years, scoring 14 goals in 67 appearances, and represented England against Scotland in a military international.
Walden became a cornerstone of Tottenham's success in the post-war years. He helped Spurs win the Second Division title in 1920, scoring four times in 31 games, but injury saw him miss out on the Londoners' 1921 FA Cup triumph.
Walden represented the Football League once and gained his second cap on 13 March 1922 when England beat Wales 1-0 at Anfield.
By 1926, age and injuries had caught up with Walden and Tottenham released him to return to Northampton Town, by now a Third Division club. He had played more than 300 times for Spurs, including 215 in the League. He retired as a player in April 1927.
Walden was also a gifted first class cricketer, playing 258 times for Northamptonshire CCC between 1910 and 1929, scoring over 7,000 runs and taking more 119 wickets as a slow right hand bowler. He later became an unmpire, standing in 212 first class matches and eleven tests between 1930 and 1939.
Walden had a number of business interests, opening a car showroom in Northampton and a sports shop in Tottenham, which he ran with team mate Bert Bliss.
He died in Northampton, aged 61, on 3 May 1949.