Born: Carlisle, 11 May 1890
John 'Jack' Allan was a sturdy half-back. He played for a number of junior clubs in the Newcastle area (Benwell St James, Bentwick Mission, Newcastle North End and Bedlington United) before returning to his home town to sign for Carlisle United, then of the Lancashire Combination League.
Allan attracted the attention of Everton and was given an opportunity with the First Division side in 1909. He spent most of his time at Goodison in the reserves, helping the club win the Lancashire Combination in 1910. He made his League debut in the derby against Liverpool in February 1910, a 1-0 victory at Anfield. It was the first of 8 first team appearances in the closing weeks of the campaign, but he spent most of 1910/11 back in the reserves, playing just seven First Division games. The following season, he appeared four times as Everton finished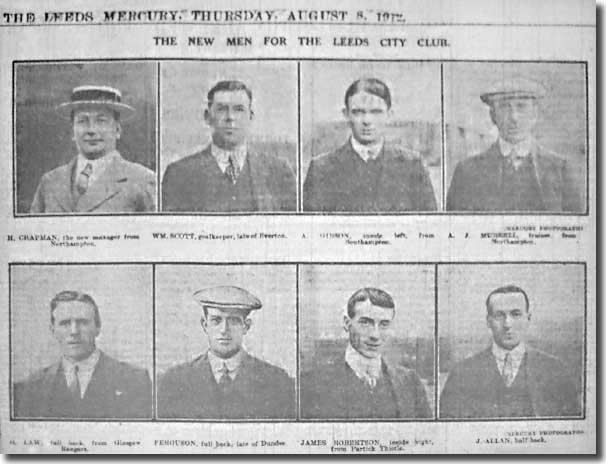 League runners up to Blackburn Rovers.
In search of regular first team football, Allan was persuaded by Herbert Chapman to sign for Second Division Leeds City in July 1912. According to Yorkist, writing in the Leeds Mercury, "Allan, the right-half from Everton, will also strengthen the side. He is sturdily built, tackles well, and has good command of the ball."
Allan was a number of arrivals as Chapman sought to rebuild a side that had been forced to seek re-election in the summer. Internationals Evelyn Lintott, Billy Scott and George Law were among the newcomers.
He went straight into the first eleven, making his debut on 7 September in a 4-0 defeat at Fulham. The Yorkshire Post reported, "Allan did not look after his forwards so well as he might have done. His defensive work was sound enough, however, and it was as well they were, for Law was unsteady and slow."
Allan's form improved as the season progressed and he was often rated the best of the half-back line, but he lost his place after the FA Cup defeat at home to Burnley in January 1913. He had made 14 League appearances.
At the end of the campaign Allan joined Rochdale, then playing in the Second Division of the Lancashire Combination. He moved on again to Southern League Coventry City in 1914.
Allan had by now earned himself something of a reputation as an emergency centre-forward and he scored three hat tricks that season before the Southern League closed down for the war.
When football officially resumed operations in 1919, Allan was a member of the Coventry team that made its Football League debut; he was also in the side that lost 4-0 at home to Leeds City on September 11. One of his colleagues was the infamous Charlie Copeland.
Allan only made five appearances for City before joining non-League Walsall at the end of the season.