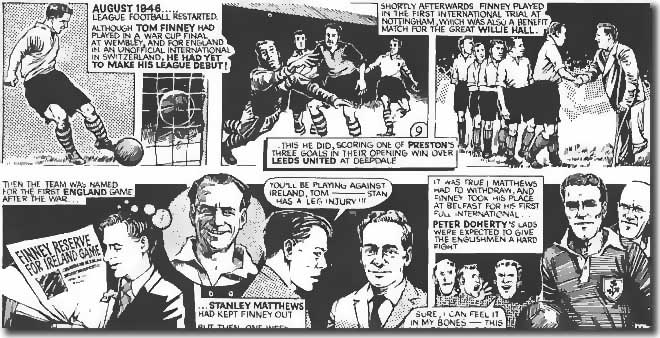 If 1945/46 had been disappointing, it had nothing on the season which followed, one of the most dismal in the entire history of Leeds United.
Manager Billy Hampson had little money for new players and relied on those who had served him so well prior to the war. Les Goldberg, Jim Milburn, Tom Holley, David Cochrane, Gerry Henry, John Short, Aubrey Powell, George Ainsley, Bobby Browne, Billy Heaton, Jim Twomey and Ken Gadsby had all been at Elland Road in the Thirties. A number of other players had arrived during the war, including Tom Hindle, and Hampson had later brought in new players like winger Dennis Grainger and half-back Bob Batey, who had played under him at Carlisle. However, it was noticeable that he did not have much young talent available to him.
The public's appetite for football was enormous in 1946/47, one of a handful of pleasures that was not rationed. Had Hampson's team done anything to encourage their supporters, Elland Road might well have seen record crowds. But while individual results were less dire than in the previous season, Leeds United's habit of losing became even worse.
Things started badly from the opening day, although Leeds were involved in a very historic occasion. Their official post-war record kicked off on 31 August 1946, with a game away to Preston North End at Deepdale before more than 25,000 football hungry fans, which marked the Football League debut of a young winger by the name of Tom Finney, who had already played for the England side during the war years. Despite two goals from Dennis Grainger, Leeds United lost 3-2, with Finney marking his big day with one of the goals.
It very quickly became apparent that Leeds were going to struggle. They won just three points from the first eight games and by the end of September were stranded at the foot of the table. They won a couple of games in October, another two in November and got their first away point on November 30, but that was nowhere near enough and their form started to deteriorate even further. In fact, they won just 6 games all season, only one between November 23 and the end of the season and gained just the one point away from Elland Road. It was frightening stuff and Leeds' ineptitude was astonishing.
Leeds had never been a rich club, but Hampson tried to arrest the decline by paying out £8,000 to Glentoran for the versatile 23 year old Con Martin and another £4,000 on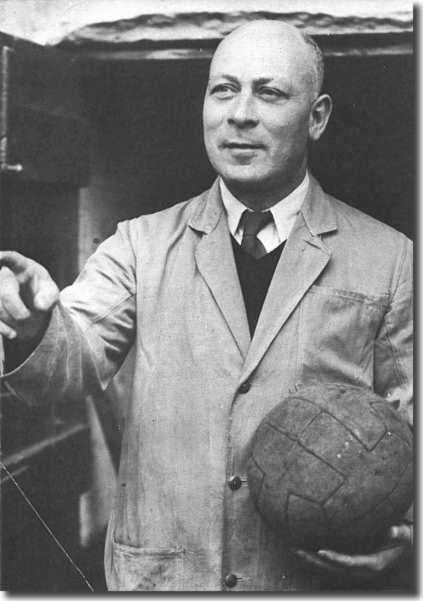 Darlington's free scoring centre forward Harry Clarke. It cost him rather less to get Huddersfield's former England half back Ken Willingham in March 1947, but whatever he did, it made no difference. Leeds were sadly in decline and were completely out of their depth.
After New Year, the team fell apart, winning only one of their last 21 matches - a 2-1 home victory over Chelsea that attracted 37,884, the highest crowd of the season.
The statistics made grim reading: Leeds' points tally of 18 was the lowest ever recorded in the First Division and remained so for 38 years. They were a clear 20 points below the 20th team in the division, they lost 20 of their last 24 games and struggled all season for goals. Their away record - won 0, drawn 1, lost 20 - uniquely awful.
The writing was on the wall and in April 1947 Hampson was demoted to chief scout with Leeds already doomed to relegation and loss of the First Division status they had held since 1932. The board promoted assistant trainer Willis Edwards, who had previously played more than 400 times for the club. He took over for the last six games, all of which ended in defeat.
Paradoxically, the public flocked to Elland Road to see the disaster. Like most English clubs, Leeds enjoyed an upsurge in crowds following the war and the average attendance of 26,000 was some 3,000 better than any previous year.
Other Football Highlights from 1946/47
After a third of the season the only thing that kept Arsenal off the bottom of the table was goal average. They lost nine of their first 14 matches and were heading for an unimaginable drop into the Second Division. Arsenal couldn't find any young players to buy, so they bought Everton's stalwart 31 year old left-half Joe Mercer for £7,000 and paid £1,000 plus two reserve players for Ronnie Rooke, Fulham's 35 year old centre-forward. Rooke got 21 goals in 24 games as Arsenal hauled themselves clear of trouble
Nearly a million people flocked to the 43 matches on the opening day of the season. The season went on to become the longest on record as a bitter winter played havoc with fixtures. More than 140 matches were postponed in three months
The result of the title race hinged on two matches. Wolves, who had been 11 points clear at one stage, needed to win their last match against Liverpool to secure the title, but they lost 2-1, which made Liverpool the new leaders. The Anfield club had to wait a fortnight until June 14 for the result of the Stoke-Sheffield United game to see if they could hang on as Stoke would win the title on goal average if they won. Stoke had sold Stanley Matthews to Blackpool for £11,500 in May and he was badly missed as United won 2-1 to confirm Liverpool's title win
Stanley Rous, the FA Secretary, appointed chief coach Walter Winterbottom as the first England football team manager in May 1947, prompting the national team to beat Portugal 10-0 on May 27
A Great Britain XI beat the Rest of Europe 6-1 at Hampden in May to celebrate the home nations rejoining FIFA
Neil McBain, New Brighton's 52-year-old manager, had to play in goal in a 3-0 defeat to Hartlepools in the Third Division North when the club's only regular keeper was injured, thus becoming the oldest player ever to play in the League
Derby broke the British transfer record when they paid £15,000 for Billy Steel of Morton, the Scottish international inside-forward