Part 1 - Results and table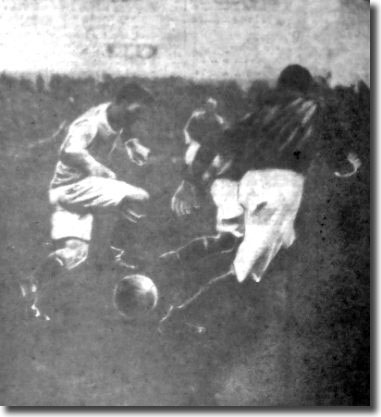 The start of a new decade is usually an exciting time, full of promise and hope for the future. But for Leeds City, January 1910 brought nothing but the grim prospect of a battle to preserve their Second Division status. A run of just one win in 11 games had left the team languishing in the bottom three - the Christmas period brought some respite with two wins and a draw, but things took a nose dive again on New Year's Day when a torrential downpour made for appalling conditions at Blackpool's South Shore Ground. The Seasiders won 3-1, even though victory was only confirmed when Millar headed home from a corner in the final minute. Leeds City played well and may have secured a point had Blackpool keeper Fiske not played the game of his life. The Leeds forwards had the better of the home defenders from the off and got in many a shot on goal, but could not find a way past the keeper.
A week later, City fought back from a goal down at home to Hull City to share the points. They equalised through Jimmy Gemmell's smart shot after Halligan had missed a centre from Fred Croot. In the first half Billy McLeod put the ball in the net with his hand and saw the goal quite rightly chalked off, but was then unlucky when a powerful drive hit the upright.
The hard won point put City in good mood for a major test the following week, in the FA Cup at mighty First Division Sunderland.
Undeterred by such feted opponents, Leeds outdid themselves and came close to pulling off a shock. Wanderer wrote in the Mercury, 'I have rarely seen the City team infuse more dash and vigour into their play.'
It took the Black Cats almost an hour to take the lead through a brilliant drive by England forward George Holley, and even then it seemed that City would get back on terms. With twenty minutes to go, Fred Croot was brought down by a defender in full flight towards goal to earn the visitors a penalty kick.
Wanderer: 'McLeod was entrusted with the kick, but he soon damped the ardour of his admirers by sending the ball over the crossbar. I fully recognise that McLeod must have felt what a great responsibility rested on his shoulders. The fate of his side, I might almost say, lay in the palm of his hand; but still he ought to have made a better attempt than he actually did. It must have been sheer nervousness that was responsible for the weakness of the shot, and one could not help feeling sorry for McLeod as he dejectedly walked down the field. He played a hard, dashing game throughout, and it was a great pity that this one mistake should have had such far-reaching effects. Such is the fortune of football.
'But what about the game? How many people expected that Leeds City would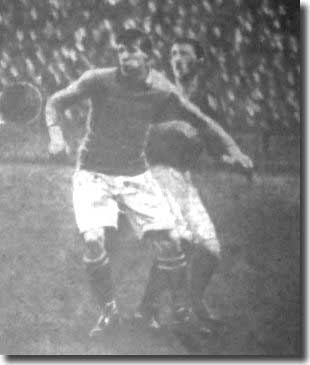 give Sunderland such a hard tussle? Not many, I venture to say; in fact, in Sunderland the match was regarded as a soft thing for the Roker Park men. In the official programme it was stated "Everything points to a walkover for Captain Thompson and his men," but the gentleman who wrote that soon changed his tune, I should imagine, if he was present at the match. Leeds City held their own throughout the game, and if the inside-forwards had only indulged in a little more shooting they might easily have found the net on more than one occasion.'
One might have expected that such a strong showing would revive City's form in the League, but they contrived to lose twice in a row by a single goal, away to Derby and Glossop, results that left them in dire straits.
12 February saw Leeds win a vital re-election clash against struggling Birmingham with goals from Hugh Roberts and Fred Croot to revive flagging spirits, but they quickly suffered another setback. The club was facing severe financial difficulties and the directors accepted a bid of £400 from table topping Derby County for the talented Irishman, Billy Halligan. The forward had proven an instant success for the Elland Road club, snatching 12 goals in 24 games, but money has always talked in football and City just could not afford to turn down the cash. Athlone-born Halligan went on to enjoy a glittering career, winning his first Irish cap while he was at Derby and going on to feature with Wolves, Hull City, Preston, Oldham and Nelson.
Over the previous few weeks, Adam Bowman and Jock Watson had also departed the club, sold off to Portsmouth and Clyde as the club sought to replenish its depleted coffers.
Halligan was a difficult man to replace - his countryman Tom Mulholland did his best and got a goal on his return to the team, a week later at home to Oldham. McLeod and Croot were also on the scoresheet, but the Lancastrians scored five times to finish comfortable winners.
Stockport County added to City's woes the following week by inflicting a 2-0 defeat on them, and two days later Leeds returned from West Bromwich on the wrong end of a 3-1 defeat. The Peacocks were rooted in the bottom two with the most goals conceded, 63. They had ten games to save themselves and the knowledge that only four of those would be at home brought some apprehension. City had won just once on their travels all season. For manager Frank Scott-Walford the moment of truth had arrived.
After a poor second half at West Bromwich, the Yorkshire Post had seethed, 'Five or six men who wore the club's colours need to be replaced if something like a sustained effort to bring Leeds City to the fore is to be made … Affleck and White fell back to cover their goal with a fair amount of judgement but their efforts to turn defence into attack were not at all skilful.'
Wingman Fred Croot, back to his best, netted both goals, one a penalty, in a draw at home to promotion chasing Fulham - City could count themselves unlucky, for they had the better of the play. Billy McLeod's goal earned a point at Barnsley, though the South Yorkshiremen had their minds elsewhere, looking forward to their FA Cup semi final clash with Everton.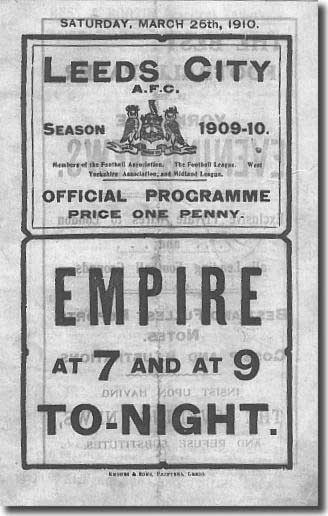 Nevertheless, this same Barnsley team had put seven past Harry Bromage in October, so this represented definite improvement.
Following the club's successful staging of the amateur international clash between England and Ireland in November, Leeds City were awarded the prestigious honour of hosting Barnsley's semi final match and the directors saw this as a massive vote of confidence in the potential of both club and ground. Unfortunately, with the eyes of the football world on Elland Road on Saturday March 26, things went sadly awry.
Martin Jarred and Malcolm Macdonald: 'Elland Road was swamped as fans arrived from all directions. Neither the City administration nor the ground were geared up to cope with the 36,000-plus crowd. Those that got in could hardly see and thousands more were locked outside. Some of the turnstiles were closed even before some of the excursion trains and coaches from across the Pennines had arrived in Leeds.
'Thousands of disgruntled locked out fans packed Beeston Hill and tottered gingerly on neighbouring rooftops, straining to get a glimpse of the action below.
'The match finished goalless, with Everton goalkeeper Billy Scott, later to join Leeds, having a fine game. But the lack of organisation was a bigger disappointment than the match.
'The influential Athletic News reported: "It is clear that the Association and the clubs concerned lost considerably by allotting the match to a small ground constructed for Second Division football and not for events of national importance."
'It had been a shambles and it was another 20 years before a new look Elland Road was considered good enough to stage another FA Cup semi final. That embarrassment was almost matched by City's performances on the pitch.'
That same afternoon, the Peacocks went down tamely, 4-2 at Bradford Park Avenue, following a 3-0 reverse a week earlier at Burnley. The two defeats in quick succession, extending the run of games without a win to seven, left Leeds second bottom, with the division's worst defensive record. They had won only one game since December 27, a run that had seen them take a mere six points from 13 games.
Wanderer wrote of the Burnley debacle, 'they flattered only to deceive. There was not that unity among the players, which is one of the essential ingredients of success. The forwards did not seem to have any fixed plan of attack, and gave one the impression that they were passing the ball to where they thought the men ought to be, instead of to where they actually were. They did not adapt themselves to circumstances either. Burnley are a heavy, bustling lot, who are fond of swinging the ball about, and the Citizens should have played them at their own game; but instead of that they tried short passing movements - and failed. The team was disappointing all round. There was little or no understanding between the forwards and half-backs, and even when the latter did attempt to feed their front line they kicked far too hard, with the inevitable result that the ball was quickly returned by the opposing backs."
Bottom of Division Two - 26 March 1910

Pos

P

W

D

L

F

A

Pts

13th

Burnley

31

12

4

15

48

47

28

14th

Stockport County

31

10

7

14

35

34

27

15th

Lincoln City

32

9

9

14

36

58

27

16th

Clapton Orient

30

9

5

16

26

47

23

17th

Gainsborough T

31

9

4

18

28

66

22

18th

Birmingham

32

7

7

18

37

64

21

19th

Leeds City

32

7

6

19

39

73

20

20th

Grimsby Town

31

6

4

21

33

67

16
With six games remaining, the likelihood of having to seek re-election to the Football League was growing more acute with every week that passed.
A visit to the capital on Easter Monday, 28 March, brought a dour tussle against Clapton Orient, also in trouble at the foot of the table.
From somewhere, Frank Scott-Walford's men managed to rediscover some of their real form and they secured an impressive 2-0 victory to climb two places up the rankings.
The Leeds Mercury reporter savoured the moment: 'The game at Homerton was fast and vigorous, but much that was ragged and unscientific was in evidence, the Orient, it may at once be said, being the principal offenders. Leeds were the better side in every department, and more particularly so after change of ends. The City forwards were many yards faster than the opposition five, and combined in taking fashion all through the piece, while a number of individual runs were distinctly clever.'
Billy McLeod scored both goals, opening his account in the 28th minute by rounding off a neat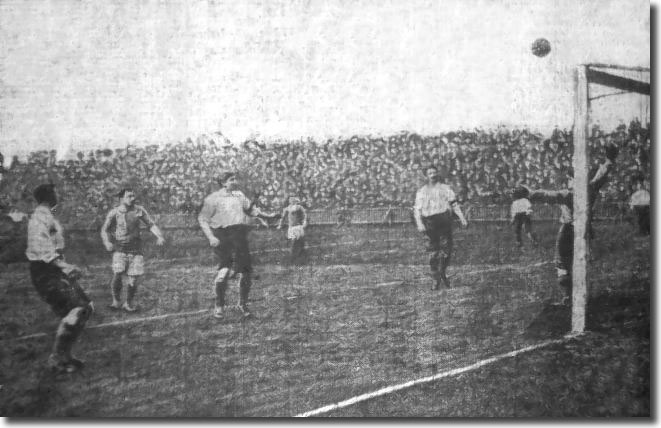 combination among the forwards with a stinging drive. He had to wait until five minutes from the end to add a second, slipping the ball home after drawing the keeper out to meet him.
McLeod impressed throughout with his clever play and gave Orient pivot Bell 'a heavy afternoon's work'.
It was again McLeod who settled the home game with Wolves five days later with a fine goal in the first half, beating both full-backs before placing his smart shot wide of Wanderers keeper Tommy Lunn. According to Sportsman in the Mercury, the centre-forward's team mates also rose manfully to the occasion: 'White (especially) and Affleck proved a pair of generally sound and reliable backs, though it should be remembered that they were rarely subjected to serious pressure. Cubberley was the most prominent man in the intermediate line prior to the interval, but, taking the game throughout, Morris, who gave a sound, praiseworthy display at centre-half, must be awarded the palm. Horsley, who worked hard, completed a trio who gave the opposing front rank little rope. The two wings, Roberts and Croot, were the most effective forwards. McLeod did a few clever things but there were occasions when he was deficient in dash and energy. Dougal was very useful, and often combined well with Croot.'
David Dougal, recalled at inside-left for the Orient game, and showing a new lease of life, had brought the best out of his forward colleagues, and City looked a much better side for his inclusion.
If they had finally found some form on the field, there was trouble behind the scenes. The services of Flaneur, a popular local football reporter, had been enlisted by a number of City shareholders to take up their argument with the board of directors. He wrote in the Leeds Mercury that the shareholders had asked him 'to draw attention to certain correspondence that has passed between them and the directors of the company with reference to the calling of a meeting to consider the position of the club. It will be remembered that some months ago such a meeting was held at the Salem Hall, and that a suggestion was then made from the chair that such gatherings, bringing directors and shareholders together for the common good of the club, might be more frequently held. I have not the report of the Salem Hall meeting by me, but, as one who attended, I gathered from Mr Henry's remarks that at least one further meeting of the kind would be held during the season.'
The shareholders had written to the club on 3 March asking for an extraordinary meeting of the shareholders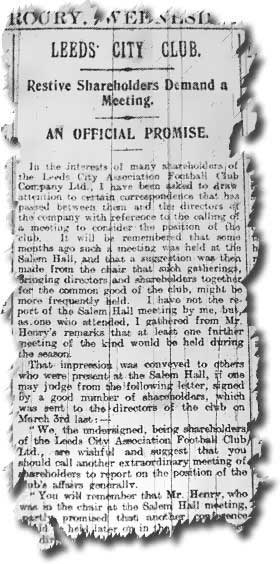 to be called to report on the club's position. Frank Scott-Walford had written back on behalf of the club, promising that the directors would consider the matter.
That response cut little ice with its recipients, who threatened to force a meeting under the club's articles of association, unless the matter was resolved within the week. Scott-Walford replied that it was 'the intention of the directors to call a meeting of the shareholders at the most opportune moment and that it will be at an early date'.
The frustrated shareholders were left to await 'the most opportune moment'. That prompted Flaneur's correspondence in the Mercury of 6 April, when he took pains to detail the course of events.
Flaneur had hinted the previous November at the difficulties when writing of City's £9,000 overdraft and intention to raise new funds through a share issue.
The wrangling and financial strictures were to drag on for years, but further spats were kept out of the public eye until the start of the following season when new funding was finally secured. For now, an uneasy truce was called between the warring parties as City fought to retain their Second Division status.
A 2-0 defeat at Gainsborough on 9 April brought Trinity level on points with the Citizens. Wanderer wrote in frustration, 'Leeds City are a most tantalising team. One week they play good football, and give promise of lifting the club out of the League mire, and the next they are a very mediocre lot indeed.'" Nevertheless both teams had three points to spare on Birmingham and five on bottom placed Grimsby.
Two goals from Fred Croot and a third from Billy McLeod secured the points a week later at Elland Road against Grimsby, confirming City's safety and virtually condemning the Mariners to seek re-election.
Leeds were fully worthy of the points, exerting a stranglehold from the off and went in at half time 2-0 to the good. They took the lead when Croot's centre found McLeod in the middle with only Grimsby keeper Longsdale to beat. The custodian parried the shot but could not hold it and right-half Kelly was forced to handle the ball as it rolled towards the line. Croot converted the penalty calmly.
Croot was also at the heart of City's second goal. His long shot looked to be heading straight for the keeper until Grimsby left-back Henderson, in a vain attempt to clear, screwed the ball into his own goal from some distance out.
Sportsman in the Mercury: 'Grimsby had more of the game after the interval, and Leonard reduced the lead with a fine shot, which first struck the crossbar. Soon afterwards Horsley saved a dangerous situation by kicking clear from near the posts in a scramble, while once Coulbeck burst clean through, and, though sandwiched by the backs, contrived to get in a shot at short range from which Bromage effected a really clever save. Just before time McLeod registered City's third goal from a centre by Croot, this effectively settling the issue.'
Sportsman had to acknowledge that City had been no great shakes, noting, 'Forward, Croot,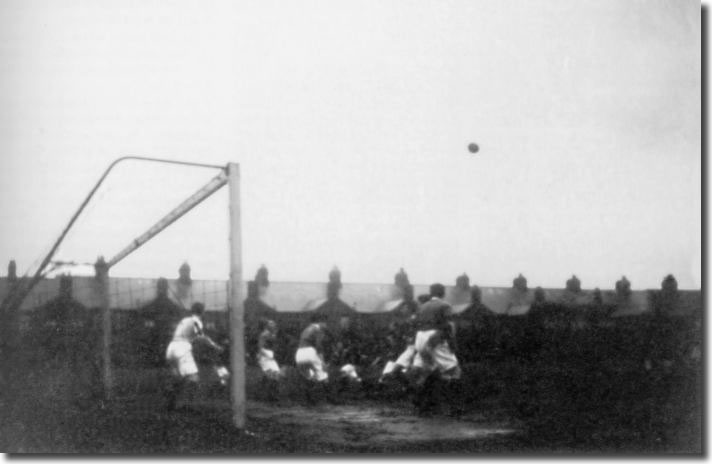 Roberts and McLeod were much the best. Mulholland was moderate, and Dougal unsatisfactory. The inside men, generally were at times lacking in accuracy, decision and method in front of goal.'
For a while, escape had seemed unlikely, but a run of six points from eight had rescued the Peacocks just when all seemed bleakest. They had reserved their best sequence of results for the moment when things were most desperate, though they were to end the season with the worst defensive record in the division, shipping 80 goals in all.
Survival confirmed, City contrived to lose 3-0 the following week at table topping Manchester City, who went on to secure the Second Division title. Leeds ended the campaign tamely, with a 1-1 draw at home to Leicester Fosse confirming a 17th place finish. Sportsman spoke for all when he wrote in the Mercury, 'Probably few of those who have the interests of the Leeds City club at heart will regret that the curtain has been rung down on a season which, both from a playing and financial point of view, has been attended with such disastrous results.'
Billy McLeod finished top scorer for a fourth successive season with 15 goals from 28 games in an injury-ravaged campaign - Billy Halligan had promised much before his move to Derby, netting 12 in 24. On the whole, though, it had been a season to forget. Only three men, Harry Bromage, Stan Cubberley and Fred Croot registered more than 30 appearances and Frank Scott-Walford used 28 players in all, ringing the changes continually as he searched in vain for a winning combination. Young George Affleck had made his mark after earning a regular place at full-back and Bromage had enjoyed a wonderful season back in goal, the most consistent performer as he was left exposed time and again by the leakiest of defences. The team never strung any form together, and only ever managed to win consecutive games on two occasions. Attendances slumped with City's form, dropping to an average 7,026, the lowest since they had joined the League.
Leeds City's aspirations had been high when the club was formed in 1904, but now their hopes had become as ash. This was not what the board had brought Scott-Walford in for and disillusionment had well and truly set in at a demoralised football club.