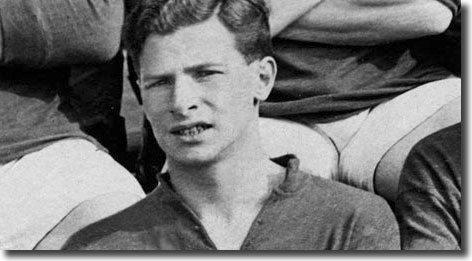 Born: New Cross, London, 27 December 1899
Clement Ross Voysey was one of a number of players who guested for Leeds City during the First World War. He made one appearance in the 1918/19 season, but his real claim to fame comes from his part in a bizarre episode involving Arsenal some years later. His signing for the Gunners was investigated twice by the FA and was part of the reason why Sir Henry Norris was banned from involvement in the game.
Voysey was training to be a teacher when war broke out in 1914 and he joined the Royal Air Force after the introduction of conscription in 1916. He was given an opportunity to play for Manchester City by manager Leslie Knighton and then, while stationed in Yorkshire, he guested for Leeds City after an injury to regular left-half Bert McLachlan.
Voysey partnered Jack Hampson and Tommy Lamph in the City half-back line when they played Bradford Park Avenue at Elland Road on 1 March 1919. He did not have a happy time with the Peacocks hammered 5-2. The Yorkshire Post reported that "The Leeds City team again showed a surprising reversal of form in their home match with Bradford, and disappointed a gate of about ten thousand by the feebleness of their display."
Voysey then made a number of appearances for Arsenal, listed as 'Newman' in the programme - something that was common at the time - starting with a game against Tottenham on 29 March. At the end of April, Voysey officially signed for the Gunners and was thus reunited with Leslie Knighton, now manager at Highbury.
Sally Davis: "On 17 May 1919, under his own name now, he played in a charity match at Highbury and his performance that day was commented on by two football reporters. Arthur Bourke/Norseman in the Islington Daily Gazette, said that Voysey 'does the right thing at the right moment. This is the hall mark of success.' And in the Athletic News the writer on London football known as The Vagrant liked his 'clean tackling and brainy feeding'.
"Voysey was not the finished article, however, and Football League Division One was not like wartime amateur football. In a match report on Newcastle United 3 Arsenal 1, played on 6 September 1919, Athletic News' North East reporter said that although Voysey's distribution out of defence had been very good, he had struggled to impose himself… On 13 September 1919, only a few weeks into his first season as a professional, Voysey got injured… Not only did Voysey not play again for over a year, he needed long treatment at the Great Northern Hospital which the club will have had to pay for; and also, he seems never afterwards to have become the player he could have been.
"That's not to say that Voysey wasn't a useful member of the Arsenal squad. The first record after 1919 that I can find, of Voysey playing in the first team, was on 10 January 1921 when he played in the FA Cup third round tie QPR 2 Arsenal 0; but he was only on the team sheet that day because both the regular half-backs were injured. In the first game of season 1921/22 he played outside-left… Those two matches established a pattern, of Voysey getting into the Arsenal first team only when regulars weren't fit, and not necessarily in the position he'd been bought to fill. He had a longer run than usual in the side at the beginning of season 1922/23, showing flashes of the skills the football writers had seen in him at first and enough good form to keep Alec Graham out when Graham recovered from injury.
"At the end of October 1922 he spent a few weeks on the transfer list, at his own request, after refusing to play in a reserve game; life on the fringes of the first team was getting him down. He was back in the first team at the end of November, but again it was because first choices were injured, and now he was being used at inside-right. At Christmas 1922 he got injured again and played only a handful of first team games the rest of that season. And so it went on, though at the end of each season Voysey was always offered another contract for next season; and he always re-signed for the next season. Perhaps he hoped that next season he would establish himself; perhaps he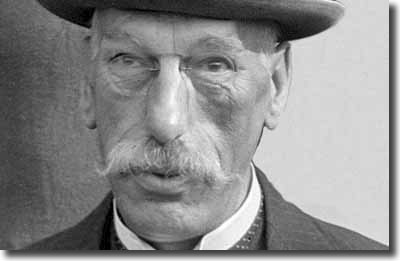 found that other clubs were reluctant to sign a player who'd been on the injured list for a season and a half."
In 1925 an FA Emergency Committee was set up to investigate Voysey's contract with Arsenal, though it is unclear who requested the investigation or what was alleged. The timing of the inquiry was odd, with the player having already spent six years at Highbury. The Committee concluded that the contract was not an acceptable one and that clauses 8 and 9 "were inconsistent with each other".
Strangely, Voysey remained at Arsenal despite the findings until Herbert Chapman released him at the end of the 1925/26 season.
Sally Davis: "In his statement to the FA Commission of Inquiry in 1927 Henry Norris described how Arsenal FC went about signing a particular player 'at the termination of the war'. As usual in this statement, Norris didn't give the player's name, though he did say that he had not played as a professional up to the time he had joined Arsenal. According to Norris' account, before he would sign for Arsenal the player demanded £200 to cover the higher cost of living he would incur in London… Norris and Hall, anxious to sign someone who was being courted (or said he was) by other clubs, agreed to the £200; but that put Hall in a quandary. As Norris was going to be on holiday when the player came to London to clinch the deal, Hall would have to be the one to supervise payment of the money; but as a member of the Football League Management Committee he wanted to remain in official ignorance about a signing on fee in excess of the £10 allowed in the rules. So when he went to meet the player at St Pancras station, he took with him a member of Arsenal's office staff (probably Harry John Peters although the man was never named), who handed over the £200 in cash. The player then signed a contract with Arsenal, and turned professional… In 1927, the FA Commission of Inquiry's report implied that the £200 was taken from Arsenal FC's account; however, in 1929 Henry Norris was at some pains to state that the £200 was his own money."
Tony Attwood: "According to Leslie Knighton we are told that Sir Henry put a strict cap on all transfer fees of an utter maximum of £1,000. Would Sir Henry himself really agree to give £200 of his own money to an unknown player as an illegal signing on fee during such a period - not least when he had suffered such huge setbacks financially during the war?
"After the game against Leeds in February 1926 Clem Voysey did not play for Arsenal first team again, or indeed any other club. But the 1927 FA Commission of Inquiry interviewed Voysey as well as Sir Henry and Hall about what had gone on, and found - as they had to - that both men were guilty of paying Voysey a signing on fee greatly in excess of what was allowed in the Football League rules."
With thanks to Tony Attwood, www.blog.woolwicharsenal.co.uk and Sally Davis.