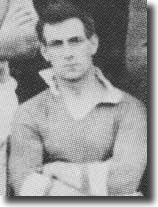 Born: Jarrow, 30 November 1892
Trotter began his playing days in local junior football with Jarrow Croft and Ashington. During the First World War, while working in Yorkshire, Trotter was given the opportunity to play on a guest basis for Leeds City in 1916.
With regular City inside-left Arthur Price unavailable for the Christmas Day game at home to Bradford City, regular outside-left Tommy Mayson switched inside, allowing Trotter to come in on the wing. The pitch was waterlogged and the sub soil rock hard with frost, making for poor football, but Leeds won by virtue of a Mayson penalty.
Trotter missed the next two games, but then returned, this time at inside-left, on 6 January at Huddersfield. He opened the scoring in a 1-1 draw, picking up Mayson's pass before firing into an open goal with the goalkeeper stranded.
Trotter made his third and final appearance for the Peacocks against Hull at Elland Road on 10 February when he figured at inside-right.
After the resumption of peacetime competition, Trotter was given a shot at the big time when he signed for Second Division Leicester City in June 1920. He scored on his debut in the 4-0 defeat of Bury on 2 September, but was injured in his fifth appearance, playing just one more game until the middle of February. His best campaign for Leicester came in 1921/22 when he netted seven times in 38 League games. In all he made 96 league appearances for City.
In 1924 Trotter joined Second Division South Shields. He spent three years in the North East, scoring fifteen times in 120 League games.
During that time, he figured in two Cup giant killing acts as South Shields beat Birmingham 2-1 in 1926 and Sheffield Wednesday 1-0 a year later. At the time of the latter game, Shields were on the verge of financial ruin and a draw in the first game at Hillsborough brought a money-spinning replay. With former Newcastle keeper Allan Taylor keeping out Wednesday with a star performance, Shields won via Jack Smith's effort.
After joining Port Vale for a brief spell in 1927, Trotter saw out his playing days in the non-League game with Manchester Central and Bedlington United.