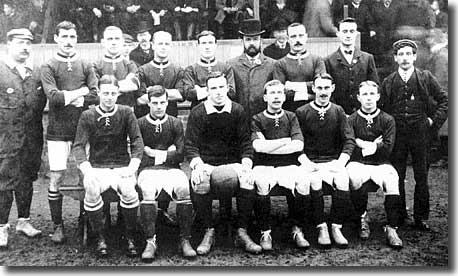 Born: Maerdy, Glamorgan, 1 March 1883
Haydn Price already had full Welsh caps to his name when he signed for Leeds City in 1909; indeed, he had played more times for his country than he had in League matches. Described as "a strong sprinter with good distributive ability but faulty shooting" in the Who's Who of Welsh International Soccer Players, he was a versatile player who featured at half-back, left wing and centre-forward during his playing days.
A schoolteacher by profession, his early playing days were spent in Welsh junior football with Mardy Corinthians and Riverside before he came to the fore with Aberdare Athletic after signing for them in 1902. He was in their side when they lost 3-2 to Druids in the Welsh Cup final in 1904.
In December 1904, First Division Aston Villa offered Price an opportunity and he jumped at the deal. Villa were a major club with a large staff and unfortunately Price was never given a first team opportunity, although he did make his Welsh debut while with the Midlands club.
He won his first Welsh cap on 4 March 1907, when he played left-half against Scotland at the Racecourse Ground, Wrexham. Wales won with a goal from Nottingham Forest's Gren Morris.
Price moved to Burton United following the game, though he only played one League game for the Midlands club, as they lost their status at the end of the 1906/07 season. He remained with Burton for the 1907/08 campaign while they played in the Birmingham and District League. He won his second cap, in April 1908 when Wales lost 1-0 to Ireland.
At the start of 1908/09, Price signed for Burton's District League rivals Wrexham. He was with them for a year, during which time the club won the Welsh Cup, though Price missed the final against Chester. He won three more caps while with Wrexham, appearing in all of Wales' home international games in March 1909.
Weeks later, Price signed for Second Division Leeds City. He had to wait until the third game of the 1909/10 season for his City debut, but played in eight of the club's first thirteen fixtures. After his first appearance, the Leeds Mercury's Sportsman claimed he "was quite the best man in the intermediate line. In the second half especially, his defensive work was clever while he often sent Gemmell and Croot on their way with smart passes."
He had some good moments, but on the whole failed to impress and made his eighth and final appearance for City on 20 November, when they crashed 5-0 away to Wolves. Price moved on at the end of the campaign, returning to the Birmingham League with Shrewsbury Town. He left for Walsall in 1911, and took over as the Saddlers' player-manager in 1912, serving in the post until 1915.
During the war, he guested as a player for Tottenham and when peace resumed Price became secretary-manager of Mid Rhondda United. Under his leadership the club won the Southern League Division Two and Welsh League titles in 1920.
In July that year, Price was appointed manager of Grimsby Town but was with the club for just four disastrous months. Grimsby had only been spared having to apply for re-election by the formation of a Third Division at the end of the previous season and the board were grudging in their willingness to turn team affairs over to a manager. Price's spell in charge ended unhappily; though the team won five of the eleven games in which he had control, the manager was publicly berated by the club's directors for poor performances. The Welshman chose to resign by way of a public letter to the Grimsby Evening Telegraph, citing interference by the board in his team selections. He returned to his former position at Mid Rhondda, though the club were suspended by the Welsh FA in 1922 for financial irregularities and Price quit the game.
He died in Portsmouth on 7 March 1964.