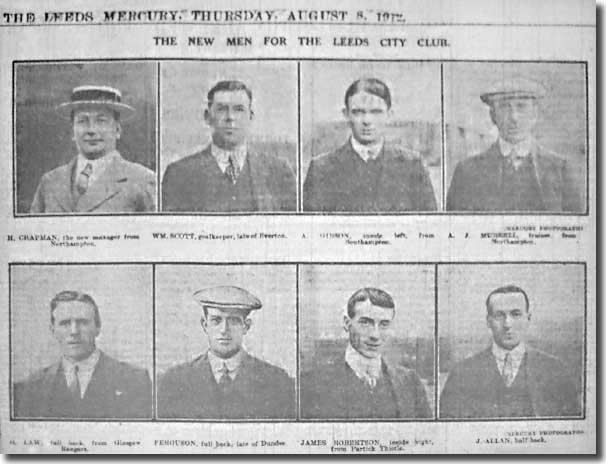 Born: Dundee, 17 September, 1887
Jock Ferguson, a Scottish defender, was one of the most successful players on the American soccer scene in the first half of the Twentieth Century after beginning a new life in the States in 1913.
He spent his formative years in the Scottish League with Arbroath, St Johnston and Dundee.
When Herbert Chapman took over as secretary-manager of Leeds City in 1912, he had to rebuild a club in disarray and Ferguson was one of his early recruits, taking on the role of left-back. He did well in pre-season trials, prompting the Leeds Mercury's Yorkist to describe him as "one of those cool, calculating defenders who inspire confidence".
Ferguson played throughout the first nine games of the season alongside another Scottish recruit, George Law. He exhibited a tendency to get flurried under pressure, however, and lost his place after Christmas, with Charlie Copeland and George Affleck forming a new defensive partnership.
Ferguson was released at the end of the season having made 17 first team appearances. He set off to make a new start in the United States and signed for Bethlehem Steel, with whom he became a celebrated name.
Between 1915 and 1919 he played for the Steelmen in five consecutive National Challenge Cup finals, winning four of them. In 1917, the club joined the professional National Association Football League and won three consecutive championships between 1919 and 1921.
In 1921, Bethlehem relocated to Philadelphia and were renamed Philadelphia Field Club. They were founder members of the first American Soccer League, winning the title in 1922.
The following season, Ferguson moved to J & P Coats (Rhode Island) and helped them win the title at the first attempt.
In September 1923, he rejoined Bethlehem, and won the League with them once more in 1927 at the age of 40. He retired a year later and took over as trainer.
Ferguson won an international cap for the USA in 1925 and was inducted into the National Soccer Hall of Fame in 1950.
He remained in Bethlehem for the rest of his life and died there on September 19, 1973.