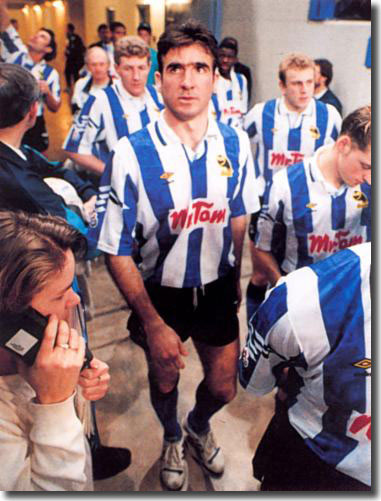 Part 1 L'enfant terrible - Part 3 The king of Old Trafford
Olympique Marseille chairman Bernard Tapie was impressed with what he saw of Eric Cantona in 1989/90 at Montpellier as they won the French Cup, and summoned him back to Marseille. Nothing had really changed and Cantona didn't want to return but saw no alternatives and could not find another club to buy him. Franz Beckenbauer was now in charge and Cantona had a marvellous start to 1990/91, scoring 7 goals in the first 12 games of the season.
However, Beckenbauer had problems with Bernard Tapie and while Cantona was recovering from an injury sustained in October 1990, Beckenbauer was off, to be replaced by Belgian Raymond Goethals. Cantona could not get on with the new man or Tapie and subsequently missed most of the second half of the season, subsequently moving on to Nimes Olympique, where he was appointed captain. However, trouble was never far from Cantona, and his time at Nimes was troubled.
Nick Hancock: 'It was a good year for football, 1991: Eric Cantona retired for the first time. His eight-year career in French football had seemingly ended in ridicule and opprobrium at a disciplinary hearing of the French Football Association. A month earlier, while playing for his fifth club, Nimes Olympique, against St Etienne, he had taken exception to a refereeing decision, and had philosophically thrown the ball at the referee. Cantona hadn't waited for the inevitable red card, but had strutted from the pitch to ear-splitting jeers from the crowd.'
The disciplinary committee suspended him for four matches, taking into account his previous poor disciplinary record and reputation. He took great exception when he felt the disciplinary panel were unfairly dealing with him. The leader of the panel told him 'You can't be judged like any other player. Behind you there is a trail of the smell of sulphur. You can expect anything from an individualist like you.'
Hancock: 'Cantona was not impressed by his punishment and in an ironic postmodern way, rather than in a spoilt little child way, went up to each member of the panel in turn to hiss "Idiot!" in his ear. His ban was increased to two months on the spot, and Cantona retired from football immediately.'
He found himself regretting the decision after a few weeks, but nothing could make him change his mind, until Michel Platini came to talk to him and suggested a new start in England. Cantona respected Platini more than just about anyone else in football and took his advice. Gerard Houllier acted as an intermediary and worked with agent Dennis Roach to try and find a club in England who would be interested. Cantona had promised Nimes that he would buy out his contract and on 16 December 1991 he agreed the cancellation.
The first club in for Cantona was Sheffield Wednesday and their manager Trevor Francis was prepared to float a deal. However, Wednesday were not prepared to pay the £1m it would take to buy Cantona. They opted instead to try and agree a loan deal after a one-week trial, but this led to a misunderstanding which killed the deal.
Hancock: 'Wednesday fans watched the sports pages with bated breath as the exotic and volatile star considered a new start in Sheffield, hoping against hope that their manager would take the risk. Unfortunately the week of Cantona's trial fell in the middle of a typically grim English winter. Francis played Cantona in an indoor six-a-side game against American tourists Baltimore Blast, alongside Graham Hyde, Nigel Worthington, Chris Bart-Williams and Gordon Watson, but outdoor training proved impossible.
'When the week was up Tricky Trev declined to offer Cantona a contract, instead suggesting a further week's trial, which the Frenchman refused from the vantage point of his remarkably high horse. Francis was not prepared to hire a player he had yet to see play on grass, for fear that he wouldn't be able to.'
Cantona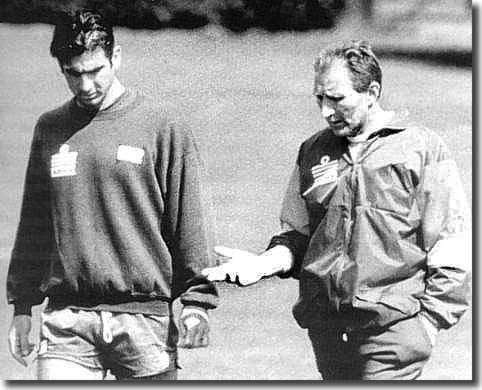 refused to countenance the idea of a trial and it seemed that his opportunity of a comeback to top-flight football was dashed..
Suddenly, Howard Wilkinson, manager of a Leeds United side vying with Manchester United for the 1992 league title, appeared on the scene and in a matter of days a deal was done and the Frenchman was on his way to West Yorkshire. Cantona signed at the beginning of February 1992: 'My new manager invited me to watch the match between Leeds United and Notts County. Our conversation lasted a little more than an hour. Certainly no contract had yet been signed, but we knew quite well that a mutual adventure would soon be bringing us together. There would be no question of a trial period. My examination would take place on the field. Perhaps even in the next match at Oldham, if I felt that I was ready.
'Howard Wilkinson had been very clear with me from the first training sessions: he was convinced that I could rapidly impose myself on Leeds United, but he also let me understand that he didn't want to push me too quickly. English clubs, it is true, display a certain distrust of foreign players. Their football is made out of aerial duels, of hard running and of tackles which cannot be endured unless a player's physical condition is almost perfect.
'The British establishment also thinks that while a footballer who comes from the south of Europe may have irreproachable technical skills they do not believe that his body will be able to stand up to the strains of the northern football. And here again, with the advantage of the time that has passed, I can better appreciate the judgement and opinions of Michel Platini and Gerard Houllier, who helped me cross the Channel. They knew quite well that my heart and my legs were made to get on with British football.'
The match against Notts County that Cantona and Wilkinson watched together ended in a 3-0 victory which saw Leeds remain at the top of the league, but they dropped to second the following week when Cantona made his debut for Leeds on February 8 in a 2-0 defeat at Oldham. He came on as a second half substitute for Steve Hodge. Manchester United had not won a league title since 1967, but they now looked as if they could end that run. They were getting the upper hand.
Cantona made his first start a couple of weeks later in a 1-1 draw away to Everton and it was shortly afterwards that his stay at Leeds really took off: 'On 29 February, on a Saturday afternoon at Elland Road, a great joy came to the Cantona family. Leeds United were playing Luton Town. Howard Wilkinson sent me on after 20 minutes following an injury to Tony Dorigo.
'As soon as I came on I knew I felt good and that I was going to score my first goal in the colours of Leeds United before the fans massed in the stands of Elland Road. There is nothing more paradoxical nor more breathtaking than a goal in front of a crowd which is waiting for it. At that exact moment when the ball went into the net, thousands of supporters behind the goal seemed to plunge towards the turf. In scoring this goal at the Kop end I became seduced. I had met, it seemed, my new family.'
Leeds won that game 2-1 to get back on track, but their form was very up and down. They crashed 4-1 at QPR, then a goal from Cantona sparked off a 5-1 thrashing of Wimbledon, but after a couple of draws Leeds' challenge seemed to have evaporated as they went on to stumble by 4-0 at Manchester City. Many Leeds supporters gave up hope after that thrashing on 4 April. It left Manchester United on top with three games in hand.
But City were to have a further hand in matters, and flung Leeds an unexpected lifeline, pulling off a 1-1 draw at Old Trafford the following Wednesday, coming from behind with a man short.
United were still in the driving seat, but Cantona then took centre stage: 'I was winning the confidence of Wilkinson and the other players at Elland Road were becoming accustomed to my kind of play. The day would soon arrive for one of my most inspired moments, an incident that would remain engraved in the memory of the Leeds supporters.
'This day came at Elland Road on 11 April 1992. We were playing against Chelsea. It is difficult to describe the out of the ordinary goal that I scored on that day. In three touches I deceived the defenders who were coming to tackle me, without the ball touching the ground and then finally placed the ball in the far corner of the net. About ten minutes remained and throughout the whole of that time the fans stood up in the stands, singing and chanting.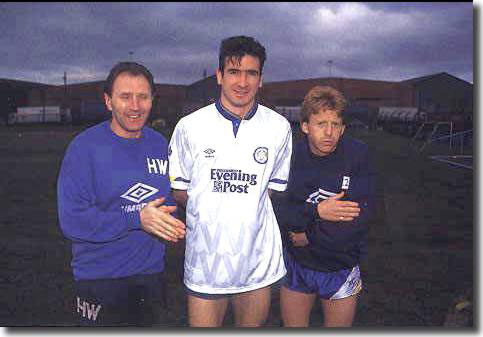 It was a very moving and extraordinary experience.'
Cantona came on as a sub for Rod Wallace and scored the first crucial goal which relaxed Leeds' nerves, allowing them to run out winners by 3-0. The moment would last as a memory at Elland Road for years, and it crystallised the season for the club. In truth, Cantona's was only a cameo contribution to Leeds' title drive; he was used most often as a substitute by Wilkinson, who remained unsure of his ability to contribute to the team's overall performance.
The Elland Road faithful, however, had no doubts. They had found a new folk hero and the chant of 'Ooh, aah, Cantona,' soon became a rallying cry as they gathered their forces for a final push. Cantona brought a flair that had been missing. Leeds United that season had the best midfield combination in the country in Strachan, Batty, McAllister and Speed, and a resolute back four, but they had often looked pedestrian, predictable and plodding up front, relying almost exclusively on the battering ram style of Lee Chapman for their goals. Cantona's was an inspirational presence that became their focus. In an earlier goalless draw at home to West Ham, he had shown his influence, making his team mates seem leaden footed and pedestrian by comparison. He showed how much of a contribution he could make if he was used properly and won the affection of the Elland Road fans.
And as Leeds' star rose, so a strange case of nerves settled on Old Trafford. The closeness of a title seemed to strike terror in their hearts and they entered a disastrous period of appalling form. The home draw with City was followed by a draw with relegation threatened Luton. On Easter Monday they crashed at home to Nottingham Forest and a couple of hours later Leeds went top again by beating Coventry 2-0. United still had a game in hand, but threw it away by crashing 1-0 at West Ham, another team struggling at the bottom. Leeds now had 76 points and United 75. Both had two games left - Leeds had to travel to Sheffield United before entertaining Norwich while United had Liverpool away and Spurs at home.
Sunday 26 April saw Leeds kick off at noon against Sheffield United. Cantona was on the subs bench as Leeds started with Chapman and Wallace up front. He came on as sub for McAllister and played a small part in the goal which delivered a bizarre 3-2 win.
Cantona and Wallace raced after a lofted back pass from a Sheffield defender, but could not beat centre half Brian Gayle to the ball. He tried to head the ball back to his keeper, but only succeeded in putting it over the advancing Rees and into his own net.
That result left United knowing that nothing less than a win at Anfield could keep their title hopes alive. The 3.0 kick off and the advantage that Leeds took of it, heaped the pressure on the Old Trafford club and they simply cracked, losing the midfield battle to an inspired Jan Molby. Ian Rush gave the Merseysiders a half time lead before being pulled off and a Mark Walters goal after 88 minutes made the result certain - Leeds were the champions for the third time in their history and United would have to go on waiting for their own version of the Holy Grail.
Cameo contribution or not, there was no doubt that Cantona made a difference at the death - Leeds had an inspirational player who had the flair to change the course of a game with a moment's genius and the Elland Road faithful took him to their hearts. It was a second successive championship for Cantona, because despite his troubles at Marseille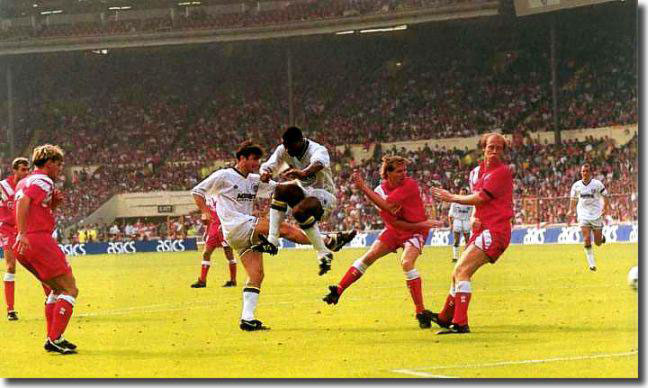 in 1991, he played enough games to qualify for a medal as they wrapped up the French title. He was starting to look like a lucky talisman. Ooh, aah, Cantona, indeed!
Cantona celebrated with the rest of his delighted team mates a very unexpected triumph, which had come much more quickly than even Wilkinson had expected. Leeds had been close to relegation to the Third Division three years before and had only won promotion in 1990.
Cantona could not rest on his laurels for too long, however, because he had a date in the summer with the rest of his French international colleagues as they travelled to Sweden to battle for European Championship glory. Cantona was a key player in France's qualification for Sweden and he and manager Platini travelled in high hopes, but they had a poor tournament, going out from the same group as England with Sweden and Denmark the surprise qualifiers. Platini left the job after the tournament.
Upon his return from Sweden for the new season with Leeds, one which promised European Cup football, Cantona kicked off with his team mates in the annual curtain raiser, the Charity Shield match at Wembley against old rivals Liverpool. He never played a better game for the Yorkshire club. Cantona scored a magical hat trick to help beat Liverpool 4-3 in a thrilling match. Each goal demonstrated his coolness when in the thick of the action.
The first was a thumping right foot shot between two defenders from virtually the penalty spot; the second was another right footer when, having headed down Gary McAllister's free kick, Cantona instinctively latched onto a rebound from Rod Wallace's chest; and, for variation, Cantona scored the third with his head, soaring above Mark Wright to leave Bruce Grobelaar chasing shadows. The cries of 'Ooh, aah, Cantona!' from adoring Leeds fans rang round Wembley. A magnificent opening to a new season, but one that gave false hope to the fanatical Leeds fans.
The team were surprisingly poor in the League, despite some super shows from the Frenchman, who was now an automatic choice. He opened his account in the league with a goal in the disappointing 4-1 defeat at Middlesbrough, scored another hat trick in the 5-0 drubbing of Spurs and both Leeds goals in the 2-2 draw at Oldham.
However, when United visited Old Trafford to face Manchester United they were soundly beaten 2-0 and were clearly no longer the same spirited side which had seen off United's title challenge the previous season. Worse was to follow as they crashed 3-0 away to Stuttgart in the first leg of their opening European Cup-tie. They had hoped for a good run in the competition, but it looked all over.
However, there was a magnificent performance from Leeds when Stuttgart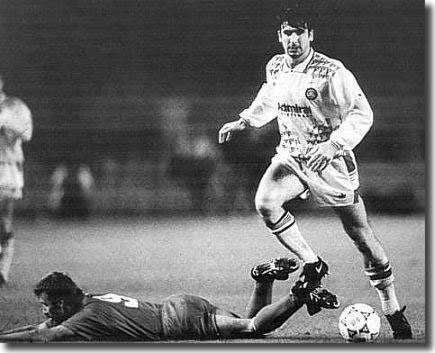 visited Elland Road, and Cantona outdid himself with a wonderful performance in an epic 4-1 win.
Rick Broadbent recounts the story in his book, Looking For Eric: 'The return leg was an epic encounter to rival the magical nights of the Revie era. This was football as the beautiful game. For Cantona the artist, who said he could not renounce beauty, this was the masterpiece. For Cantona the footballer, who said sublime moments of sporting beauty could provide glimpses of eternity, this was the game that will live forever. It was billed as "Mission Impossible". No British side had ever come back from a three-goal deficit in Europe; but Leeds had the will and belief, even if many of their fans did not (only 20,457 turned up for the game).
'It was a night on which Leeds' key players all came up trumps. Gary McAllister was magnificent as he led the midfield, aided and abetted by Gordon Strachan and Gary Speed, while Cantona and Lee Chapman were immense up front. Strachan and Cantona created the opening goal for Speed, who tore into the box and connected with a sweet left-footed volley. It provided a glimmer of hope, but when Stuttgart scored on the breakaway, that appeared to be that. Leeds needed five goals and a third of the game had already gone.
'A McAllister penalty then gave Leeds a 2-1 half time lead and the second half saw them lay siege to the Stuttgart goal. Chances came and went with monotonous regularity, until Cantona bustled his way into the box and scrambled a looping shot into the net with the help of a German foot. Chapman soon headed a fourth with a near post header and the incredible suddenly looked feasible. The Germans hung on, though, and collapsed in a heap at the end. They had been demolished, yet they had still won. They breathed a sigh of relief.'
Leeds should have been out on the away goals rule, but a replay was ordered when it was discovered that the German side had fielded too many foreign players in the match. Leeds won the replayed tie 2-1 on a night of high drama in the neutral territory of Barcelona's Nou Camp to lift the spirits for a side which had still not won away from home in the Premiership and were in a dismal mid table malaise. They lost both legs in the European Cup second round tie, the unofficial championship of Britain, against Rangers of Scotland, despite a Cantona goal in the match at Elland Road, and crashed out of the League Cup away to Watford. That was to be the final game that Cantona played for Leeds.
He had been in sparkling form, scoring 11 goals in 20 matches in all competitions, but a damaging split had developed between Cantona and Wilkinson: 'There were problems. I began to have increasing difficulty in decoding the language used by my manager. When I say decoding that means understanding what Wilkinson is trying to get at. His comments were strange and rather incoherent, in my opinion. One moment he would tell me that he wants me to know that I owe everything to him, that I am only a Frenchman lost in the English league and at other times he would say to me that without me the team is nothing and that I am the essential part.
'"You put him in the shade," Leeds supporters told me after my departure. I can't believe that this was the reason. However, it became more and more clear that he wanted to get rid of me. Wilkinson tried to explain his decision by peddling the rumour that I did not accept his authority and that he must be the only boss. To justify his version of events, he had to let me go to one of his greatest rivals for a sum which was far lower than my value. This was clear evidence that he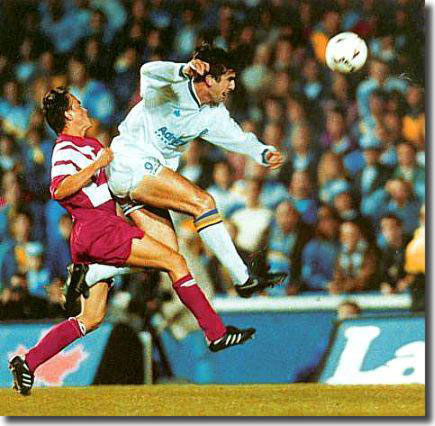 was ready at all costs, even financial, to ensure that I left.'
There were rumours that Cantona was having an affair with Lee Chapman's actress wife, and Wilkinson clearly felt that the Frenchman was a disruptive influence on the team spirit which he always valued so highly - Cantona had become bigger than the club.
Whatever is the truth of the matter, however, it was one of the oddest transfers ever.
Manchester United manager Alex Ferguson rang up Wilkinson to enquire whether he would listen to offers for Lee Chapman. Wilkinson said no, but indicated that Cantona might be available. A fee of £1.2m (a ludicrously low figure) was quickly agreed and on November 26 1992, the Frenchman became an Old Trafford player for a bargain basement fee. The move left Cantona branded a traitor by his former Leeds faithful for throwing his lot in with the Old Enemy, but the move did more damage to Wilkinson, leading to questions as to his competence, and being only one of several questionable transfer dealings over the next four years.
However, relations between manager and magician had reached an all time low. Wilkinson explained things thus: 'Eric likes to do what he likes when he likes - and then f***s off. We'd all want a bit of that.' Not surprisingly, Cantona saw it differently and put the blame back onto Wilkinson. He claimed he had trouble decoding his manager's language, that Wilkinson did not like strong personalities and that he was jealous of the rapport Cantona enjoyed with the fans.
The Leeds fans had adored Cantona. 'But Eric had made up his mind that he couldn't relate to big Lee Chapman as a player,' says Gordon Strachan. 'He found it hard to understand how Chappy played and Chappy found it difficult to understand him. We had to play a different style ... it was very hard ... we didn't have megabucks to change the whole side just to suit Eric Cantona. Hard work made us tick - and no lack of skill, but sometimes when we went away from home, Eric just couldn't understand what we were at. It frustrated him, there's no doubt about that.
'When we went to Rangers, he just didn't produce a performance. There were a lot of places he didn't produce. We needed a bit of help ... we needed to be met a wee bit. It might have bought some time for him to meet us, and we might have been able to bring in some better players to play with him. He had just made up his mind he wanted to leave; there was no way he wanted to stay. Nobody had anything against him personally. He wasn't a problem to get on with.'