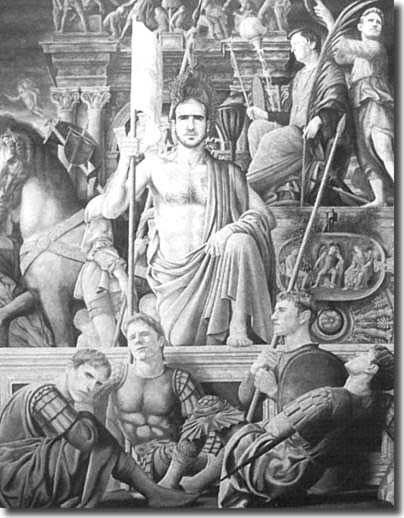 Part 2 Ooh, Aah, Cantona! - Part 3 The king of Old Trafford
His gait is always ramrod straight, like a soldier, with his collar turned defiantly up in an insolent gesture of defiance and individualism. He struts the football field like an aloof colossus, always involved in the game's most important, magical moments, but always, somehow, apart from them, above the rest of the characters.
It can be but one man, the magical, intense, passionate genius known as Eric Cantona, a seething sporting vigilante.
He was adored by the Leeds fans in 1992, but left to join the hated enemy. His name is spoken with awe at Old Trafford.
Everything about Cantona says this is a man with attitude, a man who will not let any personal injustice, imagined or real, go unpunished, a man marked by his immigrant Latin parentage. A remarkable footballer, and one whose premature absence from battle undoubtedly robbed the game in the late 1990's of much of its colour and interest.
Eric Cantona was born on 24 May 1966 in a Parisian suburb but quickly moved to the Cantona family home on the outskirts of Marseille. His paternal grandfather was a Sardinian who emigrated to Marseille in 1955 and his maternal grandfather was an officer in the Spanish Republican army who fought against Franco, eventually seeking exile in France. Given the volatile and fiery temperaments that came together in one brooding individual, it was not difficult to predict some of the violent confrontations that Cantona would later find himself embroiled in, both on and off the football field.
He played football from a very early age with his brothers Jean-Marie and Joel, and joined the local junior club Caillols. Another famous French international, Jean Tigana, had played for the club in earlier years. Caillols provided training and organised football matches for boys from five to fifteen and helped Cantona build on his already impressive natural ability with a ball.
He started off as a keeper, as his father had been, but quickly graduated to an outfield role. His father was a major influence, encouraging Cantona to make the ball do the work by passing it rather than running with it. He told Eric: 'There is nothing more simple than football. Look before you receive the ball and then give it and always remember that the ball goes quicker than you can carry it.'
Eric's favourite side at the time, in the early 70's, was the Dutch national team, who were the finest exponents of what was known as total football, with all players equally adept at switching roles and bringing an astounding flexibility to proceedings. The defeats the Netherlands suffered in the World Cup finals of 1974 and 1978 at the hands of West Germany and Argentina seemed to Cantona like a betrayal of everything that was good about football. Their style was undoubtedly a significant influence on him and there is much of the brilliance of Johann Cruyff in the way Cantona performed when at his peak.
In France, professional clubs recruit players from as young as 14. For Cantona, early associations with professional clubs did not go well, but soon he found a club and a manager who offered him the security and support he needed, especially as he was to move far from his home and his family. He was 14 and had decided to join Nice Football Club because it was not far from his home town. Instead, he chose Auxerre and their manager Guy Roux, about 400 miles away, despite the protests of his family. The shrewd Roux had made him feel extremely welcome when Cantona had taken up his offer of a trial in a way that Nice had failed to do. As he returned home his decision had been made - he would up roots and move to Auxerre, nearly 100 miles south east of Paris.
From the end of May 1981, just after his fifteenth birthday, Cantona trained with the club and he has fond memories of the period: "My life was moving from one high point to another. It was only a few weeks before that I was chosen as one of the best 15 schoolboys in France and now I was permitted to be alongside and sometimes to play with some of the best footballers in the league during training matches.
'Looking back now, many years later, I remember that my joy during the whole of my career at Auxerre had no connection with the money that I was able to earn. How proud I was to take part in matches counting for the championship of France's First Division. What joy to know that the managers of such an up and coming club didn't hesitate to place their confidence in a young player they had previously loaned to Martigues in the Second Division.
'In 1981, Auxerre had just finished its first season in the First Division. Guy Roux hadn't regretted signing the striker Szarmach from Poland. He was an exceptional player, cool and modest, who single handedly had ensured his club stayed in the First Division at the end of the season.
'Guy Roux is a man who likes challenges. He knows that one or two confrontations annually between the young players of the club and the team in the First Division can show up one or two of the established stars. That is why, without doubt, I began to exist in the eyes of Guy Roux one fine day in the spring of 1982. The club was finishing its second season in the First Division. Roux organised a match involving players from the lower teams against the likes of Bats, Szarmach, Garande - the club's stars. When I went on in the second half it wasn't my intention to show anybody up. I only wanted to play well - nothing more. The defender, Lucien Dennis, 15 years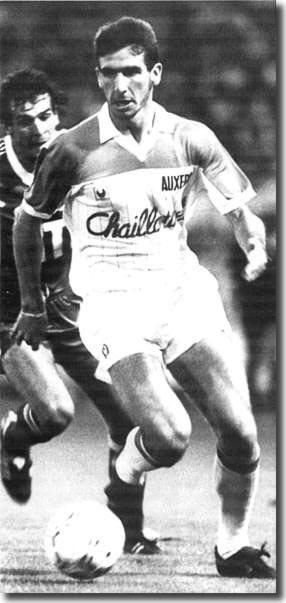 older than I am, will remember the miseries which I caused him that day. Off balance, the defender tried to foul me at every opportunity. His team mates let him know about it quite gently because you don't try to rough up somebody who's making his debut and is just trying to show his ability.'
Cantona was still only 15 and had just won a place in the fourth team, the youngest player there. A year later he was in the thirds and at the end of 1982 he was selected for France's youth team. He played against Switzerland in a curtain raiser to the full international between France and Bulgaria and scored the winner in a 3-2 victory.
Auxerre's reserves won the Third Division title in 1983-84 with Cantona in fine form. The division is contested by the reserve teams of all the First Division clubs. He scored 20 goals and was only surpassed by Nino Ferrer, a newcomer. Ferrer became firm friends with Cantona, who later married his sister Isabelle. The goalscoring achievements were enough to persuade Roux to give Cantona his chance. He played a couple of First Division matches at the end of the season as a partner to Szarmach. He didn't score but he showed enough of his repertoire of skills to satisfy Roux that he would be a major force in the future.
Young French males have to do National Service and Roux convinced Cantona that he should get it over and done with as quickly as possible, so it did not get too much in the way of his path to the top. Cantona was a star of the French Army side which played widely abroad and found the time to come back regularly to turn out for Auxerre at weekends. With National Service out of the way Cantona could continue trying to establish his place in the Auxerre first team.
In May 1985, he scored his first goal in the top division and was in the side to play a vital match away to Strasbourg. Auxerre needed a point to qualify for Europe: 'After an hour of play, the 25,000 spectators who have come to the Meinau stadium sense victory. Strasbourg lead 1-0. Some minutes before the end, I get the ball in my own penalty area. Great spaces seem to open up before me and there is very little pressure on me, so I attack. I am marching towards Europe; I am sure of myself. The equaliser has not yet been scored, but I feel that something very important is going to happen. From that moment everything changes in my life. From 25 metres I strike. The ball ends up in the top right corner of the Strasbourg goal and this goal will send Auxerre into Europe.'
Cantona was in the team for the start of the 1985/86 season, but lost his place due to flu and couldn't get back in the side. Roux decided to lend him out to Second Division Martigues. At first Cantona was none too pleased, but had second thoughts when he realised that the move would allow him to spend more time with Isabelle Ferrer, whom he had met at his friend Nino's wedding previously. That was also in Ferrer's thinking as he sought to give Cantona the chance to stabilise his life via the relationship. He stayed at Martigues to the end of the season and moved in with Isabelle. Roux made it clear that he wanted Cantona back in the Auxerre side for the 1986/87 season, and Cantona was glad to go, with Isabelle by his side. He was now ready for his career to begin in earnest.
The new season brought him a regular first team spot and he hit 13 goals, in the process becoming a lynchpin of the French Under-21 side. They were a formidable young group and went on to win the European Under-21 Championship by beating Greece 3-0 in October 1988, but Cantona was destined not to share in the glory: 'The history of this group of turbulent young footballers began in Le Havre in October 1986. The Soviets still had an international team; Gorbachev was in the Kremlin. They were the favourites in our group but we were able to beat them in Normandy. A clap of thunder: we won 2-1. I scored both goals.
'The remarkable story of the Under-21 team had begun with that surprise victory. But it was in England at Highbury in the second leg of the semi-final that we had our most marvellous memories.
'Two days before the crunch match at Highbury I had decided that the time had come to leave Auxerre. The press ran the story on the morning of the match: "Cantona about to depart". With such a fanfare it was necessary to succeed in my examination in England and show those watching that I would be a good signing. In front of the cameras, I had a marvellous game.
'Stephane Paille and I combined together marvellously. Twice he gave me a ball with his back to the opponents' defence. It paid off.
'After our 4-2 win in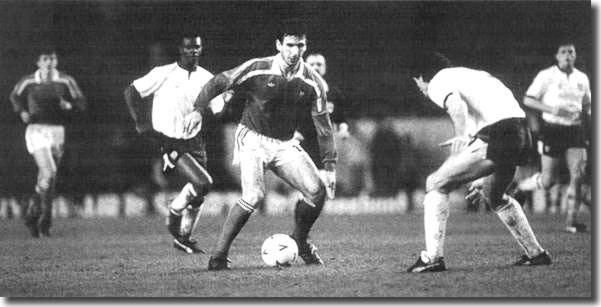 the home match, this 2-2 drawn match in England enabled us to qualify for the final. The press didn't take long in making heroes of us. For me the voyage didn't stop there.
'The reason I had just put in a transfer request was that Auxerre had just been eliminated in the quarter-final of the French Cup by Lille. I was very disappointed by this defeat. But in the dressing room Guy Roux tried to explain to us at length that a defeat in the last eight was not catastrophic.
'It was just a mistake of youth, lack of experience. But by then I was a player who had already made 80 appearances in the First Division and no longer felt inexperienced. Guy Roux's explanation did not satisfy me. I was more ambitious than he seemed to be for the club.'
By the age of 22, in the summer of 1988, Cantona had already played five times for France. In his debut for the full team he scored France's only goal in Berlin in a 2-1 defeat against West Germany on August 12 1987. He was attracting the attention of bigger clubs and seemed destined to soon be performing on the bigger stage. That summer it was clear that two French clubs were the front runners for his signature, Olympique Marseille and Matra-Racing, a club formed by the Matra company. They had both made offers and Cantona had three weeks to choose between them. There was a late bid from Italian giants AC Milan, but his mind was made up - he was going back home, to Olympique Marseille, for £2.3m.
Cantona had helped Auxerre to a fourth place finish in the league in 1987, but was fined for giving his own goalkeeper a black eye and suspended for three months after a dangerous tackle. Clearly, he was not an easy man to manage.
However, the French press loved Cantona and saw him as the new saviour of national football. But while the Under-21 squad were sweeping all before them, Henri Michel's full side was having problems. They could only draw 1-1 with Norway in Paris in October 1987 and then East Germany came away with a 1-0 win to end France's interest in the 1988 European Championships.
On 17 August 1988 Cantona scored his first goal for Olympique Marseille against Matra-Racing, but the next day, Michel announced the French squad for the game against Czechoslovakia and the name of Cantona was a notable omission. 'Eric is not on his best form,' commented Michel, but that was not adequate for Cantona. Following a goal in a 3-2 victory over Strasbourg, he was uncompromising in his response.
'I will never play for France again as long as Henri Michel is manager. Don't speak any more about him. It's a choice between Michel and me. I would like it to be known that I think he is one of the most incompetent managers in word football. I am not far from thinking that he is a sh*tbag.'
With those words on 20 August 1988 the 20-year-old Cantona effectively signed his resignation from the French football team. The comments in the dressing room were captured by the cameras and flashed across France. Cantona later apologised for the heat of the moment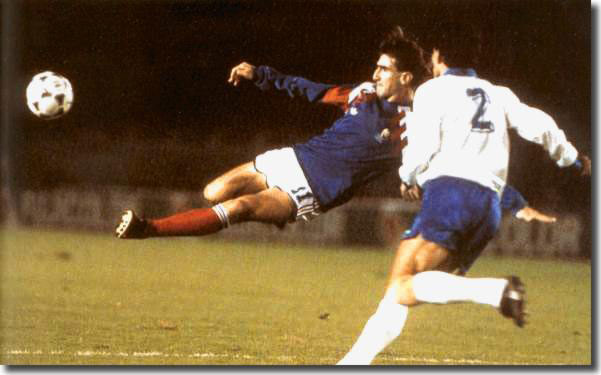 outburst, but on 9 September1988, he received an international ban of 12 months, meaning that he was excluded from the French Under 21's European Championship success in October.
However, relief was not long in coming. After France struggled to a 1-1 draw against Cyprus in Nicosia on 22 October, Michel was sacked. His replacement was Michel Platini, the former national captain and someone who shared the same outlook on life as the errant Cantona. The international ban was quickly rescinded, but things were not going as well on the domestic front. Marseille won the French League and Cup double in 1989, but Cantona played in only a little over half of the games. He was suspended indefinitely after kicking a ball into the crowd and throwing his shirt at a referee after being substituted.
The Olympique Marseille chairman Bernard Tapie had this to say: 'A player who throws his shirt on the ground, even if he has scored three goals in the match, must be sanctioned because that's not what we expect from sport. This doesn't correspond to the idea which I have of football in general and of football at Olympique Marseille in particular.'
Those words were spoken on 30 January 1989 and shortly afterwards Cantona was unceremoniously despatched on loan to Bordeaux for the rest of the season. He scored 6 goals in 11 goals for his new club but was in trouble for constantly skipping training. Cantona maintains that he missed just one session, on the day his dog died. In the summer of 1989 he was off on another loan deal, to Montpellier.
He stayed there just the one season, scoring 10 goals in 33 matches, but was suspended for 10 days when he had a dressing room fight with a team mate. Montpellier were already out of contention for a European place: 'At the final whistle on this particular Saturday evening, it was a wounded group of people who went back to the dressing rooms of the Lille stadium. In the corridor Jean-Claude Lemoult murmured something to Der Sakarian - which I understood to mean that the attackers, that is Stephane Paille and myself, were not up to it. It was a time of whispering campaigns. The arrow hit its target. It's too late now for me to try to explain. I threw my boots into the face of Lemoult. Jean-Claude replied in kind. Inside the dressing room the fight passed off like lightning. The door opens, it's finished. But I had already been punished. Excluded. Within a few hours, on the radio and in the newspapers, publicity is given to this new "Cantona affair".'
After the suspension, things improved and Cantona was back in the team for the semi finals of the French Cup and scored the volley which enabled Montpellier to beat St Etienne 1-0. They then proceeded to beat Matra-Racing 1-0 in the final.
Part 2 Ooh, Aah, Cantona! - Part 3 The king of Old Trafford