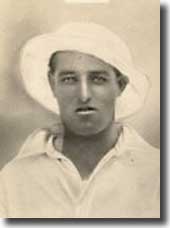 printer friendly version
Though William Bates enjoyed only moderate success as a footballer, he became an outstanding cricketer when he switched codes permanently, and was a member of a celebrated sporting family. His father was a respected cricketing all rounder with Yorkshire and England and his son enjoyed a lengthy football career as player and manager with Southampton.
Father Billy, born in November 1855 in Lascelles Hall, Huddersfield, excelled with both bat and ball, scoring more than 10,000 first class runs and taking almost 900 wickets. Nicknamed The Duke because of his sharp dress sense, he became a professional cricketer with Rochdale in 1873 and made his first class debut for Yorkshire four years later. In 1879 he took a career best 8-21 at the Oval against Surrey. He played fifteen Test matches for England between 1881 and 1887, all of them in Australia.
His greatest performance was at Melbourne on the 1882-83 tour when he scored 55 before taking 7-28 in Australia's first innings, including a hat trick. He then returned 7-74 when the Aussies followed on to seal England's win. It was the first ever innings victory in Test cricket and the first hat trick by an England player in a Test match. The 7-28 in the first innings and match tally of 14 wickets were the best ever by a Test bowler and it was the first time anyone had taken 10 or more wickets and scored 50 in the same match.
Bates' career came to a tragic end. On a tour of Australia with G F Vernon's XI in 1887-88, when bowling in the nets on Christmas Eve, he was hit in the eye by a ball struck by a team mate. He was sent straight back
to England but specialists declared the damage irreparable and Bates had to retire from the first class game.
After retirement, Bates invested in a sports shop but it failed and he fell into a deep depression and on 24 January 1889 he tried to commit suicide. At the end of February he was charged with attempted suicide and convicted, but the judge let him off.
Many of his friends, ex colleagues and the Yorkshire club rallied together and £1000 was raised which was invested to give him a weekly income. Fellow Lascelles Hall and Yorkshire player Ephraim Lockwood talked him into taking up billiards and he became a decent player picking up regular purses this way. Tragedy again struck when wife Sarah died at the age of 28. In December 1899 he caught a cold while attending the funeral of Yorkshire team mate John Thewlis and died a few days later, aged 44.
At the time his son, William Edric Bates, born at Kirkheaton, near Huddersfield, on 5 May 1884, was 15. William showed an aptitude from an early age for both football and cricket; he began his soccer career as a centre-forward with First Division Bolton Wanderers in 1906, playing two games for the club.
He returned to Yorkshire in 1907, dropping a division to sign for Leeds City and turning out in the summer months for Yorkshire CCC.
By now he had been converted to full-back and he made fifteen first team appearances for the Second Division club over the next two seasons.
Bates made his City debut in April 1908 against Stockport County. Leeds won 3-0 and he retained his place for the following two games.
Flaneur described him thus in the Leeds Mercury: "Bates may not place with great accuracy, but how many Leeds City men do? On the other hand, he gets the ball away under all sorts of difficulties; he rarely miskicks; and his speed and strong tackling make him a really valuable man." Wanderer later wrote in the same paper: "Although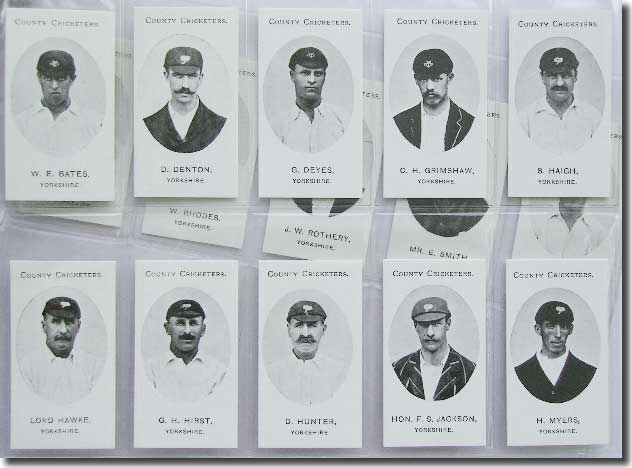 still a little wild, he acquitted himself well. His chief fault lay in getting in the way of the custodian too much, and it is a fault he should quickly remedy, for a goalkeeper requires as much breathing space as it is possible to give him." Bates featured once at outside-right, against Wolves in April 1909, but was not a success, Wanderer describing him as a "fish out of water".
Bates never really fulfilled his promise as a footballer, and in 1909 he ended his stay at Elland Road and switched full time to cricket.
Bates became a prolific opening bat, scoring a number of centuries and often beating the thousand run mark for the season. He was also a useful left arm spinner, taking 8-93 against Essex in 1928, and was a reliable fielder close to the wicket.
Bates played for Yorkshire from 1907 to 1913, scoring 2,634 runs with a highest score of 81. He joined Briton Ferry as a professional in 1914, which qualified him to play for Glamorgan, where he remained until 1931.
In 1923 he scored a thousand runs for the season, without scoring a century, whilst in 1927 he became the first Glamorgan batsman to record a century in each innings, with 105 and 111 against Essex. He also scored 200 against Worcestershire at Kidderminster and finished the summer with 1,645 runs to his name. He passed the 1,500 run mark again in 1928, and began a most prolific partnership with fellow Tyke, Arnold Dyson. The pair took great delight in sharing a stand of 233 for the first wicket against Yorkshire at Sheffield in 1930.
Glamorgan's
financial difficulties led to the club releasing him in 1931. He had scored 15,964 first class runs in 406 matches and taken 230 wickets with a career best of 8-93.
He continued to play for Cheshire in minor counties cricket before becoming a coach and groundsman in Northern Ireland, where he died on 17 January 1957.
Son Edric Thornton 'Ted' Bates played inside-forward for Southampton from 1937 to 1952, making more than 200 League appearances. He was manager at the Dell from 1955 to 1973, later becoming a club director and then president. He was honoured with the MBE in 1998 for services to football and received the freedom of the city that same year.