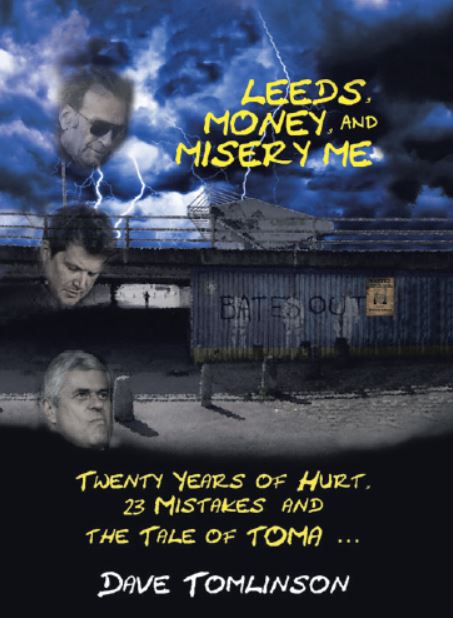 Dave Tomlinson is the webmaster for the mightyleeds.co.uk website, and Leeds, Money, and Misery Me is his third and most ambitious book to date, much more expansive than the ones he's tried before, Leeds United: A History and Billy Bremner Fifty Defining Fixtures. It runs to almost 600 glorious pages and is a must read for anyone interested in Leeds United.
The subtitle, Twenty Years of Hurt, 23 Mistakes and the Tale of Toma pretty much says it all.
For the die-hard followers of Leeds United, the last 20 years have brought far too few reasons to be cheerful. There was the legendary Champions' League campaign; 2010, when the club enjoyed the Twin Peaks of promotion from League One and putting one over the despised 'other' United (Sir Alex Ferguson, Wayne Rooney et al) at the Theatre of Dreams; a seemingly endless conveyor belt of precocious young talent streaming out of Thorp Arch; and the Genius that is Bielsa; but that was about all there was to celebrate.
Far more prominent were the depressing lows: an unprecedented tumble into the third tier just six years after being in the last four of the Champions' League; countless dalliances with financial ruin; a despondency-laden decade being (mis)led by Ken Bates; Neil Warnock's abysmal hoofball; a succession of journeymen, has-beens, and never was-es being told in no uncertain terms that they were not fit to wear the shirt; the savage beating of an Asian student and the controversial trial that followed.
There were too many Roque Juniors, Tomas Brolins, and David Hockadays squeezing out the memory of Lucas Radebe, Gary Kelly, Nigel Martyn, Jonny Howson, and Jermaine Beckford. We had Trevor Birch and Andrea Radrizzani, but we also had Peter Ridsdale, Professor John McKenzie, Gerald Krasner, and the hapless representatives of GFH Capital; and, oh yes, we had the eccentric Italian, Massimo Cellino, and the devil incarnate that was Ken Bates.
The lot of the United fan is not a happy one, but still they come, week in and week out, with their fervent chants of 'Marching on Together' and 'Champions of Europe', hoping that this will finally be the year, but recognising in their objective moments the improbability of that dream.
Mistakes were made along the way, there always are, but the ones that were made at Leeds United were more crucial than most and did far more lasting damage. This book picks out the most telling of these, the 23 Mistakes and what might have happened if they'd been avoided. This could so easily have been a very different tale if a wiser course had been followed. But that would have been far, far too simple for the many-headed beast that is Leeds United Football Club!
This book tells the tale of the last two decades, the hopes and dreams of one of the most committed sets of fans in Europe, the men who let them down and abused their trust, the financial albatross that dogged the club, the controversies, legal disputes, faux white knights, and false dawns. It is a story that simply must be read, whether you're a fan of the Whites or not.
'We've had our ups and downs', indeed! Enjoy the ride …
---
Independent editorial assessment - 'Leeds, Money, and Misery Me is an exceptionally well-written history of Leeds United with an astute emphasis on the role of finance. The author's understanding of how play shapes a community, along with his insight into broader socio-economic forces, makes this book a rousing good read even for the most casual of football fans. The manuscript was a pleasure to work with.'
---
This is a must-have for any fan of the 'Mighty Whites' and football finance in general.
Get a copy at Amazon. Author signed copies are available by e-mailing dave.tomlinson@gmail.com.
Published by: Authorhouse UK (10 October 2019)
ISBN-10: 1728393930 (Paperback)
ISBN-10: 1728393949 (Hardback)
Paperback: 596 pages