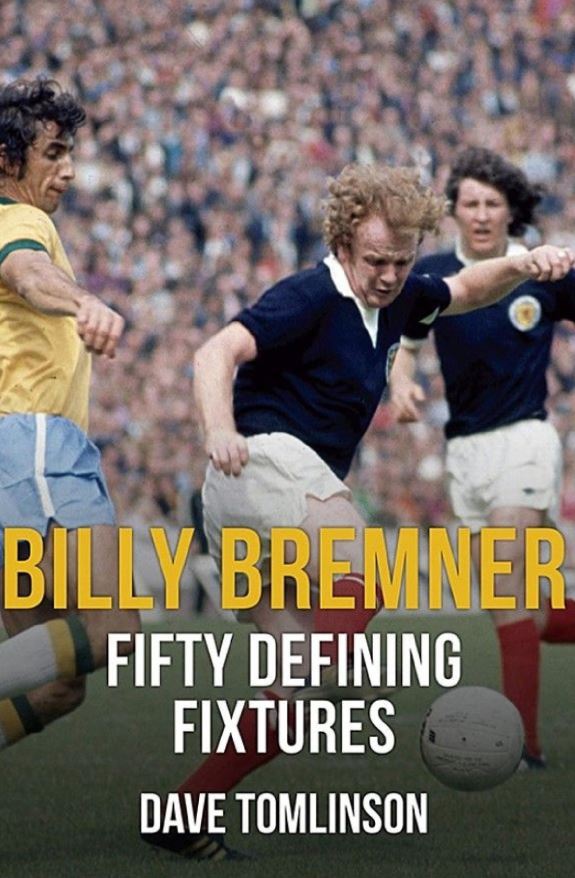 Dave Tomlinson is the webmaster for the mightyleeds.co.uk website, and Billy Bremner 50 Defining Fixtures is his second book about Leeds United after his debut with Leeds United: A History.
That book was crammed into 176 pages and inevitably had to skimp on some of the detail.
In contrast, the Bremner book goes into much more lavish detail as its subject matter is so tightly prescribed.
In common with Amberley Publishing's other titles in the 50 Defining Fixtures series, this book provides a glorious retelling of the fifty most important games in the career of an outstanding football talent.
Some have bemoaned the fact that this is a book by a United fan for United fans and suggested that this means that 'objectivity can sometimes go out of the window. He includes a chapter on Leeds' 7-0 demolition of Southampton in 1972 but there's nothing about their 7-0 League Cup defeat at West Ham in November 1966. Surely such a defeat would be as career defining and character building as a mighty win?'
That's a bit of an unfair criticism because Tomlinson covers Leeds' defeat at Stoke in February 1974 when their unbeaten run came to an end, the controversial defeat to WBA in 1971 courtesy of Ray Tinkler's perverse refereeing, and all the major failures, the lost cup finals and semis.
Clearly, Tomlinson is much more comfortable with having the room to breathe that this project gives him and is far more comfortable than he was with Leeds United: A History.
Extract: 'I had the honour and pleasure of seeing Billy Bremner play in the flesh, in his prime, as I caught the Leeds United bug at nine years old - there's only a dim memory of the 1960s, the first championship and THAT clash with Dave Mackay, but I was there when the Whites faced treble disappointments in 1970, the season when Bremner was elected Footballer of the Year. A stereotypical Scot with his red hair, jutted-out chin and fierce will-to-win, Bremner could start an argument in a telephone box; small in stature he might have been but Bremner was a Colossus among footballers, fearless, fearsome and ferocious. He took no prisoners on the pitch but was the life and soul off it. He might have been a nasty little piece of work but he was our nasty little piece of work!
'The Leeds fans loved Wee Billy, and the club named him their greatest player of all time in 2000. A statue of Bremner in characteristic arms aloft pose fronts the club shop at Elland Road, a symbolic shrine and gathering place for supporters of a club with which he is synonymous. Bremner epitomised the best days of both Leeds United and Scotland … Elland Road's golden years under Don Revie and the afternoon when Scotland slugged it out with Brazil in the 1974 World Cup finals … halcyon days when football was a man's game, you lived by the sword, died by the sword and enjoyed a beer after the game with opponents you had spent 90 minutes kicking the life out of.
'Bremner excited the passions, the good, the bad and the ugly, of football followers, an irritating wasp of a player who never gave an opponent a moment's peace, and one of the most gifted and exquisite players of his generation.'
---
ISN - '... an incredibly enjoyable read. It is a trip down memory lane ... and a journey back to a golden era of football ... you have the special experience of seeing Bremner grow from a talented youngster to a grizzled veteran and one of Britain's all-time greats. You will see Leeds take on the biggest names in England and Europe. You'll also get to relive some great international matches from Scotland's perspective. Each "defining fixture" is just a few pages, giving you the perfect length for such a recollection'
---
This is a must-have for any fan of the 'Mighty Whites', Scottish football or the game in the Sixties and Seventies.
Get a copy at Amazon.
Published by: Amberley Publishing (15 July 2016)
ISBN-10: 1445652412
Paperback: 168 pages