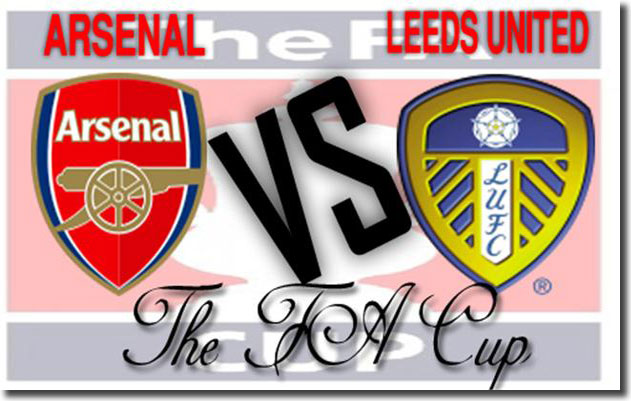 printer friendly version
In December 2011 the FA Cup third round draw pitted Leeds United against one of the game's major forces for the third year in a row: 2010 saw them pull off a memorable triumph over Manchester United at Old Trafford, a year later they were paired with Arsenal at the Emirates. In January 2012, the same opponents in the same stadium awaited the Whites (or more accurately the Blacks and Luminous Yellows based on the actual colours of the distinctive away strip worn throughout this most disjointed and uneven of seasons).
"It's another great tie for us," said manager Simon Grayson. "We've had some fantastic cup draws over the past few years and this is another opportunity for us to come up against one of the leading sides in the country.
"We beat Man United last year, we performed superbly against Tottenham the same season, and last season we were within minutes of winning at Arsenal. We took 9,000 fans with us last season and I'm sure they will be looking forward to going back to the Emirates once again.
"These are games you look forward to, but equally we have a lot of important League games ahead of us before then and it's those games that are our bread and butter. Everyone enjoyed the draw being made, but our focus is on the Championship and the games we have coming up. There's no question of anyone being distracted, and when the time is right we will look forward to the Arsenal game and think about it."
United chairman Ken Bates had some nice words to say about Arsenal and their business model: "Where they are today is through good business management, retained profits. They have a 60,000-capacity stadium, which Lord Triesman gave as an example of bad business finance. I wonder what the mortgage was on Lord Triesman's house.
"Let's face it, Arsenal have been a consistently successful club and it has all been done on self-generated, reinvested profits, not because of the manager but because of the intrinsic mindset of the board. Managers come and go. The board appoint the manager. The manager does a great job but the final financial decision is with the board.
"If you ask me what I admire about Arsenal, it is that it is a well-run club. If you look at Liverpool, apart from those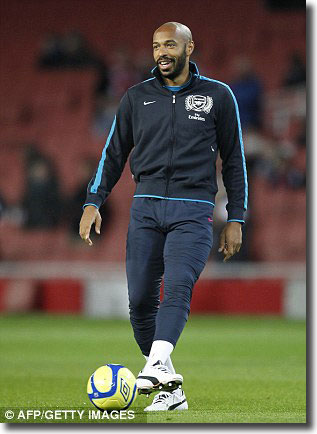 idiots Hicks and Gillett, again no-one put any money into Liverpool.
"The most fantastic of all is Manchester United. They haven't put a penny into Manchester United. They have got the biggest ground in the country, a consistent record of success and home grown players. They have done it through first class management."
The Gunners were set to lose Gervinho and Marouane Chamakh to the African Cup of Nations, and Arsene Wenger's solution was to bring in former favourite Thierry Henry on a two-month loan deal from New York Red Bulls.
Henry: "I hope people are not going to compare what I did here before. I'm going to be here most of the time on the bench, we all know it and I'm not stupid to think I'm going to start - we all know that Robin van Persie is the main guy up front.
"I am not 25 any more. I am not going to take the ball from the middle of the park and dribble past five or six players. Don't expect that. (But) if you have the awareness to see things before players, you can get away with not having your legs. Look at Ryan Giggs, it's not the same Ryan Giggs who used to take the ball from the wing or from Denis Irwin and dribble past everyone and deliver a great cross. But what Ryan Giggs has is he can see the game, he is always available, he puts himself in a position where he can receive the ball alone and then you will never lose your touch. That's what I am going to try to bring to this team if I have to play.
"I can definitely have some input out there, to talk to the guys and let them know what it means to win. I am a competitor and that will never leave my body."
Henry won multiple honours with Arsenal, including two domestic titles, before joining Barcelona in a £16m deal in 2007.
His transfer was pushed through shortly before noon the Friday before the game and Simon Grayson paid tribute to a forward whose eight-year reign at Arsenal established him as an international star.
Grayson, who was a Blackburn Rovers defender when Henry joined Arsenal from Juventus in 1999, said: "It would be nice if Henry could play. He was fantastic for the Premier League. With the pace and the opportunities he used to take, he must be one of the best players the Premier League has ever seen. It's probably fitting for him to come back and have a couple of months with Arsenal. He could make anything happen - run the full length of the pitch, nutmeg three people and stick the ball in the back of the net. At 34 he'll be a different player and we're not expecting him to be the player of before but he'll be a major threat if he plays. The experience he brings to Arsenal's dressing room will be second to none."
Understandably, all the pre-match discussions were about a player who had scored eleven times in as many games against Leeds. There was, though, the constant, nagging memory that United had pulled off a shock at the same stadium a year earlier.
The United manager admitted uncertainty about the shape of Arsenal's selection, saying: "I don't know what team they'll pick but I'm sure they'll want to win. They'll want to progress and get some silverware.
"The biggest threat to us is probably ourselves. At times we can produce performances but then cause ourselves problems. But we feel comfortable stepping into an arena like the Emirates. The players aren't nervous in these games because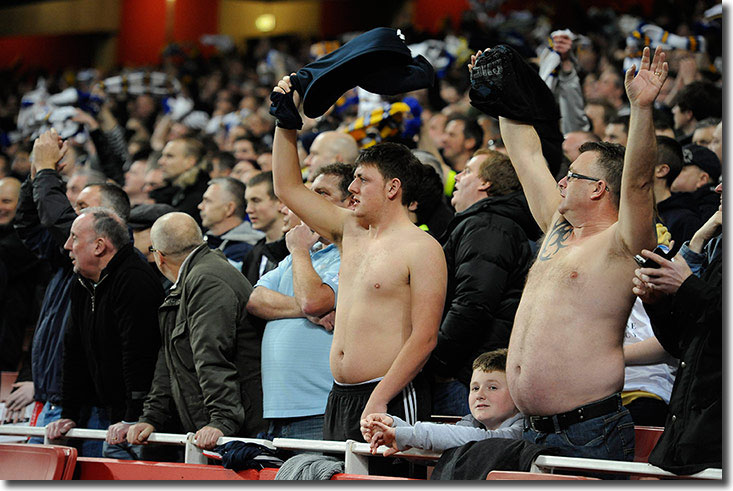 they're comfortable with the atmosphere. It's what they're involved with over the course of each season, just by being Leeds United players. It's a privilege to play for Leeds and you have to cope with that.
"Sometimes cup-ties sit nicely with the club. We can handle the big arenas. Our supporters go to other grounds and people recognise how many we take. I took my son to Manchester City versus Liverpool the other day and he asked me 'Will they make as much noise as the Leeds fans?' I said no and they didn't. That's why we're comfortable on the big stage."
Leeds had taken 9,000 supporters to the previous year's third round tie but 4,000 fewer would attend this time with the fixture moved from the weekend to Monday evening as the game chosen for television coverage by ESPN.
Grayson said: "It's disappointing that we can't take as many fans. If it had been on a Saturday or a Sunday then we would have done. They were fantastic last season and I'm sure the 5,000 we take will be too. I'd have preferred a Saturday game and ideally it would have been on a weekend but you're at the mercy of TV channels these days."
Arsenal confirmed that 21-goal forward Robin van Persie would sit out the match, but Grayson was beset by selection problems, with Jonny Howson (knee injury), Robert Snodgrass (recovering from emergency appendix surgery) and a host of defenders unavailable.
The only United player who had featured against Arsenal in 2011 was Luciano Becchio. 19-year-old Zac Thompson was named at right-back in a young rearguard that also included Tom Lees and Aidy White; Mika Vayrynen was recalled to the heart of the midfield, loan man Andros Townsend was patrolling the left wing with Ramon Nunez on the other flank.
There was an amusing incident during the pre-match warm up. As is their wont, ESPN had presenter Rebecca Lowe asking Robbie Savage and Martin Keown their opinions at the side of the pitch just yards from the United fans. Michael Brown took it upon himself to use the trio for target practice. It was described as a 'stray ball' in most of the reports, but it was undoubtedly intentional when Brown succeeded, banging Keown on the side of the head to raucous cheers from United supporters.
Keown dealt admirably with the incident, brushing it off with a thumbs up sign towards the Leeds team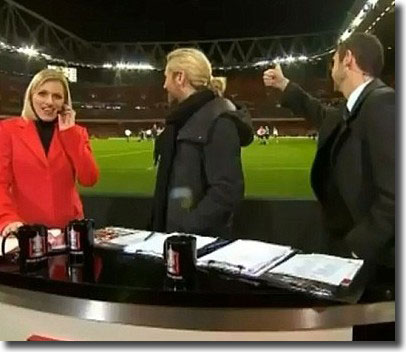 and quipped that "You're supposed to tell me they're coming". Through gritted teeth, Keown joked that Brown couldn't have been aiming for him as "he would have missed if he'd tried" and later told the Daily Mail, "Alex Bruce tipped me off that his Leeds team mate Michael Brown - the ex-Tottenham midfielder - was the culprit. At least he was apparently trying to aim at Robbie Savage, not me..."
In a separate incident, Savage was left fuming when Leeds fans pelted him and Lowe with hot dogs, coins and verbal abuse. He tweeted: "Majority of Leeds fans were a disgrace throwing coins and hot dogs, shouting obscenities to a lady presenter! Disgrace!"
United entered the Cup on the back of a dramatic win the previous weekend against Burnley, secured with a Ross McCormack winner in the seventh minute of injury time. The result ended a run of four League games without a win and eased mounting pressure on Grayson.
When the action finally commenced, Arsenal looked determined not to allow United to repeat their unexpected success of 2011, and were quickly into their smooth passing game. They enjoyed the lion's share of the early possession, with United content to drop back and let them have the ball, set up by Grayson for a long evening of disciplined defence.
Andrey Arshavin wasted two openings in the first sixty seconds when he had the ball in the left channel. The Russian, struggling with a lack of confidence, failed to bother Andy Lonergan on either occasion.
The action was almost exclusively in the United half, though Andros Townsend did set off on a promising run down the left after three minutes, before he was sent crashing to the turf. From the free kick, United surrendered possession when Darren O'Dea's poorly directed pass fell to Aaron Ramsey. Chamakh played Arshavin clear on the edge of the area but his effort was spectacularly wayward.
Townsend, on loan from Tottenham, was determined to show what he could do against his parent club's North London rivals after making a good start to his spell with Leeds. His pace down the flanks marked him out as a major threat and in the tenth minute he was taken down again by Coquelin as he looked to break away.
Arsenal took control of the game with some incisive pass and move football; all United could offer was determination, disciplined football and an eye for a quick break when the opportunity presented itself, with Becchio left to plough a lone furrow up front. Townsend promised to contribute much, but Nunez on the other flank was anonymous.
In the fifteenth minute, Arsenal centre-back Sebastien Squillaci threatened when he rose to meet a curling free kick from Mikael Arteta, but his header drifted wide of both Lonergan's diving reach and the far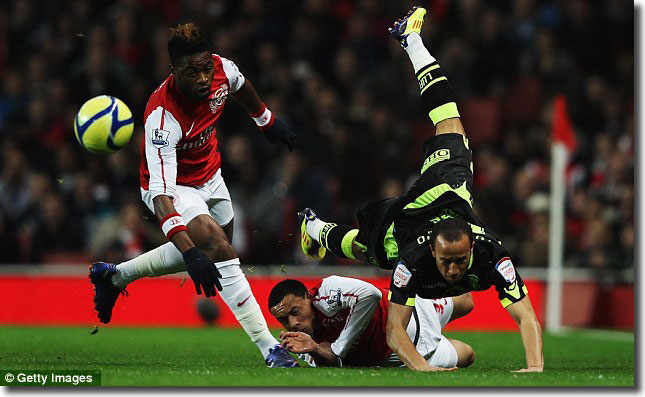 post.
Townsend fashioned the first threat for the visitors after sixteen minutes. He exhibited some smart footwork on the left to buy himself the time and space to float the ball in towards the front post, but Gunners keeper Wojciech Szczesny sank confidently to gather the cross.
A minute later, a long ball from Song into the United box appeared to cause uncertainty, but Lonergan managed to adjust his feet and caught Lees' cool chest back with Arshavin lurking in wait.
When Aaron Ramsey surged through shortly afterwards, he fired inches wide with Lonergan diving anxiously.
United finally managed to get some combination work going and promised to build some momentum of their own, though there was precious little end product, and most of their possession was quickly snuffed out by Arsenal.
In the twentieth minute, Arshavin showed he had not lost all of his confidence when he played Ramsey into a dangerous position but Lonergan shepherded the midfielder to the byline and the referee decided the ball had gone out for a goal kick before Ramsey manufactured a flicked cross.
The Welshman had another effort after referee Mark Clattenburg waved play on when Oxlade-Chamberlain was fouled, but a defender deflected the shot over the bar.
It was all Arsenal and in the 23rd minute Mikael Arteta saw his shot skim the foot of a diving Lonergan's left hand post.
United did manage to create their first chance a minute later. Townsend won a free kick when he wandered across to the right wing and when Arsenal failed to clear the cross, Vayrynen worked admirably to get in a drilled centre. It fell to create a sharp opening for Becchio, but the striker's shot was rushed and high into the crowd.
Oxlade-Chamberlain was pulled up for a dubious foul on Aidy White as he went for a through ball on the right but Chamakh clipped the wide man's cross over the top of the net anyway.
After 29 minutes, Arsenal full-back Coquelin was withdrawn, crippled by a pulled hamstring, and Nico
Yennaris came on to replace him three minutes later when there was finally a break in play.
The switch came just as United were starting to settle. They had hitherto relied far too heavily on hopeful long balls out of defence which Arsenal had been more than capable of picking off; as Leeds slowed their game down, they looked a far more effective team and Vayrynen was having his best game in a United shirt. Townsend continued to show promise, but the referee felt he was going down too easily under challenges and had a quiet word in his ear.
O'Dea was fortunate not to have his name taken for a dive in on Oxlade-Chamberlain in the closing stages of the half. The game was degenerating into a dull and colourless contest as it wound down towards the interval. Swamping midfield had given United a foothold, and Arsenal found their defensive barrier difficult to pierce. Arsene Wenger shook his head in frustration as the whistle went for the break.
Arsenal came out intent on changing the pace of the game and there was loud applause from the crowd as Thierry Henry began warming up on the sidelines. At the same time, the promising Oxlade-Chamberlain shot narrowly wide after racing through on the right.
Arshavin wasted another opportunity and then Adam Clayton worked his way out of defence with some neat control to send Nunez away on the right. Arsenal were forced to concede a corner from his cross. But when O'Dea misdirected a pass, Arsenal fed Arshavin in yards of space down the right. Once again the finish was wayward.
Chamakh was denied at the expense of a corner, from which Miquel's header was blocked away for another flag kick which a stretching Lonergan clawed away.
In the 54th minute, Lonergan showed sharp reflexes, diving low to his left, to stop an Arteta effort after Oxlade-Chamberlain beat the United defence on the left byline to create the opportunity.
Within a minute, the home side threatened again when Vayrynen's back pass allowed Arshavin an opportunity, but the Russian scooped it harmlessly across the face of goal as Lonergan came out to meet him.
The Gunners were on top and Oxlade-Chamberlain's shot from six yards was blocked by Aidy White before Tom Lees headed a cross from the winger over his own bar after Ramsey had shown neat footwork to set him up.
As the game reached the hour mark, Simon Grayson sought to freshen up a midfield that was increasingly stretched, sending on Michael Brown for the tiring Vayrynen.
The change made little difference and Lonergan saved well to deny Oxlade-Chamberlain after a nice one-two with Ramsey around the edge of the area. Arsenal were moving up a gear, with Ramsey and Arteta pulling the creative strings.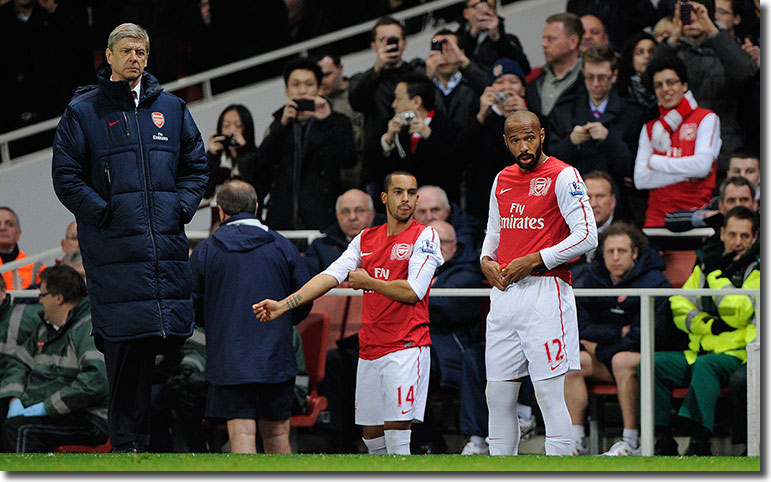 When United did spring forward, Townsend was booked for dissent after protesting too vigorously and kicking the ball into the crowd when he was incorrectly denied a corner decision following a good run down the right flank.
The game was drifting, but in the 68th minute Arsene Wenger brought on Thierry Henry and Theo Walcott for Chamakh and Oxlade-Chamberlain, drawing the loudest cheers of the evening from the home supporters.
There was no immediate improvement and after 75 minutes United were still very much in the contest at 0-0. When Szczesny came out wide to prevent a corner, the ball fell to Nunez 30 yards out on the left. The Arsenal keeper recovered his position to gather Nunez's long range effort. Moments earlier Ross McCormack had replaced Becchio.
The inevitable breakthrough came after 78 minutes. Zac Thompson had done well at right-back, but he had a lapse of concentration when Henry was played in behind the Leeds defence by Alex Song. The French legend coolly took the ball and stroked it tantalisingly past Lonergan. He raced off to milk the inevitable outpouring of delirious appreciation from the Emirates crowd. It was the touch of class that Arsenal had missed, and with which United simply could not compete.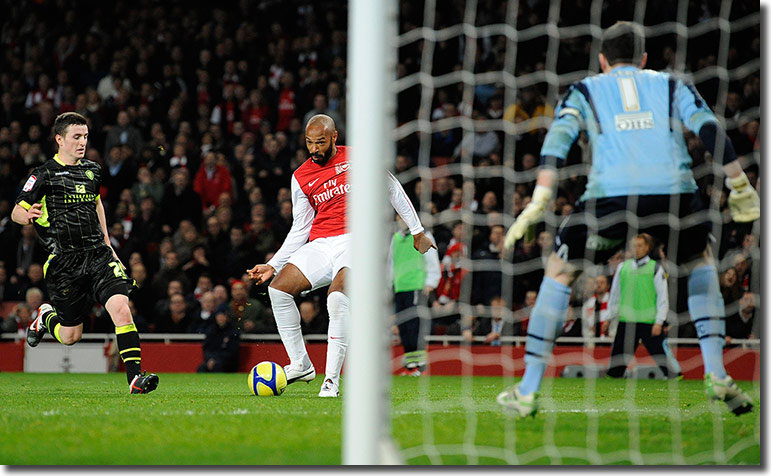 With United forced out of their shell, Brown fired in from range but right into Szczesny's midriff and then McCormack could only direct his 10-yard header straight at the keeper when Clayton fired in a cross.
Simon Grayson brought Mikael Forssell on after 81 minutes for the anonymous Nunez.
Arshavin lashed another opportunity into the side netting as he sought to settle the match with seven minutes
remaining and then defender Miquel wanted too much time when he had a chance and United were able to bring the ball out of defence.
Henry saw his whiter than white image tarnished a little near the end. He took the ball to the corner flag in an attempt to run down the clock. But as he sought to milk more adulation from his fans, Aidy White nipped in to smartly dispossess the Frenchman. As he was coming away, Henry flicked out petulantly, disgruntled at being made to look foolish. White stumbled but recovered and sped up the flank. Arshavin did receive a yellow card when he upended White to end the move, but Henry should have been the man cautioned.
In the final minute, United could have snatched an undeserved equaliser but Szczesny showed his reflexes to deny Forssell when he turned in the box. Danny Pugh saw a long range effort come to nothing and the whistle went shortly afterwards, confirming Arsenal's passage into the fourth round.
United had not been humiliated, but they had certainly been second best, though a conservative approach had contained much of the Arsenal threat. It was a mystery that they weren't able to show the same defensive fortitude in Championship fixtures, where they had one of the poorer goals against records.
Simon Grayson said he was "very proud of the players. We worked extremely hard, kept our shape, the organisation was good. We had a few opportunities, but it was all set up, wasn't it? He does always score. He scores against many other teams as well and it was a typical Thierry Henry goal. He's done that to many teams over the years.
"Some of the young kids come out with a lot of praise tonight. It shows the players can handle the big stage and the big games. We've showed we've got a good temperament and hopefully it will stand us in good stead for the rest of the season.
"We were disappointed with the result, but the performance was good. We knew we would have to weather a storm and they would have possession, and we had to keep our shape and discipline. We gave the ball away a little too cheaply in the first half, but that's understandable a little bit, maybe with a few nerves from the younger players, but we grew in stature, created a few chances and were undone by an absolute legend.
"We knew we would have to flood the midfield because they try and pass through and Danny Pugh sat in front of the back four to try and protect things a little bit, and try and make sure we weren't too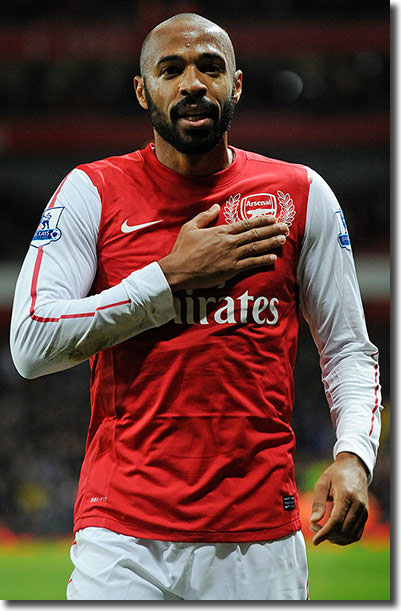 open.
"If you go chasing the game and leave yourselves too open there will only be one winner. Arsenal can beat many top teams like that so it's no disrespect to us. We worked extremely hard but as the game went on we still had some opportunities. We were always going to have opportunities and they didn't have too many in terms of Lonners having to make any saves. We were disciplined in what we did and on another night we could have maybe nicked it.
"Maybe we were ball watching a little bit, but we had some fantastic young lads in there who did really, really well and they will have learnt from the experience of playing against the likes of Henry and the big hitters.
"When you look at what Arsenal had on the bench, it's a credit to us that they had to bring a couple of those big hitters off the bench to win the game. In the end, I was proud of the players, the supporters showed how fantastic they were, and the football club came out with a lot of credit."
Leaving the final word to Henry: "It's kind of weird, I came back from holiday 15 days ago. I never thought I was going to play for Arsenal again or score a winner. I don't know what to say. I love the club and I hope I can do more. I hope it won't be the last one. The feeling I had when I scored was amazing.
"I rejoined the club as a fan; before I wasn't. Scoring a goal when you support the team, now I know how some of the guys who played for Liverpool or Man United or Chelsea felt when they scored a goal for the club they support.
"With one opportunity, it's very important, you don't know if you'll have a second. You have to make sure you take it. I took it well."
On being named man of the match, he added: "I think it's a joke, but I'll take it."