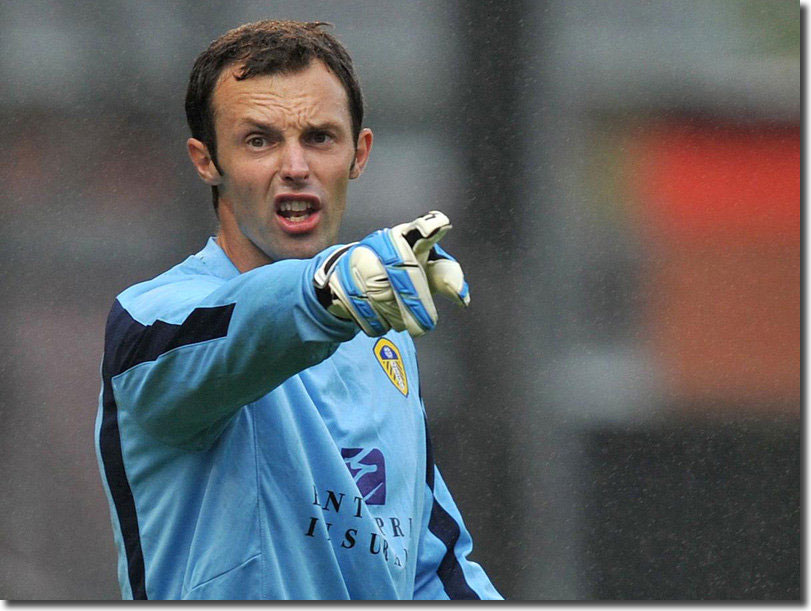 Elland Road was the site of many depressing evenings after Leeds United's loss of Premiership status in 2004, but few rivalled the lows of one Tuesday evening in November 2011 when Paul Rachubka's first team career with the Whites was cruelly brought to a sorry conclusion by a hapless and nervy performance in front of the club's supporters.
The 30-year-old American keeper, who had joined United from Blackpool in the close season, had not exactly covered himself with glory in his previous appearances for the club.
His first game, in the Carling Cup at Doncaster on 23 August, had an inauspicious start with Rachubka beaten inside two minutes by a simple effort. James Hayter deflected a cross to the keeper's left with Rachubka committed to a dive to his other side.
His Championship debut for United came as substitute against the same side on 14 October. With Leeds sitting on a 3-0 lead, regular keeper Andy Lonergan fractured his finger in the 73rd minute and Rachubka came off the bench to replace him.
The injury offered a major opportunity for Rachubka to stake his claim to a regular first team place. Manager Simon Grayson commented, "I know I've got a capable goalkeeper in Paul Rachubka, who has got fantastic experience. He played for Blackpool for me and has been very sharp in training and he has been waiting for that opportunity if it comes around."
He came to grief in the following game, at Elland Road against struggling Coventry. United were a goal to the good as the game ticked into its third minute of stoppage time and Rachubka shimmied across his box to gather a simple waist high catch. Inexplicably, he allowed it to spill from his grasp as he went down and City defender Richard Wood scrambled the loose
ball home.
Simon Grayson commented afterwards: "Goalkeeper is a position where you make a mistake and you get punished. He won't let me down again. It's just one of those things. His head is in his hands, but he'll pick himself up. He'll be fine, I've no problems with him.
"He had nothing to do really on Tuesday night. He made a couple of good saves from Sammy Clingan, he was commanding of his box when he needed to be, and he had little else to do. But keepers are judged on a mistake when they make one unfortunately. Defenders and midfielders can make a mistake and maybe not get punished, but goalkeepers do. Paul made one mistake, but he's a strong character and he'll carry on.
"I worked with Paul at Blackpool and I don't think he ever made a mistake that could be highlighted so I have no problem there. He's a good, experienced lad, and he's a more than capable goalkeeper.
"Andy Lonergan has had an operation on his finger that he fractured on Friday night and it is a blow for the lad because he's been outstanding since he's been here. I've got a good, capable goalkeeper in Paul Rachubka who will stand in for him. I'm not going to be bringing anybody else in. I've got Paul who I trust to play at the weekend and however long Lonners is going to be out for Alex Cairns will sit on the bench.
"I'm not going to tempt fate but the most he'll probably play is 89 minutes of a game and then we'll go out and get somebody else if and when required. Hopefully that will never be the case."
Four days later, United were at Peterborough; Rachubka was at fault when the Posh scored their first equaliser, failing to come for a Grant McCann corner and thus allowing Gabriel Zakuani to head home. When United conceded a second equaliser two minutes from time, Rachubka was caught hesitating in no man's land as a ball sailed in to his box and he got tangled up with his defenders, allowing Mark Little to bundle the ball in from six yards.
Another Rachubka error saw United lose at Birmingham. The keeper stretched clumsily for Stephen Carr's cross but could only palm it clumsily into the path of Nikolai Zigic, and though the tall Serb's shot on the turn was half blocked, the ball still found the net.
The media relentlessly snapped at Rachubka's heels, nibbling away at his self-confidence. There were no major accidents four days later against Cardiff, but his demeanour was anxious, the sign of a player who knows people are waiting for the next error.
"I am disappointed with some mistakes I made, but I want to impress," said Rachubka. "I've got a long way to go to make up for that, but I know that. It is frustrating, but I am working hard and I'm enjoying it. As a goalkeeper when you do something well you're doing your job, if you make a mistake it costs you and you've let your team down.
"It's a tough position. It is a battle. You have to put it behind you, but you can't and it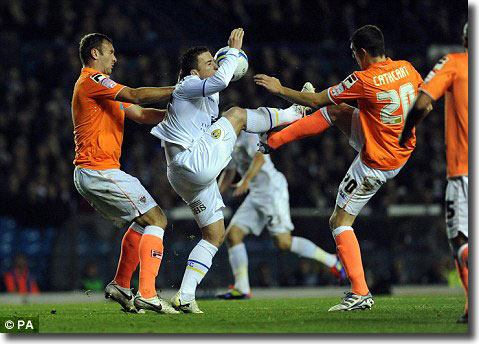 isn't that easy. You work your socks off not to do that and you can't change it. It helps motivate you to be better. You try and flip it on its head, look in a positive light, and make sure you don't do it again.
"Everything is scrutinised. At this level nothing gets missed. It's the Championship and that's why you want to play in it. You come under scrutiny and in goal it's magnified even more.
"Leeds has a great history of great keepers. There's been a long line of good goalkeepers and the fans compare you to that. I know that and accept that and I am working hard in everything I do. That's all I can do, week in week out.
"I want to improve my level of performance and keep improving. I want to test myself at a massive club. The team's doing well and I want to be a part of that, and for me that's keeping clean sheets while the strikers do all the interviews and get all the glory!
"It's what happens in goalkeeping. You can be stood there in a frozen yellow jersey and you are exposed if you do things wrong. If you do things right, it's a case of 'well done', but you are expected to do things right. You are in a bit of a no win situation - why be a goalkeeper?
"But I enjoy my job and work hard in training to try and eliminate stuff like that during a game.
"You've just got to believe in yourself and keep going and that's what I've done. I know I've got a long way to climb back with my reputation and have got to prove it all to the fans again that it was a one off. You keep that sort of thing focused in your mind and I won't forget about that in a long time.
"You think: 'What an idiot for doing it.' But that's the way it is; you can't change the fact. It's recorded on all sorts of media and it's instant access these days and you have to live with it.
"You just have to work hard to make sure it doesn't happen again."
Football can be a cruel mistress and Rachubka's experience in the Championship fixture against Blackpool two days later was a nightmare, making him the butt of newspaper mockery the next day, the hapless fall guy in an embarrassing humiliation.
United's starting eleven for the match showed only one change from the draw with Cardiff, Paddy Kisnorbo replacing Darren O'Dea, who had gone off during the game with concussion. It was the first time that Simon Grayson had come up against his former club since parting company with the Seasiders three years previously and he had some nice things to say about them.
"I had six happy years at Blackpool and have some very good memories," he said. "I was there as a player, then player-manager, and then manager, and they were the club that gave me an opportunity.
"I will always remember the 10-game winning run we had that took us into the Play Offs and eventually into the Championship.
"I learnt a lot at Blackpool and it was a time I really enjoyed. There were some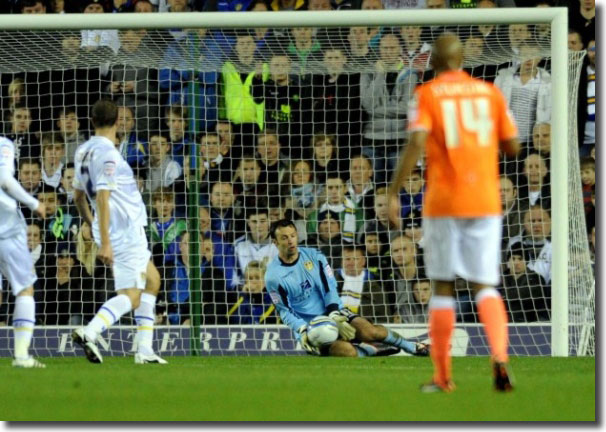 great challenges and by winning promotion to the Championship, I'd like to think the foundations were laid for what the club went on to achieve."
Grayson made over 150 appearances as a player and managed the club for three years before resigning his post to join United in December 2008 to take over from Gary McAllister.
"A lot of water has passed under the bridge since then," he said. "I don't have any regrets about leaving Blackpool because I came here and became manager of the club I supported since I was a kid. We won promotion here during my first full season which was the first goal, and now we're looking to move things onto the next level."
Blackpool had experienced a mixed start to the season, but still had a strong squad. "They have some quality players who are capable of hurting you," said Grayson. "They are a good team who have maybe slipped under the radar a little bit this season. They are a team who will fancy their chances of getting back in the Premier League and they will provide a good test for us."
The game opened quietly and there was little excitement until the tenth minute, when Blackpool keeper Matt Gilks failed to hold a free kick from Robert Snodgrass. Kisnorbo reacted quickest in a crowded penalty area but was thwarted first by Gilks and then centre-back Craig Cathcart.
Blackpool responded in fine style and opened the scoring two minutes later. Former United left-back Stephen Crainey released Jonjo Shelvey down the inside-left channel with a delightful through ball. Shelvey's shot came in at a comfortable height but Rachubka could only palm the effort straight to Lomana Lua Lua. The striker, making his first start for the Seasiders, coolly poked the ball home.
United were quickly threatening to get back into the contest with some useful crosses coming in from the right as Snodgrass and right-back Paul Connolly pressed on. Gilks collected one Snodgrass centre and then Kisnorbo rose well to nod down another one, but as it bounced across the box there was no one able to convert the chance. When Snodgrass found Andy Keogh with another angled ball, the Irish striker was penalised for offside.
But it was the visitors who got the game's second goal in farcical circumstances after 26 minutes. Rachubka was found wanting once more when a cross came in from Alex Baptiste. As it came into his chest he spilled a routine catch, teeing the ball up for Ludovic Sylvestre to strike at goal. Centre-back Tom Lees was ruled to have stopped the effort on the line with his hand and was dismissed by referee Roger East after the penalty was awarded. Shelvey's first effort from the spot found the net, but the referee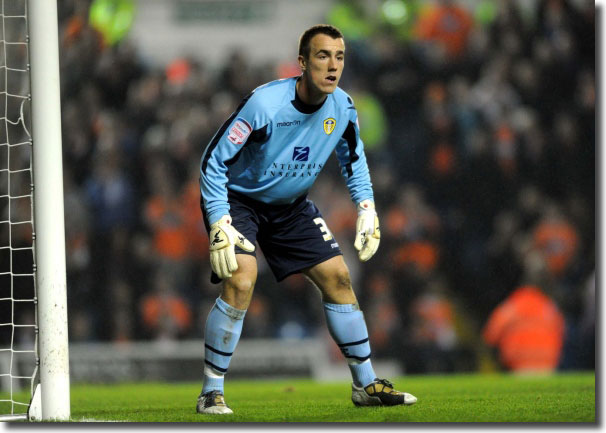 ordered that it be retaken because of encroachment. The midfielder, on loan from Liverpool, kept his nerves and slotted home.
On the half hour, United were dead and buried as they went 3-0 down and again Rachubka was at fault, fumbling a speculative 25-yard effort from Lua Lua. The ball fell to Shelvey who rounded the beleaguered keeper before slipping it home.
Elland Road had seen enough. Si Hughes in The Independent: "Vitriol gushed from the terraces, his every nervous touch booed. Blackpool supporters, with their team in need of luck after just one away win this season, saw the funny side: 'USA, USA, USA,' they cackled. Grayson responded by telling Rachubka's deputy to warm up. At first it seemed a mere warning; Alex Cairns, just 18-years-old, had not made his first team debut. Yet at half time, Rachubka's indignity was complete. He did not return for the second half."
The half time whistle couldn't come quickly enough for Grayson, who put Rachubka out of his misery, sending Cairns out in his place. He also replaced Keogh with Luciano Becchio.
The interval gave United the opportunity to regroup and they came out with attacking intent, Ross McCormack firing in a wayward cross and Jonny Howson seeing a shot blocked. Then Blackpool keeper Gilks sprinted out to avert danger when Adam Clayton burst through the defence, and Ross McCormack had a shot blocked amid optimistic appeals for handball.
But the concentration on attack and lack of numbers made United an easy target for the quick break and Blackpool were able to pick them off.
Cairns gave some evidence of his talent on the hour when he got down well to a low drive, but he could do nothing five minutes later when Lua Lua cut inside Paul Connelly and drove in left footed from the edge of the area to make it 4-0.
After 79 minutes, the humiliation was absolute when Shelvey completed his hat trick, receiving the ball through the middle from substitute Angel Martinez before slipping it past the advancing Cairns.
The young keeper had little chance with either effort but reacted well with two good saves to deny further goals.
The 5-0 defeat was the heaviest at Elland Road in the League since November 1981, when Arsenal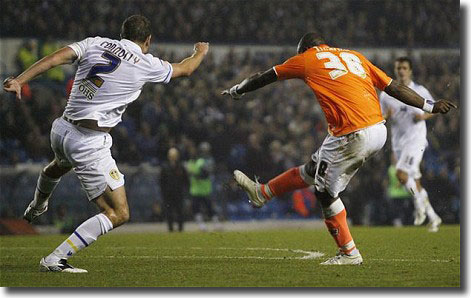 achieved the same result.
In an interview immediately after the game, asked whether Rachubka's error-strewn performance was a big influence on the outcome, Simon Grayson replied: "It certainly was, there's no getting away from the fact. I will protect my players, and I'll back them, but certain instances I can't do that. It wasn't down to any other people's mistakes, or tactics or people giving away sloppy goals, bad defending, etc. We didn't recover from three mistakes Paul made and then obviously it's affected him. I had to take him off at half time because I felt that any shot that went in would have been a really difficult occasion for him."
Grayson said later, "There's no hiding place for goalkeepers and it has been a difficult game for him. We haven't gone into deep conversation but he's obviously really down. I thought it was best I took him out the limelight because if I was on the other side you'd want to work him with his confidence being low. It will take a lot to pick him up but he's a strong character.
"It's something I have to consider for the weekend… Do I play Paul, do I play Alex Cairns, who is a young kid, or do I go into the loan market? If we're going to do something we'll do it before the weekend but we'll have to see what's out there and if I decide to do it or not. I've got a good young goalkeeper in Alex Cairns. Is the game too big for him on Saturday? We'll have to wait and see."
Grayson quickly brought in Reading keeper Alex McCarthy but refused to confirm that Rachubka's Elland Road career was over: "I'm not going to say he's finished here. He feels he's let me down, the players down and the supporters but he's a thorough professional who analyses everything and I've never known him have 45 minutes like that.
"Confidence plays a massive part in a sportsman's life and you can be affected mentally very quickly. That's obviously drained away from him. Alex McCarthy will start tomorrow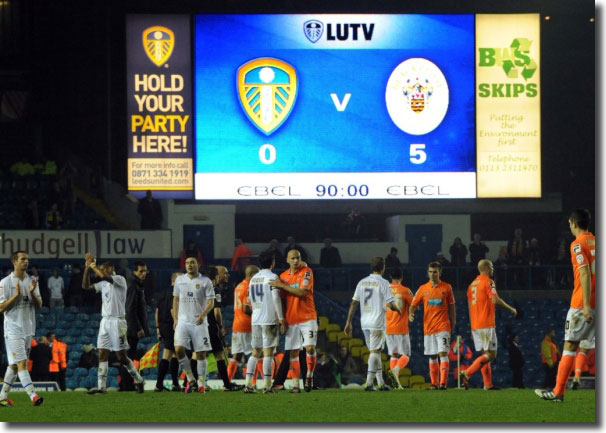 and Alex Cairns will be on the bench.
"I'll be writing him off in terms of the next couple of games but I'm not going to say he's never going to play for the club again. He's my signing and I believed in him when I signed him. I still do now.
"Down the line there'll be options for us. Do we keep training him and put him back on the bench when he regathers his confidence or does he go out on loan? Like a bike, once you come off you need to get back on quickly. I know that's what he wants to do.
"He's very shaken up by the whole thing and the criticism of him on the night was a bit unfair. Supporters are entitled to their opinions but they were a bit harsh. He doesn't go out to make mistakes. I'll keep him out of the limelight for a bit and we'll work out what we need to do for his long term future."
On 24 November, Rachubka moved on loan to Tranmere and later had a spell at Leyton Orient before being transfer listed at the end of the season by new manager Neil Warnock.