It was at the end of Leeds United's fourth season in the Football League, 1923-24. The club was on the brink of promotion to the First Division for the first time, an achievement which had always escaped their forerunners, Leeds City.
Manager Arthur Fairclough, who had been enlisted from Huddersfield in 1920 to supervise United's assault on the Second Division, had built a strong team despite limited resources, and they had been in contention for promotion all year. They were built around a strong defence which included full back Bert Duffield, the club's first skipper Jim Baker (who played 149 consecutive League and Cup games for the club between August 1920 and December 1923) and long time centre half Ernie Hart, later to play for England.
However, it was in attack that their real strength now lay. In Percy Whipp, Joe Richmond and Jack Swan, Leeds had firepower aplenty and the trio hit 44 league goals between them in 1923-24.
On 21 April Leeds clinched their promotion by beating Stockport 4-0 at Elland Road and for once there was a sense of occasion. 'The holiday crowd, officially returned at 22,145, was more demonstrative than perhaps any that has been assembled in this ground since the War,' reported the Yorkshire Post. 'Though cleverer teams have won promotion, no set of players has tried harder or trained more conscientiously. The extraordinary tenacity of the home players and their effective tackling was too much for Stockport in the second half.'
Around 20,000 supporters were squeezed into Elland Road five days later as Leeds lined up to face struggling Nelson Town. United needed a victory to secure the title. The crowd were hoping to see the club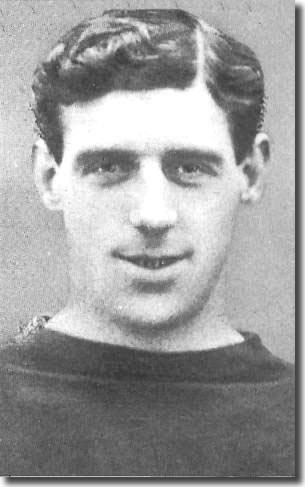 swept into the First Division with a flurry of goals, but it was not to be quite like that.
In fact, for much of the first 45 minutes, United were on the wrong end of a chasing. Their vaunted defence looked outclassed as a spirited Nelson attack caught them out time and time again. They almost took the lead just before half time when, with goalkeeper Billy Down beaten, Duffield had to head the ball off the line.
Half time came just at the right moment and Fairclough took the opportunity to steady the ship, giving the players a roasting. Matters improved after the break and Leeds started to put some moves together. They got on top and pinned Nelson back as their confidence rose. They had chance after chance in dangerous positions, but contrived to keep squandering them.
There were three minutes left and it looked like United would have to settle for a draw and take their chances a week later in the return at Nelson. Then their wingers, Walter Coates and Joe Harris, combined to settle matters.
Coates struggled to secure a place in the team throughout his four years at Elland Road, and only played 18 League games all year. Harris was a regular following his move from Bristol City in July 1922 and had missed just one match throughout the campaign. At that particular moment, however, none of that mattered.
In the closing minutes, United won a corner on the left and Harris lifted it across a crowded box. Coates was waiting for it and steadied himself before firing in one of only three League goals he scored for the club. He never hit a more important one as it had won the match and secured the Second Division title. They had made it at last!
Thousands of supporters poured onto the Elland Road pitch at the final whistle to celebrate the triumph.