Following the shock of the Leeds City scandal, the club's loyal supporters wasted no time in forming a new body, known as Leeds United Association Football Club. In fact, the new organisation was established on October 17, 1919, the same day as the auctioning
off of City's playing staff.
Huddersfield Town's wealthy chairman, Hilton Crowther, took over the new club. He made the club a loan of £35,000, to be repaid when Leeds United won promotion to Division One, and gave the new club his full backing. He wasted no time in enlisting the Huddersfield boss, Arthur Fairclough, who had previously taken Barnsley to an FA Cup win in 1912. He was appointed on 26 February 1920, taking over from former Leeds City full back, Dick Ray, who had been appointed as the first United manager, and was now installed as Fairclough's assistant.
On 31 May 1920, Leeds United were elected to the Football League. They polled 31 votes and stepped into the Second Division along with Cardiff City, who won 23 votes.
United made little impact that first season (1920-21), finishing 14th, and in fact they were only 3 points above Coventry City, who finished 21st. Their ten away goals that season remain the worst tally in the club's history. After that ominous debut, they consolidated their new found status, finishing 8th in 1921-22 and one place higher in 1922-23, before winning the Second Division Championship in 1923-24 with 54 points, to achieve what Herbert Chapman had promised the club more than a decade previously, top flight football.
That team was a strong one, particularly in defence where skipper Jim Baker, full-back Bert Duffield and 22 year old centre half Ernie Hart (who went on to play for England and had over 400 games in his 16 years at the club) were outstanding. They also had a strong attack, with the outstanding combination of Jack Swan, Percy Whipp and Joe Richmond well served by Scottish winger Joe Harris. Between them Swann, Whipp and Richmond hit 44 goals in the League that season.
United struggled during their First Division debut season of 1924-25 and limped to a final 18th place. 1925-26 was even more of a struggle and United only just avoided relegation. They needed to win in their last game, at home to Spurs, to avoid relegation. They triumphed 4-1.
During these two years, however, despite the struggles, Fairclough did develop the team significantly with new players Willis Edwards, Russell Wainscoat and Tom Jennings arriving from Chesterfield, Middlesbrough and Raith Rovers respectively.
The side could not continue to tread the tightrope forever, however, and in 1926-27, they finally lost their First Division status, but only after an amazing season. Jennings hit 35 goals out of United's record total of 69, but the club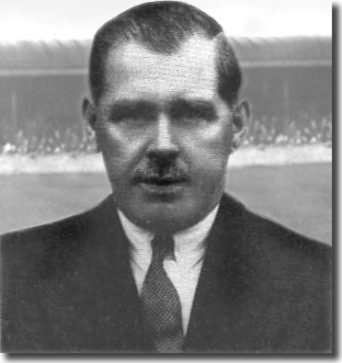 could only manage 11 wins and 30 points. The change to the offside law in 1925, which made it easier for forwards to score, was obviously a major contributor to this, as defences were still trying to find ways to adapt to the new laws.
Manager Fairclough resigned following relegation, to be succeeded by Dick Ray, who had left Elland Road in 1923 to manage Doncaster. It was maybe a surprise that Fairclough should leave, because the side he had built was good enough to gain promotion at the first attempt in Ray's first season, 1927-28. They finished runners-up to Manchester City on 57 points, hitting a club record 98 goals. Jennings and Wainscoat were joined up front by young Charlie Keetley and Jock White, a Scottish international signed from Hearts for £5,000. All four hit double figures and got 78 between them.
United did well on their return to the top division and finished 13th in 1928-29, despite an appalling late run that saw them win just three games out of the last 17 and get only one point from the last 12. This run included an 8-2 trouncing at West Ham. Keetley, Wainscoat, Jennings and White were not as effective as previously, but still managed to provide 56 of City's 71 goals.
The following year, 1929-30, Leeds went even better, coming in an impressive fifth - by far and away the club's best position before the arrival of Don Revie. Edwards and Hart were now experienced internationals and were helping the defence improve significantly. Full-back Jack Milburn had also made his breakthrough into the team and things looked very promising for the future, especially when Wilf Copping came into the side at the start of 1930-31. Copping was ever-present that season and the Edwards-Hart-Copping half back line was the powerhouse of the Leeds team until the fearsome looking left half joined League Champions Arsenal in 1934.
There was even some hope that Leeds might be able to compete for the title in 1930-31,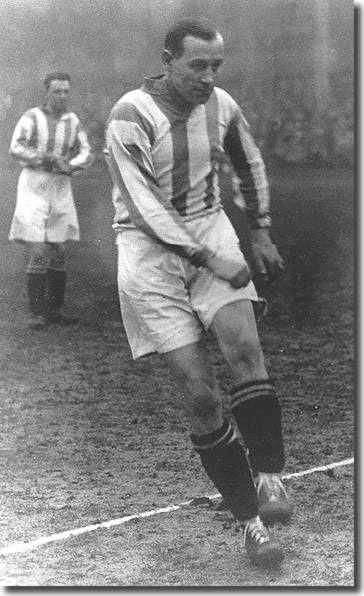 but they had a poor season, winning just 12 games and being relegated back to the Second Division. It was very disheartening as on their day Leeds could be brilliant - they beat Middlesbrough 7-0 and Manchester United 5-0 and won 7-3 at Blackpool, the only time the club have scored seven away from home.
The outcome was not settled until the last day of the season. As they went into the game Leeds needed to beat Derby by at least two goals, and hope for Blackpool to lose at Manchester City. Leeds achieved their part of the deal, winning 3-1, but Blackpool came from behind late on to achieve the draw that sent Leeds back down to Division Two. The club were distraught, because Blackpool were a poor side - they conceded a staggering 125 goals (including those seven against Leeds), the highest figure ever recorded against a side which avoided relegation.
This period of fluctuating fortunes continued as Leeds immediately regained a spot in the top flight by finishing runners-up to Wolves in 1931-32. Tom Jennings had left before the start of the season after hitting 112 goals in 167 League games and Russell Wainscoat followed him in October 1931 after 87 goals from 215 matches. Charlie Keetley was still around, however, and he scored 23 goals that season. He was ably supported by Joe Firth (14 goals in 33 games) and Billy Furness (12 in 25). The Edwards-Hart-Copping combination was probably now at its peak. Leeds had an outstanding season, and had nine wins on the bounce from the end of September to the end of November, during a run of 15 games without defeat. In fact, United would have ended level on points with Wolves if they hadn't lost their final game, at home to Port Vale, who needed the win to avoid relegation.
After losing their first two games back in Division One in 1932-33, Leeds enjoyed another unbeaten run, this time of 14 games. They had a poor second half to the season, however, at one stage taking just 4 points from a possible 20. Despite these problems, however, they still finished 8th. They even enjoyed a 2-1 win at Highbury, home of mighty Arsenal, managed by the former Leeds City boss Herbert Chapman, and on the way to the first of a hat-trick of titles.
The club did almost as well in 1933-34, ending 9th, but were only three points behind fourth placed Derby. Highlight of the season was an 8-0 victory over Leicester in April, inspired by the return of Willis Edwards, who had been missing through injury for three months.
Wilf Copping left for Arsenal in the close season and his absence made a big difference as Leeds slumped back to a dreadful 18th place in 1934-35, conceding 92 goals on the way. They lost 8-1 at Stoke in their second match of the season and were trounced 7-1 at Chelsea in March, by which time, Dick Ray had resigned as manager. With only slender resources at his disposal, he did much to enhance Leeds United's reputation, fostering the talents of several fine young players, but felt there was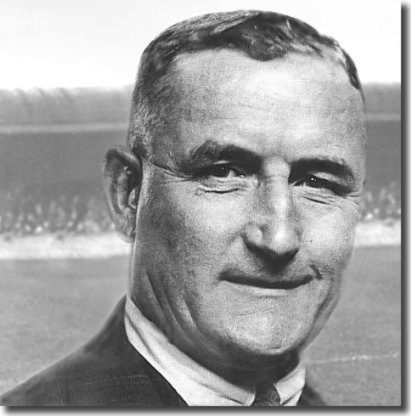 little more progress he could make. He was succeeded by Billy Hampson, who had been a regular guest full back for Leeds City between 1917-19 and whose jobs included managing Carlisle after he retired as a player in 1930.
Hampson went for experience and recruited people like former England players, goalkeeper Albert McInroy and forward George Brown. A bluff character, Hampson had a reputation for fair dealing, and continued grooming one of Dick Ray's notable protégés, right back Bert Sproston, who had made his debut two seasons earlier and won the first of 11 England caps in 1937. Sproston was a versatile, stylish defender but chronic lack of funds forced Leeds to sell him to Tottenham in 1938 for £9,500. It was a depressingly familiar story.
1935-36 saw the club achieve a mid-table finish, but 1936-37 brought another slump as they finished 19th, avoiding relegation by just two points. The real problem was in the away games, which saw Leeds pick up just three points. The signing of Gordon Hodgson, a centre-forward born in South Africa, who had scored 233 goals in 258 games for Liverpool, in the second half of the season helped in the struggle and Hodgson scored 6 times in his 13 games, during which United had 4 wins and 2 draws. Victories in their last two games, on both occasions scoring three goals, just about squeezed Leeds through, but it was a close call.
1937-38 saw an improvement and Leeds were even up amongst the title challengers in the early part of the season. Hodgson's form continued and he hit 25 goals in his 36 League games. The side had a disastrous time of it from the end of December to the middle of April, winning just two games from 16, and slipped away to a final ninth place.
1938-39 was the last full season before World War II and it saw United make little progress, with a 13th place finish, although Hodgson hit a record 5 goals in the 8-2 win over Leicester at the beginning of October.
War was declared in September 1939, leading to the postponement of official football activity and during the hostilities both Eric Stephenson and former player Alan Fowler were killed. Jim Milburn was also wounded, but recovered to make a comeback for the club after the war.
If the inter-war years had at last brought United a taste of the big time and even a brush with glory, they were amazingly inconsistent through the period and changed division five times in the 12 years following their election to the League in 1920. They only had 3 managers in the 19 years between the wars and unearthed some star names, particularly the formidable half back combination of Edwards, Hart and Copping, all England internationals. Bert Sproston, who played for the club from 1933-38, was another defender who played for England and the club had some fine forwards, like Jennings, Keetley, Wainscoat, White, Richmond, Hodgson, Percy Whipp and Arthur Hydes.
Throughout the period the club had financial problems, just as Leeds City had, and the ongoing debts made it difficult for them to compete in the transfer market for the biggest talents, but they had started to give their long-suffering supporters some hope for life after the War.