The 1930's had been kind to Leeds United. True, they didn't win any silverware - Arsenal in their golden decade were simply too dominant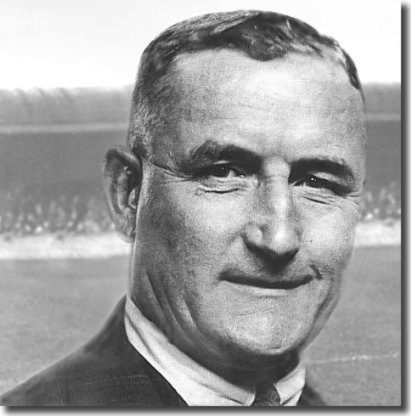 for that - but since they won promotion to the First Division in 1928, the Elland Road club had only spent one season out of the top flight before the outbreak of war. As the conflict approached, Leeds were doing pretty well. Poor runs after Christmas habitually spoiled the good work done in the autumn, but the side could normally manage a safe mid table position.
Manager Billy Hampson had put together a reasonable squad, and even though Willis Edwards and Gordon Hodgson among others were either gone or long in the tooth, mature stars such as Wilf Copping, Jim Twomey, and Bobby Browne were supplemented by up and coming youngsters, including Eric Stephenson, Jim Milburn, Gerry Henry and Tom Hindle. The war came at the wrong time for what could have been a very strong team and both Stephenson and former Leeds player Alan Fowler died in action. Jim Milburn was wounded in 1944, but returned to Elland Road after the end of the war.
The declaration of war came on September 1 1939, three matches into the new season with Leeds rooted to the bottom of the table without a point to their name. The club carried on playing throughout the war as the football authorities organised regional competitions to remove the need for lengthy and expensive journeys to away games. "Organised" was a fairly generous description of what went on, as for the most part there was absolute chaos with games often being cancelled at short notice and teams not being decided until the very last minute.
Leeds did well in the first season, but as the years drew on their form deteriorated and they slumped lower and lower. In 1945-46, when there was a relatively well organised competition, Leeds won just 9 times in a 22 team Northern section competition, conceding 118 goals. They were adrift at the bottom of the division and things looked ominous, although the abandonment of promotion and relegation for that season gave the club a second chance.
The breathing space didn't help, however, and 1946-47 was even more dismal. Leeds United earned just 18 points - the equal lowest First Division total until Stoke's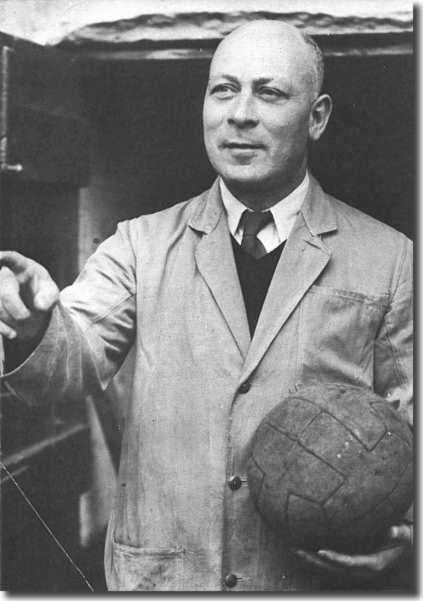 even more abysmal 1984-85 performance - with only one of them earned away from Elland Road. Even the arrival of former England half back Ken Willingham in March could not stem the tide and they conceded 90 goals in the League. Manager Billy Hampson had seen the writing on the wall for some time and was replaced by his former player, the long serving Willis Edwards, when relegation had been confirmed. Edwards could do nothing in the six games he had to prevent Leeds sliding back into the Second Division after sixteen years as a Division One side. They were a massive 15 points below the safety level.
Not surprisingly, the team's confidence was completely shot and Edwards was clearly not the right man to halt the slide. Their away form was marginally better in 1947-48 - they won seven points - but Edwards was moved back to the post of assistant manager after just a year, following a desperate struggle against relegation to the Third Division for the first time. Leeds eventually won two of their last three games to guarantee safety in a disappointing 18th place.
Former Wolves boss Major Frank Buckley was the choice of the Leeds board to replace Edwards and he came with a strong pedigree of success, having built the Molineux side from a struggling Division Two side to runners up in both the League and FA Cup. Buckley's arrival saw no immediate improvement in form but he did unearth a rare find in John Charles. Although 1948-49 saw Leeds coming in 15th, they were only two points above relegation. In fact, it was one of the tightest relegation scraps ever. Bottom club Lincoln's fate had been resolved long berfore the final games, but above them just five points covered the next 13 clubs. Right at the end of the season 17 year old Charles was given his big chance, playing in the No 5 shirt in the last three matches, during which only two goals were conceded and those vital two points were collected from two goalless draws.
Leeds United had always struggled financially and in 1948 when Buckley arrived at the club, they were about to post a third successive year of financial losses. Buckley had seen and done it all before. He boldly and confidently predicted that he would bring better times to Elland Road. Charles was only one of a number of younger players he introduced and he also made significant changes to the club's training regimes. He shook Elland Road to its very foundations. Neither Hampson nor Edwards had any real managerial experience to their name when United put them in charge, but that was something that 64 year old Buckley could certainly not have been accused of. He had been in management for 25 years, commencing at Blackpool in October 1923. The challenge he faced at Leeds was similar to what he had already experienced with Wolves.
1948-49 was hardly a triumph, but finally, after a decade of gradual decline and dismal performances, something looked like it was being done to stop the rot at last. The potential of the young John Charles and the reassurance of the experienced Buckley at the helm gave the Elland Road faithful some glimmers of hope for the future and as the Forties drew to a close, Leeds United started to look forwards. They had never been very successful, apart from briefly during World War I, but a decade in Division One had made them hungry.