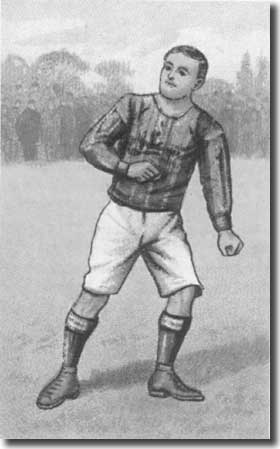 Born: Halesowen, near Birmingham, 7 October 1881
After a period with his local club, Halesowen St John, full-back Jim Tildesley signed for First Division Newcastle United in February 1903. He was taken on as cover for Jack Carr and Bill McCracken and only managed 21 League games over the next three seasons. Most of his time with the Geordies was spent in the A team, and he won two Northern League championships with the club. His brother Thomas was also on Newcastle's books.
In September 1906, Tildesley joined Middlesbrough. During his three years on Teesside he played 23 times in the League and a further twice in the FA Cup, but again was primarily a reserve.
Leeds City signed him in December 1909 for £200. His debut for the Peacocks came as left-back against Clapton Orient on Christmas Day that year. City won 2-1 and, according to the Yorkshire Post, "It was an error of judgement on his part that gave the Orient their only goal, but on the play which Tildesley showed throughout the match there can be no doubt that he will greatly strengthen the team's defence." Flaneur in the Leeds Mercury: "In Tildesley, who has been secured from Middlesbrough, it would seem that the City have obtained a really sound back. I thought the new man was a little too keen in appealing for offside instead of going for the man with the ball, but, generally, he played a hard, tireless game, and must have delighted the crowd, who have, unhappily, seen too much given away by a wavering defence of late. It may be that Tildesley was responsible for Clapton's goal, but no one would blame him for the mistake. The ball seemed to be travelling over the line, and Tildesley was apparently allowing it to go out of play. But it stuck in the mud just short of the line, and Parker was able to get in a centre, from which Bevan headed through."
Tildesley's other five appearances for City came at right-back, partnering the emerging George Affleck, but he could not live up to the promise of his debut.
At the end of the 1909/10 season, Tildesley joined Luton Town, where he ended his playing days.
In later years, he worked as a scout for Newcastle. One of the players he discovered was Bob Roxburgh, who went on to become trainer at Leeds United.
Tildesley died in Newcastle in January 1963.