Born: Rotherham, 1895
Jack Smelt was the youngest of four brothers who all played football at the top level. Oldest was full-back Len who was a member of the Burnley side that won the League title in 1921, also playing for Rotherham County, Gainsborough Trinity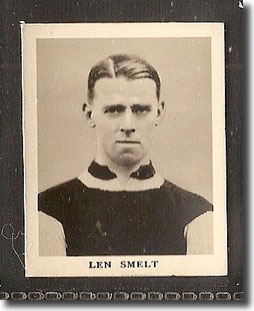 and Barrow; Alf spent some time with Mexborough Town before appearing briefly for Leeds United after they were elected to the League in 1920; and Tom was a much-travelled centre-forward who spent time with Accrington Stanley, Exeter City, Chesterfield, Manchester City, Oldham Athletic, Crewe Alexandra and Rotherham County.
Half-back Jack served Mansfield Mechanics and Chesterfield Municipals before signing for Rotherham County during the First World War.
When Leeds City played County at Rotherham on 12 October 1918, they arrived without Tommy Lamph, and Jack Smelt agreed to guest for them at left-half. Brother Len was at right-back for Rotherham and was sent off for a foul on City's Arthur Price. The Peacocks won 3-0.
Jack signed for Third Division club Portsmouth in 1920, moving on swiftly to spend a couple of years with Sheffield Wednesday, scoring twice in sixteen League games. He later played for Bangor City and Barrow before ending his career in the lower leagues.
Smelt died in 1968.