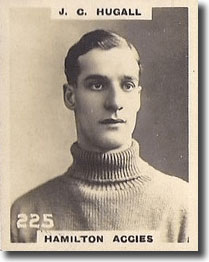 Born: Whitburn, 26 April 1889
A tall goalkeeper, Jimmy Hugall made one appearance as a guest for Leeds City in late 1918.
He had appeared for Sunderland Co-operative and Whitburn in local football before signing for Clapton Orient in 1910. He became a reliable last line of defence for the Londoners before the onset of war when, like a number of other Orient players, he joined the Duke of Cambridge's Own (Middlesex Regiment) 17th (Service) Battalion (1st Football) and rose through the ranks to become Lieutenant. He served with the famous black goalkeeper Walter Tull and they fought together in the Battle of Ancre, the last major attack of the Battle of the Somme in 1916. Hugall recovered from being wounded in action on three occasions to return to football at the end of the war.
Almost immediately he appeared for Leeds City on 23 November 1918 at Elland Road against Bradford City. Arrangements were made for Hugall to play a couple of times more for the Peacocks, but in the end he was restricted to that single game, which ended in a 2-1 victory.
After making a few appearances for Sunderland, Hugall returned to Clapton thereafter and played a couple more seasons for them before joining Hamilton Academicals in 1922. He made 17 consecutive League appearances for the Accies before George Sommerville regained his place. At the end of the season he moved on to Durham City before retiring a year later.
Hugall died in September 1927.