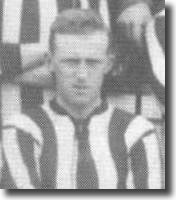 Born: Newburn, Northumberland, 4 September 1891
Hall was a gifted forward who appeared for both Sunderland and Newcastle before the First World War.
After time spent with a number of junior clubs in his home town of Newburn, Hall was signed by First Division giants Sunderland in January 1909 and made his debut on 17 December 1910, while still only 19. It was 1912/13 before he became a regular choice, however, moving his record on to eight goals from thirty League games.
Having controversially signed for bitter North East rivals Newcastle United in the 1913 close season, Hall scored on his debut for his new club on 6 September in a 2-1 defeat of his old team mates at Sunderland. He went on to establish himself as first choice centre-forward, scoring fourteen times in 42 First Division games before official football competition was abandoned in 1915.
Newcastle suspended operations during the war years and Hall was forced to look elsewhere for his football. Among other clubs, he spent some time with Leeds City getting a decent run in the 1918/19 season. With the gifted Clem Stephenson away on naval dutues, Hall took over at inside-right, making his City debut at home to Bradford City on 23 November.
He hit a post during the game, which Leeds won 2-1, and scored in both of the following games to cement his selection in the side. When Stephenson returned to the fold on 11 January, Hall moved onto the right wing, promptly scoring again in each of his first two games in the position. He later figured at inside-left, displaying his versatility, and ended the campaign with nine goals from 22 appearances.
Hall returned to Tyneside after the resumption of peacetime football to take his Newcastle record on to 15 goals from 54 First Division games before signing for Gillingham in July 1920. He was a great success with the Kent club, amassing 47 goals in 190 Third Division appearances before retiring in 1926 and taking on the role of trainer.