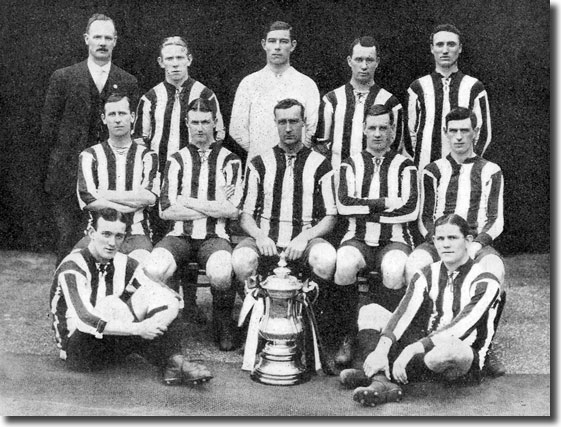 Born: Newbold, Chesterfield, 31 December 1890
Chesterfield has a rich tradition as a source of fine goalkeeping talent; Harry Gough, the youngest of eight children, is one of the earliest examples, though he most of his football was played in Yorkshire.
After spending his formative years with Spital Olympic and Castleford Town, Gough played three games in the Second Division with Bradford Park Avenue in 1910, before returning to Castleford, where he gave some notable performances for the club.
Sheffield United of Division One offered him a chance of top flight football in 1913, and Gough seized the opportunity with both hands, going on make 242 League appearances for the club over the course of the following decade. He won the FA Cup with United in 1915 when the Blades beat Chelsea 3-0 in the 'Khaki Cup final' at Old Trafford.
During the First World War, Gough had a brief period with Leeds City. His association with the club had long been mooted. In December 1915, the Leeds City programme reported: "The City management, during the week, have had application from a goalkeeper of first class repute for a game with the City. I have heard it whispered that he kept a great goal on the occasion of the last English Cup final, and was mainly instrumental in the Cup once more finding a resting place in Yorkshire. 'Who said Gough?' To which may be queried, why should Sheffield United demur - indeed, have they any real right to object at all? Castleford Town would miss Gough the most. He works in Fryston Colliery, and can play with Leeds City much more conveniently than Sheffield."
Such a move, however, would have left the Blades without a recognised keeper, and the rumours came to nothing at that time. Gough continued to play for Sheffield when he was not on duty with the Royal Navy, giving fine performances over the next couple of years against City, increasing their interest in him.
1918 finally saw Gough in Leeds colours; he played on Christmas Day and Boxing Day against Huddersfield Town. He had earlier guested for Hibs in Scotland.
Gough continued to shine with Sheffield United after the resumption of peacetime football, though his Blades career ended in controversy. In the summer of 1924, the 33-year-old began preparations for his retirement by buying the Railway Hotel in Castleford. The premises were licensed, provoking a furious response from Sheffield and FA chairman, Charles Clegg, a teetotaller, who ordered him to get rid of the property. Gough claimed to have "acted in ignorance" and offered to repay the wages he had received over the summer, but steadfastly refused to give up the hotel.
The United board were equally resolute and in September, Gough was suspended by the FA, and a month later saw his FA registration cancelled. He was left in limbo, with Sheffield United demanding a fee of £2,400 from any potential buyers. Gough's appeal to the Football League for a reduction was rejected and he was told he could not even re-register as an amateur to play for local clubs, though he spent some time with Castleford and Harrogate Town.
The fee was clearly exorbitant for a player of his age and it effectively put his career on hold, as United refused to compromise on a price which deterred any interest. The club relented after a year and when Oldham put in a bid of £500, Gough was sold in October 1926, two years after the cancellation of his contract. His final game for United was a 2-0 County Cup Final victory over The Wednesday.
In 1927, Gough moved on to Bolton Wanderers, for whom he played four League games, before joining Torquay United in 1928 where he continued to play until 1930. Dislodging Archie Bayes, he missed just three games in his first season. He played seventeen times the following year, losing his place to Bayes, before announcing his retirement.
Gough won a single cap for England, against Scotland at Hampden Park on 9 April 1921. He had an unhappy day between the posts with England beaten 3-0.
Described as "cool, collected and very tough," Gough was renowned for his bravery and daring between the posts.
He had a leg amputated in 1963 and died on 16 June 1970.