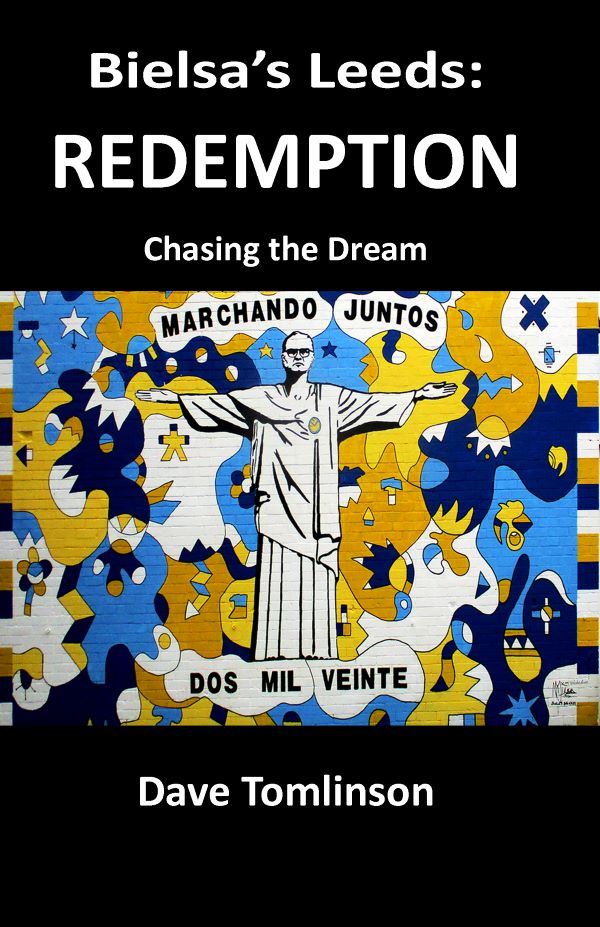 Dave Tomlinson is the webmaster for the mightyleeds.co.uk website, and Bielsa's Leeds: Redemption is his fifth book about the club.
'WE - ARE - PREMIER - LEAGUE! Say, we are Premier League!'
It's July 2020 and fans of Leeds United are celebrating with a passion at the end of sixteen years as England's forgotten club. Lockdown restrictions are ignored as they gather on Elland Road to mark United's promotion.
It had been the club's longest ever stay outside the top flight of English football but life had been restored by the inspirational leadership of Marcelo Bielsa.
So how did Bielsa achieve the redemption of United and free them from a decade and a half of doom and gloom?
This is the story of how Andrea Radrizzani restored order to Leeds United Football Club and persuaded one of the globe's most revered coaches to overturn twenty years of disaster and lead United back to the Premier League.
It tells how Leeds escaped the clutches of Ken Bates and his declaration that the fans were 'Morons', survived the chaos of GFH Capital's ownership and endured the Crazy World of Massimo Cellino before a soft landing with Radrizzani and the ascent back to football's top table.
It recounts how Leeds went through nine managers and endless numbers of players in four years before Garry Monk restored sense and sensibility as Radrizzani took control and then finally brought Elland Road back into the club's ownership. It covers the ill-advised experiments with Thomas Christiansen and Paul Heckingbottom before Radrizzani finally got it right with Bielsa.
It relives the Play-Off heartache of the Argentine's first year, the extraordinary Championship triumph in the face of the earth-shattering disruption that COVID-19 threw at the world and Bielsa's uncompromising assault on the Premier League. Na´ve or messianic, stubborn or principled, you decide.
We already have!
Vamos Leeds Carajo! THE WHITES ARE BACK!
Bielsa took Leeds United back to the future to make them for a second incredible time Everybody's Favourite Other Team. Who would have expected Dirty Leeds to re-emerge from the ashes as Beautiful Leeds?
Relive the last twenty years through the unique eyes of Gary, Big Tony, Bigger Kev, Even Bigger Neil and Dave and a thousand Leeds fans like them, back in Paradise and ready to dream again. Has there ever been a better time to be a fan of Leeds United? Not in the last twenty years there hasn't been. Here's to the next hundred.
Front Cover Image: Bielsa The Redeemer mural, designed and painted by Nicolas Dixon supported by Andy McVeigh. Thanks Nick.
Get a copy at Amazon. Author signed copies are available by e-mailing dave.tomlinson@gmail.com.
Published on Amazon (11 February 2021)
ISBN-13: 979-8706450939 (Paperback)
ISBN-13: 979-8788852690 (Hardback)
ASIN: B08WCGJ33Z (Kindle)
Paperback: 362 pages