Football fans are a superstitious bunch. At least half of us will go through a very specific routine before we head down to Elland Road on match day. We'll have a lucky shirt or a lucky pair of pants. We'll stop for a drink in the same pub, and drink the exact same drink as we always do. When it's time to renew our season tickets, it's very important that we get our favourite seat; the same one we've sat in for years. Break from any one of the habits, and we'll bring bad luck on ourselves. Then the lads will lose, and we'll never forgive ourselves.
Luck is a quality that we often associate with the Irish. Nobody truly knows how that connection was originally made, although some believe that it had something to do with miners during America's gold rush. Irish symbolism is full of lucky characters from symbols, from four leafed clover to leprechauns offering pots of gold at the end of the rainbow. The popular online slot website Clover Casino is dressed in Irish symbolism and themes, from the games you can play there to the colour scheme of the site; all of which is designed to help gamblers feel lucky as they play. Plenty of people who've played 'Rainbow Riches' on the site will tell you they've stuck lucky, but that lucky Irish streak has extended to Leeds United in the past, too.
At some of the most successful points in our club's history, we've had more than just a pinch of Irish talent either in the dugout or on the pitch, leading the way for us. We don't have any in the first team at the moment. Perhaps that's the reason we're still finding it hard work to get back into the top flight. Based on past form, we'd be well advised to get a prominent representative from the Emerald Isle in to give us the boost we need, and the four men we're about to name are the reason why!
1. Johnny Giles
Johnny Giles is one of Ireland's greatest ever players. Of that there can be no doubt. He's also one of the best midfielders ever to pull on a white shirt and run out for Leeds United. Forming a midfield partnership with Billy Bremner that was arguably more effective for any club than the pairing of Xavi and
Iniesta for Barcelona decades later, he was Don Revie's right hand on the pitch, personifying his manager in the way that he approached the game. He may have been portrayed as a hard man, but Giles was also an accomplished and cultured player with an eye for a key pass.
He wasn't shy of chipping in with goals when required either. By the time all was said and done on his career with the whites, Johnny had found the back of the net 115 times; the precise same number of goals as Bremner. During his stay with the club, we won two league titles, the FA Cup, the League Cup, and finished as runners up in the European Cup. Many players who were at Leeds during the Revie era can point to a similar number of medals; very few did as much to earn them.
2. Gary Kelly
It almost feels rude to talk about Irishmen associated with Leeds United, and not have Gary Kelly at the top of the list, but we think he'd probably accept second billing to Johnny Giles. Gary Kelly was a textbook fiercely-loyal one club man. He spent his whole career with us, from 1991 all the way through to 2007, making over 500 appearances.
Whilst it's true to say that Kelly never won any major honours with the club, having made only two appearances in the title winning 1991-1992 season as a teenager, Kelly was a key component of the David O'Leary side that routinely finished in the top five in the late 90s and early 2000s, and was there to see Leeds return to the Champions League for the first time in a decade, playing in a team that made it all the way to the semi-finals. The season after he left, we were relegated to League One. Need we say more?
3. Ian Harte
If we're going to talk about Gary Kelly, then we should also talk about his partner in crime, Ian Harte, who played on the opposite side of the defence and was almost with us for as long as Kelly was, with his Leeds tenure running from 1996 through to 2004. Harte was known for his lethal free kicks, and his habit of popping up with goals at vital moments, such as against Deportivo La Coruna in the first leg of the Champions' League quarter-final at Elland Road.
As with Kelly, Harte wasn't at the club during an era where we won major honours, but he was another vital cog in that team of the late 1990s who seemed destined to go on and lift trophies, playing a big role in bringing European football back to the club and making us competitive in the league once more. Watching Harte and Kelly operate at left and right back respectively, some said their understanding was almost as if they were brothers. It should have been; Kelly is Harte's uncle.
4. John Sheridan
Although he seems to be more frequently associated with Oldham Athletic - probably because of his numerous spells as manager of the club - John Sheridan was the beating heart of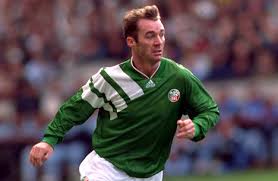 Leeds United's midfield for almost all of the 1980s. He was with us from 1982 to 1989, and was the one player who could always be counted upon to put in a shift. There were constant rumours of interest in Sheridan from larger clubs, but he remained loyal and committed to the whites until forced out of the club after a dispute with new manager Howard Wilkinson, who wasn't a fan of Sheridan's style of play.
The eighties, much like the 2000s, were wilderness years for Leeds, who spent almost the entire decade in the second tier. Sheridan was one of the few bright spots, even finishing one season as top scorer from his midfield berth, and has the distinction of appearing in the first ever Play Off final, in which Leeds were beaten 2-1 by Huddersfield. He may not have been at the club by May 1990, but he'd played a huge part in keeping the ship steady for all those years, allowing the club to kick on and build for the future. Just two years later, we would win the league championship.
Those are the major players. We could also make a case for Stephen McPhail, Noel Peyton and Harry Duggan, which just proves that the connection between Leeds and Ireland is a strong one. With promotion this season very much on the cards, we're officially calling for a decent Irish player to be brought through the door in the next transfer window!