Although we only had the flair-laden Frenchman for one year. but oh what a year! It was an eventful period in United's long history. The 38 matches he played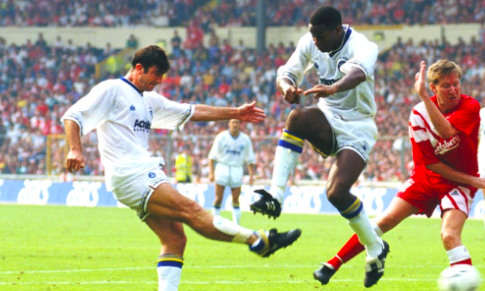 for us were at a pivotal time in the club's history and if you look carefully at the highlights of his Leeds United career you can see many pointers of the extreme and outrageous behaviour that made him even more famous as a personality rather than just a sports star.

He may now have teetered off into a brilliantly eccentric career path in the same way the Gerard Depardieu has, but there is no doubt that his legacy survives in nearly all the clubs he played for. He has gone on record for saying that his time with the Mighty Whites was a content and positive one in many ways, and there is no doubt what he learned from our coaches and our tacticians played a small but important part in the player he was and even the player he went on to be.

Cantona had played for Nimes with impressive results in the early 1990s. He was purchased by the Leeds management for an eye-wateringly small £900,000 in 1992.

Straight from the off the fans could see that this powerful young man had a great presence on the pitch. It was easy to say with hindsight but every time the ball came to him the electricity in the stadium increased a tiny imperceptible notch, many betting experts were putting good odds on him doing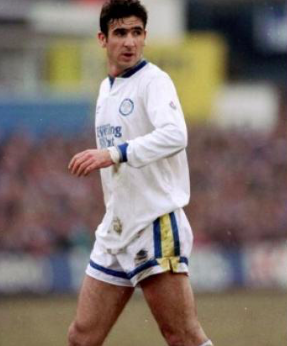 well.

It is true that in the championship winning year of 1992-1993 (the last year it was the First Division before it switched to becoming the Premier League) Cantona only played 15 times for us but the presence was vital to our winning run. It was especially interesting that we would put Manchester United into second place that year. This no doubt had a great influence on Alex Ferguson when he realised he needed a new striker and was having trouble filling the spot.

It is rumoured that Ferguson didn't have Cantona near the top of his hit list, but he was persuaded by other board members.

It is also ironic, given Cantona's strength and his dominating personality, that in those fifteen appearances he only scored three goals. This is a statistic that history forgets. But it is also important to note that he made many great assists in the season too, although data harvesting wasn't as accurate in the early nineties as it was today, and there are no official records of the exact number of assists. Leading goal scorer of that season Lee Chapman would not have totalled anywhere near as many goals if it hadn't been for the generous talents of the young Frenchman.

Another highlight for Cantona in his Leeds era was his display in the 1992 FA Charity shield. This performance was one of poise and athletic brilliance. He was sowing the seeds for experts to see what a powerhouse he was to become. That day he became one of the few players to score a hatrick at Wembley. A rare feat that remains an elite club to be able to join.

Cantona has often come in for stick concerning his aggression and disinclination to hide this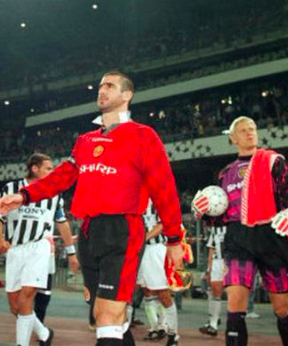 forceful side of his game. The famous Kung Fu kick is an iconic moment in soccer history, and even though it happened in the Manchester United era, there is no doubt that several incidents during his Mighty Whites years could be said to have foreshadowed this amazing moment.
He received a higher number of red and yellow cards in that era than almost all other Leeds players. He was respected by his peers, but other fiery tempered players would always end up doing more than muttering a few choice words at him in the pitch under their breadth. All the autobiographies of players from this era corroborate this fact and show that in equal amounts they both loved and hated the man.
Cantona was incensed when a spectator in the front of a Premier League match against Crystal Palace on a cold January evening stared throwing verbal abuse at him. Cantona had just been sent off for foul play during a particularly difficult and tight section in play.
The spectator, who the world would later come to know as Matthew Simmons, was hurling standard Anglo Saxon abuse at him, but something clicked in the head of the Leeds United player. Cantona went flying over the security barrier in a astonishing Kung Fu style leap and landed a pretty hefty blow on Simmons' chest. Simmons was winded but sustained no long term injuries.
Cantona was sentenced to 120 hours community service, fined £30,000 and, worst of all, he was forced to spend eight months at home, a full ban from professional play. Thankfully he recovered and went on to a great career. Thanks for the memories, Eric.