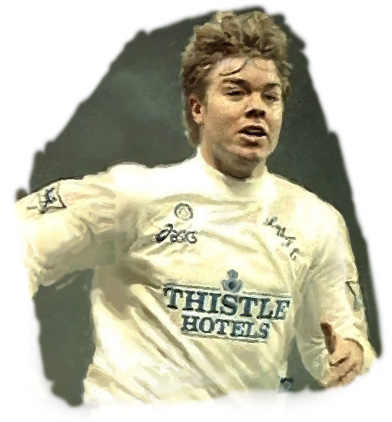 In July 2007, the Times compiled a list of the 50 worst signings made by Premier League clubs since 1992, the year when the top division of the Football League was modernised as the Premier League.
At 46th place we find Darren Huckerby, the man who saved Coventry from relegation in 1997, then playing a major role and scoring the winner when City beat Manchester United 3-2 the following season. He was sold to Leeds United for £6 million in 1999.
With Leeds, Huckerby managed to score two goals in 40 games, or £3 million per goal. However, he is not the worst transfer in Leeds United's history . Not by a long shot. In at Number 4 is the infamous Tomas Brolin.
When Tomas Brolin signed for Leeds in November 1995 he enjoyed a reputation as one of the world's best footballers. He had enjoyed some great seasons with Parma in Italy, helping them win the European Cup Winners' Cup in 1992. Brolin was also one of, if not the, best player in the Sweden team that finished in third place at the 1994 World Cup finals.
His pace and technique made him one of the most feared attacking midfielders in Europe at the time. But the decline was just about to start.
In an international match for Sweden in November 1994, Brolin broke his foot and had to undergo surgery. During this time, Parma were two points clear at the top of the Italian league. But when Brolin returned five months later, the team started to lose. He lost his place in the team and sought a move elsewhere, turning down offers from three Italian clubs before deciding to join Leeds United for £4.5 million.
A Career in Decline
United manager Howard Wilkinson saw Brolin as the perfect foil for the club's top scorer Tony Yeboah, and on the day of the signing, he said "He is a class player, and I believe he will prove to be an excellent buy for Leeds. I am sure he is going to be an excellent partner for Tony Yeboah". This was also the view of the Ghanaian forward "I am sure Tomas and I are going to work well together. He is truly world class. He can weigh in with goals of his own, and link up with the other players in the side. We are going to be very difficult to defend against."
Brolin had high hopes when he arrived in England in November 1995. "Give me a month to get my full fitness back, and to adapt to playing in England, and then I will show people what I can really do. I believe I can help Leeds win the Championship again. I have had great support from the fans and gradually regained my fitness. I am really excited about the future at Elland Road," he said.
Brolin scored his first goal against Sheffield Wednesday in December (Leeds lost 6-2,) and it was without a doubt one of the weirdest goals in his career.
During December, Brolin started a few games, and scored two goals against West Ham at Elland Road. He had now scored four goals in eight games. Maybe the purchase of the Swede would pay off after all.
... but then it all began. Howard Wilkinson and Tomas Brolin had different views on Brolin's role in the team. After the 5-0 defeat against Liverpool and 2-1 defeat against Nottingham Forest, Brolin was dropped for the League match against Aston Villa.
"Presumably, I didn't wake up in the middle of the night and have a vision, if Brolin had done well he would have played. I picked a team from 15 available players, with nine either suspended, injured or on international duty. I decided the team at Villa would be better without Tomas Brolin. If he had been playing brilliantly I would have picked him - but before we played Liverpool Brolin was concerned about the amount of defending he had to do for the side. He suggested I reconsider, he expressed the opinion he wasn't very good at it and he felt my decision to leave him out at Villa was eminently sensible," Wilkinson said in February 1996.
After this, Brolin only featured sporadically in a Leeds shirt. He came off the bench against Villa in the League Cup final and said later, "If I cannot play from the start in a final like that. I have to think about my future. I don't know where my future lies now. I wanted to play on Sunday, but the manager thinks his way and I think mine. Perhaps we should go our separate ways. I have to go away and think about my future and whether I want to play for Leeds. The way I feel at the moment, I think I must try to find another team."
Brolin began looking for a new club during the summer of 1996 but interest from Verona, Bari, Fiorentina, Sampdoria, Real Betis, Espanyol and Real Sociedad all came to nothing. Wilkinson fined Brolin a week's wages (around £12,000) for not turning up for pre-season training. Brolin went out on loan to FC Zurich and was quoted as saying, "I'm not surprised he's gone," when Wilkinson was sacked by Leeds in September.
New manager George Graham refused to allow Brolin's loan to continue beyond its scheduled end date of September 30 and was furious when the Swede didn't return, threatening to retire rather than play again for Leeds.
A loan move to Sampdoria fell through after a medical and then Brolin paid out £500,000 to fund a loan move back to Parma. The Italian club had a decent season but were clearly not interested in a long term deal, revealing that they had only agreed to a loan deal to allow him to regain fitness as a show of gratitude for his previous spell with the club.
When he returned to Elland Road, he was exiled to the reserves by George Graham and a number of proposed transfer deals all failed to come to anything. After missing training and publicly criticising Graham in a newspaper article, Brolin was fined £90,000. After a legal wrangle the player's contract was finally terminated. Graham: "Brolin didn't do much, did he? He was very quiet and I can't understand what all the hype was about. Apart from a couple of decent seasons with Parma, what's he ever done? You tell me. People think I fell out with him, but that's not the case at all. He told me he didn't want to play for Leeds, so there was no point in keeping him at the club."
Despite trials with Barnsley and Crystal Palace Brolin never managed to regain a place in top-level football.
What is Tomas Brolin Doing Today?
When Brolin retired from football, he opened an Italian restaurant in Stockholm, Sweden. He has also started an offline and online gaming career and has captured a few money wins in poker tournaments around Europe.