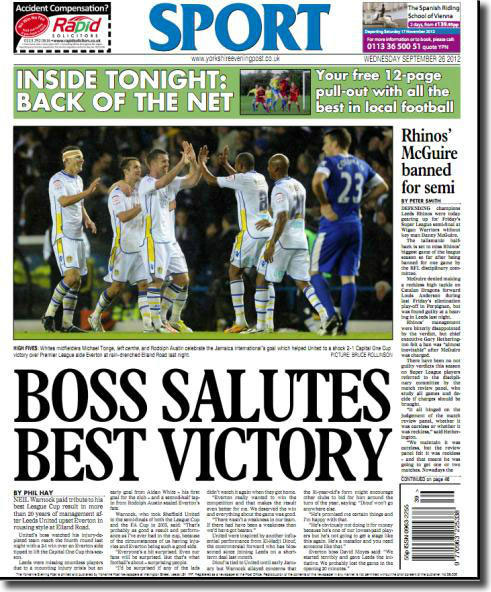 Leeds United came into their Capital One Cup-tie against Premier League Everton at the end of September 2012 on the back of an average start to the season. After three wins from their opening seven Championship fixtures, they sat eleventh in the table.
In sharp contrast, the Goodison Park side were in outstanding form, lying second to Chelsea after five games, the last of which saw them hammer Swansea City 3-0.
Albeit against vastly inferior opposition, Leeds had already scored seven goals without reply in the competition, beating Shrewsbury 4-0 in the first round then netting three against Oxford in the second.
Their mood was also lifted by their success against Nottingham Forest, the 2-1 victory trumpeted in the Mail as "their most impressive win of the season." Forest had been the only unbeaten side left in the Championship.
The game had been watched by four representatives from potential investors GFH Capital, whom manager Neil Warnock hoped would provide the necessary funding to spark a promotion push.
Chairman Ken Bates: "We are well advanced with our discussions. There's a number of technical points to be resolved, some of the delays have been because of summer holidays. But we're making progress, we had a very positive meeting yesterday and the potential investors are looking now to get this matter concluded as soon as possible.
"Both parties regret that because of a lot of factors beyond our control we missed the August window, but we are already planning for the January transfer window. We had four of the top executives from the institution [here], we had one bit of bad luck because the chairman was coming here to meet me to resolve things chairman to chairman but unfortunately he had to pull out at the last minute for personal reasons. We're both disappointed but we're planning to get together as soon as possible when his personal situation had been resolved."
"It's encouraging," said Warnock when asked about Bates' remarks, "but I don't hold my breath when I hear these announcements. It's best for me to wait until everything's concluded because it's only then that we can expect things to change. But it's a positive step and that's what we want.
"I hope the people who are investing watched the game closely because what's not to like about that? We don't have many boring games and our performance was great. We showed no weakness as a team and it was a day when Leeds United Football Club showed what it can be. I'm talking about everything and everybody.
"I can understand why people would want to get involved and I wish I'd been here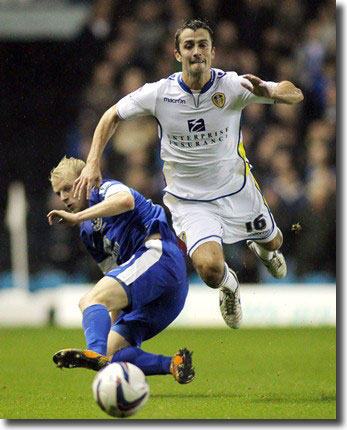 10 years ago. It's almost a pity that I've come at this stage of my career rather than with a good few years ahead of me.
"We had no man of the match because it was a fabulous team performance. Every one of them worked their socks off. I was proud of them, especially when you consider that Forest had players worth about four or five million quid on the bench.
"It was an exciting game and you just couldn't take your eyes away from it for a second.
"We've played some tough games so far and done well with the thin squad we've got."
Warnock was less enamoured with the negativity emanating from some supporters.
"I read one of the local papers, they asked 10 Leeds fans and only two thought we'd win," he said. "One thought we'd lose by six. I have never read so much rubbish with my egg and bacon and I'd like to thank all those miserable Yorkshiremen for spurring me on."
Warnock was all smiles after the game, even as he reflected on ankle problems suffered by Lee Peltier and Jason Pearce, a groin strain affecting Paddy Kenny and a knee injury to Adam Drury. They joined a casualty list that already included Ross McCormack, David Norris and Paul Green, who would all miss the Everton tie. Pearce made it into the starting eleven, Jamie Ashdown deputised in goal and Michael Brown, Aidy White and the transfer-listed Danny Pugh all returned to the side.
"Somebody said to me 'what do you think about Tuesday?'" said Warnock. "Tuesday? Let's worry about that when we get there. Let's enjoy this win first."
Warnock knew better than most how the form book could be upset in Cup football; ten seasons earlier his Sheffield United side claimed a host of Premiership scalps en route to reaching the semi-finals of both the League and FA Cups in 2003.
"If you were a betting man," said the United manager, "you would put your money on Everton. Even if they make a couple of changes, they will still be strong. I would imagine Everton would be very, very high on the list of potential favourites for this competition. Teams like them and Newcastle have a great chance of winning it this year. But, equally, in the Cup upsets do happen and I believe we can give most teams a run for their money.
"We showed on Saturday against Forest that if you have the right attitude and good players then anything can happen. There are upsets all the time."
Warnock continued, "We are a little bit like the Everton of the Championship," before revealing that he had tried to sign Nikica Jelavic from Rangers when in charge of Queens Park Rangers. His sacking by the Loftus Road club allowed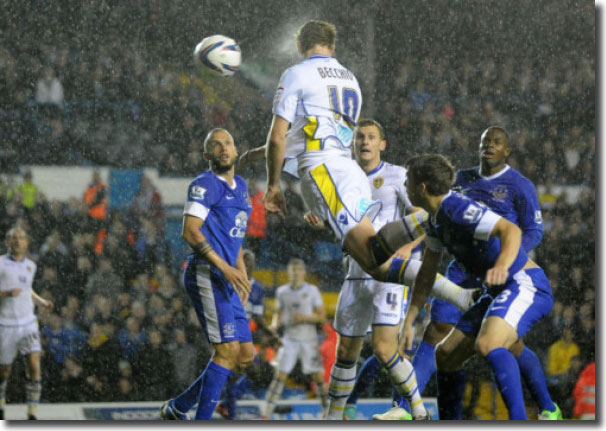 the Merseysiders to nip in and secure the striker's signature.
"They are a hard-working group of players and a club whose first XI would give anyone a game. Just like Everton's. But maybe where we lose four or five players and can't cope, they are a little bit more geared up this season with a stronger squad than for a few years.
"I spoke to David (Moyes) early doors because I was after one of their players at the time. I said, 'It is a fabulous tie'. I wasn't surprised it was picked for television. The atmosphere at Elland Road and the players they have got now augurs well. There will be bags of excitement.
"Everton are quite capable of inflicting a heavy defeat on us. But, at the same time, we are quite capable of beating them. I can't see it being a dull game."
On the chances of Leeds causing an upset, Warnock commented: "I am not being disrespectful but I think you'd fancy it more against one of the glamour clubs. They wouldn't want to be here. Whereas the Everton lads, they could play for Leeds United and it wouldn't worry them. Every one of them wouldn't see the Championship as beneath them. That makes it more difficult for us than it would against some Premier League clubs."
For inspiration, United could do no better than considering the run Warnock's Sheffield United side had in the League Cup a decade earlier. After beating then Premier League Leeds in dramatic fashion, courtesy of two stoppage time goals from Phil Jagielka and Peter Ndlovu, the Blades went on to knock out Sunderland and Crystal Palace before beating Liverpool in a semi-final first leg tie at Bramall Lane. The Reds put Sheffield out by winning the second leg 2-0 at Anfield.
The Blades were ousted in the FA Cup by Arsenal in the last four but only after beating Terry Venables' Leeds for a second time at Bramall Lane.
Warnock said: "To beat Premier League teams like we did at Sheffield United that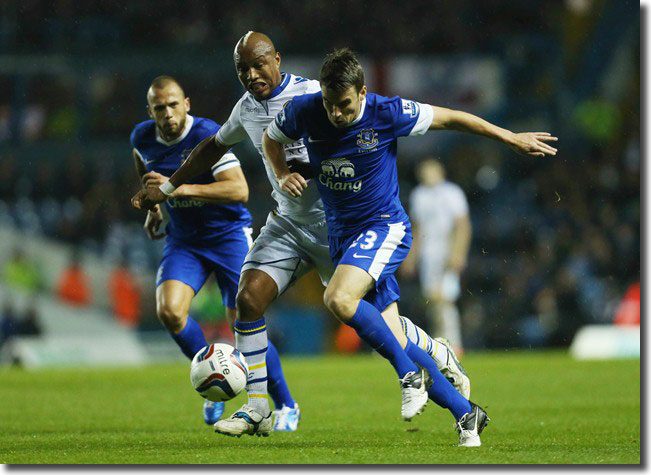 year, you need a bit of luck. You also need to be ready for it and you need to take your chances when they come along. They are the ingredients.
"Cup runs can bring momentum. There is always a team that comes from nowhere to do well. Cardiff did it last year (to reach the final, where they lost on penalties to Liverpool). The draw was kind.
"Some good teams will be going out this round as well."
Everton manager David Moyes kept a low profile ahead of the game, leaving assistant manager Steve Round to speak to the press. "I know the manager is very serious about the competition and you saw that with the performance and the team he picked in the last round. We want to do well in it as Everton should be up there winning trophies. The manager won't be taking this game lightly and you'll see that with his team selection. He wants to win trophies for this club - that is our history and tradition. This is another opportunity to do that and it is a good opportunity. It also provides another route into Europe."
The side selected by Moyes showed six changes. Victor Anichebe, Seamus Coleman, Marouane Fellaini, Johnny Heitinga and Kevin Mirallas all started in a team that included Slovakian international keeper Jan Mucha, alongside debutant Francisco Junior, a 20-year-old from Guinea-Bissau, and Scotland international Steven Naismith in midfield. Another debutant, the Costa Rican Bryan Oviedo, was at left-back in a side that included not a single Englishman for the first time in the club's history.
The tie was staged on a wet and stormy night in the West Riding and the driving rain ensured that there were thousands of empty seats in the stands when the game kicked off at 7.45. Nevertheless the players were greeted by the customary wall of sound from the United supporters as they came onto a pitch looking perfect under the Elland Road floodlights.
Warnock sent his team out well fired up for the contest. They were on the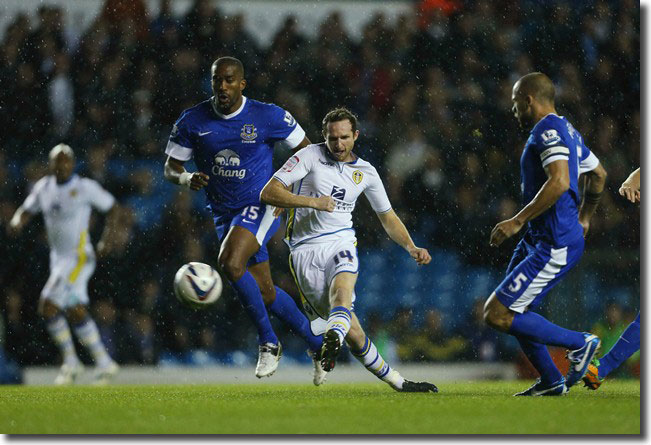 front foot from the whistle and took the lead within four minutes.
Everton, looking to play their normal game, sought to bring the ball forward constructively as they came out of defence. But after right-back Coleman fed Naismith in midfield, the Scotland international's short pass inside to Junior was badly misplaced, behind him, and allowed Rudy Austin to break up the play with a muscular challenge. Aidy White latched on to the loose ball and surged through the heart of the Everton defence, brushing off a flimsy challenge from Fellaini as he did so. Reaching the edge of the 18-yard box, White eased the ball onto his favoured left foot as centre-backs Heitinga and Distin converged on him and coolly curled an exquisite strike to Mucha's right. The ball sent the raindrops flying into the night sky as it bulged the roof of the net with the goalkeeper left flat-footed.
It was the 20-year-old's first goal in 74 games for United and he could not have asked for a more perfect way to break his duck. He said later: "It's amazing to finally get it after all these years of waiting. I've been dreaming of finally scoring for Leeds and it has come true and I couldn't think of a better way to do it than against a really good team.
"It's about time I scored, it's only four years since I made my debut!
"I was pleased with the goal, I took it early, and it caught the keeper out. Maybe they weren't expecting it and it came out of the blue. I think I do have that in my locker and hopefully I can get more goals for the club.
"Our confidence shot up, it was a boost, and it put them on the back foot."
It certainly did, for United enjoyed the better of things for much of the first period. Everton had their moments but the difference in status between the two clubs was made to appear marginal.
Even before White's opener, Leeds had looked dangerous. The free kicks they drew from Everton afforded them the luxury of being able to pepper the area with high balls. Luciano Becchio had got the better of Fellaini though his nod down to El Hadji Diouf had been poor. In the seventh minute, Austin was fouled by Fellaini, but the same player cleared when Diouf sent in the free kick.
When Fellaini gave away another free kick for a foul on Sam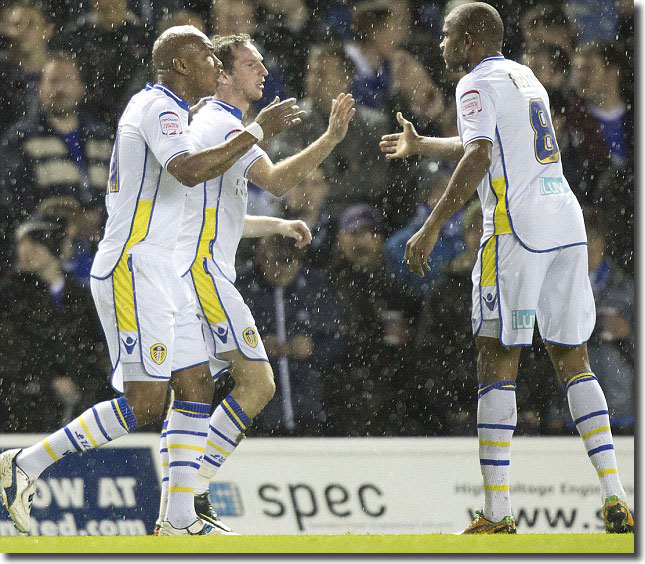 Byram. Jason Pearce headed Diouf's dead ball wide of the right hand post.
It was the tenth minute before Everton launched their first move of any note, Naismith playing a low ball through the centre for Anichebe to chase; the Nigerian's first touch was poor and allowed Tom Lees to dispossess him with a good tackle in the penalty area.
Then Jamie Ashdown was panicked into a hacked clearance from a dangerous pass back and breathed a sigh of relief as the ball cannoned off Anichebe and out for a goal kick.
When United were awarded a free kick out on the left flank, everyone expected a high ball into the mix. But Michael Tonge's driven curler flashed across goal and out beyond the far post as United threatened to expose the Premier League side again.
A couple of minutes later, a surging run down the left from Oviedo gave Anichebe a sight at goal but his studiously sidefooted effort from the D slipped narrowly over Ashdown's crossbar when he should have done better given the space he was in.
In the 38th minute, some neat touch and move play by United on the right saw Becchio and Diouf combine to give White an opportunity in the middle but his strike under pressure lacked power and was comfortably gathered by Mucha.
As the interval beckoned, Jason Pearce, United skipper for the evening in the place of Lee Peltier, emerged from a clash of heads with Naismith with a nasty cut and a black eye. He played out the game with his head enveloped by a large white bandage, his cheek coated in Vaseline in classic 'They shall not pass' style. Pearce, playing the game of his life, required eight stitches at half time to continue.
United nearly doubled their advantage in the closing moments of the half after a short corner move by Diouf on the right. The Senegalese international looped a hanging cross from the byline towards the six-yard line for Becchio to beat Seamus Coleman. His powerful downwards header looked on its way in but keeper Mucha produced a reflex parry to block and Naismith hoofed clear as the spinning ball threatened to find the net.
David Moyes recognised his decision to go with an unproven eleven was backfiring badly. He rang the changes at the interval, sending out his experienced big guns, Phil Neville and Steven Pienaar, for Junior and Gueye in an attempt to change the course of the game. It brought new vigour to Everton's attacks and Pienaar should have done better when he lashed wildly at a free ball after Naismith's surging run into the box was blocked by a United defender.
But the home side continued to create opportunities. Gaining possession after a United clearance downfield, Tonge ran through a yawning gap on the left and into the Everton penalty area as defenders backed away. The midfielder curled a right footed effort narrowly wide of the post when he looked to have done all the hard work.
On the hour mark, Naismith was unmarked at the far post when Anichebe's cross came over from the left but headed badly wide from four yards out. It was a poor effort with the goal at his mercy.
Then Anichebe, with Tom Lees touch tight at his back deep inside the United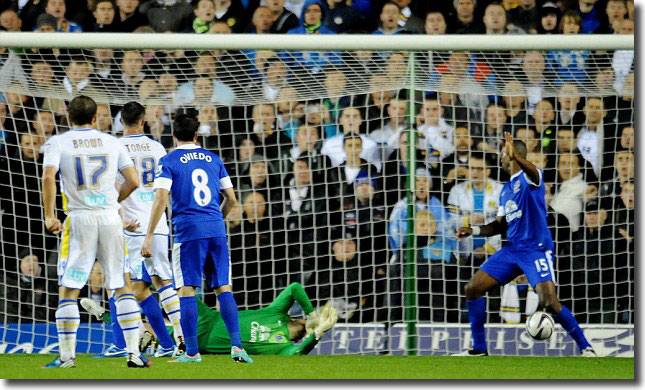 area, turned the defender smartly but his shot flashed across goal and out for a goal kick.
After 61 minutes Michael Brown received the first caution of the night for a foul on Pienaar.
Nikica Jelavic was sent on for Naismith in the 65th minute as David Moyes looked to ratchet up the pressure on the United goal, but the change temporarily stayed the momentum that Everton had been building. Moyes' fears that this was not his men's night were amplified after 69 minutes when United made it 2-0.
The Whites were awarded a free kick by referee Lee Mason when Rudy Austin was fouled out on the left byline after turning Coleman. Diouf rolled the ball out to the edge of the area for Danny Pugh to send in an uncertain goalbound shot. It bobbled through a crowd of players before Austin flicked out his right foot to divert it past keeper and defenders into the net. Cue more celebratory scenes as United scented victory.
But they were not yet home; after 71 minutes, Fellaini took a Pienaar pass in his stride and moved on to fire in a stinging low drive from 30 yards. Ashdown got down well to parry the shot away and Pearce completed the clearance.
After Oviedo was booked after 73 minutes for a foul on White, Lees blocked away a shot from Anichebe to concede a corner. Byram managed to clear Mirallas' inswinging flag kick from the left.
In the 78th minute, Heitinga became the second Everton man to go into Lee Mason's book for a foul on Diouf, clearly enjoying himself as he irritated the Everton defence.
With nine minutes remaining, the visitors seized a lifeline: Anichebe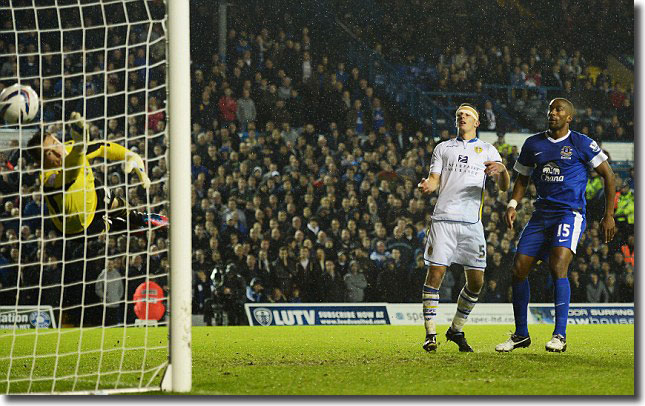 flicked on a long range free kick from Pienaar and Sylvain Distin got up above Pearce on the six-yard line to nod the ball over Ashdown and just under the bar.
Moments later Jelavic tested Ashdown with a header from six yards and after 84 minutes there were fierce penalty appeals after Lees appeared to block a Fellaini shot with his hand; television replays suggested it was his chest that got in the way. After cutting his eye in a clash of heads with Anichebe a minute later, Lees was the second Leeds man left sporting a bandage.
It was all Everton now as they pressed for a goal but United reacted manfully, throwing their bodies on the line to preserve their hard won advantage.
There was a scuffle in the United box with Jelavic and Anichebe in the thick of it after Pearce cleared when Fellaini was penalised for handball. Pearce and Fellaini were cautioned, then Ashdown dawdled over the free kick before booting the ball the length of the field.
In the fifth minute of injury time White clattered Oviedo, giving Everton a free kick from the same spot as brought their equaliser. When the ball was lumped aimlessly into the penalty area this time Ashdown collected in relief.
In the closing seconds Anichebe pleaded desperately for a penalty when Pearce climbed all over him as the two battled to meet a cross into the area. Lee Mason was unmoved and almost instantaneously sounded the final whistle to end Everton's desperate hunt for an equaliser.
David Moyes could not hide his disappointment after the game. "We never
really got started," he said. "We gave away a terrible goal in the opening minutes which gave Leeds a lot of momentum and a lot of belief."
Moyes refused to accept that his decision to rest six players had backfired. "When you have a squad of players you have to give them game time and play them," he added. "If you don't there is no point in calling them a squad, they are just first team players and reserve team players.
"We have given a few a go and maybe they didn't show up like we would have wanted them to. But it was right that we gave it a go. The result was wrong, but you couldn't have said those players weren't good enough to go out and get a result.
"We started terribly, conceded a really poor goal and gave Leeds the initiative. We lost the game in the opening 20 minutes and I'm very disappointed. The boys who came in are members of the squad and have to show they are up to it. Otherwise, what is the point of having them?
"I have learned a lot tonight. This is a big place to come to and play and while some did OK, some didn't."
Richard Sutcliffe in the Yorkshire Post: "Will the real Leeds United please stand up?
"A week on from a demoralising derby defeat to Hull City that left many supporters writing off their side's chances of success even though the season was just six games old, United last night pulled off a shock to dump in form Everton out of the Capital One Cup.
"Goals from Aidy White and Rodolph Austin either side of half time may have been the undoing of a team who sit third in the Premier League. But, in truth, every single member of Neil Warnock's heroes in white deserve credit for the manner of their performance on a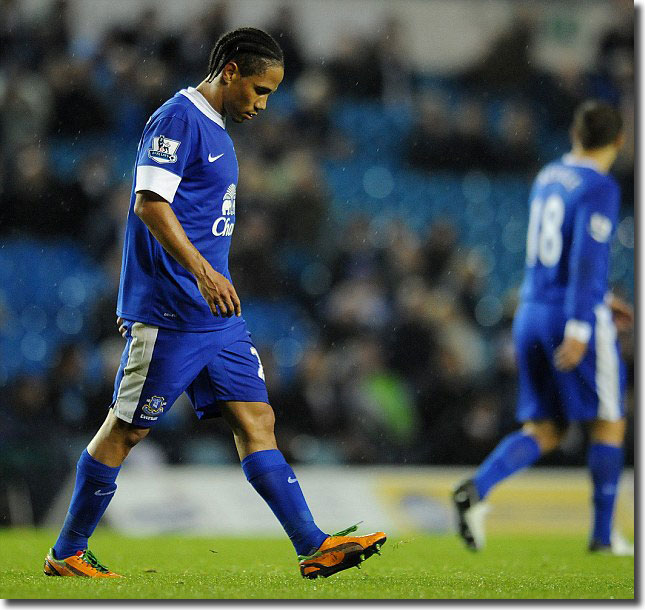 night to remember at Elland Road.
"No tackle was shirked, no quarter given, and when Leeds had the ball at their feet there was sufficient polish to ensure that Everton rarely looked like claiming the victory that the bookmakers had suggested ahead of kick off was little more than a foregone conclusion. Even when Sylvain Distin pulled a goal back for the visitors with nine minutes remaining, Leeds merely redoubled their efforts to see the game out.
"It was, in every way, a stunning team display and one that made a mockery of the struggles Leeds had experienced in losing 3-2 to Hull just a week earlier."
Phil Hay in the Evening Post: "The way it is going, Neil Warnock might just fall in love with this competition. Rarely can a result have surprised him as much as last night's victory over Everton did, on an evening when Leeds United were primed for summary elimination.
"There was no chance of an upset at Elland Road, apparently; no chance at all while United's treatment room resembled an A&E ward with no empty beds. Everton's manager, David Moyes, felt confident enough to field a weakened team through choice but regretted that decision as soon as Aidan White scored a majestic goal in the fourth minute. An improbable result was born there and then, inspired by an unlikely goalscorer and sealed in the second half by Rodolph Austin.
"In his long and distinguished managerial career, Warnock has grown accustomed to premature exits from the League Cup, often at the hands of opponents less stellar than Everton. There are always other priorities and other ambitions to chase; League football invariably matters more.
"The irony last night was that a defeat might have suited him beforehand, so far removed is the tournament from his idea of a successful season, but he looked quietly thrilled as Everton bowed to a performance which would have done Leeds justice had their line up been anything close to full strength. In the absence of countless players, their 2-1 win was almost routine save only the last nine minutes.
"United will draw in several hundred thousand pounds from last night's third round tie, even though the attendance at Elland Road fell a long way short of capacity, and that alone made the match worthwhile.
"If that money and further cash promised from a fourth round game funds the loan striker Warnock is anxious to sign then United's cup run will have been worth its weight in gold.
"But the 63-year-old might yet see more value in the good two wins
in the space of four days have done for the mindset of Leeds as a whole.
"A week ago, Warnock was worried about a club who were suffering the consequences of 'feeling sorry for ourselves'.
"The mood around Elland Road felt far less tender as Everton fought to stay in a competition which Warnock tipped them to win.
"Not this year, despite Sylvain Distin's desperate header on 81 minutes and the onslaught which followed it.
"Moyes held a few cards in reserve - Steven Pienaar, Nikica Jelavic, Phil Jagielka - but not a soul inside the stadium believed he would need them. This was one occasion when Warnock avoided accusations of disrespecting or neglecting the League Cup, backed instead into a tight corner by injury after injury.
"'We could probably have done without tonight,' he admitted before kick off. And he meant it.
"Nothing said more about that than the appearance on the bench of Paul Rachubka, included in a squad for the first time since his club-defining implosion against Blackpool last November.
"Everton were weak by their own standards but strong by those of an opposition line up which was marginally above half strength.
"Last night was no night for football - the rain which hammered down throughout the day continued to fall from the first whistle to the last - but it was an opportunity for two of the clubs best served by Gary Speed to remember the late Welshman as the game took on an unlikely shape.
"Speed was honoured with great affection by Leeds following his death in November and a video montage of his career played out on Elland Road's big screen before last night's match. An 11-minute chant in Speed's memory began on schedule in the 11th minute as it had during United's League game at Nottingham Forest two days after he died.
"Gone but not forgotten in this part of Yorkshire or Merseyside.
"It was the club who Speed left in 1996 who found more to savour in the occasion of a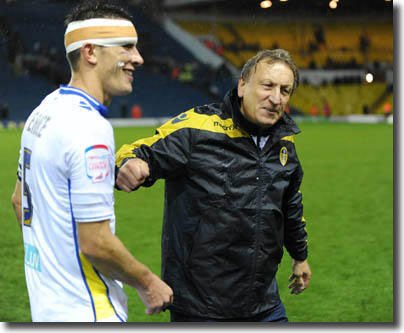 first meeting between Leeds and Everton for eight years.
"Leeds did to Moyes' team what they had done to Forest on Saturday: squeezed their midfield and stuck tight to the players most likely to hurt them. Fellaini became trapped behind the halfway line, sweeping up as much possession as he could but wasted in the circumstances. Moyes ventured into his technical area after 20 minutes but retreated soon after having seen nothing to please him."
It had been a tactically smart performance on the part of Leeds who relied on tremendous work rate to cancel out the difference in class between the two sides, their players often doubling up on the main threats, Fellaini and Anichebe.
When asked where the victory ranked in his career achievements, Neil Warnock said: "That is probably the top cup night. This was a top Everton side. To play like we did was tremendous.
"We scored two and could have had a few more. I thought we were excellent... They wanted to win it - make no mistake - but I think we deserved it on the night. I thought we were a little bit sharper, we won the second balls and I think we should have scored one or two other goals, so we're disappointed that we didn't, but we never do anything easy.
"That's probably as good a result and performance as I've ever had in the cup, because of the circumstances of us having injuries and Everton being such a good side.
"Everyone's a bit surprised. Even our fans will be surprised. But that's what football's about - surprising people. I'd be surprised if any of the lads didn't watch it again when they got home.
"Everton really wanted to win the competition and that makes the result even better for me. We deserved the win and everything about the game was good.
"There wasn't a weakness in our team. If there had have been a weakness then we'd have got beaten."
United were inspired by another influential performance from El Hadji
Diouf, the controversial forward who had blossomed since joining Leeds on a short-term deal in August, and Warnock could not speak highly enough of the former Liverpool and Bolton forward.
"He has been a revelation," Warnock said. "He is fit and getting fitter every game. Obviously I said things about him when I didn't really know him but since he has been with us he has been a revelation. He has been good with the young lads, good in the dressing room. He has helped everybody. He makes me laugh and I make him laugh. It is a happy relationship at the moment.
Diouf was contracted to United until January but Warnock allayed concerns that the 31-year-old's form might encourage other clubs to bid for him around the turn of the year, saying: "Diouf won't go anywhere else. He's promised me certain things and I'm happy with that. He's obviously not doing it for money because he's one of our lowest-paid players but he's not going to get a stage like this again. He's a matador and you need someone like that."
The United boss continued, "It was great. I spoke to Eddie Gray afterwards and he said it was like going back in time. It was a great atmosphere, our fans were egging us on, it was tipping it down, and it was a typical cup-tie. And all my lads gave me everything so I have no complaints. It was a super result.
"We said we'd have to start well because we have some decent players, and the goal gave us a lift, and the crowd as well. We never let up after that. We carried on all the way through.
"They had 10 minutes at the start of the second half, which they were always going to do, but I thought we rode that and came back and created some good chances.
"There were so many plusses, look at the lads who haven't played like Ashdown, Brown, and Pugh, I thought they were super. It was a fabulous night for the Leeds fans as well.
"It was like going back in time, with the weather chucking it down, the fans singing, the officials were great, everything was.
"There were a few bandages and blood, the two centre-halves both had stitches, it was a proper cup-tie.
"Browny showed what he could do at his age and it was like going back in time to when we were all at Sheffield... I was pleased for Browny and Tongey, who had to do another role. He covered the full-back and the winger and we called it the graveyard shift when we were at Sheffield. He was super."
Casting his mind back ten years, Warnock recalled: "When we beat Leeds at Sheffield, Leeds were weak on the night and it was a great cup run.
"I think anyone left in this one can win it. You`ve got to have a good night - a good night, a good draw and decent conditions."
Another outstanding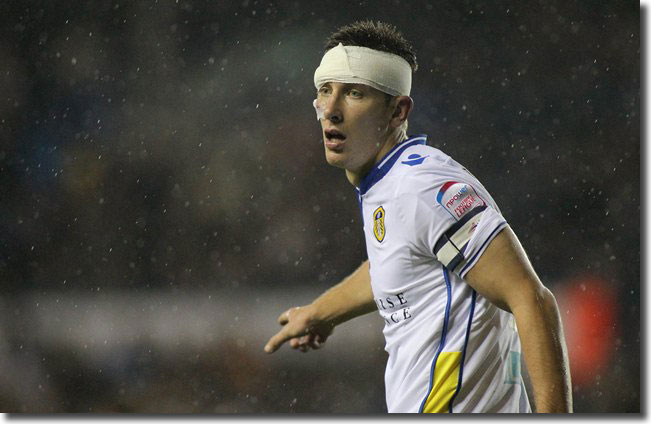 performer was the battle-scarred Jason Pearce, who told Sky Sports after the game: "I loved it. That is what we play football for, to play against these sorts of players and these sorts of teams. It was a great team performance."
The image of Pearce, head enveloped by bandage, as per Terry Butcher of more than twenty years earlier, will be how this thrilling, blood-and-thunder battle will be remembered; a throwback to an earlier time when Cup football meant cut and thrust excitement rather than meaningless battles between reserve teams, a time when managers like Neil Warnock held sway in the game. This was the greatest night of Warnock's time at Elland Road, when his style, ethos and character for once made perfect sense.