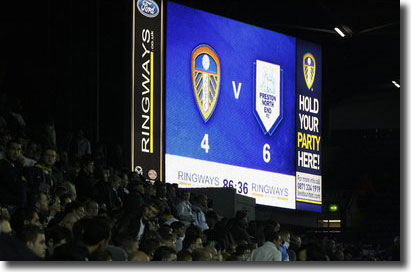 printer friendly version
8.25pm, Tuesday, 28 September 2010, Elland Road… Davide Somma has just given Leeds United a 4-1 lead against relegation-threatened Preston North End and the Whites are on the brink of a comfortable win as they look to maintain their push for promotion…
An hour later, a stunned 23,000 crowd sits open mouthed as Iain Hume crowns a breathtaking Preston comeback by heading in the visitors' sixth goal of a remarkable evening.
Bizarre scorelines of this sort had been all but consigned to the annals of history; shell-shocked United manager Simon Grayson must have wished it had remained there as he watched his team crumble feebly into a defensive shambles.
A fortnight earlier, Grayson had seen United capitulate 5-2 at Barnsley. His men seemed to have banished that defensive ineptitude when they earned first a goalless draw at Doncaster and then a 1-0 victory over Sheffield United and he went into the Preston fixture in good heart, hoping to consolidate on fifth place.
The manager named a side unchanged from the one which started against the Blades. His only switches came on the bench where an injured Ross McCormack was replaced by Honduran international Ramon Nunez and Adam Clayton was called up for Scotland winger Robert Snodgrass. The latter, a second half sub against the Blades, was unavailable after being sent off in the closing minutes.
South African striker Davide Somma continued to partner Luciano Becchio up front after scoring four goals in three starts and four substitute appearances.
Grayson: "We've made a good start, but we're not getting carried away with ourselves. We'd talked before the season about looking at blocks of games - maybe 10 - and having a look at what we have done and what we can do better. It gives us that opportunity to take stock. While we've done okay, we can do better in different departments and we know that. It's all about being consistent.
"QPR have made a great start and they are the form team - but you have to say other than their start there's been no outstanding team in the division and it really could be anybody's year. We believe we can get out of this division, but so do a lot of other clubs. Don't forget we've been away for three years so it is new again to us. Our aim is to finish as high as we possibly can.
"I believe we have a squad here capable of winning matches, but it is all about consistency, and teams who can go on a seven or eight-game unbeaten run will be the teams who will be up there."
Of bottom three Preston, Grayson commented, "They've had a poor start, but got a good result at the weekend. They have players who are capable of winning matches, but it's about us and what we can do. We'll ask them to do the right things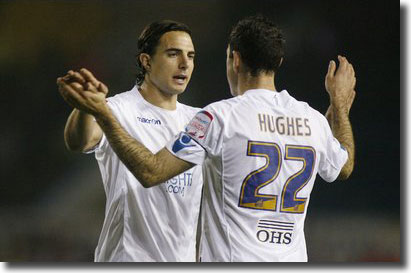 and hopefully the quality will come through."
A former North End man was in the middle of United's back four: Neill Collins had returned to Elland Road in the summer for an undisclosed fee after a successful period on loan at the tail end of the promotion season.
Grayson was adamant that United had got the better end of the deal when Preston decided to sell and Collins had maintained his ever-present record with an impressive performance against Sheffield United.
Grayson: "We were given the opportunity to sign him because he was out of the picture at Preston. He's a player I'd looked at before he went to Preston and I spoke to (Wolves manager) Mick McCarthy about bringing him in. So far, I've seen everything in him that I saw in him at Wolves and that's the reason he's here. When he does the things he's good at, he's a great player."
Grayson added: "A lot of our success of last season was based on clean sheets. We'd get late goals because we kept going and had players good enough to win us games. The more clean sheets you keep, the more games you'll win and that's what Saturday was all about - staying in the game. It's what we need to do."
Preston went into the game at Elland Road on the back of their first away win of the campaign, at Coventry, and evidenced the confidence that victory had brought, taking a shock lead after just four minutes.
When the ball was worked out to Preston winger Keith Treacy on the left, he was given yards of space in which to work. United right-back Andy Hughes had drifted inside to cover the lurking North End target man Jon Parkin and had to rush across to confront Treacy. The wing man made to come inside, standing Hughes up, before cutting back out to the byline and firing the ball low towards goal. Goalkeeper Shane Higgs could only parry the strike across the face of his area and Parkin was unmarked and in the right place to slip the ball home. United defenders hung their heads in disappointment as their appeals for offside went unrewarded.
Higgs had to come out smartly to hoof the ball away for a throw when another long ball to Treacy caught Hughes out again, but United were back on equal terms after a quarter of an hour. Collecting from a throw in, George McCartney came in off the left flank and chipped a cross to the edge of the six-yard box. It was perfectly placed for Becchio to rise above Neill Collins and two Preston defenders and nod under the despairing dive of Preston keeper Andy Lonergan.
North End should have retaken the lead within 90 seconds as Barton fed Parkin and the front man ran through and hit a low right-footed effort, but an outstretched Leeds leg managed to deflect the ball behind for a corner.
Parkin was giving United an uncomfortable evening and goalkeeper Higgs had to react sharply to turn away one angled drive at the expense of a corner.
It was then that United adjusted their formation, temporarily putting an end to Barton's influence and giving themselves the upper hand with Max Gradel and Lloyd Sam posing all sorts of questions from the wings.
The Whites took the lead after 20 minutes. When Sam and Becchio set up an opening for Somma, Lonergan came racing out to deny the South African at the expense of a corner. The flag kick was cleared out to the left hand touch where stand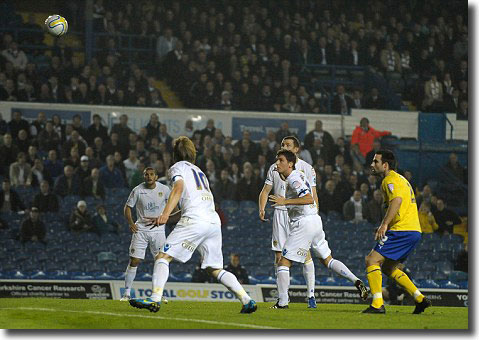 in skipper Jonny Howson collected and had the time to consider his options before lofting a centre to the back post. Callum Davidson and Sean St Ledger went for the same header but only succeeded in sending the ball back towards the penalty spot where an unmarked Alex Bruce was waiting in an acre of space to nod home.
A third goal was on the cards long before Somma registered it after 27 minutes. Sam teased his full-back down the right before cutting inside and slipping the ball to the South African around the penalty spot. His right footed strike took the slightest of deflections off St Ledger's studs as it beat Lonergan into the corner.
Preston still posed a threat, and Parkin was only inches away from scoring his second goal when he shot narrowly over from the edge of the United area. Minutes earlier the burly front man had been the first name into the book of referee Miller after he sent Alex Bruce flying with a dangerous challenge as the United defender cleared. Parkin was fortunate to escape with a yellow as he protested vigorously that he had gone for the ball.
It was all United now, with Gradel and Sam continuing to threaten and Becchio and Somma offering penetration and mobility through the middle. Leeds made it 4-1 after 39 minutes when Somma snatched his second goal. The striker picked up Howson's delightful through ball out on the left and coolly worked his way into the box before firing precisely past Lonergan and into the bottom corner.
That really should have been that with Leeds in the ascendancy, but they went to sleep and within 90 seconds had offered the visitors a route back into the contest. A long ball from the back by Davidson found Parkin down the left channel. He was given the freedom of West Yorkshire when the ball reached him thirty yards out and he resisted the token opposition of Hughes and Collins to shoot low past Higgs and reduce the arrears.
There was a flurry of Preston corners in the final five minutes of the half and defender Craig Morgan was only denied by a hurried clearance off the line, but the game remained 4-2 at the interval.
The late rally by Preston gave Simon Grayson some food for thought at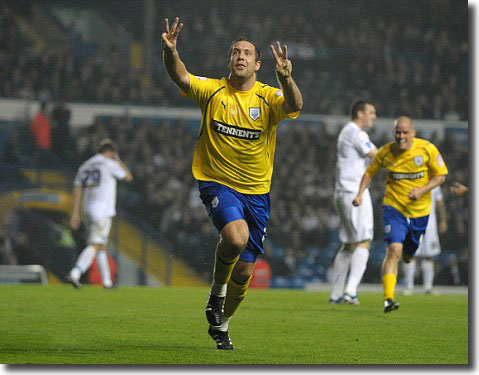 the break; hopes of a comfortable second half coasting had been banished as the away side seized the initiative and the momentum and never has a two-goal lead been more dangerous than it was at Elland Road that evening…
United were first to show after the restart when Higgs' long free kick from just outside his area sailed into the Preston box. As a defender hesitated, Somma was in to flick the ball goalwards, but Lonergan prevented the goal with a brave dive at the South African's feet.
Nine minutes after the break, the pace of Preston's revival quickened. United were happy to concede the fourth corner of the half, blocking Parkin's shot wide after the striker found space in the area. Treacy's inswinging flag kick soared beyond the keeper and was heading in even before Somma's desperate efforts to clear from under the bar sent it into the roof of the net.
Preston equalised after 57 minutes. McCartney rashly challenged Paul Coutts with the midfielder drifting aimlessly towards the byline and the referee decided the clumsy tackle merited a penalty. There was no hesitation from full-back Callum Davidson as he hammered the spot kick straight down the middle and high into the roof of the net.
This was breathtaking stuff from the visitors and United were rocking. Just after the hour, North End added a fifth goal following a long ball forward from Billy Jones which fell to Parkin on the edge of the area. He collected and was allowed to turn into the space between the two United centre-backs before firing home to complete a memorable hat trick.
Simon Grayson reacted urgently by bringing on Neil Kilkenny for Lloyd Sam to try and turn the tide, but the switch availed nothing. Fourteen minutes later, Grayson went for broke, sending on Adam Clayton and Sanchez Watt for Howson and Becchio. It prompted some improvement and Somma came close to getting his own hat trick after 76 minutes, but fired narrowly over Lonergan's crossbar.
However, it was Preston who continued the scoring spree three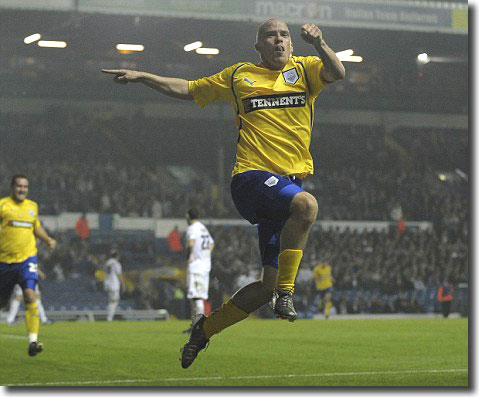 minutes later. A lofted through ball from deep by Jones caught the United back four flat footed; they allowed the hard-working Iain Hume to run untracked beyond them deep into the middle of the area and looked on in despair as the Canadian looped home a header to register North End's sixth goal.
This was desperate stuff and five minutes of stoppage time could not yield even a consolation goal, despite opportunities for Somma, Watt and Johnson, who saw his long range free kick strike a post. United could and quite possibly should have scored at least once in the closing minutes, but it seemed that the story was written in the stars. There was to be no last minute reprieve.
There was a nice touch after 88 minutes, when Preston manager Darren Ferguson gave Jon Parkin the opportunity to milk the adulation of the crowd, replacing him with Paul Hayes, and both sets of supporters gave the Barnsley-born hit man a standing ovation as he left the field. Keith Treacy, Preston's other key contributor also went off, making way for David Gray.
That was the closing act of a remarkable match.
Preston's was one of the most phenomenal comebacks in the history of the modern game; United had imploded from a position of dominance, losing a compelling match by six goals to 4.
With the home supporters silenced, Elland Road echoed eerily to the sound of 1,000 Preston fans singing in unison, "Don't want to go home… don't want to go home… this is the best trip I've ever been on!"
It was Preston's first six-goal haul away from home since they beat local rivals Blackpool 6-2 in 1955 and they became the first ever team to net six goals against United at Elland Road.
The Sun described it as "The mother of all comebacks".
North End manager Darren Ferguson: "That's heart attack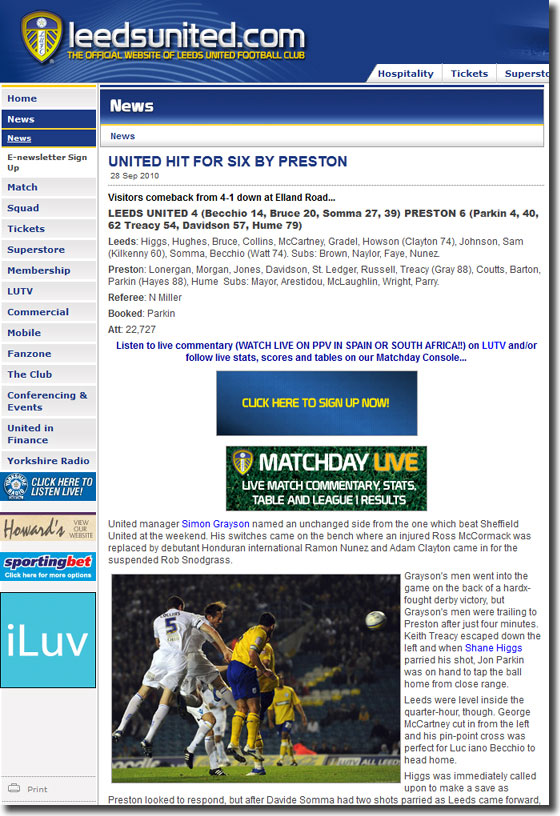 material but my team were outstanding. Parkin was unplayable and Leeds' centre-backs couldn't cope with him.
"I've never been involved in anything like that. It was an amazing game and my players deserve all the credit. I don't think anyone has ever come to Elland Road and done that from 4-1 down. It can get very nervy here at Leeds. The second and third goals were the important ones for us. After that, we could smell a bit of blood."
Simon Grayson was both bemused and furious, saying, "It's groundhog day after two weeks ago at Barnsley. There aren't many words to describe it.
"I take responsibility because it's my team and my players but you don't expect this to be happening. To lose the game 6-4 is unbelievable - an embarrassment.
"Even at half time, the players got a right rollicking because the scoreline could have been eight-all. We were far too open and unprofessional. They're as gobsmacked and dumbstruck as I am and if we get more games like this, I'm not sure I'll be here much longer in terms of my health.
"The players are in today to see what went wrong, just like two weeks ago.
"After they see the video, they'll realise what that game was like to watch, never mind what it was like to play in it."
Grayson expressed disbelief at his team's reckless insistence on throwing players forward when they already had a clear lead and in complete disregard of the threat that Preston were posing.
"If you want to bore the crowd and the opposition and take a 4-1 win then so be it, that's fine by me. You've won the game and you've taken the professional route of getting the points, however you get them.
"Before every game, we do presentations to the players about the opposition's strengths and weaknesses. A lot of the time the players take it on board but on this occasion they haven't. It's very disappointing and I could use much stronger words than that.
"We started disappointingly by conceding the first goal and even at 4-1 I wasn't happy. At that stage we should have been more professional and not tried to win the game by five, six or seven.
"The game would have opened up eventually once Preston got tired and ragged but the goal just before half time brought them back into it.
"We made far too many mistakes again and too many players were playing their own game, instead of taking responsibility for the team. Preston have come here with only two wins behind them and I didn't see this coming.
"People will look at the result, see a 6-4 scoreline and think we must have had a couple of players sent off. For large parts of the second half, it felt like we were playing with eight or nine players. They just didn't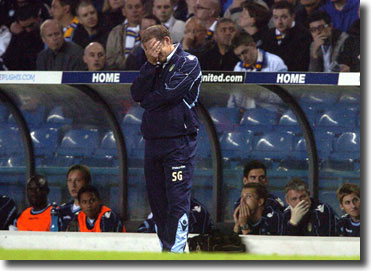 do what we asked them to.
"A lot of thoughts will go through my head. I have to take responsibility because it's my team and we should have beaten Preston comfortably. I need to think about how we're going to play on Saturday and what we're going to do.
"I'm down and despondent but I'll get myself up again. Ipswich away is a fantastic game to be involved in. Once again, every player comes into contention.
"I didn't make knee jerk decisions after Barnsley but there'll be all sorts of permutations in my mind for the weekend now."
While the manager was critical of his players after the game, he was also quick to take a share of the responsibility when he faced the media at Thorp Arch two days later.
"I looked at everything," he reflected. "How we trained, how we prepared, and what we actually did on the night. I have to put my hands up and say hindsight is a great thing. I nearly made a change at half time on Tuesday. I was going to, but then I didn't.
"People talked about putting another midfielder in there. Okay, but who do you take off? A striker? How negative is that? What were we going to do? Sit back? What would the fans have made of that? You think about all these things, and would it have made a difference?
"I accept criticism when things go well and decisions are made, be it tactical or substitut.
"The thing is I never get too down. The good times have outweighed the bad times over the past two or so years and one of the reasons is that we never get carried away and we never get too despondent.
"People have said if we'd have won the other night we'd have been second or third. That would have been great and we'd have looked to stay there, but we're not and we go again at Ipswich on Saturday."
United chairman Ken Bates: "It's almost inexplicable because we reckon we've got a stronger back four than we did last season. Last season we only yielded eight goals before Christmas. So far we've conceded 18 goals in 10 games, although it's true that 11 of those goals have been in two games (against Barnsley and Preston). It's not acceptable and Simon will be working to put that right.
"What's been annoying is that some of the mistakes, which are all silly, have been caused by people
who by and large are reliable and very solid at the back. The Preston defeat was unbelievable.
"But there are two types of Leeds fans - one who thought we were going to walk through the division, another who thought it would be a season of consolidation. I thought, and I still think, that we'll be in the top six or seven - hopefully the top six, fighting it out at the end of the season.
"We've got 10 games behind us and we've seen the calibre of the opposition. There's nobody, with the exception of QPR at the moment, that's outstanding. Teams are losing to each other every week.
"Nobody is getting away and, in my opinion, anyone who strings a good run together can be in contention. Hopefully Simon can get the team together. One or two players have been disappointing and one or two have been surprisingly good. But I'm not at all dispirited - unhappy about the two games, but it's otherwise been a reasonable start. Winning four games out of eight is promotion material.
"I thought we got off to a bad start by losing to Derby at home. That was a game in which we probably deserved a point. We deserved to beat Nottingham Forest and only drew but, aside from that, we've done quite well - excluding the two disasters at Barnsley and at home against Preston.
"Teams are losing to each other every week. Look at Swansea, they had two goals and hadn't got a point away, then they went to Watford and won 3-2. Only a couple of weeks ago Watford had been to Millwall and won 6-1. There's nobody getting away, other than QPR, and anybody who puts a run together will be in contention. That could include Leeds United. I'm not at all dispirited other than with two games (Barnsley and Preston)."
It was the lowest point of a roller coaster return to the Championship. United fans would long remember this dismal night at Elland Road and wonder quite how a Leeds team could have collapsed in the sensational way they did.